Movements, Styles, and Tendencies
Modern Photography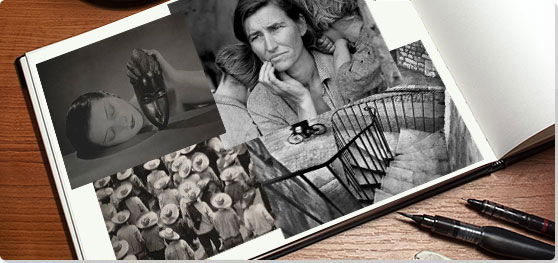 Modern Photography
Started: 1910
Ended: 1960

Summary of Modern Photography
The birth of Modern Photography heralded a significant aesthetic change in photographic output as well as a shift in the way in which photography was produced, utilized and appreciated. Modern Photography encompassed trends in the medium from the early 1900s through to the 1960s. The move from early photography to Modern Photography is distinguished by a departure from the language and constraints of traditional art, such as painting, and this change in attitude was mirrored by changes in practice. Photographers started using the camera as a direct tool rather than manipulating images to conform to traditional notions of artistic beauty (a custom particularly associated with Pictorialism). In pioneering this move, modern photographers eventually disrupted the wider conventions of the art world by expanding both what was considered art and what was deemed an acceptable subject matter for it.

Although Modern Photography does not start until the beginning of the 20th century, earlier photographic innovations provide a technological and contextual framework for later developments and are important in understanding the stylistic changes of the period. Some of the key approaches of Modern Photography are unique to the medium whilst others align with wider art movements such as Dada and Surrealism. In contrast to earlier relationships between photography and artistic groups, which tended to be imitative, Modern Photography became fully embedded in these movements and provided a new and powerful medium for experimentation and expression.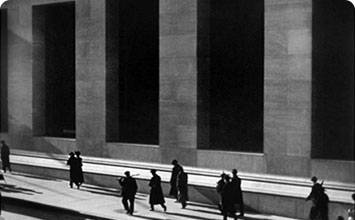 As Ansel Adams said "Photography, as a powerful medium ... offers an infinite variety of perception, interpretation and execution." Many were of similar mindset, from the earliest photographers to the innovators of Pictorialism, Straight Photography, and Abstract Photography. Here is the progression of Photography; the top tendencies and most-celebrated photo-makers.
Important Art and Artists of Modern Photography

The below artworks are the most important in Modern Photography - that both overview the major ideas of the movement, and highlight the greatest achievements by each artist in Modern Photography. Don't forget to visit the artist overview pages of the artists that interest you.

The Steerage (1907)

Artist: Alfred Stieglitz

Artwork description & Analysis: Stieglitz promoted this photograph as his first truly "modernist photograph" and it is this image that marks his departure from the Pictorialist style and his abandonment of the idea that photographs should imitate paintings. The photograph depicts steerage (lower class) passengers aboard a ship sailing from New York to Europe, which Stieglitz was also travelling on. The majority of those shown are likely to have been skilled migrant workers who had entered the US on temporary visas to work in the construction industry and were now returning home. It was probably taken whilst anchored at Plymouth, England and was developed in Paris some days later.

In the photograph, Stieglitz creates an image that is as much a study in line and form as a straightforward depiction, with the decks, passageways, and ladders creating a series of bold, intersecting lines and spaces. Later, Stieglitz stated of the image that "I saw shapes related to each other. I saw a picture of shapes and underlying that, the feeling I had about life". Due to this emphasis of geometric shapes the photograph has been cited as one of the first proto-Cubist works of art.

Although taken in 1907, Stieglitz did not immediately see the potential of the work. He later realized its importance and published it in Camera Work in 1911 in a special issue devoted to his own art and its modernist focus. In the issue he also included a Cubist drawing by Picasso, drawing his own parallels between the two and arguing that the photograph as a medium could be as innovative and as modern, as any work of avant-garde art. Picasso himself also acknowledged the similarities, noting that "this photographer is working in the same spirit as I am".

Photogravure - Museum of Modern Art, New York

Blind (1916)

Artist: Paul Strand

Artwork description & Analysis: This is one of the most important photographs in establishing Modern Photography and a noted early street photograph. Strand said that the woman's "absolutely unforgettable and noble face," prompted the photograph which is in direct contrast to the formal, posed studio portraits of the period. One of a series of street portraits using a handheld camera with a false brass lens attached to its side, so the subject would be unaware, Strand's street photographs were influenced by his teacher and mentor, Lewis Hine, who pioneered social documentary photography for purposes of social reform.

The piece combines this focus on social documentation with a modernist aesthetic which highlights pattern and form, with the diagonal lines of the rectangular blocks mirroring the woman's gaze and framing the image. The viewer is immediately aware of the contradiction between her dignified face and the oval peddler's badge (required by law) and the simple and bold sign announcing her disability. As the curator Peter Barberie notes of Strand, "For him, the camera was a machine - a modern machine... He was preoccupied with the question of how modern art - whether it's photography or not - could contain all of the humanity that you see in the Western artistic traditions." Blind was published in a 1917 issue of Camera Work and immediately took on an iconic status within the new American photography movement.

Platinum print - Metropolitan Museum of Art, New York

Workers Parade (1926)

Artist: Tina Modotti

Artwork description & Analysis: Depicting a march of Mexican agricultural workers seeking better working conditions, this image combines social documentary concerns with an emphasis on the appearances of modernism, combining art and politics (like other photographs of the period). The workers are depicted from above and behind so that their backs and hats fill the frame, suggesting a crowd beyond the confines of the photograph. The workers are faceless making them anonymous as individuals but as a mass they are powerful, surging diagonally upwards across the frame. This is further emphasized by the lack of a clear focal point in the image.

Italian-born, Modotti immigrated to San Francisco as a teenager and began acting in theatre and film and working as an art model. Edward Weston whom she met in 1920 influenced her photographic practice. They became lovers and moved together to Mexico City in 1923 where they opened a photo studio and associated with political figures such as Leon Trotsky, and the painters Diego Rivera and Frida Kahlo. Modotti remained in Mexico after Weston returned to the States. She eventually moved to Moscow, joined the Soviet communist party, and gave up photography in 1931 to dedicate herself to social causes. Following her early death at the age of 46, Modotti was known primarily as Weston's muse and mistress, but the discovery of a large collection of her photographs in 1999 led to a re-evaluation of her work in its own right, and a solo exhibition at the Royal Academy of Art in 2013.

Gelatin silver print - Museum of Modern Art, New York City
More Modern Photography Artwork and Analysis:
If you see an error or typo, please:
tell us
Cite this page

Content compiled and written by Rebecca Seiferle
Edited and revised, with Synopsis and Key Ideas added by Kate Stephenson
" Movement Overview and Analysis". [Internet]. . TheArtStory.org
Content compiled and written by Rebecca Seiferle
Edited and revised, with Synopsis and Key Ideas added by Kate Stephenson
Available from:
First published on 17 Oct 2018. Updated and modified regularly.


[Accessed ]