Artists
Lee Friedlander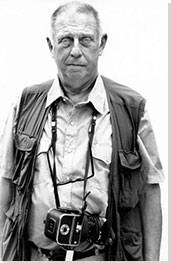 Born: July 14, 1934 - Aberdeen, Washington

"I always wanted to be a photographer. I was fascinated by the materials. But I never dreamed that I would be having this much fun."
Summary of Lee Friedlander
If the age-old adage that "reputations are made on the company one keeps" holds true, then MoMA's New Documents exhibition of 1967, where he took his place alongside the likes of Diane Arbus and Garry Winogrand, would mark Friedlander's breakthrough as an artist. Though Friedlander's participation in New Documents led to only one sale, it brought him to the attention of the Pop artist Jim Dine and the two men worked subsequently on a book collaboration (photographs and etchings) called Work from the Same House (1969). That book was well received, enabling Friedlander to consolidate his position as one of the new photographic provocateurs a year later through his first solo book, Self Portrait. The then novel idea that the photographer could be acknowledged as part of his (or her) photographic environment was to become a perennial feature of Friedlander's work.

The spontaneous street, or 'snapshot', aesthetic had been a staple of the photographic arts since Robert Frank's late-1950s Americans project. But, as with Arbus and Winograd, the term 'documentary' seems woefully insufficient when trying to explain 'mundane' subject-matter this rich in connotation. Friedlander's style - featuring street signs, incredulous shadows and self-reflections, public monuments, nudes, and, later, even landscapes - would bring a disquieting quality to what was ostensibly familiar. Even given the sheer range of his subject matter, Friedlander was able to present an impressive portfolio representing the unique and intricate details of contemporary American life.
Key Ideas
Portraiture and self-portraiture is an important feature of Friedlander's portfolio. This facet of his canon can be traced back to an early professional background where he produced portraits for some 200 music album sleeves. Though for aesthetic reasons he has since chosen to work in monochrome, his early commercial portraits - featuring the likes, no less, of Aretha Franklin, Duke Ellington, Miles Davis, Ray Charles, and John Coltrane - often display a strong affinity with color.
In 1963 Friedlander published The Little Screens series photo essay in Harper's Bazaar which consisted of six photographs, each named after the city in which they were taken, and showing everyday domestic spaces illuminated by the portable television sets that had become a staple of American homes and motel rooms. Viewed as a commentary on contemporary American mores, Little Screens is an early indicator of Friedlander's career-long desire to explore through his lens the more prosaic aspects of modern American living.
There is something of an automatic and inexhaustible ("If I had a chance, I'd be out shooting all the time") quality to Friedlander's work: "I'm not a premeditative photographer', he stated, I "see a picture and I make it". His black and white photographs, shot, as was the preference of the new documentarians, with his 35mm Leica, would tend therefore to promote fragmented and uncoordinated compositions over geometric and spatial alignment. Indeed, the bent of documentary photography heretofore was to offer the spectator a window on reality whereas the meanings carried in Friedlander's images remain deliberately obscure and equivocal.
As with his esteemed peers Arbus and Winograd, Friedlander's new documentary approach allowed for the point of view of the photographer to impose his or her personality on the subject matter. A unifying characteristic of Friedlander's work was a particular liking for reflections, usually his own, in windows, glass doors and mirrors. He is also recognized for his fascination with repetition - shooting in the same cities and on the same streets over and again - while his attraction to signs, billboards and other hoardings saw critical readings of his work aligned with the postmodern idea of a hyperreal (the idea that all truth is masked by signs) America.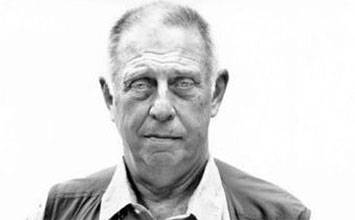 Lee Norman Friedlander was born in 1934 into the small (population: 13,000) fishing and logging community of Aberdeen, Washington. His father, Fritz (Friedlander) was a Polish-Jewish émigré who had arrived in America just before the outbreak of WWI. Sadly, Friedlander's mother, Kaari Nurmi, herself an émigré of Finnish descent, died of cancer when her son was just seven years old. Following her death, his father, felt overwhelmed by the responsibility of becoming a single parent, sent Lee to an area of rural Washington where he was raised by a farming family. Father and son were not estranged however and the pair would spend free-time and holidays together. It was Fritz in fact who helped nurture his son's interest in photography and by the age of just 14 he was earning pocket-money as a photographer. Indeed, one of his first commissions was to photograph the pet dog of one of Aberdeen's most well-known residents for her personalized Christmas card. In 1950, he attained his driver's license which allowed him the freedom to explore the music clubs in Washington State and his other love of Jazz, Blues, and R & B music was sealed.
Important Art by Lee Friedlander

The below artworks are the most important by Lee Friedlander - that both overview the major creative periods, and highlight the greatest achievements by the artist.


Artwork Images

Nashville (1963)

Artwork description & Analysis: Nashville is drawn from Friedlander's early series Little Screens. Six images from the series appeared in a 1963 Harper's Bazaar photo-essay. This image captures a portion of a room, likely a motel room, illuminated by a television. The only human figure depicted is on the screen, a televisual portrait in extreme close-up with the woman's eyebrows pushing against the upper edge of the frame. Friedlander's presence is implied by a man's dress shirt hanging from the bathroom or closet door. Walker Evans had introduced the Little Screens series as "deft, witty, spanking little poems of hate" which encourages the spectator to read the image as a comment of the rise of television, though the precise nature of any social critique remains somewhat ambiguous. However, just as photography would unsettle painting's supremacy in the art academies, so too television, art film, and video art would question the limits of still photography. In this sense, Friedlander's scrutiny of the proliferation of television screens seems somewhat prescient.

Gelatin silver print - The Metropolitan Museum of Art Collection


Artwork Images

Self Portrait, Provincetown, Massachusetts (1968)

Artwork description & Analysis: From his earliest days, Friedlander has approached the self-portrait in a raw and unorthodox manner. Here for instance, he confuses the hierarchy within the frame by positioning an illuminated light bulb between himself and the onlooking spectator. As with most of his self-portraits, Friedlander's presence is either secondary or compromised by other elements in the image. Historian and curator Rod Slemmons suggested that Friedlander "provides us with a new visual world in which obstruction, confusion, and accident are the driving forces" and when the spectator is challenged in this way, she or he is given license to draw their own conclusions from the picture. It is often said of photographers that they 'paint with light' and here the photographic artist is caught between the two light sources - artificial and natural (the latter pours in through the window to Friedlander's left) - by which he 'paints' his pictures: a self-portrait, in other words, reminiscent of the painter and his palette.

Gelatin silver print - The Metropolitan Museum of Art Collection


Artwork Images

Maria, Las Vegas (1970)

Artwork description & Analysis: One of Friedlander's favorite subjects is his wife and muse Maria. At first glance, Maria appears to conform to the adoring 'sitter' convention one has come to associate with classical portraiture. However, on closer inspection we notice that Maria is in fact framed within a frame, sharing the inner frame indeed with her silhouetted husband. The picture does avoid his more complex and evasive framing tendencies, yet Friedlander's secondary presence manages to upset the equilibrium of the scene since it serves to remind us that Maria's returning gaze is meant first and foremost for her husband. Putting that detail to one side, Maria is posed in medium close shot, illuminated by the rectangular shards of light that pass through a horizontal (venetian) window blind. Friedlander brings then a chiaroscuro effect to a set up that bears a resemblance to a still from a 1940s film noir. This portrait was to feature in Maria, a collection of images of his wife, sometimes seen with other family members, shot between 1960 and 1992 (the year of the books first publication). The book featured a conversation with Friedlander which he brought to a close with an epigraph to Maria borrowed from Patrick White's novel The Tree of Man (1955):
"Then he stirred his tea again, and from the round red eddies of tea contentment began to radiate. She sat opposite him, smelling of scones and permanence. There would be every opportunity to learn her off by heart."

Gelatin silver print
More Lee Friedlander Artwork and Analysis:
Influences and Connections
Influences on Artist
Artists, Friends, Movements
Influenced by Artist
Artists, Friends, Movements

Interactive chart with Lee Friedlander's main influences, and the people and ideas that the artist influenced in turn.
View Influences Chart

| | | | | |
| --- | --- | --- | --- | --- |
| Artists | | Personal Contacts | | Movements |

Influences on Artist

Lee Friedlander
Years Worked: 1948 - Present
Influenced by Artist

Artists

| | |
| --- | --- |
| | Daniel Arnold |
| | Richard Sandler |

Personal Contacts

Movements
If you see an error or typo, please:
tell us
Cite this page

Content compiled and written by Vitoria Hadba-Groom
Edited and published by The Art Story Contributors
" Artist Overview and Analysis". [Internet]. . TheArtStory.org
Content compiled and written by Vitoria Hadba-Groom
Edited and published by The Art Story Contributors
Available from:
First published on 18 Jul 2018. Updated and modified regularly.


[Accessed ]