Progression of Art
1947
I Was a Rich Man's Plaything
Paolozzi, a Scottish sculptor and artist, was a key member of the British post-war avant-garde. His collage I Was a Rich Man's Plaything proved an important foundational work for the Pop Art movement, combining pop culture documents like a pulp fiction novel cover, a Coca-Cola advertisement, and a military recruitment advertisement. The work exemplifies the slightly darker tone of British Pop Art, which reflected more upon the gap between the glamour and affluence present in American popular culture and the economic and political hardship of British reality. As a member of the loosely associated Independent Group, Paolozzi emphasized the impact of technology and mass culture on high art. His use of collage demonstrates the influence of Surrealist and Dadaist photomontage, which Paolozzi implemented to recreate the barrage of mass media images experienced in everyday life.
Collage - Tate Modern, London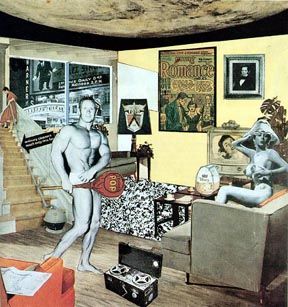 1956
Just What Is It That Makes Today's Homes So Different, So Appealing?
Hamilton's collage was a seminal piece for the evolution of Pop Art and is often cited as the very first work of the movement. Created for the exhibition This is Tomorrow at London's Whitechapel Gallery in 1956, Hamilton's image was used both in the catalogue for the exhibition and on posters advertising it. The collage presents viewers with an updated Adam and Eve (a body-builder and a burlesque dancer) surrounded by all the conveniences modern life provided, including a vacuum cleaner, canned ham, and a television. Constructed using a variety of cutouts from magazine advertisements, Hamilton created a domestic interior scene that both lauded consumerism and critiqued the decadence that was emblematic of the American post-war economic boom years.
Collage - Kunsthalle Tubingen, Germany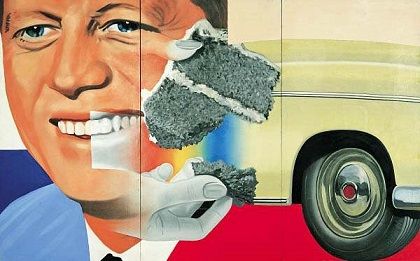 1960-61
President Elect
Like many Pop artists, Rosenquist was fascinated by the popularization of political and cultural figures in mass media. In his painting President Elect, the artist depicts John F. Kennedy's face amidst an amalgamation of consumer items, including a yellow Chevrolet and a piece of cake. Rosenquist created a collage with the three elements cut from their original mass media context, and then photo-realistically recreated them on a monumental scale. As Rosenquist explains, "The face was from Kennedy's campaign poster. I was very interested at that time in people who advertised themselves. Why did they put up an advertisement of themselves? So that was his face. And his promise was half a Chevrolet and a piece of stale cake." The large-scale work exemplifies Rosenquist's technique of combining discrete images through techniques of blending, interlocking, and juxtaposition, as well as his skill at including political and social commentary using popular imagery.
Oil on masonite - Centre Georges Pompidou, Paris
1961-62
Pastry Case, I
Oldenburg is known as one of the few American Pop Art sculptors, notorious for his playfully absurd creations of food and inanimate objects. The collection of works in Pastry Case, I were originally displayed in the artist's famous 1961 installation titled The Store, located on New York's Lower East Side. For the project, Oldenburg created plaster sculptural objects including a strawberry shortcake and a candied apple. In addition to replicating consumer items, Oldenburg organized his installation like a typical variety shop and sold his items at low prices, commenting on the interrelation between art objects and commodities. Although sold as if they were mass-produced, the sculptures in The Store were carefully hand-built and the lavish, expressive brushstrokes that cover the items in Pastry Case, I seem to mock the seriousness of Abstract Expressionism, a common theme in Pop Art. Oldenburg combines the evocative expressionist gesture with the commodity item in a highly ironic environment.
Painted plaster sculptures on ceramic plates, metal platter and cups in glass-and-metal case - Museum of Modern Art, New York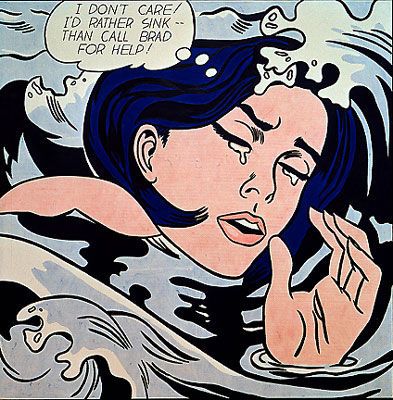 1963
Drowning Girl
In the early 1960s, Lichtenstein gained renown as a leading Pop artist for paintings sourced from the popular comics. Although artists such as Robert Rauschenberg and Jasper Johns had previously integrated popular imagery into their works, no one hitherto had focused on cartoon imagery as exclusively as Lichtenstein. His work, along with that of Andy Warhol, heralded the beginning of the Pop Art movement, and, essentially, the end of Abstract Expressionism as the dominant style.

Lichtenstein did not simply copy comic pages directly, he employed a complex technique that involved cropping images to create entirely new, dramatic compositions, as in Drowning Girl, whose source image included the woman's boyfriend standing on a boat above her. Lichtenstein also condensed the text of the comic book panels, locating language as another, crucial visual element; re-appropriating this emblematic aspect of commercial art for his paintings further challenged existing views about definitions of "high" art.

As with the rest of Pop Art, it is often unclear whether Lichtenstein is applauding the comic book image, and the general cultural sphere to which it belongs, or critiquing it, leaving interpretation up to the viewer. But in Drowning Girl, the ridicule of the woman's situation (as is made clear by her ridiculous statement) is evident.
Oil on canvas - Oil and synthetic polymer paint on canvas, © Estate of Roy Lichtenstein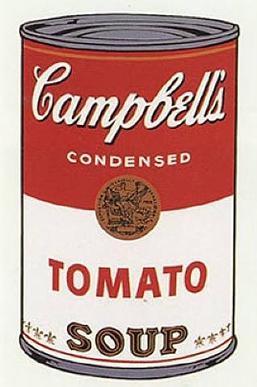 1968
Campbell's Soup I
Warhol's iconic series of Campbell's Soup Cans paintings were never meant to be celebrated for their form or compositional style, like that of the abstractionists. What made these works significant was Warhol's co-opting of universally recognizable imagery, such as a Campbell's soup can, Mickey Mouse, or the face of Marilyn Monroe, and depicting it as a mass-produced item, but within a fine art context. In that sense, Warhol wasn't just emphasizing popular imagery, but rather providing commentary on how people have come to perceive these things in modern times: as commodities to be bought and sold, identifiable as such with one glance. This early series was hand-painted, but Warhol switched to screenprinting shortly afterwards, favoring the mechanical technique for his mass culture imagery. 100 canvases of Campbell's soup cans made up his first solo exhibition at the Ferus Gallery in Los Angeles, and put Warhol on the art world map almost immediately, forever changing the face and content of modern art.
Screenprint - Fair Use
1966
Bunnies
After Polke co-founded Capitalist Realism in 1963 in Düsseldorf, Germany, with Gerhard Richter and Konrad Leug, he began to create paintings of popular culture, evoking both genuine nostalgia for the images and mild cynicism about the state of the German economy. He began simulating the dot patterns of commercial four-color printing (Raster dots) around the same time as Lichtenstein started replicating Ben-Day dots on his canvases. In Bunnies, Polke uses an image from the Playboy Club depicting four of their "bunnies" in costume. By recreating the Raster dot printing technique in this painting, Polke disrupts the mass-marketing of sexual appeal, because the closer the viewer gets to the work, the less they see. Bunnies and the rest of Polke's Raster dot paintings, do not invite a deep, personal identification with the image but rather the images become allegories for the self as it lost amidst the flood of commecial imagery. The dissonance between the inviting sexuality of the appropriated image of the Playboy bunnies and the distancing effect of the Raster dots echoes the interplay of feelings and emotions felt by the artist, both yearning for the mass-culture advertised life and repelled by it at the same time. Polke's vision of popular culture is far more critical than any of the New York artists, and is rooted in the skeptical attitude held by the Capitalist Realists. Rather than the "cool" detachment of New York, Polke cleverly critiques popular culture and how it affects the individual using the same mass-market image-making techniques.
Oil on cavas - Hirshorn Museum and Sculpture Garden, Washington, D.C., USA
1966
Standard Station
The printmaker, painter, and photographer Ed Ruscha was an important proponent of West Coast Pop Art that blended the imagery of Hollywood with colorful renderings of commercial culture and the landscape of the southwest. The gasoline station is one of Ruscha's most iconic motifs, appearing repeatedly in his book Twentysix Gasoline Stations (1963), a documentation of deadpan photographs from a road trip through the American Southwestern countryside. In Standard Station, the artist transforms the banal image of the gasoline station into an emblematic symbol of American consumer culture. Here, through the medium of screenprinting, Ruscha flattens the perspective into a single plane to create an image that evokes the aesthetic of commercial advertising. The work also demonstrates Ruscha's early experiments with language and textual interplay, which would be a principal concern in much of his later, more conceptually oriented work.
Screenprint - Museum of Modern Art, New York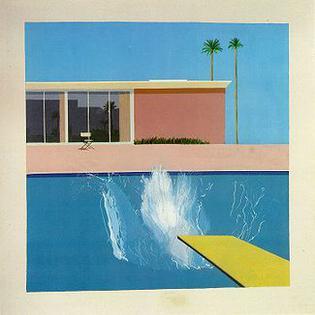 1967
A Bigger Splash
This large canvas, measuring approximately 94 by 94 inches, was derived from a photograph of a swimming pool Hockney had seen in a pool manual. Hockney was intrigued by the idea that a painting might recapture a fleeting event frozen in a photograph: "I loved the idea of painting this thing that lasts for two seconds: it takes me two weeks to paint this event that lasts for two seconds." The dynamism of the splash contrasts strongly with the static and rigid geometry of the house, the pool edge, the palm trees and the striking yellow diving board, all carefully arranged in a grid containing the splash. This gives the painting a disjointed effect that is absolutely intentional, one of the hallmarks of Hockney's style. The effect of stylization and artificiality draws on the aesthetic vocabulary of Pop Art.
Acrylic on canvas - Tate, London
Similar Art
Related Artists
Related Movements & Topics