Artists
Allan Kaprow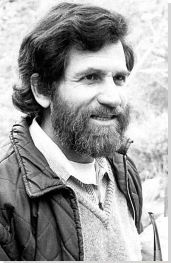 Born: August 23, 1927 - Atlantic City, New Jersey
Died: April 5, 2006 - Encinitas, California
"The integration of all elements -- environment, constructed sections, time, space, and people -- has been my main technical problem..."

Summary of Allan Kaprow
Allan Kaprow was a pivotal figure in the shifting art world of the 1960s; his "happenings," a form of spontaneous, non-linear action, revolutionized the practice of Performance Art. While Kaprow began as a painter, by the mid 1950s his interest turned to the theoretical, based primarily on the shifting concepts of space as subjectively experienced by the viewer. Kaprow emerged from the group of artists known as the Rutgers Group, based out of Rutgers University where Kaprow taught art history and studio art. Kaprow was among the many artists and critics who focused on an intellectual and theorized view of art, rejecting the monumental nature of Abstract Expressionist works and instead focusing on the act of their production. In particular, his influential essay, "The Legacy of Jackson Pollock," (1956), called for an end to craftsmanship and permanence in art and instead demanded that artists shift their attention to "non-concrete," or ephemeral, modes of production.
Key Ideas
Kaprow's happenings changed the definition of the art object. "Art" was no longer an object to be viewed hanging on a wall or set on a pedestal; rather, it could now be anything at all, including movement, sound, and even scent. Kaprow stated, "The everyday world is the most astonishing inspiration conceivable. A walk down 14th Street is more amazing than any masterpiece of art."
Kaprow was very clear that his works were connected with art and not theater. He stressed that his happenings were in the same category as the
Action Painting
of
Abstract Expressionists
and not with scripted scenes involving actors playing parts. Kaprow's pieces involved spaces he physically altered, with sights and sounds as deliberately composed as any canvas by Pollock or Rothko.
Kaprow rebelled against the prescriptions of Clement Greenberg, both in his art and in his writings: formal aesthetics, Kaprow believed, were no longer relevant when the art left the canvas. Kaprow's work was based on an "aesthetic of regular experience," a transient and momentary experience felt by the viewer being as significant as a painting on canvas.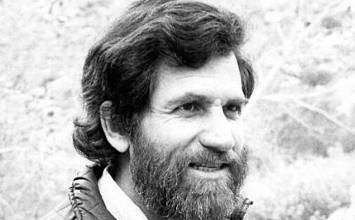 Allan Kaprow was born in 1927 in New Jersey. During his early years, he experienced chronic illness that forced him to move from New York to Tuscon, Arizona where he spent the rest of his childhood. There, separated from his Jewish, middle-class roots, he experienced life on a ranch, giving him a sense of the communal activity that came to dominate his later artistic career. Ill and often bed-bound, Kaprow began to develop an interest in arts and crafts, and eventually returned to New York to attend New York University and study Philosophy and Art History.
Important Art by Allan Kaprow

The below artworks are the most important by Allan Kaprow - that both overview the major creative periods, and highlight the greatest achievements by the artist.


Artwork Images

Baby (1957)

Artwork description & Analysis: Baby is an action collage, made from randomly assembled objects juxtaposed with cut-up pieces of Kaprow's own paintings. The only coherent and ordered element in the composition is in the formal arrangement of the elements into vertical strips. Kaprow produced the work in a frenzied, ritualistic process, influenced by the gestural quality of Pollock's action painting. Kaprow echoes the "combines" of Robert Rauschenberg in his synthesis of Pollock's technique with Cage's influence. Kaprow had moved toward an "unbound," three dimensional form, and was increasingly using found objects and everyday materials in an attempt to reconcile art with everyday experience, which would end up being his ultimate goal.

Paper, metal foil, pieces of carpet, oil and plastic paint, chalk, linen on hardboard - Museum Moderner Kunst Ludwig Vienna


Artwork Images

Rearrangeable Panels (1957-9)

Artwork description & Analysis: This 1957 work represents a shift from the art object to the surrounding environment. Kaprow began to investigate the effect on space through the incorporation of three-dimensional and found objects into his work. Each time Rearrangeable Panels was exhibited, the curator or artist would be forced to make choices about how to configure the panels, foreshadowing Kaprow's use of audience participation. Kaprow challenges the notion of artistic authorship through this collaborative element of construction and in its unique response to each site in which it is placed.

Wood, mirror, paint, oak leaves, aluminum, textile, bitumen, electric lamps - Musée National d'art Moderne Centre Pompidou, Paris


Artwork Images

18 Happenings in 6 Parts (1959)

Artwork description & Analysis: In this happening, the public was invited to complete a number of tasks using instructions outlined in a score. Kaprow used music theory with new developments in electronic music, theatre, and dance, all combined within a pioneering structure that demanded participatory involvement. 18 Happenings in 6 Parts was performed at the Reuben Gallery in New York and is one of his earliest and most important Happenings, often cited as a turning point for performance art. Kaprow authorized a reinvention of this piece just a few weeks before his death and it was performed in Munich's Haus der Kunst in November of 2006.

A gallery divided into three rooms, semitransparent plastic sheets painted and collaged with references to Kaprow's earlier work, panels with words roughly painted, rows of plastic fruit, artist's hand-lettered instructions and programs, vintage posters, photographs, and videotapes - Photos and archives: Allan Kaprow Archives, the Getty Research Institute
More Allan Kaprow Artwork and Analysis:
Influences and Connections
Influences on Artist
Artists, Friends, Movements
Influenced by Artist
Artists, Friends, Movements

Interactive chart with Allan Kaprow's main influences, and the people and ideas that the artist influenced in turn.
View Influences Chart


Influences on Artist

Allan Kaprow
Years Worked: 1927 - 2006
Influenced by Artist

If you see an error or typo, please:
tell us
Cite this page

Content compiled and written by Sarah Jenkins
Edited and published by The Art Story Contributors
" Artist Overview and Analysis". [Internet]. . TheArtStory.org
Content compiled and written by Sarah Jenkins
Edited and published by The Art Story Contributors
Available from:
First published on 21 Nov 2011. Updated and modified regularly.


[Accessed ]