Movements, Styles, and Tendencies
Minimalism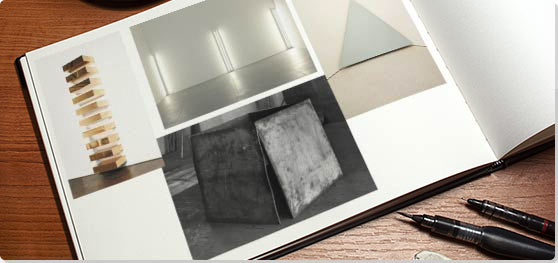 Minimalism
Started: Early 1960s
Ended: Late 1960s

Summary of Minimalism
Minimalism emerged in New York in the early 1960s among artists who were self-consciously renouncing recent art they thought had become stale and academic. A wave of new influences and rediscovered styles led younger artists to question conventional boundaries between various media. The new art favored the cool over the "dramatic": their sculptures were frequently fabricated from industrial materials and emphasized anonymity over the expressive excess of Abstract Expressionism. Painters and sculptors avoided overt symbolism and emotional content, but instead called attention to the materiality of the works. By the end of the 1970s, Minimalism had triumphed in America and Europe through a combination of forces including museum curators, art dealers, and publications, plus new systems of private and government patronage. And members of a new movement, Post-Minimalism, were already challenging its authority and were thus a testament to how important Minimalism itself became.
Key Ideas
Minimalists distanced themselves from the Abstract Expressionists by removing suggestions of biography from their art or, indeed, metaphors of any kind. This denial of expression coupled with an interest in making objects that avoided the appearance of fine art led to the creation of sleek, geometric works that purposefully and radically eschew conventional aesthetic appeal.
The post-Sputnik era revived active interest in Russian
Constructivism
. The Constructivist approach led to the use of modular fabrication and industrial materials in preference to the craft techniques of traditional sculpture. The
readymades
of
Marcel Duchamp
were also inspirational examples of the employment of prefabricated materials. Based on these sources, Minimalists created works that resembled factory-built commodities and upended traditional definitions of art whose meaning was tied to a narrative or to the artist.
The use of prefabricated industrial materials and simple, often repeated geometric forms together with the emphasis placed on the physical space occupied by the artwork led to some works that forced the viewer to confront the arrangement and scale of the forms. Viewers also were led to experience qualities of weight, height, gravity, agility or even the appearance of light as a material presence. They were often faced with artworks that demanded a physical as well as a visual response.
Minimalists sought to break down traditional notions of sculpture and to erase distinctions between painting and sculpture. In particular, they rejected the formalist dogma espoused by the critic
Clement Greenberg
that placed limitations on the art of painting and privileged artists who seemed to paint under his direction. The Minimalists' more democratic point of view was set out in writings as well as exhibitions by their leaders
Sol LeWitt
,
Donald Judd
, and
Robert Morris
.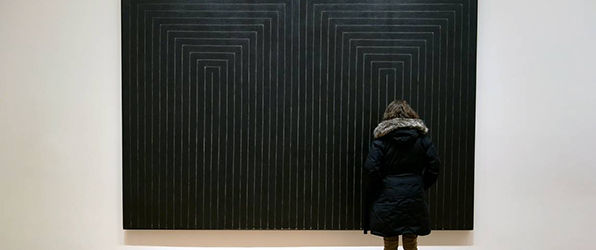 Photograph of museum visitor in front of Frank Stella's The Marriage of Reason and Squalor, II (1959)
Having finished his undergraduate degree at Princeton, Frank Stella moved to New York where he worked as a house painter to pay his rent. He used commercial paint bought at a dollar per gallon with simple painter brushes to create his Black Paintings (1958-60), which made him famous when he was just 23. The works were foundational in the development of Minimalism, as his statement, "What you see is what you see," became the movement's mantra.
Important Art and Artists of Minimalism

The below artworks are the most important in Minimalism - that both overview the major ideas of the movement, and highlight the greatest achievements by each artist in Minimalism. Don't forget to visit the artist overview pages of the artists that interest you.


Artwork Images

Die Fahne Hoch! (1959)

Artist: Frank Stella

Artwork description & Analysis: Unquestionably a key monument in modern art, this work, one of the series of Black Paintings done by Frank Stella, is a bold counter-movement against the eminent Abstract Expressionist painters. It is a monochrome rectangular painting on a heavy chassis projecting from the wall into surrounding space as if urging the viewer to move back. Magnetized, the viewer is drawn closer seeking to read the pattern of pinstripes on the surface. These stripes are in fact the raw canvas revealed between broad black stripes painted with few visible brushstrokes. The painting is an unframed, flat abstraction and would appear to be meaningless except for its title: Die Fahne Hoch! (Raise High the Flag!), the opening words of the Nazi anthem. Stella has denied any political connection, and one could possibly see the title as a wave to Jasper Johns, whose American flag paintings of 1954-55 were met with praise by his critics, but also a general public bewilderment.

Stella challenged the traditional dichotomy between painting and sculpture that was championed by Clement Greenberg and other modernists, particularly those associated with Abstract Expressionism. In particular, Greenberg felt that each medium and, indeed, each art form should be pure with no overlap with other media, an idea that is directly disputed by Stella's canvas/object and most Minimalists.

Scholars have read the title as an example of Minimalists' often-in-your-face aesthetics and their refusal to make works that are visually appealing, instead forcing the viewer to confront works on a physical level as a way of disputing the conventional relationship between the viewer and the work of art in which the viewer simply appreciates or admires the visual appeal of a work.

Enamel on canvas - Whitney Museum of American Art


Artwork Images

Die (1962)

Artist: Tony Smith

Artwork description & Analysis: The artist's specifications for the sculpture were as follows: "a six-foot cube of quarter-inch hot-rolled steel with diagonal internal bracing." The dimensions were determined, according to Tony Smith, by the proportions of the human body. Smith explained that a larger scale would have endowed Die with the stature of a "monument," while a smaller one would have reduced it to a mere "object." Weighing approximately 500 pounds and resting on the museum floor, the sculpture invites us to walk around it and experience it sequentially, one or two sides at a time. Like other examples of Minimalism, its unreadable surface and frank lack of visual appeal come across as almost hostile in its undermining of traditional understandings of art as something aesthetically or emotionally appealing, showing the artist's rejection of Abstraction Expressionism's hands-on approach to art making.

The sculpture's deceptively simple title invites multiple associations: it alludes to die casting, to one of a pair of dice, and, ultimately, to death. As Smith remarked, "Six feet has a suggestion of being cooked. Six foot box. Six foot under." Rationality, evoked by Die's purely geometric configuration, is countered by the sculpture's brooding presence. Meaning becomes relative rather than absolute, something generated through the interplay of word and object. Weaving together strains of architecture, industrial manufacture, and the found object, Smith radically transformed the way sculpture could look, how it could be made, and, ultimately, how it could be understood.

Steel - National Gallery of Art, Washington, D.C.


Artwork Images

Lever (1966)

Artist: Carl Andre

Artwork description & Analysis: Carl Andre's Lever was the most audacious entry at the 1966 Primary Structures exhibition that introduced the public to Minimalism. This row of 137 firebricks aligned to project out from the wall and straight across the floor was likened by Andre to a fallen column. Lever startled gallery visitors, interrupted their movement and, in its simplicity, was annoying. Made from easily available building materials ("anyone could do it: where was the art?"), Lever demanded respect from thoughtful viewers while undermining traditional artistic values. Such provocations became routine for Andre: "my ambition as an artist is to be the 'Turner of matter.' As Turner severed color from depiction, so I attempt to sever matter from depiction." He went on to describe wood as the "mother of matter" and praised bricklayers as "people of fine craft."

In this way, Andre's Lever along with many Minimalist works challenged how art was situated in the gallery and how viewers interacted with it. Art no longer was hung discreetly on the wall or placed on a pedestal in the corner as something to enjoy in a purely visual way. It now required a more complex and thoughtful interaction from the viewer. This piece is made of nontraditional materials that call to mind industrial or building materials that require no manipulation from the hand of the artist. While the work is nonrepresentational, the title is suggestive of manual labor.

Fireplace bricks - Collection of the Artist
More Minimalism Artwork and Analysis:
If you see an error or typo, please:
tell us
Cite this page

Content compiled and written by Justin Wolf
Edited and published by The Art Story Contributors
" Movement Overview and Analysis". [Internet]. . TheArtStory.org
Content compiled and written by Justin Wolf
Edited and published by The Art Story Contributors
Available from:
First published on 21 Mar 2015. Updated and modified regularly.


[Accessed ]