Movements, Styles, and Tendencies
De Stijl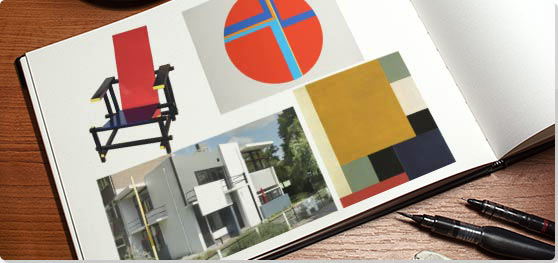 De Stijl
Started: 1917
Ended: 1931

Summary of De Stijl
The Netherlands-based De Stijl movement embraced an abstract, pared-down aesthetic centered in basic visual elements such as geometric forms and primary colors. Partly a reaction against the decorative excesses of Art Deco, the reduced quality of De Stijl art was envisioned by its creators as a universal visual language appropriate to the modern era, a time of a new, spiritualized world order. Led by the painters Theo van Doesburg and Piet Mondrian - its central and celebrated figures - De Stijl artists applied their style to a host of media in the fine and applied arts and beyond. Promoting their innovative ideas in their journal of the same name, the members envisioned nothing less than the ideal fusion of form and function, thereby making De Stijl in effect the ultimate style. To this end, De Stijl artists turned their attention not only to fine art media such as painting and sculpture, but virtually all other art forms as well, including industrial design, typography, even literature and music. De Stijl's influence was perhaps felt most noticeably in the realm of architecture, helping give rise to the International Style of the 1920s and 1930s.
Key Ideas
Like other avant-garde movements of the time, De Stijl, which means simply "the style" in Dutch, emerged largely in response to the horrors of World War I and the wish to remake society in its aftermath. Viewing art as a means of social and spiritual redemption, the members of De Stijl embraced a utopian vision of art and its transformative potential.
Among the pioneering exponents of abstract art, De Stijl artists espoused a visual language consisting of precisely rendered geometric forms - usually straight lines, squares, and rectangles--and primary colors. Expressing the artists' search "for the universal, as the individual was losing its significance," this austere language was meant to reveal the laws governing the harmony of the world.
Even though De Stijl artists created work embodying the movement's utopian vision, their realization that this vision was unattainable in the real world essentially brought about the group's demise. Ultimately, De Stijl's continuing fame is largely the result of the enduring achievement of its best-known member and true modern master,
Piet Mondrian
.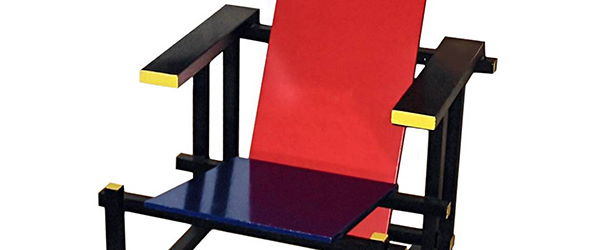 True
Gerrit Rietveld said, "We must remember that sit is a verb too." In 1918 he had a poem incised on the underside of his Red and Blue Chair that read, "When I sit, I do not want to sit as my seated flesh likes, but rather as my seated spirit would sit, if it wove the chair for itself." The work and the philosophy it expressed became canonical to de Stijl.
Important Art and Artists of De Stijl

The below artworks are the most important in De Stijl - that both overview the major ideas of the movement, and highlight the greatest achievements by each artist in De Stijl. Don't forget to visit the artist overview pages of the artists that interest you.

Composition A (1920)

Artist: Piet Mondrian

Artwork description & Analysis: Composition A - whose title announces its nonobjective nature by making no reference to anything beyond itself - is a good example of Mondrian's geometric abstraction before it fully matured within the framework of the De Stijl aesthetic. With its rectilinear forms made up of solid, outlined areas of color, the work reflects the artist's experimentation with Schoenmaekers's mathematical theory and his search for a pared-down visual language appropriate to the modern era. While here Mondrian uses blacks and shades of grey, his paintings would later be further reduced, ultimately employing more basic compositions and only solid blocks of primary colors.

Oil on canvas - The National Gallery of Modern and Contemporary Art, Rome

Mechano-Dancer (1922)

Artist: Vilmos Huszar

Artwork description & Analysis: This early work employs the signature geometric shapes of the De Stijl aesthetic, yet its layering of shapes and forms, and combination of horizontal, vertical, and diagonal lines--along with the absence of color - reflect a different approach from that of the movement's leading artists, van Doesburg and Mondrian. The work's suggestion of a human figure - accomplished by the arrangement of geometric forms and placement of a cube at the top, possibly representing a head - is also unique in De Stijl art. Mechano-Dancer's evocation of a hybrid man-machine, also implied by its title, suggests the influence of Dada and Italian Futurism.

Photomontage - Private collection, New York

Red and Blue Chair (1923)

Artist: Gerrit Rietveld

Artwork description & Analysis: Originally designed in 1918 but not fully realized until 1923, when it incorporated the characteristic De Stijl scheme of primary colors, Red and Blue Chair is one of the canonical works of the movement. Rietveld envisioned a chair that played with and transformed the space around it, consisting of rectilinear volumes, planes, and lines that interact in unique ways, yet manage to avoid intersection. Every color, line, and plane is clearly defined, as if each comprised its own work that just happened to be used for a piece of furniture. The simple assembly Rietveld deployed was quite intentional as well; he built the chair out of standard lumber sizes available at the time, reflecting his goal of realizing a piece of furniture that could be mass-produced as opposed to hand-crafted. Emphasizing its manmade quality, Red and Blue Chair also notably avoids the use of natural form, which furniture designers tend to favor in order to emphasize the idea of physical comfort and convenience.

Painted wood - Auckland Museum, New Zealand
More De Stijl Artwork and Analysis:
If you see an error or typo, please:
tell us
Cite this page

Content compiled and written by Justin Wolf
Edited and published by The Art Story Contributors
" Movement Overview and Analysis". [Internet]. . TheArtStory.org
Content compiled and written by Justin Wolf
Edited and published by The Art Story Contributors
Available from:
First published on 22 Nov 2011. Updated and modified regularly.


[Accessed ]