Artists
Dan Flavin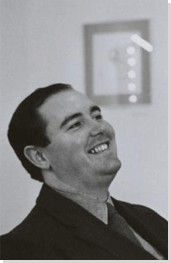 Born: April 1, 1933 - Jamaica, New York
Died: November 29, 1996 - Riverhead, New York

"It's electric current with a switch - dubious."

Summary of Dan Flavin
Few artists can boast having explored a single medium, and an unusual one at that, as tenaciously and consistently as Dan Flavin with his signature fluorescent light tubes. Classified within the Minimalist framework, Flavin saw himself as vehemently "Maximalist." That is, in using readymade objects in the style of Dadaist Marcel Duchamp, he exploited the possibilities of the most banal and in some ways ugly material: harsh fluorescent lights - surely the stuff of futuristic anti-aestheticism. Flavin began incorporating electric lights into his works in the early 1960s with his breakthrough Icons series. Having hit upon his chosen medium, he abandoned painting altogether, focusing on light works for the remainder of his career, where he produced installations and sculptural pieces made exclusively of fluorescent light fixtures and tubes that came in a limited range of colors and sizes. Working with prefabricated rather than hand-crafted materials allowed Flavin to focus on the light itself and the way in which it transformed ("sculpted") the exhibition space. A clear progression in scale and ambition marks Flavin's site-specific light installations, sculptural and architectural environments commissioned by a wide-range of artistic and religious institutions for the rest of his career.
Key Ideas
Dan Flavin emphatically denied that his sculptural light installations had any kind of transcendent, symbolic, or sublime dimension, stating: "It is what it is and it ain't nothing else," and that his works are simply fluorescent light responding to a specific architectural setting. Despite Flavin's insistence on this, it is possible to view individual pieces in terms of implied narratives. Potential associations with the concept of light - from religious conversion to intellectual epiphanies - are rife in Flavin's work, whether or not such interpretations are encouraged by the artist himself.
Flavin's light "propositions," which he did not consider sculptures, are made up of standardized, commercially available materials, much like the
readymades
by
Marcel Duchamp
that Flavin admired. Further, the materials Flavin used are perishable, their limited lifecycles anything but timeless. In this way, the artist emphasized the ephemeral nature of his works, positioning his art outside the realm of connoisseurship, where art objects are valued as much for their material qualities as for their conceptual meaning.
The tendency to privilege pre-fabricated industrial materials and simple, geometric forms together with the emphasis placed on the physical space occupied by the artwork and the viewer's interaction with it aligns Flavin's work with that of other
Minimalist
artists. His emphasis on light and its effects, however, align him as strongly with
Op art
, whose practitioners explored variations in color and shape based on differences in light. But, in some regards, Flavin went much further than the Op art painters by taking the fundamental concepts of the style and translating them into sculpture that demonstrated in three dimensions what the paintings could only aspire to communicate. The optical effects painters achieved could only fool the eye by alluding to movement, whereas Flavin's light waves demonstrated how the two-dimensional illusionism was achieved - light was color, color was light, and the interaction of either created the illusion of dynamism as they played against, or in harmony with, one another and in their environment.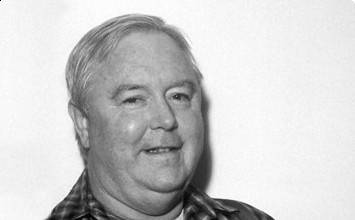 Daniel Flavin grew up in a modest Queens neighborhood, raised by Catholic parents. Both he and his twin brother, David, went to parochial school and attended church services regularly. Serving as an acolyte, Daniel was impressed by the ceremony, the dramatic costumes of the celebrants, the music, and the lighting of high funeral mass. The brothers entered the high school of the Immaculate Conception Preparatory Seminary together in 1947, although Daniel's feelings about religion remained ambivalent.
Important Art by Dan Flavin

The below artworks are the most important by Dan Flavin - that both overview the major creative periods, and highlight the greatest achievements by the artist.


Artwork Images

Chamber Music I , no. 6 (to James Joyce) (1959)

Artwork description & Analysis: Some of Flavin's earliest dedicated works, such as Apollinaire Wounded, cite famous literary figures. Flavin felt a strong connection with James Joyce, whose rejection of family and Catholicism must have reminded Flavin of his own ambivalent feelings for his parents and the religion they strongly encouraged him to follow. This series of drawings was inspired by Joyce's Chamber Music, which the writer irreverently describes as being inspired by the sound of urination into a chamber pot. While still using the gestural strokes of Abstract Expressionism, Flavin calls attention to the "suggestive color and atmospheric references" of Joyce's poetry and its "pale and dark dualities," revealing an early interest in light effects.

Watercolor, ink and charcoal on paper - Collection Stephen Flavin


Artwork Images

The Diagonal of May 25, 1963 (to Constantin Brancusi) (1963)

Artwork description & Analysis: Flavin's iconic diagonal grew out of a sketch of the "diagonal of personal ecstasy," apparently made earlier on the same day. Having studied and admired readymades by Marcel Duchamp, Flavin was searching for a simple object to claim for his art. With the "ecstatic" revelation of the diagonal, Flavin realized the potential of the fluorescent bulb as a basic form that could be built upon and infinitely repeated, not unlike the grooved design of Brancusi's Endless Column. Flavin's choice of the diagonal refers to the artistic philosophy of early abstractionists like Wassily Kandinsky and Theo van Doesburg, who emphasized the diagonal for its dynamic presence. Thus, rather than creating works that focused on stasis in contrast to the impermanence of his medium of light, Flavin celebrated movement by exploiting the liveliness and speed implied by the diagonal.

Yellow fluorescent light - Dia Art Foundation, New York


Artwork Images

Icon V (Coran's Broadway Flesh) (1962)

Artwork description & Analysis: Most of Flavin's dedicated works served as memorials, often to talented individuals who died in an untimely or unfortunate manner. His piece icon V (Coran's Broadway Flesh) was intended as a tribute to "a young English homosexual who loved New York City." The 28 incandescent bulbs surrounding the painted-wood ground were specifically designated by the artist as "candle" lights. They give the surface of the work a rosy, flesh-like impression, generating a nearly spiritual glow that stands in marked contrast to the bold coloring of Flavin's other Icons. Also unlike his other works, this piece makes use of overt symbolism, which can be seen in its warm coloring and in the bulbs wryly representing the bright lights of Broadway. Flavin himself remarked on this work, "...beyond structure and phenomena, I have tried to infect my icon with a blank magic, which is my art. I know this is hard to cope with, but I have succeeded. Coran's Broadway Flesh will hold you simply, succinctly."

Oil on gesso on masonite, porcelain, chains, incandescent bulbs - Private collection, New York
More Dan Flavin Artwork and Analysis:
Influences and Connections
Influences on Artist
Artists, Friends, Movements
Influenced by Artist
Artists, Friends, Movements

Interactive chart with Dan Flavin's main influences, and the people and ideas that the artist influenced in turn.
View Influences Chart


Influences on Artist

Dan Flavin
Years Worked: 1963 - 1996
Influenced by Artist

If you see an error or typo, please:
tell us
Cite this page

Content compiled and written by Tracy DiTolla
Edited and published by The Art Story Contributors
" Artist Overview and Analysis". [Internet]. . TheArtStory.org
Content compiled and written by Tracy DiTolla
Edited and published by The Art Story Contributors
Available from:
First published on 21 Jan 2012. Updated and modified regularly.


[Accessed ]