Movements, Styles, and Tendencies
Constructivism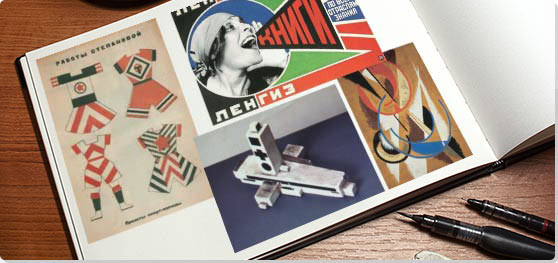 Constructivism
Started: 1915
Ended: Late 1930s

Summary of Constructivism
Constructivism was the last and most influential modern art movement to flourish in Russia in the 20th century. It evolved just as the Bolsheviks came to power in the October Revolution of 1917, and initially it acted as a lightning rod for the hopes and ideas of many of the most advanced Russian artists who supported the revolution's goals. It borrowed ideas from Cubism, Suprematism and Futurism, but at its heart was an entirely new approach to making objects, one which sought to abolish the traditional artistic concern with composition, and replace it with 'construction.' Constructivism called for a careful technical analysis of modern materials, and it was hoped that this investigation would eventually yield ideas that could be put to use in mass production, serving the ends of a modern, Communist society. Ultimately, however, the movement floundered in trying to make the transition from the artist's studio to the factory. Some continued to insist on the value of abstract, analytical work, and the value of art per se; these artists had a major impact on spreading Constructivism throughout Europe. Others, meanwhile, pushed on to a new but short-lived and disappointing phase known as Productivism, in which artists worked in industry. Russian Constructivism was in decline by the mid 1920s, partly a victim of the Bolshevik regime's increasing hostility to avant-garde art. But it would continue to be an inspiration for artists in the West, sustaining a movement called International Constructivism which flourished in Germany in the 1920s, and whose legacy endured into the 1950s.
Key Ideas
Constructivists proposed to replace art's traditional concern with composition with a focus on construction. Objects were to be created not in order to express beauty, or the artist's outlook, or to represent the world, but to carry out a fundamental analysis of the materials and forms of art, one which might lead to the design of functional objects. For many Constructivists, this entailed an ethic of "truth to materials," the belief that materials should be employed only in accordance with their capacities, and in such a way that demonstrated the uses to which they could be put.
Constructivist art often aimed to demonstrate how materials behaved - to ask, for instance, what different properties had materials such as wood, glass, and metal. The form an artwork would take would be dictated by its materials (not the other way around, as is the case in traditional art forms, in which the artist 'transforms' base materials into something very different and beautiful). For some, these inquiries were a means to an end, the goal being the translation of ideas and designs into mass production; for others it was an end in itself, a new and archetypal modern style expressing the dynamism of modern life.
The seed of Constructivism was a desire to express the experience of modern life - its dynamism, its new and disorientating qualities of space and time. But also crucial was the desire to develop a new form of art more appropriate to the democratic and modernizing goals of the Russian Revolution. Constructivists were to be constructors of a new society - cultural workers on par with scientists in their search for solutions to modern problems.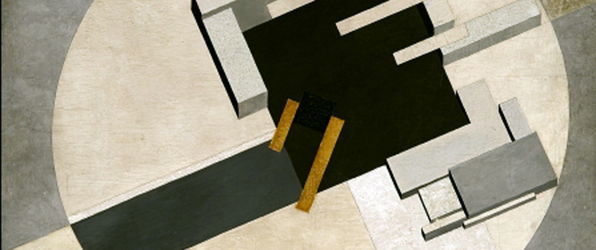 Detail from Lissitzky's Proun 1E (City) (1920)
Calling his Proun paintings "the station where one changes from painting to architecture," El Lissitzky's architectonic works became a bridge between the diverse disciplines within Constructivism.
Important Art and Artists of Constructivism

The below artworks are the most important in Constructivism - that both overview the major ideas of the movement, and highlight the greatest achievements by each artist in Constructivism. Don't forget to visit the artist overview pages of the artists that interest you.


Artwork Images

Corner Counter-Relief (1914)

Artist: Vladimir Tatlin

Artwork description & Analysis: Tatlin's Counter-Reliefs were a vital part of his developing ideas, and they form a bridge between the influence of Cubism on his work, and the birth of Constructivism. It is typical of this development that Corner Counter-Relief conforms neither to the conventional format of painting or sculpture, because Constructivism would aspire to display those old fashioned forms. However, its placement in the corner of a room also echoed the traditional site of religious icons in a pious Russian household - hence Tatlin suggests that modernity and experiment should be Russia's new gods. The idea for the series may have come from the Technical Manifesto of Futurist Sculpture (1912), a volume by the Italian Futurist Umberto Boccioni, in which he calls on sculptors, "Let's split open our figures and place the environment inside them." The way in which the object spans the corner changes the space of the room, and establishes a unique relationship to the surrounding environment. The diagonal wires are evocative of a musical instrument, and they were perhaps inspired by Tatlin's experience as a musical instrument maker.

Iron, copper, wood and strings - State Russian Museum, St. Petersburg

Design for the Monument to the Third International (1919-1920)

Artist: Vladimir Tatlin

Artwork description & Analysis: Monument to the Third International, also sometimes known simply as Tatlin's Tower, is the artist's most famous work, as well as the most important spur to the formation of the Constructivist movement. The Tower, which was never fully realized, was intended to act as a fully functional conference space and propaganda center for the Communist Third International, or Comintern. Its steel spiral frame was to stand at 1,300 feet, making it the tallest structure in the world at the time - taller, and more functional—and therefore more beautiful by Constructivist standards—than the Eiffel Tower. There were to be three glass units, a cube, cylinder and cone, which would have different spaces for meetings, and these would rotate once per year, month, and day, respectively. For Tatlin, steel and glass were the essential materials of modern construction. They symbolized industry, technology and the machine age, and the constant motion of the geometrically shaped units embodied the dynamism of modernity. Although the tower was commissioned as a monument to revolution, and although it was given considerable prominence by the Bolshevik regime, it was never built, and it has continued to be an emblem of failed utopian aspirations for many generations of artists since.

Oil on canvas - Tretyakov Gallery, Moscow


Artwork Images

Pure Red Color, Pure Yellow Color, Pure Blue Color (1921)

Artist: Alexander Rodchenko

Artwork description & Analysis: Traditionally, color is used in art to describe the appearance of a particular object, or else to lend associations (the blue traditionally used to depict the Virgin Mary's robes in Renaissance paintings carried symbolic meanings). But Rodchenko's triptych focuses only on the material character of color, and it is considered the first artwork to do so. Here, red, blue, and yellow are used neither to describe an object nor to elicit certain associations; instead they are presented almost as a palette from which the artist can work. This is typical of the Constructivist attitude to materials, which was focused not on transforming them into art but on utilizing their properties in the most honest and effective ways possible. The triptych might be read as a rejection of the mysticism that seemed to tinge some work by Rodchenko's Suprematist contemporary, Kazimir Malevich. Rodchenko wrote of it, in 1921, "I reduced painting to its logical conclusion and exhibited three canvases: red, blue, yellow. I affirmed: this is the end of painting. These are the primary colors. Every plane is a discrete plane and there will be no more representation."

Oil on canvas - The Rodchenko and Stepanova Archive, Moscow
More Constructivism Artwork and Analysis:
If you see an error or typo, please:
tell us
Cite this page

Content compiled and written by Tracee Ng
Edited and published by The Art Story Contributors
" Movement Overview and Analysis". [Internet]. . TheArtStory.org
Content compiled and written by Tracee Ng
Edited and published by The Art Story Contributors
Available from:
First published on 21 Jan 2012. Updated and modified regularly.


[Accessed ]