Artists
Barbara Hepworth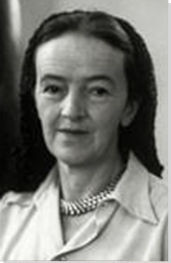 Born: January 10, 1903 - Wakefield, Yorkshire, UK
Died: May 20, 1975 - St Ives, Cornwall, UK

"Carving to me is more interesting than modeling, because there is an unlimited variety of materials from which to draw inspiration."

Summary of Barbara Hepworth
Barbara Hepworth distinguished herself as a world-recognized sculptor in a period where female artists were rare. She evolved her ideas and her work as an influential part of an ongoing conversation with many other important artists of her time, working crucially in areas of greater abstraction while creating three dimensional objects. Her development of sculptural vocabularies and ideas was complex and multi-faceted. This included the use of a wide range of physical materials for sculpting and an unprecedented sensitivity to the particular qualities of those materials in helping decide the ultimate results of her sculptures, the investigation of "absence" in sculpture as much as "presence," and deep considerations of the relationship of her sculptural forms to the larger spaces surrounding it. Though her forms in their larger outlines tended to possess the clean lines of modernist aesthetics, she complicated these with different textures, an effect described by one reviewer as "sensuous and tactile" that "quickened the pulse".
Key Ideas
She helped shift three dimensional art works into greater abstraction as she herself moved from creating work mingling figurative forms with abstraction in her earlier sculptures to almost entirely abstract, non-representational later works.
Hepworth was a key figure among modern sculptors in responding to the physical characteristics of whichever material was chosen to work with in order to resolve appropriate forms for the finished works, rather than simply mold material to fit some pre-determined shape.
Though she developed a long series of highly abstract pieces, the greater trajectory of her work was imbued with underlying aspects of nature, which she brought out more explicitly in the sculptures of her later career. "All my sculpture comes out of landscape," she wrote in 1943. "I'm sick of sculptures in galleries & photos with flat backgrounds... no sculpture really lives until it goes back to the landscape, the trees, air & clouds."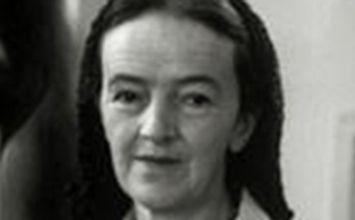 Hepworth was the eldest child of Gertrude and Herbert Hepworth, a civil engineer. She would frequently accompany her father on car trips round the Yorkshire countryside, and she spent summer holidays at Robin Hood's Bay, also in Yorkshire. This early connection with rural settings was to influence much of her work. After attending the Wakefield Girls' High School, she won a scholarship to study at Leeds School of Art in 1920.
Important Art by Barbara Hepworth

The below artworks are the most important by Barbara Hepworth - that both overview the major creative periods, and highlight the greatest achievements by the artist.


Artwork Images

Pierced Form (1932)

Artwork description & Analysis: One of Hepworth's earliest near-abstract works - moving far afield from the much more figurative modes of Brancusi's strong influence on her - was a piece destroyed in the German bombing of London in WWII, while Hepworth was living in Cornwall. It remains an important work nonetheless. Its dominant feature is a hole in the center of the sculpture. For the first time, Hepworth's work is concerned with a manifestation of absence rather than presence. The viewer becomes aware of the volume of empty space, and the powerful resonance this can create. The work makes manifest the fundamental underlying principle of carving; that form and volume are created by taking away material, not adding it, distinguishing it from almost every other art form.

Hepworth's idea of a pierced form was taken up immediately by Henry Moore, her friend and rival, and would inform the practice of both artists for years to come. Hepworth's first "piercing" of a figurative sculpture of her own came after apparently misunderstanding the description in a review of Moore's work. And the two artists developed this pursuit of sculptural absence in parallel to one another over many years. This motif was important in laying the groundwork for the particular aesthetic that would come to be associated with Moore and Hepworth. Hepworth said of this work, "I had been seeking a free assembly of certain formal elements including space and calligraphy as well as weight and texture, and in the Pierced Form I had felt the most intense pleasure in piercing the stone in order to make an abstract form and space; quite a different sensation from that of doing it for the purpose of realism."

Pink alabaster - Destroyed in WWII


Artwork Images

Mother and Child (1934)

Artwork description & Analysis: Hepworth made several mother and child sculptures in 1934, when she was pregnant with Ben Nicholson's child (it actually turned out that she had triplets). Made out of a single piece of alabaster, but with two separate sculptural elements, the work consists of a reclining "mother" and a "child" resting on her thighs. Although it has abstract elements, the form is biomorphic and the title points to a figurative interpretation.

Hepworth's contemporary and friend Henry Moore was also making mother and child pieces at this time, but while Moore's composition tended to be made as single form, Hepworth saw her mother and child as separate, but intimately involved, entities. She once stated that "there is an inside and an outside to every form, [and sometimes] they are in special accord, as for instance a nut in its shell or a child in the womb."

This sculpture represents the partnership after the child has been born, but ideas of a "special accord" and a formal link are still present. The 'child' sits high on the mother's leg, revealing a hollow at the mother's stomach and a characteristic hole, implying a correlation of the two forms. The effect, somewhat surprisingly, is one of completeness.

Cumberland Alabaster - Tate Gallery, London

Pelagos (1946)

Artwork description & Analysis: Although the form of Pelagos is emphatically abstract, it was inspired by a view of the coast at St Ives in Cornwall, where Hepworth lived from 1949. "Pelagos" means "sea" in Greek. Hepworth undertook a practice of "direct carving," allowing the physical make-up of the wood to direct her chisel. The final shape recalls a wave or the curve of a headland. The inside is hollowed out and painted blue. The emphasis placed on the interior of the shape recalls Hepworth's experiments with holes and pierced forms, but here her ideas are taken a step further. The art historian A.M. Hammacher argues that the characteristic 'hole' of Hepworth's earlier work has taken control and "mastered the interior and even broken it open."

The form is also pierced with small holes and fretted with strings in a way that is reminiscent of a musical instrument. Hepworth said that these taut strings represented "the tension I felt between myself and the sea, the wind or the hills." Pelagos feels at once still and dynamic; it is presented both as a perfect harmonious form and as a coiled spring balancing precariously, waiting to unfurl. This sculptural tension, which Hepworth relates to her personal experience, makes the work simultaneously calming and unsettling for the viewer.

Elms and strings on oak base - Tate Gallery, London
More Barbara Hepworth Artwork and Analysis:
Influences and Connections
Influences on Artist
Artists, Friends, Movements
Influenced by Artist
Artists, Friends, Movements

Interactive chart with Barbara Hepworth's main influences, and the people and ideas that the artist influenced in turn.
View Influences Chart

| | | | | |
| --- | --- | --- | --- | --- |
| Artists | | Personal Contacts | | Movements |

Influences on Artist

Barbara Hepworth
Years Worked: 1920s-1970s
Influenced by Artist

If you see an error or typo, please:
tell us
Cite this page

Content compiled and written by Anna Souter
Edited and published by The Art Story Contributors
" Artist Overview and Analysis". [Internet]. . TheArtStory.org
Content compiled and written by Anna Souter
Edited and published by The Art Story Contributors
Available from:
First published on 15 Jan 2016. Updated and modified regularly.


[Accessed ]