Movements, Styles, and Tendencies
Surrealism
Summary of Surrealism
The Surrealists sought to channel the unconscious as a means to unlock the power of the imagination. Disdaining rationalism and literary realism, and powerfully influenced by psychoanalysis, the Surrealists believed the rational mind repressed the power of the imagination, weighing it down with taboos. Influenced also by Karl Marx, they hoped that the psyche had the power to reveal the contradictions in the everyday world and spur on revolution. Their emphasis on the power of personal imagination puts them in the tradition of Romanticism, but unlike their forebears, they believed that revelations could be found on the street and in everyday life. The Surrealist impulse to tap the unconscious mind, and their interests in myth and primitivism, went on to shape many later movements, and the style remains influential to this today.
Key Ideas
André Breton
defined Surrealism as "psychic automatism in its pure state, by which one proposes to express - verbally, by means of the written word, or in any other manner - the actual functioning of thought." What Breton is proposing is that artists bypass reason and rationality by accessing their unconscious mind. In practice, these techniques became known as automatism or automatic writing, which allowed artists to forgo conscious thought and embrace chance when creating art.
The work of
Sigmund Freud
was profoundly influential for Surrealists, particularly his book,
The Interpretation of Dreams
(1899). Freud legitimized the importance of dreams and the unconscious as valid revelations of human emotion and desires; his exposure of the complex and repressed inner worlds of sexuality, desire, and violence provided a theoretical basis for much of Surrealism.
Surrealist imagery is probably the most recognizable element of the movement, yet it is also the most elusive to categorize and define. Each artist relied on their own recurring motifs arisen through their dreams or/and unconscious mind. At its basic, the imagery is outlandish, perplexing, and even uncanny, as it is meant to jolt the viewer out of their comforting assumptions. Nature, however, is the most frequent imagery:
Max Ernst
was obsessed with birds and had a bird alter ego,
Salvador Dalí's
works often include ants or eggs, and
Joan Miró
relied strongly on vague
biomorphic
imagery.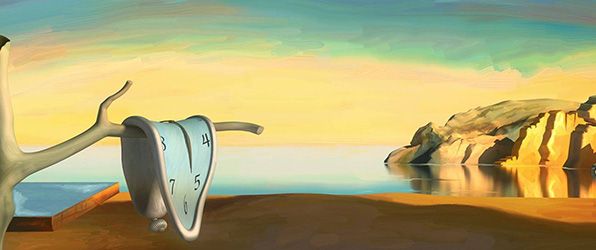 Detail of The Persistence of Memory (1931) by Salvador Dalí
Building upon the anti-rationalism of Dada, the Surrealists made powerful art and offered a new direction for exploration, as Max Ernst said: "creativity is that marvelous capacity to grasp mutually distinct realities and draw a spark from their juxtaposition."
Important Art and Artists of Surrealism

The below artworks are the most important in Surrealism - that both overview the major ideas of the movement, and highlight the greatest achievements by each artist in Surrealism. Don't forget to visit the artist overview pages of the artists that interest you.

Carnival of Harlequin (1924-25)

Artist: Joan Miró

Artwork description & Analysis: Miró created elaborate, fantastical spaces in his paintings that are an excellent example of Surrealism in their reliance on dream-like imagery and their use of biomorphism. Biomorphic shapes are those that resemble organic beings but that are hard to identify as any specific thing; the shapes seem to self-generate, morph, and dance on the canvas. While there is the suggestion of a believable three-dimensional space in Carnaval d'Arlequin, the playful shapes are arranged with an all-over quality that is common to many of Miró's works during his Surrealist period, and that would eventually lead him to further abstraction. Miró was especially known for his use of automatic writing techniques in the creation of his works, particularly doodling or automatic drawing, which is how he began many of his canvases. He is best known for his works such as this that depict chaotic yet lighthearted interior scenes, taking his influence from Dutch 17th-century interiors.

Oil on canvas - Albright-Knox Art Gallery, Buffalo, New York

The Human Condition (1933)

Artist: René Magritte

Artwork description & Analysis: The iconic and enigmatic René Magritte's works tend to be intellectual, often dealing with visual puns and the relation between the representation of something and the thing itself. In The Human Condition a canvas sits on an easel before a curtained window and reproduces exactly the scene outside the window that would be behind the canvas, thus the image on the easel in a sense becomes the scene, not just a reproduction of the landscape. There is in effect no difference between the two as both are fabrications of the artist. The hyperrealist painting style often used by Surrealists makes the odd setup seem dreamlike.

Oil on canvas - Los Angeles County Museum of Art

Mama, Papa is Wounded! (1927)

Artist: Yves Tanguy

Artwork description & Analysis: The most pivotal moment for Tanguy in his decision to become a painter was his sighting of a canvas by Giorgio de Chirico in a shop window in 1923. The next year, Tanguy, the poet Jacques Prévert, and the actor and screenwriter Marcel Duhamel moved into a house that was to become a gathering place for the Surrealists, a movement he became interested in after reading the periodical La Révolution surréaliste. André Breton welcomed him into the group in 1925. Tanguy was inspired by the biomorphic forms of Jean Arp, Ernst, and Miró, quickly developing his own vocabulary of amoeba-like shapes that populate arid, mysterious settings, no doubt influenced by his youthful travels to Argentina, Brazil, and Tunisia. Despite his lack of formal training, Tanguy's mature style emerged by 1927, characterized by deserted landscapes littered with fantastical rocklike objects painted with a precise illusionism. The works usually have an overcast sky with a view thatseems to stretch endlessly.

Mama, Papa is Wounded depicts Tanguy's most common subject matter of war. The work is painted in a hyperrealist style with his distinctive limited color palette, both of which create a sense of dream-like reality. Tanguy often found the titles of works while looking through psychiatric case histories for compelling statements by patients. Given that, it is difficult to know if this work is relevant to his own family history as he claimed to have imagined the painting in its entirety before he began it. His brother was killed in World War I and the bleakness of the landscape may refer generally to losses suffered in the war by thousands of French families. De Chirico's influence on Tanguy's work is obvious here in his use of falling shadows and a classical torso in the landscape.

Oil on Canvas - Museum of Modern Art, New York
More Surrealism Artwork and Analysis:
If you see an error or typo, please:
tell us
Cite this page

Content compiled and written by The Art Story Contributors
Edited and published by The Art Story Contributors
" Movement Overview and Analysis". [Internet]. . TheArtStory.org
Content compiled and written by The Art Story Contributors
Edited and published by The Art Story Contributors
Available from:
First published on 21 Dec 2011. Updated and modified regularly.


[Accessed ]