Artists
Joseph Cornell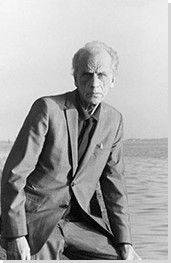 Joseph Cornell
American Sculptor
Movements and Styles: Surrealism, Assemblage
Born: December 24, 1903 - Nyack, New York
Died: December 29, 1972 - Queens, New York

"Life can have significance even if it appears to be a series of failures."

Summary of Joseph Cornell
Using the Surrealist technique of unexpected juxtaposition, Joseph Cornell's best-known works are glass-fronted boxes into which he placed and arranged Victorian bric-a-brac, old photographs, dime-store trinkets, and other found elements. Generally referred to as "shadow boxes," the resulting pieces are dream-like miniature tableaux that inspire the viewer to see each component in a new light. Cornell often used the shadow boxes to address recurrent themes of interest such as childhood, space, and birds, and they represented an escape of sorts for their creator, who was famously reclusive. Among the earliest examples of assemblage, the shadow boxes also helped give rise to a host of other Modern and Contemporary American art forms, from Installation art to Fluxus boxes.
Key Ideas
Cornell's signature art form is the shadow box. Infused with a dream-like aura, the shadow boxes invite the viewer into Cornell's own private, magical world. Alternately known as "memory boxes" or "poetic theaters," the boxes evoke the memories associated with the items contained within, while also containing parallels with, or expressing reverence for, other art forms, such as theater, ballet, and film.
Inspired by
Marcel Duchamp's
readymades
, Cornell elevated the found object to the center of his
oeuvre
and embodied a new paradigm of the artist as collector and archivist. Often purchased on Cornell's frequent visits to New York secondhand shops or cut out from magazines, these objects comprise the primary materials of his art; they not only inhabit Cornell's shadow boxes, they are also key to other aspects of his artistic practice, such as his famous "dossiers," which were organized repositories of visual-documentary source material collected by the artist.
Although he was never officially part of the
Surrealist
movement and came to dismiss the Surrealist label in relation to his own work, Surrealism was a major influence on Cornell, most notably inspiring his embrace of unexpected juxtapositions. Rejecting Surrealism's violent and erotic aspects, Cornell preferred instead what he described as the "white magic" side of Surrealism embodied by
Max Ernst
. Cornell played a major role in America Surrealism; in 1939, his art was famously described by
Salvador Dalí
as "the only truly Surrealist work to be found in America."
Joseph Cornell was born in Nyack, New York, on Christmas Eve of 1903. He was the oldest child of four including two sisters, Elizabeth and Helen, and a brother, Robert, who suffered from cerebral palsy. When Cornell was thirteen, his father died of leukemia after battling the disease for several years. After his father's death, the family moved to Douglastown, Long Island where his mother took on several odd jobs to support her children. With the help of his father's former employer, Joseph Cornell was able to attend Phillips Academy in Andover, Massachusetts, for a few years. While at Phillips, the headmaster took notice of Cornell's extreme shyness and insecurity and expressed his concern to Cornell's mother. Cornell seemed to be overly fearful of many things, and he once confided in his sister Elizabeth how frightened he was at the concept of infinity. When he was in his twenties, he learned about Christian Science and became a devout follower of the religion, as he believed it had cured him of recurring stomach ailments.
Important Art by Joseph Cornell

The below artworks are the most important by Joseph Cornell - that both overview the major creative periods, and highlight the greatest achievements by the artist.


Artwork Images

Untitled (Tilly-Losch) (c. 1935)

Artwork description & Analysis: Tilly-Losch is one of Cornell's many signature shadow boxes: glass-fronted boxes filled with found items carefully arranged in small-scale tableaux. With its dream-like imagery and subject matter that revolves around childhood memory, Tilly-Losch addresses themes that would recur throughout Cornell's oeuvre. It features a cut-out image of a girl suspended by strings against a sky-blue background, hovering above an image of a mountain range as she holds a wooden bead on a string. The piece takes its name from the Viennese actress and dancer Tilly Losch, who lived and worked in the United States, appearing in several Hollywood films of the 1930s and 1940s. As such, it evokes Cornell's interest in filmmaking and movie stars, both of which would figure largely in his work, while the piece's stage-like setting is a nod to Cornell's love of theater.

Wood, glass, paper, box construction - The Robert Lehman Art Trust, Washington, D.C.


Artwork Images

Untitled (Soap Bubble Set) (1936)

Artwork description & Analysis: Made for the 1936 Museum of Modern Art exhibition Fantastic Art, Dada, and Surrealism, this work was the first of Cornell's shadow boxes, containing many of the characteristic features of his signature art form. In these works, Cornell used the Surrealist practice of juxtaposing unrelated found objects, in this case, a doll's head, a clay pipe used to make soap bubbles, a bird's egg, a glass, an antique map of the moon, and a print of the leaning tower at Pisa. Some writers have interpreted the piece as a family portrait, with the doll's head "depicting" the artist, the egg symbolizing his mother, the pipe his father, and the four blocks at the top as Cornell and his three siblings. The box was one of numerous works titled Soap Bubble Set, a theme linked by their creator not only with childhood but also with the cosmos.

Wood, glass, plastic, paper, box construction - Wadsworth Atheneum Museum, Hartford


Artwork Images

Taglioni's Jewel Casket (1940)

Artwork description & Analysis: In addition to shadow boxes, Cornell created other box works as well, including this piece. Taglioni's Jewel Casket notably lacks the protective glass covering of the shadow boxes and resembles a real jewelry box, with its velvet lining and open lid (from which hangs a rhinestone necklace purchased at a New York Woolworth's dime store) the box seems to beckon to the viewer not only to gaze at but also handle the objects within.

This work, one of dozens of boxes the artist created referencing specific 19th-century ballerinas, reflects Cornell's practice of working in series—appropriate to an artist who liked to collect and categorize. It also reflects Cornell's love of ballet. Among his favorite ballerinas was the acclaimed Italian dancer Marie Taglioni, who according to legend, kept an imitation ice cube in her jewelry box to commemorate dancing in the snow at the behest of a Russian highwayman. The legend is printed on the inside cover of Taglioni's Jewel Casket and referenced in the rows of glass cubes, suggestive of both ice and precious jewels.

Wood box, velvet, glass cubes, glass necklace - Museum of Modern Art, New York
More Joseph Cornell Artwork and Analysis:
Influences and Connections
Influences on Artist
Artists, Friends, Movements
Influenced by Artist
Artists, Friends, Movements

Interactive chart with Joseph Cornell's main influences, and the people and ideas that the artist influenced in turn.
View Influences Chart


Influences on Artist

Joseph Cornell
Years Worked: 1920s – early 1970s
Influenced by Artist

If you see an error or typo, please:
tell us
Cite this page

Content compiled and written by Tracy DiTolla
Edited and published by The Art Story Contributors
" Artist Overview and Analysis". [Internet]. . TheArtStory.org
Content compiled and written by Tracy DiTolla
Edited and published by The Art Story Contributors
Available from:
First published on 21 Jan 2012. Updated and modified regularly.


[Accessed ]