Movements, Styles, and Tendencies
Installation Art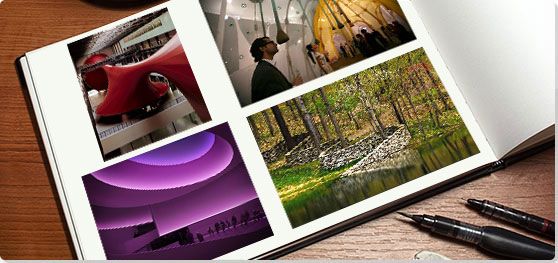 Installation Art
Started: 1970s

Summary of Installation Art
Installation art is a term generally used to describe artwork located in three-dimensional interior space as the word "install" means putting something inside of something else. It is often site-specific - designed to have a particular relationship, whether temporary or permanent, with its spatial environment on an architectural, conceptual, or social level. It also creates a high level of intimacy between itself and the viewer as it exists not as a precious object to be merely looked at but as a presence within the overall context of its container whether that is a building, museum, or designated room. Artworks are meant to evoke a mood or a feeling, and as such ask for a commitment from the viewer. The movement remains separate from its similar forms such as Land art, Intervention art, and Public art yet there are often overlaps between them. The ideas behind a piece of Installation art, and the responses it elicits, tend to be more important than the quality of its medium or technical merit. Artists champion this genre for its potential to transform the art world by surprising audiences and engaging viewers in new ways.
Key Ideas
Installation art champions a shift in focus from what art visually represents to what it communicates. Installation artists are less focused on presenting an aesthetically pleasing object to viewers as they are enfolding that viewer into an environment or set of systems of their own creation. Tweaking the subjective perception of the viewer is the artist's desired outcome. Pieces belonging to this movement resonate with our own human experiences - like us they exist within, and are always in conversation with, their lived environments.
Installation artists are preoccupied with making art a less isolated concept - by installing work beyond the galleries and museums and by using more utilitarian components such as found objects, industrial and everyday items, commonplace materials, and technologies of the populous. This movement has broadened the scope of what qualifies as artwork.
Because Installation art is especially difficult to collect and sell, this movement pushes against the commodification of art, thereby defying the traditional mechanisms used to determine the value of artworks.
Attempts to sell installations have raised questions about the process of dismantling and reinstalling work that was conceived for a particular location, and how that might or might not decrease the original meaning and value. It has also provoked dialogue within the art and archival communities about whether or not a temporary piece might be reconstructed and sold in the guise of its original, or whether a non-permanent piece may be recreated ad infinitum to perpetuate its existence.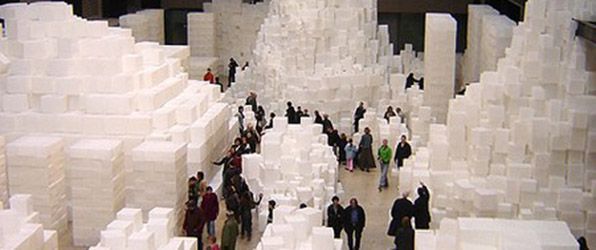 Photograph of Embankment by Rachel Whiteread in Turbine Hall at The Tate Modern, London (November 12, 2005)
"I was totally interested in the physical world and would always be making something," Rachel Whiteread said of her childhood, "Playing around with bits and pieces, changing them from one thing into another," became the early inspiration for her installation work.
Important Art and Artists of Installation Art

The below artworks are the most important in Installation Art - that both overview the major ideas of the movement, and highlight the greatest achievements by each artist in Installation Art. Don't forget to visit the artist overview pages of the artists that interest you.

Étant donnés (1966)

Artist: Marcel Duchamp

Artwork description & Analysis: Étant donnés was one of the first works to set up a specific and controlled viewing environment for audiences, which today remains a central tenet to Installation art. Duchamp surprised the art world with this three-dimensional tableau, since most believed he had decidedly retreated from art-making almost a quarter century before this, his final piece, was revealed.

The piece was described by the artist Jasper Johns as "the strangest work of art in any museum." At the time, it was. Imagine peering through two peepholes in a wooden door to find a reclining cast of a nude woman in the forefront of a lusciously painted landscape. By crafting an experience of voyeurism, rather than simply showing a traditional nude painting on the wall, Duchamp forced the viewer into a sense of complicity. Only one person at a time could peek in, making this a very enveloping experience and creating an intimate encounter with the work's enigmatic inhabitant.

- Philadelphia Museum of Art

The Dinner Party (1974-1979)

Artist: Judy Chicago

Artwork description & Analysis: The Dinner Party, an installation artwork that has become an icon of Feminist art, consists of a large triangular table adorned as a ceremonial banquet, with 39 place settings, each honoring an important woman. Each setting comprises embroidered runners, gold eating utensils, and porcelain plates that unapologetically resemble the female vulva and that vary in motif based on each specific honoree. The list of honorees includes, among others Sacajawea, Virginia Woolf, and the goddess Kali. The names of another 999 women are inscribed in gold on the white floor beneath the banquet table.

By creating this emulation of an event that audience members could easily relate to -the honorary dinner - and by designing the piece in a triangular fashion that would promote many people walking around and reviewing the place settings simultaneously, the artist sparked dialogue about these women who had been under-documented in history. Viewing the piece became an event in itself. By delivering her message through a three-dimensional, physical piece rather than a written manifesto or painted tableau, she proved the power in the presence signature to Installation art.


Artwork Images

Wall Drawing #260, On Black Walls, All Two-Part Combinations of White Arcs from Corners and Sides, and White Straight, Not-Straight, and Broken Lines (1975)

Artist: Sol LeWitt

Artwork description & Analysis: Sol LeWitt's Wall Drawing #260 is one among hundreds of wall drawings started in 1969, which the artist continued to produce throughout his prolific career. Not only would LeWitt create a drawing for one specific location, he would then maintain detailed instructions on its composition so that others could duplicate it in other spaces going forward, even after his death. Even if LeWitt's Wall Drawings are ephemeral and endlessly replicated, the idea behind their initial conception lives on undiluted.

This seminal line of work inaugurated a new relationship between drawing and architectural spaces, furthering Installation art's site-specificity. By claiming entire walls, LeWitt's drawings responded to the spaces they occupied and enclosed viewers in work that alternated between soothing symmetry and dazzling randomness.

These drawings were also radical inclusions into the Installation art canon because they challenged the preciousness and permanence that is expected from fine art. They are birthed in conceptualism and carried out with simple tools. They are not confined to the originating artists' hand and they can be duplicated in multiple settings ad infinitum.

- Museum of Modern Art
More Installation Art Artwork and Analysis:
If you see an error or typo, please:
tell us
Cite this page

Content compiled and written by Alicia López
Edited and revised, with Synopsis and Key Ideas added by Kimberly Nichols
" Movement Overview and Analysis". [Internet]. . TheArtStory.org
Content compiled and written by Alicia López
Edited and revised, with Synopsis and Key Ideas added by Kimberly Nichols
Available from:
First published on 15 Jun 2017. Updated and modified regularly.


[Accessed ]