Artists
Nam June Paik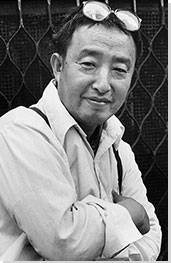 Born: July 20, 1932 - Seoul, South Korea
Died: January 29, 2006 - Miami, Florida, United States

"Skin has become inadequate in interfacing with reality. Technology has become the body's new membrane of existence."

Summary of Nam June Paik
Nam June Paik, known as "the father of video art," surfed the forefront of cutting edge technologies and utilized them to realize artworks, the likes the world had never yet seen. His various experiments positioned video as a viable art form, and a tool toward accomplishing widespread, global connectivity - an oeuvre eerily prophetic to our contemporary information age. His revolutionary practice laid the groundwork for today's artists working in new media art.
Key Ideas
Paik's early training in classical music combined with his interest in utilizing sound elements from real life, inspired by artist John Cage, positioned his career early as a member of the Fluxus movement. His passion for combining audio, visual, and electronic elements was formed there.
A keen desire to humanize technology underlies all of Paik's work. Whether this is seen through the combination of anthropomorphic objects with video imagery of human beings, the use of a live person in dialogue with technological components, or equipment as a performance, or the forced interaction of a viewer with a particular artwork - his work incites reflection on both our relationship with technology and its affects on, and benefits for, modern man.
Very early in his career, Paik began writing about his desire for a "video common market" that would allow for the free dissemination of not only artwork, but also education, collaboration, and dialogue on an international scale. His ideas have come full circle with the advent of today's Facebooks and Youtubes - the online platforms that draw users by the billions.
Paik coined the term "electronic superhighway" to denote what he saw as a future in which technology would allow for boundary-less connection between people on a global scale. His term might be considered the first mention of the concept that would eventually become manifest in the Internet, and is in fact, the term used universally today.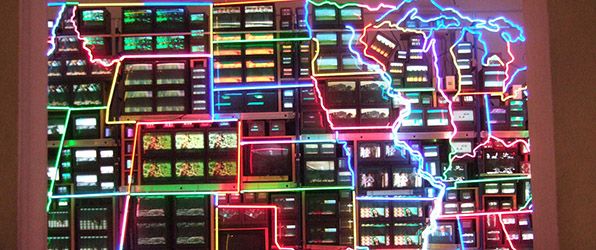 Photo of Electronic Superhighway: Continental U.S., Alaska, Hawaii (1995) by Nam June Paik
Nam June Paik led a life of intense creativity and his trailblazing innovations set the path and inspiration for many future artists.
Important Art by Nam June Paik

The below artworks are the most important by Nam June Paik - that both overview the major creative periods, and highlight the greatest achievements by the artist.


Artwork Images

Robot K-456 (1964)

Artwork description & Analysis: After Paik's departure from Germany and before his arrival in the United States in 1964, he spent a year in Tokyo with his family where he met Shuya Abe, an engineer specialized in experimental physics and electronics, who became Paik's long-term collaborator and technical assistant. During the sojourn in Japan, Paik devised his first automated robot, Robot K-456, with Abe's help. Paik humorously named this life-sized anthropomorphic robot after Mozart's piano concerto No. 18 in B-flat major, K. 456 (a catalogue number in the Köchel listing - an inclusive, chronological catalogue of compositions by Mozart). Robot K-456 is made out of bits and pieces of metal, cloth, a data recorder, wheels for walking, and a loudspeaker playing John F. Kennedy's speeches. The materials reflect Paik's long-term interest in transforming cheap, disposable objects into aesthetic forms associated with new technologies. Originally androgynous - with breasts and a penis, the robot was programmed to walk, talk, and defecate beans via twenty radio channels and a remote control. Its physical composition, hybrid-gendered nature, and remote-controlled movement embody Paik's desire to humanize robotics without hiding its bare-bone structure and materiality under the glossy metallic skin.

Robot K-456 was built for impromptu street performances, as Paik recounted, "I imagined it would meet people on the street and give them a split-second surprise, like a sudden show." It was first featured in the performance project Robot Opera (1964) at Judson Hall in New York, alongside Charlotte Moorman's cello performance, and in a series of performance-based projects through the end of the 1960s. In 1982, the robot returned to action during the artist's first major museum exhibition at the Whitney Museum of American Art. At one point of the exhibition, Paik took the robot out of the museum to orchestrate an "accident" on the streets, a performance titled First Accident of the Twenty-First Century. The robot was made to walk up the sidewalk outside the building across Madison Avenue. While crossing 75th Street, it was struck and thrown onto the crosswalk by a car driven by artist William Anastasi. The local CBS affiliate covered the incident. When the CBS reporter asked Paik what it all meant, Paik answered that he was practicing how to cope with the catastrophe of technology in the 21st century. He also noted that the robot was twenty years old and had not had its Bar Mitzvah (the Jewish coming-of-age ceremony) yet. Playful and extravagant, the performance concluded with the "body" of the robot being wheeled into the museum. This street performance demonstrated that Paik did not see his artworks as inert and complete but rather as "living" objects that could be constantly remade and refashioned.

The hybrid, complex nature of Robot K-456, with its unexpected juxtaposition of visual materials, sounds, performances, and popular culture, embodied Paik's foresight into the future of robotics. He was also revolutionary because he claimed robotics as a viable medium for use in multimedia art, triumphantly declaring the potential for artistic innovation through technological means. Throughout his career, Paik would adamantly advocate that the artist's duty was to reimagine technology in the service of art and culture.

Twenty-channel radio-controlled robot, aluminum profiles, wire, wood, electrical divide, foam material, and control-turn out - Friedrich Christian Flick Collection im Hamburger Bahnof


Artwork Images

TV Buddha (1974)

Artwork description & Analysis: TV Buddha is one of Paik's best-known pieces. This sculpture centers on an 18th-century sculpture of a brassy Buddha posed with a tranquil meditation mudra (a symbolic hand gesture used in Buddhism). A video camera in front of him simultaneously records the statue and displays his reflection on a futuristic looking, sleek white television screen. In this closed circuit loop, the Buddha constantly faces his own projected image, caught in an eternal present tense and unable to transcend from his own physicality. The infinite play of the live electronics indicates that the Buddha is doomed to stay on the surface of reality forever caught in the dance between the mind and object reality.

In its simplest reading, this installation highlights the juxtaposition between the East and the West, or the historical and the modern, But more complexly, it reveals some fundamental issues brought up by technology, including the ambivalent position of religion, history, and images of our selves in contemporary society when viewed upon a screen, once removed from reality. As the media theorist Marshall McLuhan states, "It is the continuous embrace of our own technology in daily use that puts us in the Narcissus role of subliminal awareness and numbness in relation to these images of ourselves."

The success of TV Buddha (1974) triggered a series of similar works by Paik. Later variations of the work include Stone Buddha/Burnt TV (1982), which features a Buddha observing a burned television without any electronic power, TV Buddha (1982), featuring a Buddha contemplating a monitor covered by a mound of dirt, and TV Rodin (1982), which places a miniature reproduction of Rodin's The Thinker on top of a Sony Watchman. The proliferance of the Buddha in Paik's work throughout the years might be seen as society's continual contemplation of its own image through the mirrors of ever-morphing technological advancements; an important introspection by the artist regarding his own ever-evolving relationship with modernity.

Video installation, closed-circuit, 18th-century Buddha statue - Stedelijk Museum Amsterdam


Artwork Images

TV Bra for Living Sculpture (1975)

Artwork description & Analysis: Upon his arrival in New York in 1964, Paik began working with the avant-garde cellist Charlotte Moorman, who would become his primary collaborator until her death in 1991. This series of performances with Moorman reflects Paik's longstanding interest in introducing manipulated television to the public and his attempts to humanize television and video technology through collaboration with the body. In this string of seminal projects including Robot Opera (1964), Opera Sextronique (1967), TV Bra for Living Sculpture (1969), and TV Cello (1971), Moorman's body, often in various stages of nudity, functioned as a canvas onto which Paik attached his prominent electronic objects. For example, in Opera Sextronique, staged for a private audience at the Filmmakers' Cinematheque (125 West 41st Street) in New York, Moorman performed as a topless cellist, which confronted the cultural norms of the time and resulted in her arrest for indecency. Moorman protested to the police that she was "only performing Paik's score."

TV Bra for Living Sculpture was performed by Moorman as part of the groundbreaking group exhibition "TV as a Creative Medium" at the Howard Wise Gallery in New York. Moorman, the "living sculpture" and an indefatigable performer, wore two functioning television sets over her bare breasts as she played her cello. The television screens alternately featured live television programming, prerecorded video footage, and a closed-circuit camera's live feed of the audience.

Through these projects, Paik brought video technology to a human scale and consequently redefined the medium, conventionally identified with public mass entertainment, as something accessible on an extremely intimate level. Paik reflected in 1969 on their collaboration: "The real issue implied in Art and Technology is not to make another scientific toy, but how to humanize the technology and the electronic medium ... TV Brassiere for Living Sculpture (Charlotte Moorman) is also one sharp example to humanize electronics ... and technology. By using TV as bra ... the most intimate belonging of [a] human being, we will demonstrate the human use of technology, and also stimulate viewers, not for something mean but stimulate their phantasy to look for the new, imaginative and humanistic ways of using our technology."

By collaborating with Moorman, Paik also emphasized his belief that art and technology were important tools of human connectivity paving the way for future performance/new media hybrids.

Cello, 2 television sets, microphone, amplifiers, deflection coils, "fussbedienungsgerate," cables - Friedrich Christian Flick Collection im Hamburger Bahnof, PAIKN1734.01
More Nam June Paik Artwork and Analysis:
Influences and Connections
Influences on Artist
Artists, Friends, Movements
Influenced by Artist
Artists, Friends, Movements

Interactive chart with Nam June Paik's main influences, and the people and ideas that the artist influenced in turn.
View Influences Chart

| | | | | |
| --- | --- | --- | --- | --- |
| Artists | | Personal Contacts | | Movements |

Influences on Artist

Nam June Paik
Years Worked: 1953 - 2005
Influenced by Artist

| | | | | |
| --- | --- | --- | --- | --- |
| Artists | | Personal Contacts | | Movements |
If you see an error or typo, please:
tell us
Cite this page

Content compiled and written by Jiete Li
Edited and revised, with Synopsis and Key Ideas added by Kimberly Nichols
" Artist Overview and Analysis". [Internet]. . TheArtStory.org
Content compiled and written by Jiete Li
Edited and revised, with Synopsis and Key Ideas added by Kimberly Nichols
Available from:
First published on 22 Dec 2017. Updated and modified regularly.


[Accessed ]