Artists
Joseph Beuys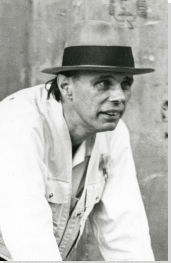 Born: May 12, 1921 - Krefeld, Germany
Died: January 23, 1986 - Düsseldorf, Germany

"Every man is a plastic artist who must determine things for himself."

Summary of Joseph Beuys
Joseph Beuys was a German-born artist active in Europe and the United States from the 1950s through the early 1980s, who came to be associated with that era's international, Conceptual art and Fluxus movements. Beuys's diverse body of work ranges from traditional media of drawing, painting, and sculpture, to process-oriented, or time-based "action" art, the performance of which suggested how art may exercise a healing effect (on both the artist and the audience) when it takes up psychological, social, and/or political subjects. Beuys is especially famous for works incorporating animal fat and felt, two common materials - one organic, the other fabricated, or industrial - that had profound personal meaning to the artist. They were also recurring motifs in works suggesting that art, common materials, and one's "everyday life" were ultimately inseparable.
Key Ideas
Beuys was a key participant in the 1960s Fluxus movement. At that time, many artists in Asia, Europe, and the United States became dissatisfied with a long tradition of "heroic," or object-oriented painting and sculpture (much recently typified by
Abstract Expressionism
). Influenced in part by contemporary experiments in music, such artists found themselves turning away from the art world's prevailing commercialism in favor of "found" and "everyday" items for creating ephemeral, time-based "happenings," impermanent installation art, and/or other largely action-oriented events.
From roughly the 1950s through the early 1980s, Beuys demonstrated how art might originate in personal experience yet also address universal artistic, political, and/or social ideas (i.e. topical issues of the day). This is part of the meaning to be gleaned from his 1965 solo performance, How to Explain Pictures to a Dead Hare, in which materials of personal significance (one foot wrapped in felt, the cradling of a recently deceased animal) poetically suggest the healing potential of art for a humanity seeking self revitalization and a sense of renewed hope in the future (one should recall that Beuys came of age in the immediate postwar period, when many Germans were just coming to terms with many traumatic aspects of their recent past).
Beuys suggested, in both his teaching and in his mature "action" and sculptural artworks, that "art" might not ultimately constitute a specialized profession but, rather, a heightened humanitarian attitude, or way of conducting one's life, in every realm of daily activity. In this regard, Beuys's work signals a new era in which art has increasingly become engaged with social commentary and political activism.
Beuys frequently blurred the lines between art and life, and fact and fiction, by suggesting that what one believed to constitute "reality" mattered more in matters of human action, social/political behavior, and personal creativity than any definition of everyday reality based on traditional standards of "normalcy," or social codes of so-called "proper" conduct.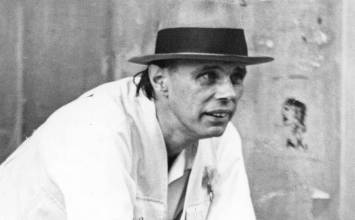 Joseph Beuys was born in Krefeld, a small city in northwest Germany. He was an only child, to the merchant Josef Jakob Beuys and his wife Johanna Maria Margarete Hulsermann. The two were a devout Catholic couple of the northern Rhine-Westphalian middle-class. Just months after Beuys's birth, the family moved south to the industrial town of Kleve. Beuys would later recall, in an unsubstantiated account, that when, in 1933, the recently formed National Socialist German Workers' Party (or Nazi Party) staged a book-burning rally at Kleve (Beuys would have been aged 12), he rescued from the flames Carolus Linnaeus's Systema Naturae (1735) - one of history's most groundbreaking works of scientific literature. (In an ironic turn, Beuys was himself compelled by legal fiat to join the Hitler Youth movement by the time he was a teenager).
Important Art by Joseph Beuys

The below artworks are the most important by Joseph Beuys - that both overview the major creative periods, and highlight the greatest achievements by the artist.


Artwork Images

Woman/Animal Skull (1956-1957)

Artwork description & Analysis: This work on paper dates from Beuys's early experimental phase, which was characterized by the artist's production of thousands of drawings under a self-imposed program of aesthetic asceticism. Beuys worked at this time mostly in solitude, as though under a strenuous search for self-enlightenment, simultaneously seeking a new artistic language that would combine the spiritual and the physical, the solid and the fluid, the ephemeral and the permanent. Woman/Animal Skull suggests a melding of the rational and the instinctual, or of the human and the animal minds out of a primordial state of organic chaos.

Oil pigment, ink, turpentine and pencil on paper - Collection of Heiga and Walther Lauffs


Artwork Images

Fat Chair (1964-1985)

Artwork description & Analysis: Fat Chair exemplifies how Beuys could turn two common materials of everyday life - here the organic components of fat and wood - into a composite, open-ended metaphor for the human body, its impermanent condition, and the tendencies for social life to conform to constructed convention. Created in 1964 and encased in a glass, temperature-controlled museum display case, Fat Chair subsequently underwent a slow, natural process of decay until 1985, by which time the fat had almost entirely decomposed and virtually evaporated. Through these basic organic compounds, viewers may well have imagined themselves occupying this chair, thus endowing Fat Chair with the status of a "proxy" for self-reflection on the transience of human life and the need to consciously and expeditiously channel one's own organic and-alas-ephemeral energies.

Wood chair, animal fat - Estate of Joseph Beuys


Artwork Images

How to Explain Pictures to a Dead Hare (1965)

Artwork description & Analysis: In this performance piece, Beuys could be viewed - his head and face covered in honey and gold leaf - through a gallery's windows, a slab of iron tied to one boot, a felt pad to the other, as the artist cradled a dead hare. As though carrying out a strange music (if not some macabre bedtime story), Beuys frequently whispered things to the animal carcass about his own drawings hanging on the walls around him. Beuys would periodically vary the bleak rhythm of this scenario by walking around the cramped space, one footstep muffled by the felt, the other amplified by the iron. Every item in the room - a wilting fir tree, the honey, the felt, and the fifty-dollars-worth of gold leaf - was chosen specifically for both its symbolic potential as well as its literal significance: honey for life, gold for wealth, hare as death, metal as conductor of invisible energies, felt as protection, and so forth. As for most of his subsequent installations and performance work, Beuys had created a new visual syntax not only for himself, but for all conceptual art that might follow him.

Gold leaf, honey, dead hare, felt pad, iron, fir tree, miscellaneous drawings and clothing items - Galerie Schmela, Dresden, Germany
More Joseph Beuys Artwork and Analysis:
Influences and Connections
Influences on Artist
Artists, Friends, Movements
Influenced by Artist
Artists, Friends, Movements

Interactive chart with Joseph Beuys's main influences, and the people and ideas that the artist influenced in turn.
View Influences Chart

Artists

| | |
| --- | --- |
| | James Joyce |
| | John Cage |
| | Rudolf Steiner |
| | Martin Heidegger |
| | George Brecht |

Personal Contacts

Movements

Influences on Artist

Joseph Beuys
Years Worked: 1956 - 1986
Influenced by Artist

If you see an error or typo, please:
tell us
Cite this page

Content compiled and written by Justin Wolf
Edited and published by The Art Story Contributors
" Artist Overview and Analysis". [Internet]. . TheArtStory.org
Content compiled and written by Justin Wolf
Edited and published by The Art Story Contributors
Available from:
First published on 01 Dec 2010. Updated and modified regularly.


[Accessed ]