Movements, Styles, and Tendencies
Environmental Art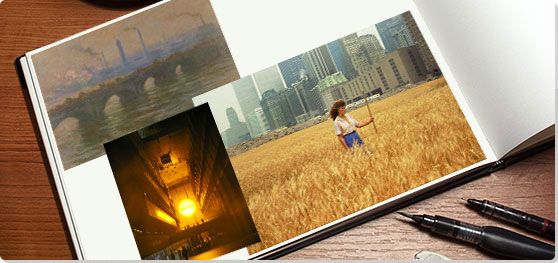 Environmental Art
Started: 1960s

"We often forget that WE ARE NATURE. Nature is not something separate from us. So when we say that we have lost our connection to nature, we've lost our connection to ourselves"
Summary of Environmental Art
Since primitive man first illustrated streaks of rain and lightning on the interior walls of their cave homes, artists have been entranced with depicting our natural environment. Yet, for centuries, the landscape's appearance in art was meant to construe either awe for our natural world, or as a background subject for the documentation of human narratives. In the 20th century, alongside rising global concerns surrounding the state of the environment's health, and our impact as humans upon it, many artists started creating works in collaboration with the physical world to draw attention to ecological issues as well our relationship and contribution to them. As a more defined concept, Environmental art has gained more traction since the 1990s when artists began to think about their surroundings not just in terms of lived or built space, but as a cohesive system in which humans have a central part to play.
Key Ideas
Environmental artists seek to investigate our human relationship with the environment through embedding their artistic practice within it. This changes the way we think about the site of artistic production; as opposed to using the artist's studio as the sole location in which to create, Environmental artists engage the natural world in a much more active and immediate way either by working in new ways outside, or by bringing natural materials into new settings.
Environmental artists aim to work in harmony with the natural environment rather than disrupt it. This means they deeply consider the impact that they as individuals have on nature and do not sacrifice its health or wellbeing in order to create work. Moreover, by working in collaboration with organic landscapes, Environmental artists fall subject to the uncontrollable cycles of the seasons with their processes of flowering, erosion, molding, and decay.
Environmental artists often use natural materials such as leaves, flowers, branches, ice, soil, sand, stone, and water as the very basis of their artwork. Moreover, in choosing to situate their work in specific places, Environment art often seeks to both transform the way that the site is viewed, whilst also revealing what was already there. This demands that viewers and audiences rethink how they "see" the world around them and pay more direct attention to the minute and distinct parts that make up what we may overlook as a cohesive environment.
Evolving from Land Art, Environmental art also rethinks the importance of the exhibition space and seeks other places where art can happen and where art can exist. This form of
Institutional Critique
seeks to question the authority and power of museums and galleries that have historically controlled the production, sale, and viewing of art works. By looking for new and sometimes unique and surprising locations, artists not only remove the power from high-powered art-dealers, buyers, and from the art-market in general, but also question the need for an audience (and art buyers) at all. Instead, artists emphasise the birth of the idea and the process of creation, without insisting that the work needs to be seen by many people, or indeed by anyone at all.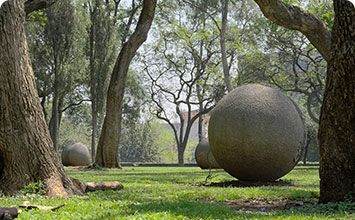 Beginnings:
Environmental art, also known as ecological art, encompasses several different forms and practices that engage with, and represent the environment. It is distinct in its less specific time period and greater scope of art. As Professor John E. Thornes noted, "Environmental art is [...] a new genre to describe works of art that are not only directly representational of the environment (the 19th century wonders such as John Constable's Cloud Series, Claude Monet's London Series, or Paul Cézanne's Mont Sainte Victoire Series), but also works of art that are clearly nonrepresentational and performative in terms of much less direct interpretation but more active engagement of the audience such as Richard Long's A Line Made by Walking or James Turrell's Skyspaces.
Important Art and Artists of Environmental Art

The below artworks are the most important in Environmental Art - that both overview the major ideas of the movement, and highlight the greatest achievements by each artist in Environmental Art. Don't forget to visit the artist overview pages of the artists that interest you.


Artwork Images

Ocean Landmark (1978-80)

Artist: Betty Beaumont

Artwork description & Analysis: Betty Beaumont's work is deeply socially conscious, often actively highlighting sustainability and engaging with contemporary issues. In creating this piece, Beaumont was looking for a way to take waste material from a power plant and transform it into something that would actively benefit the environment. She collaborated with a team of scientists in order to create the work that lies to this day in the Atlantic Ocean, 40 miles away from New York Harbor. By taking coal waste and reforming it into inert blocks, Beaumont was able to fashion what has become an artificial reef, deep under the sea. Though viewers are unable to view the piece because of its location, New York University's Interactive Telecommunications Program created a virtual reality experience of the sculpture in 2000. The installation is apparently a fish haven, as described by the National Oceanographic and Atmospheric Administration.

The work asks profound questions about the possibilities of Conceptual art to have a positive impact on the environment. In Beaumont's preparatory work with scientists and engineers in this piece, she showed how integrated her artistic practice is with environmental science as well as experimental ecology. By fusing art and art practice with science, she broke down the divide between the different disciplines and suggested new cross-discipline modes of working, particularly in the solving of pressing problems such as the repurposing and recycling of waste from industry. Moreover, in placing her work under the sea, she considered problems between a passive and active response in her viewers: how can we respond to this work as an aesthetic object or as an example of activism?

Inert coal waste


Artwork Images

Pinfold Cones (1981-85)

Artist: Andy Goldsworthy

Artwork description & Analysis: Andy Goldsworthy is famed for his celebration of organic pattern, shape, and texture in his site-specific works that explore the inherent beauty of the environment, the inevitable cycles of rebirth and decay, and co-creation between man and natural material. He has commented that he sees his work as "collaboration with nature." In this example, we see this union through his profound appreciation with what nature has to offer to anyone who takes the time to look closely.

For four years, Goldsworthy lived in Cumbria in North West England, and worked on creating these limestone shapes while employed in the area as a gardener. He carefully selected local limestone, and stacked the shards up into a cone shape, each one unique. He noted, "I am fascinated by the way a cone grows, stone upon stone, layer by layer - as a tree does, ring upon ring. By making slight changes in the placing of each stone, the shape can be brought out or taken in, made elegant or squat, full or empty." For each cone Goldsworthy created a singular shape, informed by the natural curves and points of the stones themselves.

The work was created in specific dialogue with the nearby "Nine Standards," which are nine cairns that have sat on a hill for several centuries, with origins that are unknown. Goldsworthy wanted his pieces to respond to these ancient structures, making a link between old and new. In mimicking the shape and material of the older cairns, Goldsworthy suggested that using natural materials to build is an ancient, inherent, human impulse. He demonstrated the longevity of stone through his creations, which indicate that, like the "Nine Standards" they, too, may last several hundred years. Although the work could not be bought or sold, it lent a special message toward viewers, that they too, could build their own versions of ancient artifacts and in fact, add to the idea of geographical heritage.

Limestone cones - Brough, Cumbria


Artwork Images

Wheatfield, a Confrontation (1982)

Artist: Agnes Denes

Artwork description & Analysis: Hungarian-American Agnes Denes is one of the best-known Environmental artists, producing work that pushes the boundaries of what art can be, crossing over into other disciplines such as activism. This piece is one of her most famous, and extremely ambitious works. With the help of several volunteers, Denes planted a two-acre wheat field in a landfill in Lower Manhattan. The ground was prepared with soil, planted with wheat, and then harvested. The piece survived for three months.

The location was of central importance to this work. At that moment in time, the site was totally barren and not yet developed as it is today (now it is home to the Battery Park City neighborhood), making it the perfect urban wasteland to revitalize. But there are also other significant details about the site, as writer Karrie Jacobs comments, "The work seemed to stare down the World Trade Center, one of New York's significant symbols of power, and force the viewer to confront difficult questions [...] on the divide between rich and poor, between the pastoral and the technocratic, and how people embrace progress." Though her attraction to sites of urban decay may recall Robert Smithson's work, the transitory nature of the work means that rather than making a permanent mark upon the land, Denes's work is only recalled in memory, in photography, or by word of mouth.

Wheat and soil on a landfill in Manhattan
More Environmental Art Artwork and Analysis:
If you see an error or typo, please:
tell us
Cite this page

Content compiled and written by Katie Da Cunha Lewin
Edited and revised, with Synopsis and Key Ideas added by Kimberly Nichols
" Movement Overview and Analysis". [Internet]. . TheArtStory.org
Content compiled and written by Katie Da Cunha Lewin
Edited and revised, with Synopsis and Key Ideas added by Kimberly Nichols
Available from:
First published on 26 Nov 2018. Updated and modified regularly.


[Accessed ]