Artists
Olafur Eliasson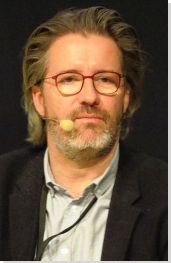 Born: February 5, 1967 - Copenhagen, Denmark

"I was interested in how we engage the world. How do we use our skin as our eyes?"

Summary of Olafur Eliasson
A noted member of the Social Practice movement, Olafur Eliasson injects his work with a universal conscience that catapults art outside of its normal confines and challenges the way we inhabit the world. With each endeavor, he asks people to fully embody their human experience by expanding their feelings of self into a connection with the broader public sphere. His art is derived through a sincere practice in which he collaborates with experts in various fields to create diverse pieces intended to propose critical interventions within existing social systems, an effort that is designed to inspire debate and fresh perceptions, or to catalyze change. Eliasson has become a progressive leader in the kind of creative thinking that provokes the way people perceive culture, community, and the natural environment around them. Although his career has reached iconic status, Eliasson's core motivations set him apart from other superstars of the art world; whereas some artists of his stature are known for their superegos, altruism is the dominant trait in his reputation.
Key Ideas
Eliasson's underlying mission to make the world a better place is largely informed by work that asks viewers to think about their role in globalization and environmentalism. In doing this, he expands the historical role of
Activist art
with a focus less on the personal issues of our time and more on the overreaching concerns that beg current contemplation toward a more humanitarian future.
Eliasson strives to jostle the status quo by creating work that compels uncertainty, transforming the role of art beyond its simple aesthetic or experiential value and into a powerful tool for battling complacency. He has stated, "This uncertainty is important to me, as it encourages people to think and sense beyond the limits within which they are accustomed to function."
The artist's presentation of our communal experience of space, ambiguous materialization, and its constant state of flux is often derived from the juxtaposition of manmade and ephemeral elements. His interactions with natural phenomena such as light, water, air, and the environment have vastly dissolved the boundaries of what is considered traditional artistic medium.
Eliasson enforces his viewers to reconnect with the self, spurring reflection into their experiences within and relationship to the world at large. His work becomes a catalyst, which forwards the concept of individual agency.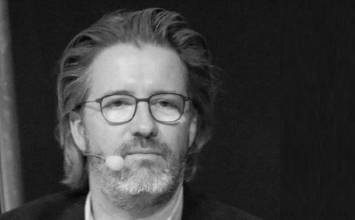 Olafur Eliasson was born in Copenhagen, Denmark in 1967, a year after his 21-year-old parents, Elías Hjörleifsson and Ingibjörg Olafsdottir, immigrated to the city from Iceland. His mother, who was from an Icelandic fishing village dating back to the 11th century, found work as a dressmaker, while his father, who was an amateur artist, found work as a cook on a fishing boat. His father's family was from Reykjavík, Iceland's capital, where they were part of a small artistic community. Eliasson's grandmother was a photographer and his grandfather, who abandoned his family when Elías was young, was a publisher of avant-garde literature. Eliasson's own parents, who were young and inexperienced, divorced when he was four. Elías, following in his own father's footsteps, moved back to Iceland, leaving a young Olafur fatherless throughout much of his childhood and adolescence. During his infrequent trips to visit his father, Eliasson began making drawings as a way to impress him. By the time he was 14 he could draw every bone in the human body, and at 15, he had his first art show - displaying several landscape paintings at an alternative art space in Denmark.
Important Art by Olafur Eliasson

The below artworks are the most important by Olafur Eliasson - that both overview the major creative periods, and highlight the greatest achievements by the artist.


Artwork Images

Beauty (1993)

Artwork description & Analysis: Since the beginning of his career, Eliasson has endeavored to conceive visually impactful work with sincerity rather than irony. Completed while still a student at the Royal Danish Academy of Art, Beauty consists of a single spotlight illuminating a section of perforated tubing. When water is pumped through the tube, thousands of tiny water droplets cascade out, producing a curtain of mist, which then reflects the light to produce a rainbow. The sublime work both glorifies and dissects an environmental wonder, revealing Eliasson's unique ability to poetically interpret a scientific process.

Interaction with the natural environment along with perception, movement, and personal experience has always been a driving force in Eliasson's work. In this particular work, viewers are encouraged to move around and engage with the piece. In using their bodies to control their perspective, viewers manipulate a manmade ethereal phenomenon, and become responsible for their own dialogue with the work. Eliasson aims to heighten perceptual awareness, compelling individuals to become more connected to the space around them.

Spotlight, water, nozzles and hose - Museum of Contemporary Art, Los Angeles


Artwork Images

Ventilator (1997)

Artwork description & Analysis: Like Beauty before it, Eliasson's early works were typically sculptural structures built specifically for a space within a museum or gallery. Ventilator, his most celebrated early work, was a subtle kinetic sculpture first shown at the Museum of Modern Art in New York. The simple, hypnotic piece consisted of a fan, hung from an electric cord and propelled haphazardly around the room in concordance with the ambient air currents. Its mesmerizing movement, sometimes zooming over head while other times hovering indecisively, emphasized the grandness of the museum's atrium, while also calling attention to the emptiness of the space.

The physical and perceptual disruption the work created was achieved by Eliasson's scientifically inclined intellect. "You start to wonder what on Earth makes it fly," explained Eliasson. "When we walk into a space, we tend to look at the walls and the floor as solids, and everything between as somehow not there. We know very well that air is thick enough for a jumbo jet to take off and float on it. There is something there, conceptually, to solidify." As the fan propelled itself around the room, the desire to understand how it maneuvered reinforced the viewer's own awareness of their presence within the space. For Eliasson, connecting to the work and the space it inhabited promoted a connection with one's self. As curator and art historian, Madeleine Grynsztejn explains, "in this increasingly technological, digital era, art often separates us from our bodies, from our senses, from the world. Here is somebody who constantly refuses that, and who constantly returns us to a visceral, present-tense experience."

Altered fan, wire, and cable - Museum of Modern Art, New York


Artwork Images

Green river (1998)

Artwork description & Analysis: In 1998, rather than reproducing natural phenomenon in an indoor setting, Eliasson began working with the environment directly. His first landscape intervention was Green river, a guerilla-style piece, in which he covertly changed the color of rivers in various cities by treating them with a harmless green dye used by biologists to track water currents. As Eliasson recalled, "what the green dye did, in my view, was it made people aware of their everyday surroundings in a new way - not just the river, which suddenly appeared different, but the town or landscape it was flowing through. We tend to see cities and spaces as static images, but in fact they are changing all the time. Sometimes it takes a radical shift to make us aware of this fact."

The radical visual effect of the dyed rivers lasted only a few hours, but it compelled viewers to reconnect with the urban spaces in which they lived. Unlike his previous sculptural work, which sought to inspire a relationship between participants and an irrelevant space; Green river sought to make a more meaningful connection between participants and the space they inhabit daily. The reaction to the dyed rivers varied from city to city, and in Los Angeles, where concrete viaducts mostly obstructed views of the river, hardly anyone noticed the change. While in Stockholm, Sweden, where the river flows through the center of the city, pedestrians were alarmed by the slime-colored hue and were convinced the city's water supply had been tainted.

Concerned they could incite panic, Eliasson abandoned these guerilla-art interventions in 2001. However, reimagining previous work is an integral part of Eliasson's artistic process, and in 2014 he fabricated a river to intervene with the space inside a museum. Riverbed, a site-specific installation for the Louisiana Museum of Modern Art in Denmark, blurred the boundaries between the natural world and the manmade one. The major intervention transformed the museum's gallery spaces into the rocky and rugged landscape of the Danish coast. A winding river flowed through the galleries, and as in nature, visitors were free to choose their own path as they explored the immersive environment. Through inviting visitors to take control of their experience, Riverbed eschewed the behavioral and intellectual conventions associated with museums.

Uranine and water - Moss, Norway
More Olafur Eliasson Artwork and Analysis:
Influences and Connections
Influences on Artist
Artists, Friends, Movements
Influenced by Artist
Artists, Friends, Movements

Interactive chart with Olafur Eliasson's main influences, and the people and ideas that the artist influenced in turn.
View Influences Chart

Artists

| | |
| --- | --- |
| | Robert Rauschenberg |
| | James Turrell |
| | Bruce Nauman |
| | Gordon Matta-Clark |

Personal Contacts

Movements

| | |
| --- | --- |
| | Land Art |
| | Relational Aesthetics |
| | Conceptual Art |
| | Installation Art |
| | Environmental Art |

Influences on Artist

Olafur Eliasson
Years Worked: 1993 - present
Influenced by Artist

Artists

Personal Contacts

| | |
| --- | --- |
| | Bill Gates |
| | Kofi Annan |
| | Hans Ulrich Obrist |

Movements
If you see an error or typo, please:
tell us
Cite this page

Content compiled and written by Katelyn Davis
Edited and revised, with Synopsis and Key Ideas added by Kimberly Nichols
" Artist Overview and Analysis". [Internet]. . TheArtStory.org
Content compiled and written by Katelyn Davis
Edited and revised, with Synopsis and Key Ideas added by Kimberly Nichols
Available from:
First published on 10 Jan 2018. Updated and modified regularly.


[Accessed ]