Artists
Joseph Mallord William Turner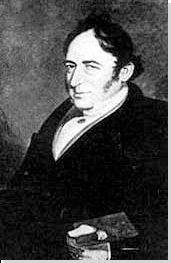 Born: April 23, 1775 - Covent Garden, London, England
Died: December 19, 1851 - Cheyne Walk, Chelsea, England

"My job is to draw what I see, not what I know."

Summary of Joseph Mallord William Turner
Turner took classical genres and scenes - the stately landscape in well-designed compositions and historical events writ large - and infused them with a new dynamic in painting. He reflected on the increasing importance of individual experience in the era of the Enlightenment, where the perceptions of human beings led to exalted personal moments and sublime interactions with nature. Through this dedication to rendering heightened states of consciousness and being, he helped define the cross-disciplinary artistic movement of Romanticism, setting the stage for later developments in painting subjective experiences that would lead to Impressionism. In some of his later works especially, Turner responded to the arrival of the modern era by making the contraptions of human invention powerfully, sometimes threateningly present.
Key Ideas
Striving for greater subjective effects, he ignored and even exploded the precise rendering of details and static scenes that previous generations' masters and his peers still pursued. Instead he developed painterly effects to render perceptions from closely observed nature, resulting in swirling clouds of varied light and bold arrays of color dabbed in oil. Many of these techniques in paint to evoke sensations of the "Sublime" would become the substance and subject matter of the generation of painters working in
Abstract Expressionism
.
The subjects chosen for many of his paintings emphasized the power of nature in a way that had not previously been depicted - making the human figure and all that civilization had built seem minuscule and fragile in comparison.
Turner helped establish landscape painting - and especially its water-based corollary, seascapes - as an artistic genre for greater respect and exploration, compared to what had existed before or during his own time.
Turner also incorporated novel motifs from the modern industrial era into his paintings - steamships and railway trains figuring prominently - foreshadowing a recurrent fascination with these elements of modern life that would figure in later generations of visual artists - from the
Futurists
, muralists such as
Diego Rivera
to contemporary artists such as
Matthew Barney
.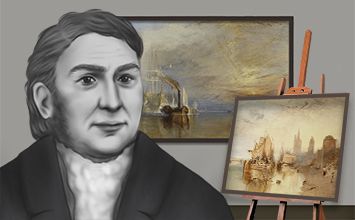 Joseph Mallord William Turner's actual birthdate is unconfirmed, but he was baptized on May 14, 1775. His father, William Turner was a barber and wig maker and his mother, Mary Marshall, came from a family of butchers. His younger sister, Mary Ann, was born in September 1778, but died when she was 5 years old.
Important Art by Joseph Mallord William Turner

The below artworks are the most important by Joseph Mallord William Turner - that both overview the major creative periods, and highlight the greatest achievements by the artist.

Dutch Boats in a Gale ('The Bridgewater Sea Piece') (1801)

Artwork description & Analysis: Dutch Boats in a Gale was commissioned by the third Duke of Bridgewater as a companion piece for a 17th-century seascape, Ships on a Stormy Sea by Willem van de Velde the Younger. In this painting, Turner shows ominous clouds and a stormy sea with boats struggling on the rough water. In contrast to the companion piece, Turner's boats look doomed to collide, conveying a sense of danger. This piece from 1801 is evidence of the influence of Dutch painters on Turner's early work but already with the sort of turbulence featured in it that became one of Turner's hallmarks.

Oil on Canvas - The National Gallery, London

Snow Storm: Hannibal and his Army Crossing the Alps (1812)

Artwork description & Analysis: In this painting, Turner depicts Hannibal's soldiers in their struggle to cross the Alps in 218BC. There is a curved arch of black storm clouds hovering over the soldiers with a golden sun peeking through the grayness. In the foreground, the soldiers are fighting local tribes in the murky darkness, while ahead in the distance the plains of Italy are bathed in sunlight. At the right is an avalanche of snow descending down the mountain. Hannibal's location is not clear, but he may be riding the elephant barely visible in the distance. Turner created this painting during the Napoleonic Wars between Britain and France. He saw parallels between Hannibal and Napoleon, and this painting is his response to Jacques-Louis David's portrait of Napoleon Crossing the Alps (1801-1805). This work is the first painting where Turner uses a swirling vortex of wind, rain, snow and clouds that he returned to often in later works, such as Snow Storm: Steam-Boat off a Harbour's Mouth (1842). His ongoing investigations of light and atmosphere greatly influenced future Impressionists and Post-Impressionists, such as Monet and Pissarro.

Oil on Canvas - Tate Britain, London

The Burning of the Houses of Parliament (1834-5)

Artwork description & Analysis: In 1834 a fire engulfed the Houses of Parliament and burned for hours while Londoners watched the horrifying event. Turner made a series of sketches, watercolors, and oil paintings of the spectacle from the viewpoint of the Thames River. This watercolor and gouache on paper shows a closer view of the fire and those gathered to watch. Turner uses color to convey the magnificent light and heat: as much the subject of the painting, as the event of the burning building itself. This favoring of the elemental aspects of the conflagration, as well as the fire itself, embodies one of Turner's favored themes as well: the puniness and ephemerality of man's efforts in the face of nature.

Watercolor and gouache on paper - Tate Britain
More Joseph Mallord William Turner Artwork and Analysis:
Influences and Connections
Influences on Artist
Artists, Friends, Movements
Influenced by Artist
Artists, Friends, Movements

Interactive chart with Joseph Mallord William Turner's main influences, and the people and ideas that the artist influenced in turn.
View Influences Chart


Influences on Artist

Joseph Mallord William Turner
Years Worked: 1790 - 1850
Influenced by Artist

Artists

Personal Contacts

| | |
| --- | --- |
| | John Leicester |

Movements
If you see an error or typo, please:
tell us
Cite this page

Content compiled and written by The Art Story Contributors
Edited and published by The Art Story Contributors
" Artist Overview and Analysis". [Internet]. . TheArtStory.org
Content compiled and written by The Art Story Contributors
Edited and published by The Art Story Contributors
Available from:
First published on 15 Jan 2016. Updated and modified regularly.


[Accessed ]