Artists
Thomas Gainsborough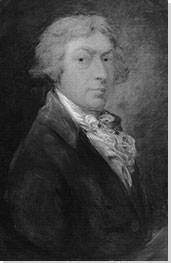 Born: May 14, 1727 - Sudbury, England
Died: August 2, 1788 - London, England

"One part of a picture ought to be like the first part of a tune; that you can guess what follows, and that makes the second part of the tune and so I've done."
Summary of Thomas Gainsborough
Thomas Gainsborough achieved name and fame as the best-known English artist of the 18th century for his outstanding innovations and techniques in both landscape and portraiture. Having been introduced to the Rococo style of art in the early part of his career, Gainsborough's works echoed luxury and leisure of aristocratic society through contemporary fashion. But his most influential works were ones of idealized pastoral life in the rural countryside, which would be taken further by the modern artists of Romanticism. With his exceptional abilities and passion for landscapes he exerted a powerful sway over the British School of painting and earned a reputation as an artist of national significance.
Key Ideas
Exuding an affinity for Rococo stylistics, Gainsborough's portraiture was replete with lyricism and elegance that was a perfect way to depict the opulence of his upper class clientele.
Gainsborough made conscious efforts at subverting the mainstream trends by displaying tendencies of deviation and social satire. For instance, in the work Mr. and Mrs. Andrews, the viewer's presence is not only acknowledged but the figures are also portrayed with uncanny expressions to powerfully convey the condescending attitude of the aristocratic society.
Disregarding the conventions of patron selection, Gainsborough opened up the genre of portraiture even to the socially controversial personalities. This concept would be taken to the next level by the Realists.
With his unconventional ways of painting that employed allegory and idealism, his works presented a departure from dominant academic tradition of history painting and thereby became an inspiring source for artists of Romanticism.
The poetic delineation of nature and the rural folk therein was a unique aesthetic developed by Gainsborough and in this respect he is absolutely a leader of British School of landscape painting as well as a precursor for artists like John Constable.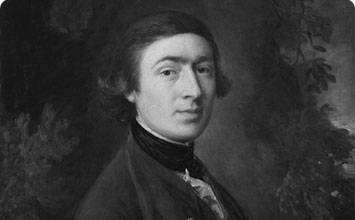 Thomas Gainsborough was the youngest son of John and Mary Gainsborough. Of his ten siblings, it was Thomas who had shown interest in painting early in life. His desire for portraiture and landscapes began to surface when he was barely ten years old. Knowledge of textures and fabrics that he had gained by observing textiles in the cloth industry where his father worked, as a weaver and wool handler, was put to best use by him for the costumes of his portrait subjects.
Important Art by Thomas Gainsborough

The below artworks are the most important by Thomas Gainsborough - that both overview the major creative periods, and highlight the greatest achievements by the artist.

Cornard Wood, near Sudbury, Suffolk (1748)

Artwork description & Analysis: Amidst the abundance of beautiful trees in the peaceful free woodlands, rural folk are seen moving across a serpentine path that activates the deep stillness of the woods.

Laid out from the left foreground, this alley introduces the viewer to a woodcutter, a worker on a short break from shoveling who is perhaps, conversing with a seated young lady. Upon moving further a man is seen treading along, with a bundle on his back and at a distance is a man riding a horse towards the church that is faintly visible at the end of the trail. On the right side of this road is a pond that quietly runs through the dense trees and foliage.

Gainsborough was perhaps, one of the earliest artists to have conveyed a statement against urban development via a retreat into nature through landscape painting. Having spent his later life in Bath and the city of London, although his desire for the country side never ceased, it seems he hoped for a better quality of rural life when he said, "We must jog on and be content with the jingling of bells, only damn it! I hate the dust! the kicking up of the dust, and being confined in harness to follow the track, while others ride in the wagon, under cover, stretching their legs in the straw at ease, and gazing at green trees and blue skies."

An interesting latest development related to this work is the discovery of a study sketch in 2017 that was one of the twenty-six drawings in the Royal Collection at Windsor Castle. These were earlier incorrectly attributed to another artist, Sir Edwin Landseer.

This drawing provides an insight into the process of working of the creative mind of the artist in that Gainsborough makes a plan, a perfect blueprint by composing the trees on a grid to help him progress with the final painting based on this schema.

Oil on canvas - Collection of The National Gallery, London, England

Mr. and Mrs. Andrews (c.1750)

Artwork description & Analysis: In the middle of the 18th century, a recently married wealthy couple wanted to commemorate their status by commissioning this art work. On the extreme left is Mr. Robert Andrews, while Mrs. Frances Andrews is seated on a bench. They are dressed in the costumes that reflect contemporary English aristocratic life style. Elements in the surrounding landscape of Auberies, Andrews' estate in Sudbury, convey that the vast land in their control is also used for producing wheat and includes a sheep farm. Facility with modern means of farming it seems has provided Mr. Andrews with enough leisure for other pursuits of interest as he is here shown sporting a typical hunting hat and clasps a rifle under his right arm. An elaborate 'Mantua' gown of light blue in which the lady appears was an outfit to be worn for ceremonies at court.

Displaying their opulence, the couple seems to be looking at the spectators as if in a conversation. For, this work can be categorized as a 'conversation piece', a genre of informal group portraits of people in discussion, usually ignorant of the viewer, which was popular in 18th century England. However, this work is unusual and deviates from that tradition in more ways than one, for instance Mr. and Mrs. Andrews are clearly acknowledging the presence of the artist as viewer. Also, Gainsborough aligns the man and wife on to the left to give more space for landscape, unlike such works that emphasized the sitters and placed them in the center. This distinction explains the artist's penchant for landscape on the one hand and yet the importance of portraiture as it was his primary source of income.

Further, there is something uncanny about their facial expression, which has been an issue of debate among art historians and critics. In this regard, critic John Berger opines that the grim faces of the couple was intended by the artist to make a statement about the egoistic attitude of the wealthy landowners. Some others disagree with this explanation due to the fact that the artist knew the duo personally in that Mrs. Andrew's father had helped John Gainsborough when he went bankrupt. This was reason enough for their scornful looks, particularly in the context of a class-conscious society as has been interpreted by author William Vaughn, "in her eyes, Thomas Gainsborough was the son of a charity case. The artist knew those looks this couple were giving him and recorded them with characteristic exactness." The presence of the dog that glances at them not only intensifies their condescension but also adds a pinch of sarcasm.

Any extent of interpretation seems inadequate when confronted with a blank space in the painting. An unfinished area of canvas on the lady's lap where her hands rest heightens the mystery.

Oil on canvas - Collection of The National Gallery, London, England

The Painter's Daughters Chasing a Butterfly (c.1756)

Artwork description & Analysis: As the title suggests, the work portrays Thomas Gainsborough's daughters, five-year old Mary and her three year old sibling, Margaret. It is as if the artist anxiously wanted to capture a moment that was part of a swift movement like chasing a butterfly in which his two charming little daughters were engrossed.

This is one of the earliest of the many portraits featuring his daughters that he painted throughout his career. Gainsborough observed his children with a child-like curiosity and enthusiastically wished to record their precious moments. It is perhaps, for this reason that the portrait here appears to be unfinished like a study that was part of a series of works depicting his children engaged in different activities. One very distinguishing aspect about this work is that, though it seems to be a literal depiction, it unfolds itself to possibilities of metaphorical interpretation. As a child's act of chasing a butterfly could relate to the dangers associated with the pursuit of earthly desires and resultant vanities. From this vantage point, the work stands out as a rare example of allegorical representation in the artist's entire oeuvre.

It becomes evident from this painting that despite being reluctant towards portraiture, Gainsborough excelled in the genre when he painted portraits of people with whom he was emotionally attached. However, later in life when he aspired that his children too should get trained as artists, they rebelled. He expressed his dismay with the attitude of his daughters thus: "But these fine ladies and their tea drinkings, dancings, husband huntings and such will fob me out of the last ten years, and I fear miss getting husbands too."

Oil on canvas - Collection of The National Gallery, London, England
More Thomas Gainsborough Artwork and Analysis:
Influences and Connections
Influences on Artist
Artists, Friends, Movements
Influenced by Artist
Artists, Friends, Movements

Interactive chart with Thomas Gainsborough's main influences, and the people and ideas that the artist influenced in turn.
View Influences Chart

Artists

Personal Contacts

| | |
| --- | --- |
| | Karl Friedrich Abel |
| | Johann Christian Bach |
| | James Christie |
| | Allan Cunningham |
| | Joshua Kirby |

Movements

Influences on Artist

Thomas Gainsborough
Years Worked: 1744 - 1788
Influenced by Artist

Artists

Personal Contacts

| | |
| --- | --- |
| | Karl Friedrich Abel |
| | Johann Christian Bach |
| | James Christie |
| | Allan Cunningham |
| | Joshua Kirby |

Movements

| | |
| --- | --- |
| | British School |
| | Realism |
| | The Rococo |
| | Romanticism |
If you see an error or typo, please:
tell us
Cite this page

Content compiled and written by Jessica DiPalma
Edited and revised, with Synopsis and Key Ideas added by Rohini Iyengar
" Artist Overview and Analysis". [Internet]. . TheArtStory.org
Content compiled and written by Jessica DiPalma
Edited and revised, with Synopsis and Key Ideas added by Rohini Iyengar
Available from:
First published on 24 Nov 2017. Updated and modified regularly.


[Accessed ]