"To say to the painter that Nature is to be taken as she is, is to say to the player that he may sit on the piano."
"An artist is not paid for his labor but for his vision."
"If the man who paints only the tree, or flower, or other surface he sees before him were an artist, the king of artists would be the photographer. It is for the artist to do something beyond this."
"A picture is finished when all trace of the means used to bring about the end has disappeared."
"Nature contains the elements, in color and form, of all pictures, as the keyboard contains the notes of all music. But the artist is born to pick and choose...that the result may be beautiful - as the musician gathers his notes, and forms his chords, until he brings forth from chaos glorious harmony..."
"Art should be independent of all clap-trap--should stand alone, and appeal to the artistic sense of eye or ear, without confounding this with emotions entirely foreign to it, as devotion, pity, love, patriotism, and the like. All these have no kind of concern with it; and that is why I insist on calling my works 'arrangements' and 'harmonies.'"
"By using the word 'Nocturne' .. I wished to indicate an artistic interest alone, divesting the picture of any outside anecdotal interest which might have been otherwise attached to it. A nocturne is an arrangement of line, form, and colour first."
"One was Whistler in public - the fop, the cynic, the brilliant, flippant, vain and careless idler; the other was Whistler of the studio -- the earnest, tireless, somber worker, a very slave to his art, a bitter foe to all pretense and sham, an embodiment of simplicity almost to the point of diffidence, an incarnation of earnestness and sincerity of purpose."
Summary of James Abbott McNeill Whistler
One of the most significant figures in modern art and a forerunner of the Post-Impressionist movement, James Abbott McNeill Whistler is celebrated for his innovative painting style and eccentric personality. He was bold and self-assured, and quickly developed a reputation for his verbal and legal retaliations against art critics, dealers, and artists who insulted his work. His paintings, etchings, and pastels epitomize the modern penchant for creating "art for art's sake," an axiom celebrated by Whistler and others in the Aesthetic movement. They also represent one of the earliest shifts from traditional representational art to abstraction that is at the heart of much of modern art.
Accomplishments
Whistler abandoned Gustave Courbet's

Realism

and developed his own signature style in which, much like Édouard Manet at the time, he began exploring the possibilities and limitations of paint. By limiting his color palette and tonal contrast while skewing perspective, Whistler showcased a new compositional approach that emphasized the flat, abstract quality of the painting.
Whistler titled (or re-titled) his works using terms such as "symphony," "arrangement," and "nocturne" to suggest a correlation between musical notes and variations in color tone. These more abstract titles served to focus the viewer's attention on the artist's manipulation of paint, rather than the actual subject matter depicted.
Whistler was a devoted advocate of the Aesthetic movement in his promotion of the "art for art's sake" mentality through his writings such as The Gentle Art of Making Enemies (1892), and he also helped cultivate new concepts of beauty by using unconventional models reminiscent of Pre-Raphaelite figures and, most notably, by incorporating the Japanese aesthetic into his imaginative compositions.
Japanese art deeply fascinated many early modern artists living in Paris. But because Whistler was among the first American artists working in England to incorporate delicate oriental fabric patterns and props into his work, he is credited with spearheading what has been called the Anglo-Japanese style in fine art. Works such The Peacock Room were integral to introducing the Japanese aesthetic to England and America.
Just as Courbet's Pavilion of Realism questioned the authority of the French Salon, Whistler's libel suit against John Ruskin as well as other defensive measures against art critics who did not share his vision inspired modern artists, such as the Impressionists, to look beyond traditional art institutions when seeking exhibition space or support for their work.
Important Art by James Abbott McNeill Whistler
Progression of Art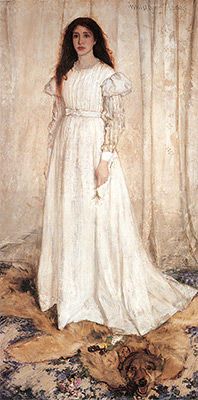 1862
Symphony in White, No.1: The White Girl
Originally titled The White Girl, this painting depicts a young woman, Whistler's mistress and model Joanna Hiffernan, with long, flowing red hair and wearing a simple white cambric dress. She stands on a similarly colored bearskin rug as she grasps a white flower at her side, her distant gaze lending her a doll-like quality. Indeed, Whistler treats her as a toy or pawn of sorts in that that artist is here less concerned with the accuracy of portraiture as he is with using the canvas as a means of exploring tonal variations. That Whistler later re-titled the painting Symphony in White, No.1: The White Girl to draw attention to the varying white tones of the work and suggest a comparison between them and music notes, clarifies this objective.

The painting bears the distinction of being the first work to truly achieve fame for the artist. Rejected by London's Royal Academy and the French Academy's Salon for its inappropriate subject matter that seemed to suggest the loss of innocence, the painting appeared in the Salon des Refusés in 1863, where it was greatly admired by Édouard Manet, Gustave Courbet, and Charles Baudelaire, among others. Symphony in White denotes Whistler's shift from mimicking Courbet's realism to developing his own signature abstract style in which he focused on using subtle color variations, texture, and the careful balancing of forms or shapes to convey a mood that would appeal to the senses.
Oil on canvas - The National Gallery of Art, Washington DC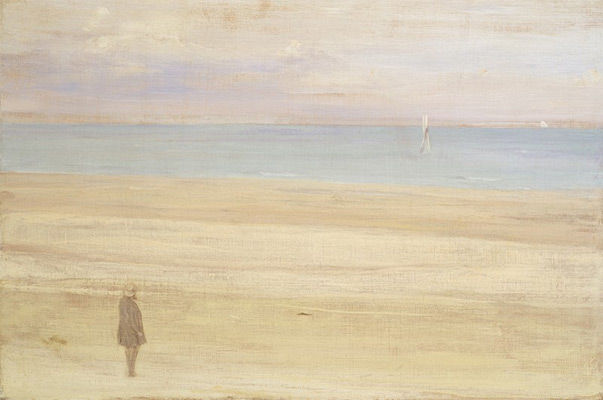 1865
Harmony in Blue and Silver: Trouville
In this work, one of at least five paintings created by Whistler in Trouville, a solitary figure stands on a beach, looking out across the wide expanse of water before him. The figure's gaze directs us toward two sailboats that appear right of center along the high horizon line. The bearded man depicted on shore is the artist's friend and Realist painter Gustave Courbet, who accompanied Whistler to Trouville in 1865 when this painting was created. Originally titled Courbet - on Sea Shore, Whistler later changed the title to reflect his growing interest in associating his painted canvases with musical compositions. The figure and the landscape in which he resides almost disappear into the washes of color Whistler delicately applied through sweeping brushstrokes of thinned paint.

The painting pays tribute to Courbet, who deeply influenced Whistler's early artistic development, and yet it also signals Whistler's movement away from Courbet's realism toward Aestheticism. Trouville has no clear meaning or moral message. Instead, it exemplifies Whistler's experimentation with color tones and methods of applying paint to the canvas surface so as to promote visual or sensual stimulation. This notion that color harmonies, mood, and beauty of form are more important than the subject matter itself was at the heart of "art for art's sake," the proud motto of the Aesthetic movement, for which Whistler became a leading proponent. The soft colors and dreamy, atmospheric quality created through Whistler's use of broad, sweeping brushstrokes also marks this painting as an important precursor to the American Tonalist movement of the 1880s.
Oil on canvas - Isabella Stewart Gardner Museum, Boston, Massachusetts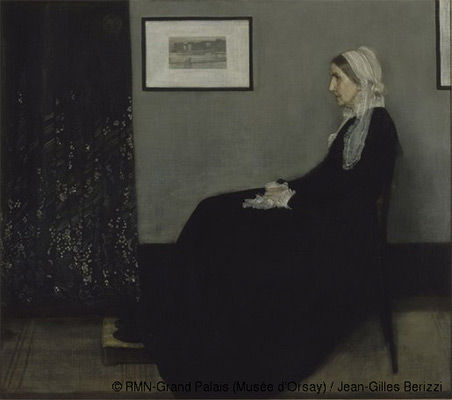 1871
Arrangement in Grey and Black No. 1: Portrait of the Artist's Mother
Otherwise known as Portrait of the Artist's Mother, Anna McNeill Whistler is clothed in a long black dress with a simple white lace cap, seated in profile, steadily gazing ahead, and holding a white handkerchief in her lap. On the wall behind her appears a reproduction of Whistler's View of the Thames. The Japanese-inspired floral patterning on the curtain hanging at left denotes the artist's well known interest in the Japanese aesthetic. Whistler's stylized butterfly signature is just visible at the top right corner of this curtain. The arrangement of forms appears simple when in fact there is a careful balancing of shapes at play. For example, the rectangular shapes of the picture on the wall, curtain at left, and the floor help stabilize the sitter's form.

A religiously devout woman, Anna McNeill Whistler had been living with her son in his London home for seven years when he asked her to pose for him after a model canceled a scheduled session. At 67 old, Whistler's mother found it difficult to stand for extended periods of time and so the artist changed the pose to a seated position for her comfort.

In 1891 the painting became the first American work to be purchased by the French government. This elevated Whistler's reputation and aided him in securing wealthy American patrons. Considered an iconic painting, Portrait of the Artist's Mother is one of a very few, including Edvard Munch's The Scream and Grant Wood's American Gothic, that can be appreciated by the art-viewing elite while also resonating with the masses with minimal explanation required. It is overwhelmingly interpreted as symbolic of motherhood, mourning (due to the colors used), or American Puritan Stoicism (because of the sitter's clothes). This particular image has been the source inspiration for many other paintings, including Albert Herter's Portrait of Bessie (1892) and Henry Ossawa Tanner's portrait of his own mother. Whistler's painting has since developed a considerable presence in pop culture, having been referenced in numerous movies, cartoons, and advertisements.
Oil on canvas - Musée d'Orsay, Paris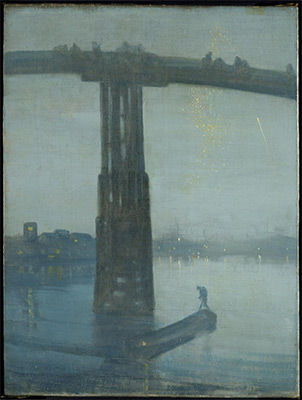 c.1872-75
Nocturne: Blue and Gold - Old Battersea Bridge
The fifth in Whistler's Nocturnes series that included countless etching, pastels, and paintings created during the 1870s, Nocturne: Blue and Gold - Old Battersea Bridge offers a night view of London's Thames River. A pier of Battersea Bridge looms in the foreground of the painting with the tower of Chelsea Old Church and the newly built Albert Bridge visible in the distance. Beyond the bridge, fireworks appear as flecks of color in the sky. To create these paintings Whistler traveled by boat along the river in the early evening, sketching as he went. He relied on his memory and those rough sketches to create these thinly painted, atmospheric scenes of quiet tranquility.

The artist's admiration for the Japanese aesthetic is apparent in the compositional similarities the painting shares with Under the Mannen Bridge at Fukagawa (c. 1830-34) by Katsushika Hokusai, one of Whistler's favorite Ukiyo-e painters. This work is considered the "most Japanese" of Whistler's "nocturnes" because of its simplified, silhouetted forms that created a two-dimensional flattening of the composition. Old Battersea Bridge was produced in Whistler's libel suit against John Ruskin as evidence of the artist's successful rendering of an artful impression or memory of a fleeting moment. As such, Whistler argued, the subject itself becomes inconsequential and the relationship between color and form paramount.

Given the title "nocturne" after wealthy shipping magnate and patron Frederick Leyland described it as such, Old Battersea Bridge features variations of blues tinged with gold. Whistler's penchant for blurring forms and emphasizing subtle tonal differences, makes his "nocturnes" some of the earliest experiments in abstraction. They intrigued his Impressionist friends concerned with exploring the relationship between different colors and influenced modern French composer Claude Debussy who, in 1899, created an orchestral composition titled Three Nocturnes.
Oil paint on canvas - Collection of the Tate, United Kingdom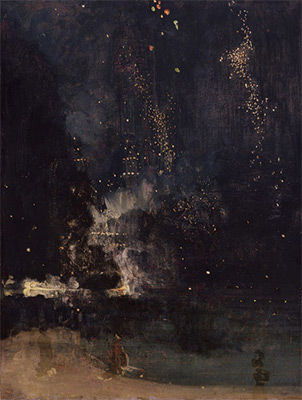 1875
Nocturne in Black and Gold: The Falling Rocket
The last of Whistler's nocturnes and one of only six depicting London's Cremorne Gardens, Nocturne in Black and Gold: The Falling Rocket (1875) presents an explosion of fireworks in the night sky. Rather than offering a concrete image, the artist conveys the effects of fireworks over the river. In so doing, he successfully captures a sense of excitement and celebration. Painted loosely with sweeping brushstrokes of dark blues and greens interrupted by small bursts of bright color, the composition exemplifies the Aesthetic principle "art for art's sake" by conveying what Whistler described as a "dreamy, pensive mood," rather than a clear narrative.

Although it is now considered one of the most important examples of Whistler's abstraction, The Falling Rocket was not well received when first exhibited. Some viewers questioned the merit of the seemingly convoluted subject matter; while others disliked what they considered to be his reckless and careless painting technique. When John Ruskin produced a negative review of this painting in 1877, Whistler sued the art critic for libel, submitting this canvas, along with other of his nocturne paintings, as evidence. Ruskin's condemnation of the artist's work as representative of "the modern school" was in fact accurate. Whistler's method of flicking paint at the canvas to create the fireworks in The Falling Rocket was appropriated by later modern artists, most notably Jackson Pollock.
Oil on panel - The Detroit Institute of Arts, Detroit, Michigan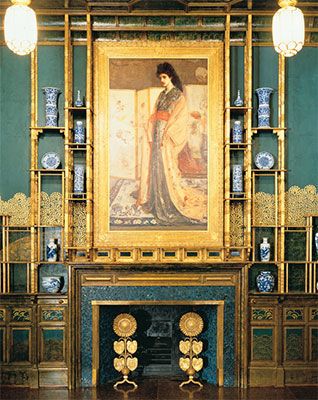 1876-77
Harmony in Blue and Gold: The Peacock Room
Although best known for his paintings, Whistler received a request from his patron Frederick Leyland to consult on architect Thomas Jeckyll's interior design for the dining room in Leyland's London home. The room was specifically designed to showcase Leyland's impressive collection of Chinese porcelain and an early commission by Whistler, The Princess from the Land of Porcelain (1863-64), which held a place of honor over the mantle. Whistler's modifications were more extensive than anticipated by Leyland and the room came to be known as: Harmony in Blue and Gold: The Peacock Room.

Whistler chose to make his Japanese-inspired painting the theme for the room, adorning moldings and wainscoting with a decorative pattern and reworking the leather wall hangings with a bit of yellow paint to enhance the colors in his painting. These slight alterations were approved by Leyland, but once the shipping magnate left for Liverpool, Whistler made many more, including painting the 16th-century Cordoba leather wall coverings Prussian blue and applying metallic gold leaf to shelving. These later enhancements were made without Leyland's approval and provoked a disagreement between artist and patron over adequate compensation for the project. Whistler expressed his frustration with Leyland by creating a wall mural depicting two fighting peacocks, believed to represent the artist and patron. Whistler never saw the room again and his relationship with Leyland never recovered.

The elaborately decorated interior speaks to Whistler's deep understanding of the Japanese aesthetic, while also establishing the artist as a forerunner of the Art Nouveau style that would develop only a few decades later. Celebrated as a quintessential example of the Anglo-Japanese aesthetic, The Peacock Room captivated later Abstract Expressionist painter, such as Robert Motherwell and David Smith, who sought to better understand the Eastern concept of "humanity's oneness with universal nature." Through the fighting peacock mural titled Art and Money, Whistler's creation also becomes significant as a visual testament to the artist's vehement passion for defending his work and creative process, often to the detriment of his relationship with patrons and critics.
Oil, paint and gold leaf on canvas, leather, and wood - Freer Gallery of Art, Smithsonian Institution, Washington DC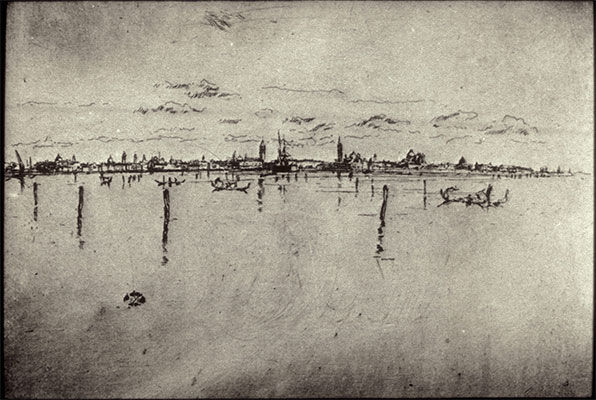 1880
Little Venice
Measuring less than a foot in height and width, Little Venice (1880) is one of more than fifty etchings Whistler created depicting the city during his fourteen month stay in Italy, in 1879. He had already established his reputation as a master painter when these etchings were exhibited in London. They were well received and demonstrated his proficiency in multiple artistic media. Here, Whistler depicts the natural elements of water and air dominating the comparably diminutive urban expanse. The etching echoes his modernist approach to painting with regards to his use of loose, expressive lines to capture the ethereal beauty, rather than a topographical rendering, of the city.

Little Venice, which appeared as part of a series of etchings collectively titled "First Venice Set" in the Fine Art Society's exhibition in London in 1880, helped Whistler rebuild his reputation following the Ruskin libel suit. The artist chose to avoid tourist attractions, preferring instead to capture the city's small canals and common quarters - the "Venice of the Venetians." In so doing, Whistler elevated the artistic value of these sights and helped establish a new iconography of the city. Whistler's experimentation with inks, tone, and paper, as well as his economic use of line and habit of wiping the etched plate to create an atmospheric effect are techniques that later modern artists, such as Mortimer Menpes and John Marin, adopted in their own work.
Etching - The Metropolitan Museum of Art, New York, New York
Biography of James Abbott McNeill Whistler
Childhood and Education
James Abbott McNeill Whistler was the oldest son of engineer George Washington Whistler and his devoutly Episcopalian second wife Anna McNeill. As a child Whistler was temperamental and prone to mood swings. His parents quickly discovered that drawing soothed him and so they encouraged his artistic inclinations. When in 1842 Whistler's father was recruited by Tsar Nicholas I to design a railroad, James moved with his father, mother, and younger brother William (later a surgeon for the Confederate army) to St. Petersburg in Russia. There, the precocious youth insisted on showing his drawings to Sir William Allan, a Scottish painter hired by the Tsar to create a portrait of Peter the Great. Allan encouraged the youth to cultivate his talents and in 1845, at age 11, Whistler was enrolled in the Imperial Academy of Fine Arts. This, Whistler's first formal art instruction, ended just four years later when his father died from cholera and the family returned to the United States, settling in Pomfret, Connecticut.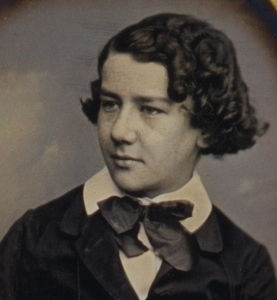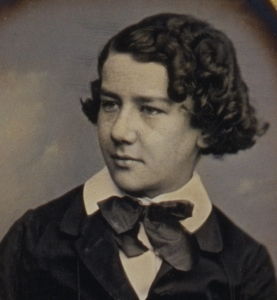 Whistler's mother strove to keep her children morally grounded and to give them every opportunity, despite their precarious financial situation. She sent James to Christ Church Hall School and read Bible verses to him every morning in the hope that he would pursue a career as a minister. But her son would not be deterred from pursuing art. Whistler enrolled in the United States Military Academy at West Point in 1852, where he studied drawing under Robert W. Weir, but his aversion to authority and poor academic performance led to his expulsion shortly thereafter. Map-making, a skill developed at West Point, helped Whistler acquire his first job upon leaving school as a topographical draftsman for the U.S. Coast and Geodetic Survey. During his brief two-month tenure, the artist learned about the etching process, a skill that he would later use to create 490 etchings, drypoints, and mezzotints. Intent on pursuing art as a profession, Whistler left for Europe in 1855. He would never return to the United States.
Early Training
Paris provided a solid training ground for Whistler in more ways than one - the confident youth was briefly a student at the École Imperiale before attending the atelier of Swiss painter Charles Gabriel Gleyre, later teacher to Impressionists Claude Monet and Camille Pissarro. Finding himself far removed from his mother's religious influence, the 21-year-old quickly fell into the manner of a bohemian artist. He adopted the casual air of the carefully coiffed flâneur, idly strolling along Parisian boulevards and taking in every detail of his urban surroundings. "Jimmy," as he was known to friends, spent his funds lavishly on clothes, tobacco, food, drink, and art supplies. He was often reduced to pawning possessions or relying on the generosity of friends to cover his mounting debt. An admirer of 17th-century Dutch and Spanish masters, Whistler copied their works on view in the Louvre and sold them to help alleviate his financial burden.
Whistler's true artistic development began in 1858 when he became friends with French painter Henri Fantin-Latour and through him met Realist painters Gustave Courbet, Alphonse Legros, and Édouard Manet, as well as the poet and art critic Charles Baudelaire who is credited with defining the term "modernity" as the fleetingness of the urban experience. Whistler's painting style at this early juncture was deeply influenced by Courbet's realism, as seen in the earthy colors and finely textured surfaces of At the Piano (1859). Created the same year the artist relocated to London, At the Piano depicts a mother and child, the artist's half-sister and niece, in the music room of their London home. The painting was well received when exhibited at the Royal Academy in 1860. And yet within a few years, Whistler abandoned this Realist perspective in favor of a whimsical style more closely aligned with Aestheticism in terms of its decorative quality. His incorporation of oriental props and adherence to Japanese aesthetic principles further separated him from the Realists, while catapulting him to new heights within the Aesthetic movement.
Mature Period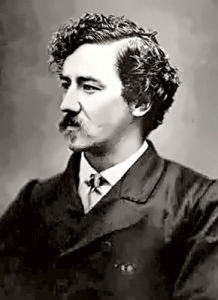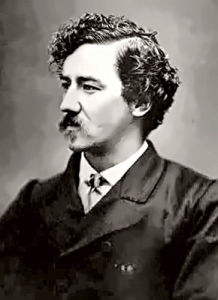 Whistler settled permanently in London in 1859, but visited and exhibited his work in continental Europe, particularly France, frequently, though not always with the success he sought. For example, the portrait of his mistress Joanna Hiffernan titled Symphony in White, No. 1: The White Girl (1862) was rejected by both the Royal Academy in London and the French Salon. The rejected painting instead appeared under the title The White Girl in the Salon des Refusés in 1863, along with work by other avant-garde artists, including Édouard Manet. Though derided by more conservative viewers at the time, The White Girl, like Manet's Le dejeuner sur l'herbe (1863), is now considered an important early example of modern art. It is the first of many works by Whistler that relied on color to explore spatial and formal relationships in a visually stimulating manner consistent with the Aesthetic belief in "art for art's sake."
The painter was as adventurous in his travels as he was with a brush. In 1866 Whistler unexpectedly set sail for Valparaiso, Chile. Some scholars have speculated that he was sympathetic to the Chilean army then at war with Spain and ventured there to support the Chilean war effort. Regardless of his reason for making the trip, once there Whistler painted three seascapes that marked a shift in his artistic repertoire. These evening harbor scenes initially titled "moonlights" and later changed to "nocturnes", inspired similarly titled Impressionist views of the Thames River and Cremorne Gardens created upon the artist's return to London.
Whistler became aware of Impressionism thanks to fellow artists Claude Monet and Camille Pissaro, who in 1870 had temporarily relocated to London to avoid the Franco-Prussian War. During these years, Whistler created his "nocturnes" by applying thin layers of paint peppered with flecks of bright color to suggest distant lights or ships. Japanese aesthetic principles, such as simplified forms and expressive lines, evident in these paintings, were a revelation for English Aesthetic artists unfamiliar with Ukiyo-e Woodblock Prints and Asian porcelain collected by Whistler and his French contemporaries. Similar to his portraits and consistent with French Impressionist principles, Whistler's "nocturnes" also show his modernist preoccupation with creating an overall effect at the expense of specific details and accurate representation. In fact Edgar Degas invited Whistler to join the Impressionist's first group exhibition in 1874, but Whistler declined.
Although Whistler painted maritime "nocturnes" for the next 10 years, his production of portraits did not wane. It was during this period that he created his best-known work, a portrait of his mother titled Arrangement in Gray and Black or Portrait of the Artist's Mother (1871). The painting brought him great success, but the arrival of his mother in 1864 had put a severe crimp in the carefree life he had been living in London. When he learned of her plans to stay with him, the twenty-nine year old Whistler was forced to straighten-up his life, which included moving his then mistress Joanna Hiffernan out of his house and into an apartment.
As Whistler grew in recognition as an artist, so too did his reputation as a witty, opinionated man. He once bested Oscar Wilde at a party by calling attention to the author's habit of plagiarizing clever phrases (including some of Whistler's own). But the artist also suffered from volatile mood swings and a considerable temper, maladies he had been grappling with since childhood. Indeed it was anger and jealousy that caused Whistler's relationship with his mistress Joanna Hiffernan to fall apart after she posed nude for his friend Gustave Courbet.
Whistler's dominant personality at times adversely affected his career as an artist. Now celebrated as the greatest example of Anglo-Japanese artistic fusion and the most significant contribution to Aesthetic interior design, Whistler's Harmony in Blue and Gold: The Peacock Room (1876-77) caused considerable strife between the artist and his patron Frederick Leyland. Whistler was an avid collector of Japanese prints and porcelain. So when Leyland asked him to make some minor changes to his dining room designed to showcase his own collection of porcelain, Whistler eagerly accepted. The artist's modifications, however, proved to be more extensive than expected and a payment dispute ensued.
Whistler also argued with art critics. By way of explaining his approach to painting, he developed his own theory of art that he described in 1873 as "the science of color and 'picture pattern'." Upset by what he viewed as an attack on Nocturne in Black and Gold: The Falling Rocket (1874) in the form of a poor review by John Ruskin, Whistler sued the art critic for libel. Although the artist won, the judge's award of a single farthing, the equivalent of mere pennies, made a strong statement about the value the court placed on the case. Whistler's need to pay his expensive court costs forced him into financial ruin.
Late Period
In 1879 a bankrupt Whistler was forced out of his London home. He and his new mistress, Maud Franklin, traveled to Venice where he fulfilled a commission from the Fine Art Society to create a series of etchings. During his fourteen-month sojourn, Whistler also created many pastel and watercolor paintings along with more than fifty etchings of scenes from Venice. His etchings of the Italian city were well received when exhibited in London in 1880 and 1883 and demand developed for his pastels.
During the later years of his life he continued to paint portraits, experimented with color photography and lithographs, and published two books; Ten O'clock Lecture (1885) and The Gentle Art of Making Enemies (1890). Ever cognizant of his public persona, Whistler worked hard to cultivate his image as a successful artist. He could often be seen wearing a monocle, bamboo walking stick in hand, sporting a single white forelock in his otherwise brown hair, a distinction friends attributed to his "wickedness." Always striving for control, he was known to advise women what to wear to his exhibitions so that their outfits would not clash with the colors in his works. By the 1890s, Whistler had also created his own unique signature: a butterfly formed from his initials with a stinger for a tail - an allusion, perhaps, to his delicate touch and sharp tongue.
In 1888 Whistler married his former pupil and friend Beatrix Godwin. A reputable woman, her connections helped him secure more commissions for work. The couple eventually moved to Paris where Whistler established a studio and had a period of productive output before suffering the loss of his wife to cancer in 1896. Later, Whistler founded an art school but his failing health made the project unmanageable. The school closed in 1901, just two years before Whistler's death in 1903.
The Legacy of James Abbott McNeill Whistler
Whistler, like Courbet, adopted an artistic persona and staunchly defended his work in a manner that would inspire later generations of artists to challenge art authorities. Although his painting style was too radical for many Victorians, by the time of his death the artist had been credited with introducing modern French painting to England, as noted in London's Daily Chronicle: "It is twenty-five years since the famous case, 'Whistler versus Ruskin,' was tried. In the history of art it might be two hundred years, so completely has the point of view of the critics and the public changed, so completely has the brilliant genius of the man whom Ruskin called a 'coxcomb' been vindicated."
Beyond British Impressionism, the influence of Whistler's work is most apparent in the paintings of his American contemporaries and later generations of modern artists. John Singer Sargent, Henry Ossawa Tanner, and Albert Herter are among other American painters who admired and at times imitated Whistler's approach to color and even the arrangement of forms within his pictures. The artist's Nocturnes marked the beginning of art's movement toward abstraction, which would culminate in the gestural Action Paintings of Abstract Expressionists Jackson Pollock and Mark Rothko. By envisioning and titling his works in abstract musical terms, Whistler helped spearhead a new modern approach to painting in which the medium itself is the subject, not the sitter or landscape pictured.
Influences and Connections
Influences on Artist

Influenced by Artist
Friends & Personal Connections
Theophile Gautier
Artists
Robert Blum

Frank Duveneck
Friends & Personal Connections
Useful Resources on James Abbott McNeill Whistler
Books
The books and articles below constitute a bibliography of the sources used in the writing of this page. These also suggest some accessible resources for further research, especially ones that can be found and purchased via the internet.
biography
written by artist
art works
Similar Art