Artists
James Abbott McNeill Whistler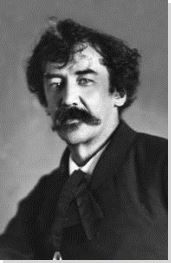 Born: July 11, 1834 - Lowell, Massachusetts
Died: July 17, 1903 - London, England

"To say to the painter that Nature is to be taken as she is, is to say to the player that he may sit on the piano."

Summary of James Abbott McNeill Whistler
One of the most significant figures in American art and a forerunner of the Post-Impressionist movement, James Abbott McNeill Whistler is celebrated for his innovative painting style and eccentric personality. He was bold and self-assured, and quickly developed a reputation for his verbal and legal retaliations against art critics, dealers, and artists who insulted his work. His paintings, etchings, and pastels epitomize the modern penchant for creating "art for art's sake," an axiom celebrated by Whistler and others in the Aesthetic movement. They also represent one of the earliest shifts from traditional representational art to abstraction that is at the heart of much of modern art.
Key Ideas
Whistler abandoned
Courbet's
realism and developed his own signature style in which, much like
Édouard Manet
at the time, he began exploring the possibilities and limitations of paint. By limiting his color palette and tonal contrast while skewing perspective, Whistler showcased a new compositional approach that emphasized the flat, abstract quality of the painting.
Whistler titled (or re-titled) his works using terms such as "symphony," "arrangement," and "nocturne" to suggest a correlation between musical notes and variations in color tone. These more abstract titles served to focus the viewer's attention on the artist's manipulation of paint, rather than the actual subject matter depicted.
Whistler was a devoted advocate of the Aesthetic movement in his promotion of the "art for art's sake" mentality through such writings as The Gentle Art of Making Enemies (1892), and he also helped cultivate new concepts of beauty by using unconventional models reminiscent of Pre-Raphaelite figures and, most notably, by incorporating the Japanese aesthetic into his imaginative compositions.
Japanese art deeply fascinated many early modern artists living in Paris. But because Whistler was among the first American artists working in England to incorporate delicate oriental fabric patterns and props into his work, he is credited with spearheading what has been called the Anglo-Japanese style in fine art. Works such The Peacock Room were integral to introducing the Japanese aesthetic to England and America.
Just as Courbet's Pavilion of Realism questioned the authority of the French Salon, Whistler's libel suit against John Ruskin as well as other defensive measures against art critics who did not share his vision inspired modern artists, such as the
Impressionists
, to look beyond traditional art institutions when seeking exhibition space or support for their work.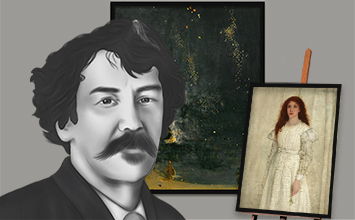 James Abbott McNeill Whistler was the oldest son of engineer George Washington Whistler and his devoutly Episcopalian second wife Anna McNeill. As a child Whistler was temperamental and prone to mood swings. His parents quickly discovered that drawing soothed him and so they encouraged his artistic inclinations. When in 1842 Whistler's father was recruited by Tsar Nicholas I to design a railroad, James moved with his father, mother, and younger brother William (later a surgeon for the Confederate army) to St. Petersburg in Russia. There, the precocious youth insisted on showing his drawings to Sir William Allan, a Scottish painter hired by the Tsar to create a portrait of Peter the Great. Allan encouraged the youth to cultivate his talents and in 1845, at age 11, Whistler was enrolled in the Imperial Academy of Fine Arts. This, Whistler's first formal art instruction, ended just four years later when his father died from cholera and the family returned to the United States, settling in Pomfret, Connecticut.
Important Art by James Abbott McNeill Whistler

The below artworks are the most important by James Abbott McNeill Whistler - that both overview the major creative periods, and highlight the greatest achievements by the artist.

Symphony in White, No.1: The White Girl (1862)

Artwork description & Analysis: Originally titled The White Girl, this painting depicts a young woman, Whistler's mistress and model Joanna Hiffernan, with long, flowing red hair and wearing a simple white cambric dress. She stands on a similarly colored bearskin rug as she grasps a white flower at her side, her distant gaze lending her a doll-like quality. Indeed, Whistler treats her as a toy or pawn of sorts in that that artist is here less concerned with the accuracy of portraiture as he is with using the canvas as a means of exploring tonal variations. That Whistler later re-titled the painting Symphony in White, No.1: The White Girl to draw attention to the varying white tones of the work and suggest a comparison between them and music notes, clarifies this objective.

The painting bears the distinction of being the first work to truly achieve fame for the artist. Rejected by London's Royal Academy and the French Academy's Salon for its inappropriate subject matter that seemed to suggest the loss of innocence, the painting appeared in the Salon des Refuses in 1863, where it was greatly admired by Édouard Manet, Gustave Courbet, and Charles Baudelaire, among others. Symphony in White denotes Whistler's shift from mimicking Courbet's realism to developing his own signature abstract style in which he focused on using subtle color variations, texture, and the careful balancing of forms or shapes to convey a mood that would appeal to the senses.

Oil on canvas - National Gallery of Art, Washington, D.C.

Harmony in Blue and Silver: Trouville (1865)

Artwork description & Analysis: In this work, one of at least five paintings created by Whistler in Trouville, a solitary figure stands on a beach, looking out across the wide expanse of water before him. The figure's gaze directs us toward two sailboats that appear right of center along the high horizon line. The bearded man depicted on shore is the artist's friend and Realist painter Gustave Courbet, who accompanied Whistler to Trouville in 1865 when this painting was created. Originally titled Courbet - on Sea Shore, Whistler later changed the title to reflect his growing interest in associating his painted canvases with musical compositions. The figure and the landscape in which he resides almost disappear into the washes of color Whistler delicately applied through sweeping brushstrokes of thinned paint.

The painting pays tribute to Courbet, who deeply influenced Whistler's early artistic development, and yet it also signals Whistler's movement away from Courbet's realism toward Aestheticism. Trouville has no clear meaning or moral message. Instead, it exemplifies Whistler's experimentation with color tones and methods of applying paint to the canvas surface so as to promote visual or sensual stimulation. This notion that color harmonies, mood, and beauty of form are more important than the subject matter itself was at the heart of "art for art's sake," the proud motto of the Aesthetic movement, for which Whistler became a leading proponent. The soft colors and dreamy, atmospheric quality created through Whistler's use of broad, sweeping brushstrokes also marks this painting as an important precursor to the American Tonalist movement of the 1880s.

Oil on canvas - Isabella Stewart Gardner Museum, Boston, Massachusetts

Arrangement in Grey and Black No. 1: Portrait of the Artist's Mother (1871)

Artwork description & Analysis: Otherwise known as Portrait of the Artist's Mother, Anna McNeill Whistler is clothed in a long black dress with a simple white lace cap, seated in profile, steadily gazing ahead, and holding a white handkerchief in her lap. On the wall behind her appears a reproduction of Whistler's View of the Thames. The Japanese-inspired floral patterning on the curtain hanging at left denotes the artist's well known interest in the Japanese aesthetic. Whistler's stylized butterfly signature is just visible at the top right corner of this curtain. The arrangement of forms appears simple when in fact there is a careful balancing of shapes at play. For example, the rectangular shapes of the picture on the wall, curtain at left, and the floor help stabilize the sitter's form.

A religiously devout woman, Anna McNeill Whistler had been living with her son in his London home for seven years when he asked her to pose for him after a model canceled a scheduled session. At 67 old, Whistler's mother found it difficult to stand for extended periods of time and so the artist changed the pose to a seated position for her comfort.

In 1891 the painting became the first American work to be purchased by the French government. This elevated Whistler's reputation and aided him in securing wealthy American patrons. Considered an iconic painting, Portrait of the Artist's Mother is one of a very few, including Edvard Munch's The Scream and Grant Wood's American Gothic, that can be appreciated by the art-viewing elite while also resonating with the masses with minimal explanation required. It is overwhelmingly interpreted as symbolic of motherhood, mourning (due to the colors used), or American Puritan Stoicism (because of the sitter's clothes). This particular image has been the source inspiration for many other paintings, including Albert Herter's Portrait of Bessie (1892) and Henry Ossawa Tanner's portrait of his own mother. Whistler's painting has since developed a considerable presence in pop culture, having been referenced in numerous movies, cartoons, and advertisements.

Oil on canvas - Musée d'Orsay, Paris, France
More James Abbott McNeill Whistler Artwork and Analysis:
Influences and Connections
Influences on Artist
Artists, Friends, Movements
Influenced by Artist
Artists, Friends, Movements

Interactive chart with James Abbott McNeill Whistler's main influences, and the people and ideas that the artist influenced in turn.
View Influences Chart

Artists

Personal Contacts

| | |
| --- | --- |
| | Charles Baudelaire |
| | Theophile Gautier |

Movements

Influences on Artist

James Abbott McNeill Whistler
Years Worked: 1854 - 1903
Influenced by Artist

Artists

| | |
| --- | --- |
| | Robert Blum |
| | Frank Duveneck |

Personal Contacts

| | |
| --- | --- |
| | Stéphane Mallarmé |
| | John Ruskin |

Movements
If you see an error or typo, please:
tell us
Cite this page

Content compiled and written by The Art Story Contributors
Edited and revised, with Synopsis and Key Ideas added by Sandy McCain
" Artist Overview and Analysis". [Internet]. . TheArtStory.org
Content compiled and written by The Art Story Contributors
Edited and revised, with Synopsis and Key Ideas added by Sandy McCain
Available from:
First published on 22 Mar 2016. Updated and modified regularly.


[Accessed ]