"I do not judge, I only chronicle."
"Every time I paint a portrait I lose a friend."
"You can't do sketches enough. Sketch everything and keep your curiosity fresh."
"A person with normal eyesight would have nothing to know in the way of 'Impressionism' unless he were in a blinding light or in the dusk or dark."
"It is certain that at certain times talent entirely overcomes thought or poetry."
"I hate to paint portraits! I hope never to paint another portrait in my life. Portraiture may be all right for a man in his youth, but after forty I believe that manual dexterity deserts one, and, besides, the color-sense is less acute. Youth can better stand the exactions of a personal kind that are inseparable from portraiture. I have had enough of it."
"As to describing my procedure, I find the greatest difficulty in making it clear to pupils, even with the palette and brushes in hand and with the model before me; to serve it up in the abstract seems to me hopeless."
"I don't dig beneath the surface for things that don't appear before my own eyes."
"Cultivate an ever continuous power of observation. Wherever you are, be always ready to make slight notes of postures, groups and incidents. Store up in the mind... a continuous stream of observations from which to make selections later. Above all things get abroad, see the sunlight and everything that is to be seen."
Summary of John Singer Sargent
John Singer Sargent was the premiere portraitist of his generation, well-known for his depictions of high society figures in Paris, London, and New York. He updated a centuries-old tradition by using vibrant Impressionistic brushstrokes and untraditional compositional solutions in order to capture his sitters' character and even reputation. Sargent's pursuits were not limited to portraiture and also included impressionistic landscapes, executed en plein air alongside his friend Claude Monet. He also painted official murals commissioned by governmental officials both in the United States and the United Kingdom as well as a good number of nude sketches probably meant as personal works.
Accomplishments
Sargent's distinct method of making his sitter's shine while also capturing their personalities, aspirations, inclinations, and distinct characteristics differentiated his work in the portraiture genre from others before him. There was many a patron who, upon seeing the final results, complained or outright refused to accept the work. His infamous portrait of Madame X, for example, emphasizing the notorious behavior of the sitter, met with much criticism from both the sitter herself and the great audience at the annual Salon.
Sargent took the very best of formal compositional development, as absorbed through his study of Old Masters including Anthony Van Dyck and Diego Velázquez and updated it with a pseudo-Impressionist style learned from an anti-Academic instructor. The result was a more vibrant type of portraiture albeit elevated by its grounding in the best the tradition had to offer.
His works of sensual male nudes, carefully hidden away by the artist so as not to compromise his successful position as society painter, indicate a depth of investigation previously unknown in Sargent's work. There is great speculation regarding the artist's sexual proclivities to which this oeuvre as well as his relationship to

Henry James

bear witness.
Important Art by John Singer Sargent
Progression of Art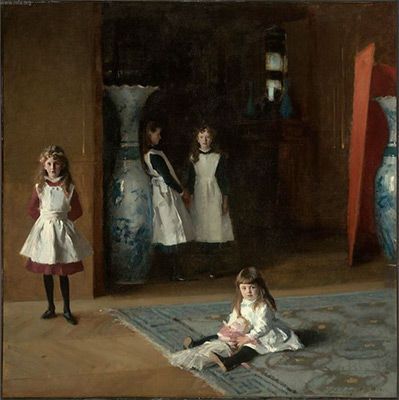 1882
The Daughters of Edward Darley Boit
This early work illustrates the influence of the Old Masters on Sargent. He adopts the very untraditional square format used by Diego Velázquez in Las Meninas (1656) as well as the Spanish artist's method of presenting figures in an unposed, natural manner in order to capture something of their personalities.

The composition is different than that seen in a traditional group portrait wherein each subject is given equal status. The girls are scattered around the dim, immaculately decorated room in what looks to be a haphazard fashion and dwarfed by furniture elements including two massive blue and white porcelain vases. Three of the four girls gaze directly at the viewer, while the fourth faces her sister, clad in a matching black and white ensemble. The informal posture of the youngest daughter (Julia, age 4) seated on the floor, contrasts sharply with that of the older girls, who stand primly, even stiffly, behind her. The two oldest girls (Jane, 12, and Florence, 14) stand in the opening to another room and are partly obscured in shadow. A number of critics have noted the manner in which the painting goes beyond its role as group portrait to suggest the symbolic loss of innocence that inevitably comes with maturity. Sargent's depiction clearly suggests how individuals tended to hide their true selves behind "walls" of manners and propriety, evoking the restrictive, repressive environments in which young, upper class women were raised at the time.
Oil on Canvas - Museum of Fine Arts, Boston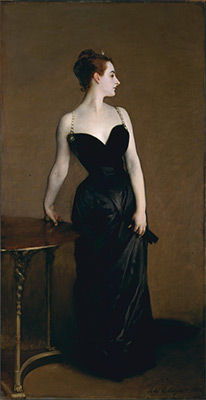 1884
Portrait of Madame X
Perhaps Sargent's most famous work, this portrait depicts a young socialite, an American expatriate named Virginie Amélie Avegno Gautreau and known as Madame X, who was married to a French banker, Pierre Gautreau. The Gautreaus did not commission the work. In fact, it was Sargent who initiated the project, intrigued by the opportunity to capture this scandalous Parisian society figure known not only for her stunning looks but also, as many rumored, love affairs. The concept of painting a portrait that speaks about the sitter's character was an entirely modern one. Accordingly, Sargent's Madame X stands at the forefront of Modern Portraiture.

Sargent vividly accentuates her striking presence by exposing her alabaster skin with a daring décolleté and setting her against a background of warm, muted, brown tones. The revealing, corseted, black satin dress with thin, jeweled straps in which she is posed, shows off her stunning figure and, combined with the ornate style of her auburn hair and powdered complexion, set a standard for contemporary aristocratic beauty. Her notorious reputation is hinted at through her particularly self-confident pose.

Painting this portrait proved a challenge for both Sargent and Gautreau. In fact, the artist drew and painted more than thirty studies of Gautreau over the course of several months in its preparation, in the end using an entirely different pose than that originally intended. Gautreau reportedly grew bored with their sessions and would frequently run off to various social obligations, leading Sargent to lament "the unpaintable beauty and hopeless laziness of Madame Gautreau."

Though both artist and sitter had high hopes for the work, this portrait was poorly received upon its exhibition at the Paris Salon in 1884. This blow effectively put an end to Sargent's hopes of becoming a society painter in France, and was partially responsible for his move to London. Nevertheless, despite the controversy over this work, the artist considered it a success, commenting later in 1916, "I suppose it is the best thing I have done." Currently, of course, it is his most iconic work.
Oil on Canvas - The Metropolitan Museum of Art, New York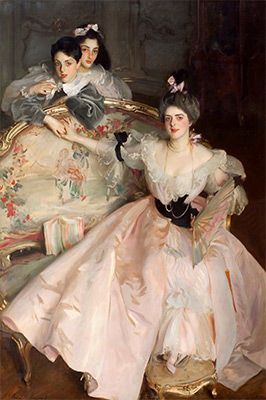 1896
Mrs. Carl Meyer and Her Children
This painting is a prime example of the commissioned portraits of the upper classes that eventually earned Sargent fame. Pictured are Adele Meyer, her son Frank, and daughter Elsie. Baronet Meyer was a British banker and diamond miner, known for his connections with the Rothschild family and the De Beers group. Wealthy plutocrats like Meyer, commissioned portraits by successful artists such as Sargent in order to convey their wealth and status within elite social circles, using the artist's impeccable talent to cast themselves in the most flattering, glamorous light possible.

The family's attire and the furniture included within the image evoke the height of opulence in 18th-century Britain. The elaborately patterned gilt sofa and the heavy, iridescent rose silk of Mrs. Meyer's gown look like something out of Louis XIV's Palace of Versailles. Sargent purposefully surrounded Meyer with objects of sumptuous luxury in order to emphasize her reputation as a lavish member of the London upper crust. As noted earlier in his career, Sargent's use of flattering details was derived from that used by the most successful Old Master portrait artists such as Van Dyck. The placement of Mrs. Meyer front and center, with her children largely hidden from view behind the couch and noted only from the shoulders up, suggests something of the familial relationship between the three. For Mrs. Meyer it was obviously more important to highlight her own glamour as well as that of her surroundings, than to waste such emphasis on her children.
Oil on Canvas - Collection of the Tate, United Kingdom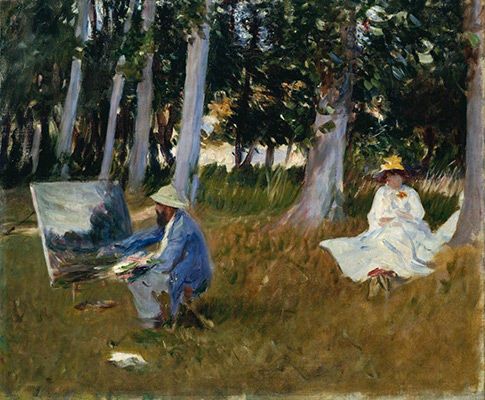 1885
Claude Monet Painting by the Edge of a Wood
Though Sargent's work in watercolor is typically associated with the later phase of his career, this painting demonstrates how he experimented with different media and styles early on, when establishing himself as the premier portrait painter of the social elite.

Sargent met Monet during his student days at the École des Beaux-Arts in Paris and their friendship developed over the ensuing years. During the 1880s Sargent visited Monet's home at Giverny, outside Paris, numerous times. In this image of his friend painting nature directly outdoors, Sargent draws on Monet's en plein air technique. Monet's second wife, Alice, is depicted sitting patiently in the background.

Although the image Monet is painting, noted on the easel, depicts a scene with the sky, Sargent's own image focuses more on the two figures as well as the play of light on the grass and trees. Sargent's adoption of the impressionist style here is quite different from the more realistic approach noted in his portrait work. That being said, the exploration of the relationship between Monet and Alice is precisely the kind of thing for which Sargent is best known.
Oil on Canvas - Collection of the Tate, United Kingdom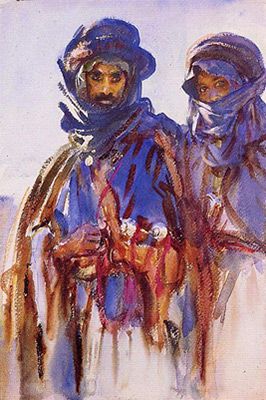 1905-06
Bedouins
From September 1905 to January 1906, Sargent traveled throughout what was then known as the Ottoman Levant, visiting Jerusalem, Syria, and Beirut. He had a longstanding interest in the region and read a number of books about its history and culture prior to his travels. This interest was likely deepened by his acquaintance with the academically-oriented Gertrude Bell, who specialized in Levantine archeology and Arab culture. Sargent traveled on horseback and visited Bedouin camps in the Jordan Valley, and later certainly used the trip as inspiration for his extensive mural cycle, Triumph of Religion (1895-1916), at the Boston Public Library.

This image illustrates the same realistic nuance and detail for which his portraits were known, albeit a more impressionistic manner is noted in the treatment of the surroundings as well as the men's garments. The painting radiates warm color with a palette of saturated indigo blues, warm browns, and fuchsia tones. The men's head scarves are dappled with white gouache highlights, capturing the blazing heat of midday in the desert.
Watercolor on Canvas - Brooklyn Museum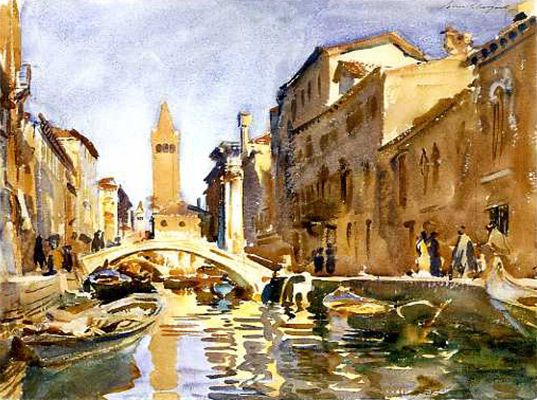 1913
Venetian Canal
Like many of his contemporaries, Sargent was captivated by the beauty and character of Venice; he visited the city frequently between 1898 and 1913. The tower depicted at the center of the canvas is not the iconic campanile from the Piazza San Marco, but instead, part of the lesser-known Church of San Barnaba. The image is presented from water level offering the viewer the perspective someone sitting in a gondola might have.

Sargent diverged from standard watercolor painting with his extensive use of gouache, or opaque white watercolor paint. Traditionalists preferred the translucent quality of watercolors, using the canvas or paper to stand in for white. Sargent used these patches of gouache, with its reflective sheen to great effect, highlighting the play of light off various surfaces. This is evident in the water depicted in the foreground of the canvas. The differing textures of the water and buildings are captured with a combination of brushstrokes - some obvious, some not -- which capture these complex and distinctive surfaces.
Watercolor on Canvas - The Metropolitan Museum of Art, New York

1919
Gassed
From 1918 onward, Sargent was employed by the British Ministry of Information to depict soldiers' experience of wartime, and the spirit of Anglo-American cooperation. In preparation for these works Sargent visited soldiers on the front lines in Belgium and France.

This very large painting (over 7.5 feet tall and 20 feet long) shows the aftermath of a German mustard gas attack. The color palette contrasts sharply with much of Sargent's other work, predominated by drab khakis, greens, and beiges. Two clusters of wounded men (one in the foreground, one in the background) march toward a medical aid tent, holding onto one another's shoulders because their vision has been blurred by the effects of the gas. Countless dead bodies litter the sides of the road. The line of injured men walking in single file evokes the Flemish renaissance painting, The Blind Leading the Blind (1568), by Pieter Bruegel the Elder, updating and revising the original image for its modern purpose. The First World War saw the first widespread use of chemical and biological weapons in wartime. Mustard gas causes large blisters to form on exposed skin and, if inhaled, in the lungs. Its effects are not seen until approximately 24 hours after exposure, and while not always fatal, are agonizing. While the viewer may be struck by the camaraderie between the men on their slow, labored march, one cannot help but wonder how many of them will, in the end, suffer the same fate as the dead men at their feet.

The painting met with a mixed reception, with prominent writers and social critics such as E.M. Forster and Virginia Woolf attacking what they interpreted as the work's naive patriotism. Nevertheless, it has endured as a powerful symbol of the incomprehensible horror of the Great War. It is one of a number of Modern masterpieces devoted to the atrocities of war including other greats including Goya and Picasso.
Oil on Canvas - Imperial War Museum, London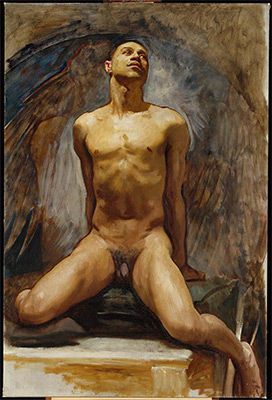 1917-20
Nude Study of Thomas E. McKeller
In the later phase of his career Sargent painted a number of male nudes. For the most part these works were not exhibited during his lifetime. Among these works are several studies of McKellar, an elevator operator in a Boston hotel, executed in preparation for future use in murals. McKeller's strong, muscular body is rendered beautifully with painstaking detail. The artist's delineation of the stone wall behind him, with what comes across as feathered wings and a glowing blue-white light, give the impression that he is somewhere between a mortal and a god. The painting was not widely known until it was purchased by the Museum of Fine Arts, Boston, in 1986.

Sargent's male nudes, and the study of McKeller in particular, have drawn a great deal of academic interest recently as indicating his attraction to men. The artist's exploration of this subject connects him with early modern masters such as Gericault and Ingres. The technique noted in these works indicate that they were relatively personal in nature, an interest he felt necessary to hide within a career devoted to capturing society's best. According to Jacques-Émile Blanche, a French artist and friend who Sargent once painted, the artist's sexual preferences were "notorious in Paris, and in Venice, positively scandalous. He was a frenzied bugger." It's worth noting that Blanche was a notorious gossip so these words should be taken with a grain of salt. Indeed there is much about the artistic and personal relationship between the two that remains unknown. While Sargent's sexual preferences remain unclear, this interpretation contrasts dramatically with the mainstream image of Sargent as a reserved, aloof bachelor.
Oil on Canvas - Boston Museum of Fine Arts
Biography of John Singer Sargent
Childhood
Sargent's family had strong roots in New England, in fact his father's family were among the earliest colonial settlers in Massachusetts. Leaving behind the family shipping business, Sargent's father Fitzwilliam moved to Philadelphia where he became an eye surgeon. In 1850, he married Mary Newbold Singer, the daughter of a successful Philadelphia merchant. Their first child, a daughter, was born the following year, and died in 1853. Distraught, the couple left the United States for an extended period of time. Largely based in Paris, they traveled throughout Western Europe, including Italy, Germany, and Switzerland.
John Singer Sargent was born in Florence, Tuscany (before the Italian Risorgimento) in 1856. Though American, he didn't visit his native country until he was 20. Due to his family's nomadic lifestyle, he received little formal education and was tutored by his parents in languages, history, arithmetic, and music. He became fluent in Italian, German, and French. Fitzwilliam hoped his son would one day join the American Navy. Meanwhile, his mother, an aspiring artist herself, encouraged Sargent's early interest in painting and drawing. She apparently commented, "If we could afford to give him really good lessons, he would soon be quite a little artist." His parents arranged for watercolor lessons from a German landscape painter, Carl Welsch, living in Florence.
Early Training
Fitzwilliam and Mary decided that Paris was the best environment in which to develop their son's talent. Sargent began training with the popular portrait artist, Charles Auguste Émile Carolus-Duran, in 1874. This Frenchman would have a major impact on the development of his technique and approach to painting over the next several years, encouraging his respect for Old Masters such as Anthony van Dyck, Rembrandt van Rijn, and Diego Velázquez, and encouraging his students not to rely on preparatory sketches or drawings when creating a portrait but instead, to begin straight away with the subject's face.
In 1874, Sargent passed the difficult entrance exam for the École des Beaux-Arts, France's leading art school and almost immediately attracted attention from fellow artists and figures important within the contemporary art world. The American impressionist painter J. Alden Weir met Sargent at this time and called him "one of the most talented fellows I have ever come across."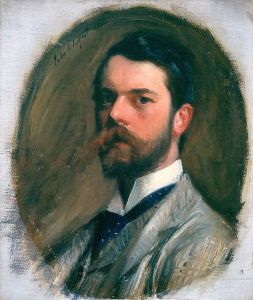 While attending the École des Beaux-Arts, Sargent became friends with a younger man who would also become a noted society portrait painter, Paul César Helleu, and through him met James McNeill Whistler, Claude Monet, Auguste Rodin (who Sargent painted in 1884), and Edgar Degas.
Sargent made his first visit to America in 1876 with his mother and younger sister Emily, taking part in the Centennial celebrations in Philadelphia and visiting Niagara Falls. He began exhibiting his work in the Paris Salons in 1877, and met with immediate critical and popular acclaim, using costumes and poses in a highly theatrical manner which gave his subjects a distinct, dramatic look. In 1879, he embarked on an extended period of travel to Holland, Spain, and Venice in order to deepen his acquaintance with the Old Masters.
Mature Period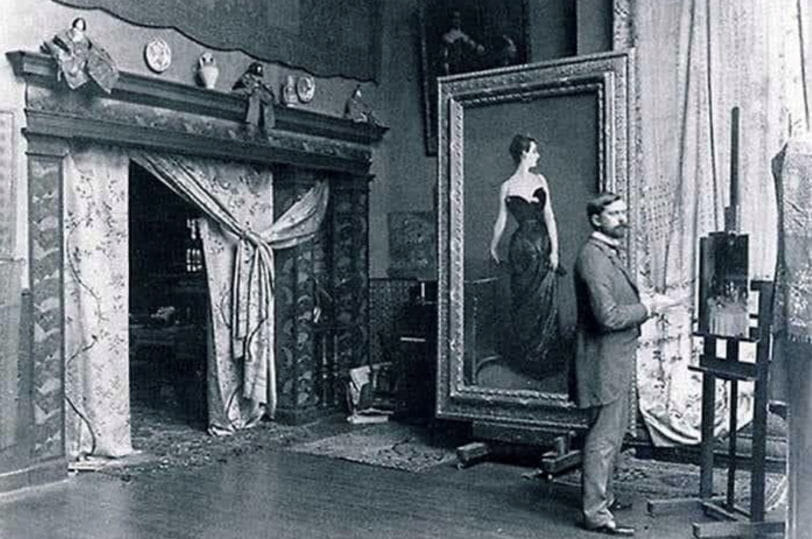 When Sargent returned to Paris several portrait commissions were already waiting. He quickly established a reputation for capturing the unique qualities of his sitters and his full-length images of high-society women attracted a great deal of attention. On a personal note he became known amongst his friends and peers as someone who enjoyed the finer things in life. He had a hearty appetite, a portly frame, and was a heavy smoker as well as an urbane conversationalist though sometimes shy. In 1884 his Portrait of Madame X caused a scandal, prompting his move to London soon thereafter. Many portrait commissions were waiting upon his arrival in 1886, as he had earlier on, sent several paintings for exhibition at London's Royal Academy. The British critics that appraised his work cooly at first eventually warmed up to him and he would remain in London for the remainder of his life.
In 1885 and 1886, partly inspired by his friendship with the Impressionist Claude Monet, Sargent began experimenting with painting en plein air (painting outdoors to reproduce time-specific visual conditions). Some of this work was done in Monet's company, during visits to the French artist's home in Giverny. Sargent also practiced open-air painting in the country village of Broadway located in the Cotswolds region of England. There he produced the work that would be his first major success in England: Carnation, Lily, Lily, Rose (1887). This image depicts two girls lighting lanterns in a vibrant English garden. The painting was shown at the British Academy and immediately acquired by the Tate Gallery. The warm reception of the work brought Sargent more British and American patrons. By the 1890s Sargent was so popular that he was able to charge $5,000 for a portrait, the equivalent of roughly $130,000 today and was frequently invited to the United States for commissions.
During the 1880s and 1890s, Sargent developed a warm friendship with the writer Henry James, a fellow American expatriate in London. The two men had much in common, both highly discreet about their romantic affairs (possibly due to a lack of interest in women), remarkably hardworking and prolific, and deeply interested in the complex workings of high society. The figures most likely to be painted by Sargent were precisely those about whom James wrote. In 1913, novelist Edith Wharton commissioned Sargent to paint James. Though James was pleased with the final product, both Wharton and Sargent were unhappy with the portrait.
Late Period
Sargent was at the height of his fame around the turn of the century, but had begun to grow weary of portraiture and the restrictions of painting for patrons. In 1907 he closed his studio and turned his artistic attention to landscapes, watercolor, and architectural studies. In addition, during this period he created a number of murals for the Boston Public Library (along with the painter and illustrator Edwin Austin Abbey), the Boston Museum of Fine Art, and Harvard University's Widener Library.
The emergence of Fauvism, Futurism, and Cubism throughout Europe and America led many critics to view Sargent's work as old fashioned and out of touch. Nevertheless, he continued to challenge himself artistically and, between 1916 and 1918, painted landscapes throughout North America as well as major portraits of John D. Rockefeller and Woodrow Wilson. Upon returning to England in 1918 he was commissioned as a war artist by Britain's Ministry of Information, and went on to depict scenes of the First World War in both oil and watercolor. In 1922 he joined the artists Walter Leighton Clark and Edmund Greacen in founding an art gallery and school in New York. He returned to England in 1925 and died in his sleep from a heart ailment at the age of 69.
The Legacy of John Singer Sargent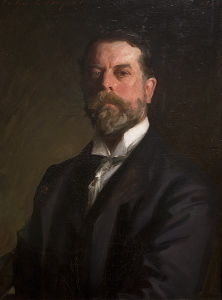 Considered the leading portrait painter of his generation, if not American art history, Sargent created over two thousand watercolors, nine hundred oil paintings, and a staggering number of works on paper. Although his work fell out of critical favor during the height of modernism, interest in his contribution has continuously grown since the 1950s and 1960s.
Sargent's impact upon the art world is difficult to overstate and can be seen, for example, in the aristocratic portraits of his friend Emil Fuchs, the works of contemporary British portrait artist Isabella Watling, and the early portraits of the American modernist painter Archibald Motley. Andy Warhol, whose works reflect the glamour of Sargent's best-known portraits if not a direct homage to his technique, commented that Sargent "made everybody look glamorous. Taller. Thinner." In 2014, Sargent's work inspired a New York exhibition, titled "Sargent's Daughters," in which 40 female artists created works influenced by his unique contribution to painting. This testament to his broad, enduring appeal included significant works such as Robin Williams' Mr. X (2014), which cites Sargent's most famous painting while playing with gender, and Jordan Casteel's Galen 1 (2014), which draws inspiration from the artist's late male nudes.
Influences and Connections
Influences on Artist
Influenced by Artist
Friends & Personal Connections
Friends & Personal Connections
Henry James

Edith Wharton
Useful Resources on John Singer Sargent
Books
The books and articles below constitute a bibliography of the sources used in the writing of this page. These also suggest some accessible resources for further research, especially ones that can be found and purchased via the internet.
biography
artworks
Similar Art