Artists
Edgar Degas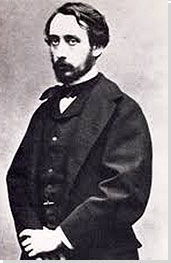 Born: July 19, 1834 - Paris, France
Died: September 27, 1917 - Paris, France

"A painting requires a little mystery, some vagueness, some fantasy. When you always make your meaning perfectly plain you end up boring people."

Summary of Edgar Degas
Always remembered as an Impressionist, Edgar Degas was a member of the seminal group of Paris artists who began to exhibit together in the 1870s. He shared many of their novel techniques, was intrigued by the challenge of capturing effects of light and attracted to scenes of urban leisure. But Degas's academic training, and his own personal predilection toward Realism, set him apart from his peers, and he rejected the label 'Impressionist' preferring to describe himself as an 'Independent.' His inherited wealth gave him the comfort to find his own way, and later it also enabled him to withdraw from the Paris art world and sell pictures at his discretion. He was intrigued by the human figure, and in his many images of women - dancers, singers, and laundresses - he strove to capture the body in unusual positions. While critics of the Impressionists focused their attacks on their formal innovations, it was Degas's lower-class subjects that brought him the most disapproval.
Key Ideas
Degas's enduring interest in the human figure was shaped by his academic training, but he approached it in innovative ways. He captured strange postures from unusual angles under artificial light. He rejected the academic ideal of the mythical or historical subject, and instead sought his figures in modern situations, such as at the ballet.
Degas's academic training encouraged a strong classical tendency in his art, which conflicted with the approach of the Impressionists. While he valued line as a means to describe contours and to lend solid compositional structure to a picture, they favored color, and more concentration on surface texture. As well, he preferred to work from sketches and memory in the traditional academic manner, while they were more interested in painting outdoors (en plein air).
Like many of the Impressionists, Degas was significantly influenced by
Ukiyo-e Japanese prints
, which suggested novel approaches to composition. The prints had bold linear designs and a sense of flatness that was very different from the traditional Western picture with its perspective view of the world.
There is a very interesting and puzzling dichotomy in the way Degas approached his female subjects. There is much evidence that he was a misogynist, and also, much to prove that he was enamored with the female form that he attempted to represent it in its most absolute state through hundreds of painstaking studies. Whatever the reality may be, his studies and output furthered the exploration of the figure and the portrait in all of the visual arts.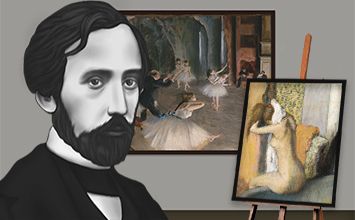 Edgar Degas was the eldest of five children of Célestine Musson de Gas, an American by birth, and Auguste de Gas, a banker. Edgar later changed his surname to the less aristocratic sounding 'Degas' in 1870. Born into a wealthy Franco-Italian family, he was encouraged from an early age to pursue the arts, though not as a long-term career. Following his graduation in 1853 with a baccalaureate in literature, the eighteen-year-old Degas registered at the Louvre as a copyist, which he claimed later in life is the foundation for any true artist.
Important Art by Edgar Degas

The below artworks are the most important by Edgar Degas - that both overview the major creative periods, and highlight the greatest achievements by the artist.

The Bellelli Family (1858–67)

Artwork description & Analysis: This portrait, with its subdued palette and its unconventional grouping of figures, such as the man having his back to the viewer, demonstrates the impact of Realism on the young Degas. He created it over the course of several trips to Italy, spanning 3-4 years. Each family member — his aunt, her husband and his two young cousins Giovanna and Giuliana — was sketched individually, and then organized into a family portrait, becoming more of a study of individual personalities than a study of them as a group.

Degas had the chance to spend much time with his aunt and her family, but it was not an altogether happy family. The aunt was disappointed in her husband, away from home, and mourning her father's passing. So this early, breakthrough work is also a reflection on Degas' (relatively limitted) experience in a family setting. Here, the father is suggested to be emotionally distant from his wife and daughters, while the mother stands dignified and decisive. Giovanna on the left is clearly the mother's favored daughter, while Giuliana, with one leg poised, is positioned just so to suggest a division in her allegiance.

Oil on canvas - Musée d'Orsay, Paris

Monsieur and Madame Édouard Manet (1868-69)

Artwork description & Analysis: This unconventional portrait of Manet and his wife provides a wonderful example of Degas as the "distant spectator," capturing a moment of solitude that the subjects might prefer go unnoticed. However, a riddle surrounds it. Degas painted it as a tribute to his friends, and it originally showed Mme. Manet playing the piano. However, some time after he had presented the portrait to them, he visited their house only to discover the painting had been mutilated and the right of the picture had been cut away. Degas was furious and removed the picture, though it was never repaired. Some scholars believe it was the depiction of the disharmony in the relationship between the couple that was the reason that Manet slashed the canvas.

Oil on canvas - Kitakyushu Municipal Museum of Art, Japan

Foyer de la Danse (1872)

Artwork description & Analysis: There is something unique and alluring in all of Degas's studies of ballerinas, of which there are many. In Foyer de la Danse he presents us with one of the unconventional perspectives that are so typical and distinctive in his work. Rather than evoke the light and atmosphere of the scene, as some of his Impressionist peers might have done, Degas has chosen to create a striking arrangement of space, one which echoes the experiences his contemporaries might have had throughout the new modern city. To achieve this, rather than compose the figures in a more orderly and centered fashion, he has dispersed them about the canvas, leaving a chair incongruously placed in the center foreground. Instead of viewing the room as a traditional box-like container for the figures, he paints it at an angle, suggesting multiple vantage points, almost as if this were an early blueprint for Cubism. The approach is characteristic of his modern, realist approach to composition.

The author Sebastian Smee wrote that Degas had the idea "that when people were listening to music, their habitual self-consciousness switched off. Their tendency to present themselves, and to respond defensively to their awareness of being watched, was no longer an impediment to truth-telling. They had lost the power to censor themselves. Something more essential, more truthful would emerge, and play across their faces. Degas wanted to capture that." Indeed, often in his works music is playing, or else, for example, a woman is bathing and similarly dropping her guard.

Oil on canvas - Louvre, Paris
More Edgar Degas Artwork and Analysis:
Influences and Connections
Influences on Artist
Artists, Friends, Movements
Influenced by Artist
Artists, Friends, Movements

Interactive chart with Edgar Degas's main influences, and the people and ideas that the artist influenced in turn.
View Influences Chart


Influences on Artist

Edgar Degas
Years Worked: 1839 - 1877
Influenced by Artist

If you see an error or typo, please:
tell us
Cite this page

Content compiled and written by Justin Wolf
Edited and published by The Art Story Contributors
" Artist Overview and Analysis". [Internet]. . TheArtStory.org
Content compiled and written by Justin Wolf
Edited and published by The Art Story Contributors
Available from:
First published on 01 Jun 2011. Updated and modified regularly.


[Accessed ]