Movements, Styles, and Tendencies
Japonism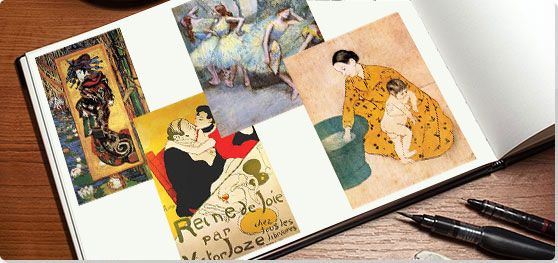 Japonism
Started: 1854
Ended: 1920

Summary of Japonism
Depicting the world through an alternate lens from the Western Renaissance, the introduction of Japanese art and design to Europe brought about revolutions in composition, palette, and perspectival space. Japonism, also often referred to by the French term, japonisme, refers to the incorporation of either iconography or concepts of Japanese art into European art and design. It is important to note that this integration was often based on European notions of Japanese culture as much as authentic influence. Most of the Impressionist and Neo-Impressionist artists, as well as the members of the Aesthetic movement, were deeply influenced by this new approach to representation.
Key Ideas
As Japan began trade with Europe, the aesthetic and philosophies of Japanese design quickly became fashionable. European collectors amassed both high-end objets d'art and inexpensive prints (which were actually originally included as packing material for fragile luxury goods).
Artists seeking a fresh alternative to the Renaissance tradition of illusionistic painting were drawn to the vivid colors and new perspectives of
Ukiyo-e Japanese woodblock prints
. While these images remained realistic, their simplified palettes, unusual viewpoints, minimalistic arrangements, and flattened space inspired European painters to experiment with their compositions.
Studying Japanese prints, painters began to experiment with new ideas of perspective. They copied the common juxtapositions of objects near and far, along with unconventional cropping to create less symmetrical and more engaging compositions. This, combined with bright patterns of juxtaposed colors, often rendered in flat planes reminiscent of woodblock prints, created a flattening effect that became central to modernist painting.
The appeal of Japonism was paradoxical: it was both appreciated for its exoticism and quickly assimilated as the organic expression of Western artistic ideals. Elements of the Japanese style were considered to express French and British sensibilities, even when they remained identifiable as Asian influences.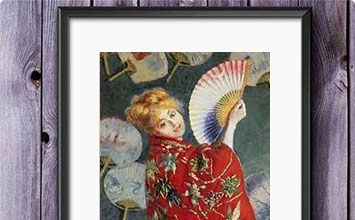 Beginnings:
Japonism built upon the Orientalist influences that were pervasive in European Neoclassical and Romantic art. The 18th-century aristocratic fashion for chinoiserie, based in imported Chinese art, merged with styles learned from French colonialist expansion in the Middle East and northern Africa. In the first half of the 19th century, artists as varied Eugène Delacroix and Jean-Auguste-Dominique Ingres turned to Orientalist subjects, developing dramatic intensely colored scenes as seen in Delacroix's Death of Sardanapalus (1827) or reconfiguring figurative work with sensual treatments such as Ingres's La Grande Odalisque (1814).
Important Art and Artists of Japonism

The below artworks are the most important in Japonism - that both overview the major ideas of the movement, and highlight the greatest achievements by each artist in Japonism. Don't forget to visit the artist overview pages of the artists that interest you.

Portrait of Émile Zola (1868)

Artist: Édouard Manet

Artwork description & Analysis: What appears to be a casual portrait of the writer Émile Zola is really a carefully composed array of symbols and references. Zola is shown in Manet's studio, but the objects around him were chosen to suggest Zola's character and convey the friendship between the artist and the sitter. When Manet's Olympia had scandalized the 1865 Salon, Zola, a respected art critic, published a brochure (1866) to defend Manet's work; that essay is clearly visible on the desk. In it, Zola argued that Olympia was Manet's best work, and it was due to his ardent support that Manet offered to paint this portrait. The men are shown as comrades in the battle for modern art, hinted at by the juxtaposition of reproductions of Manet's Olympia with Utagawa Kunaiki II's print of a wrestler. Zola sits in profile, looking up from the open book with a thoughtful expression. The text is likely Charles Blanc's L'Histoire des peintres (1861), a book which Manet often consulted, further linking these two men.

Other objects in the room also point to their shared tastes and artistic influences. On the left, a Japanese screen depicting a landscape and a bird on a branch, is partially visible. Manet, however, doesn't simply import these exotic objects into the portrait, he incorporates elements of japoniste design into the composition. The lines of the gray screen and the white border of the Japanese print on the right transform the black background into a series of intersecting rectangles. This creates a flat pictorial plane that contrasts sharply with the writer's head and shoulders before merging with the almost solid form of his black jacket. This effect is strikingly similar to the figure of the wrestler in the Japanese print, who is also strongly outlined by his black long coat. Thus, the elements of Japonism are included not only to convey the shared interests of Manet and Zola, but as a means of flattening and simplifying the shapes and palette to create a new, modern style of Western portraiture.

Oil on canvas - Musée d'Orsay, Paris, France


Artwork Images

Sideboard (1867-1870)

Artist: Edward William Godwin

Artwork description & Analysis: This sideboard, made of ebonized mahogany, exemplifies Godwin's Anglo-Japanese style. While it remains a functional piece of furniture, the form has been abstracted and ornamented to create a visually intricate series of rectangular shapes. Adopting elements of Japanese design, Godwin arranges the cubic cabinets on top of the table so that they call attention to the negative space surrounding them. The process of ebonizing the wood made it more uniform in color and texture, allowing the viewer to focus on its structure. It seems almost metallic in its perfection, the smooth lines interrupted only by selective decoration and the silver-plated handles. With its geometric forms and austere lines and material, the work prefigures the modernism of Dde Stijl and the Bauhaus.

Godwin began his career as an architect and designer working in the mid-century Victorian Gothic style. Through his association with Whistler, for whom he built The White House (1877-1878), Godwin began studying Japanese design and became a pioneer of the Anglo-Japanese style. His luxurious furniture and architectural spaces were also closely allied with the Aesthetic Movement.

Mahogany, ebonized, with silver-plated handles and inset panels of embossed leather paper - Victoria and Albert Museum, London, England

Harmony in Blue and Gold: The Peacock Room (1876-1877)

Artist: James Whistler

Artwork description & Analysis: This multi-media installation was designed to display Frederick R. Leyland's prominent collection of Chinese porcelain. A wealthy shipping magnate, Leyland had commissioned Whistler to only paint a portrait of the renowned beauty, Christine Spartall, to decorate his dining room. When the architect in charge of the larger project, Thomas Jeckyll, became ill, Whistler took it upon himself to complete the decoration of the room. Although Leyland was pleased with the design, the unapproved and expensive project (some estimated $200,000 above budget) led to a falling-out between artist and patron. As an entire environment, however, the Peacock Room is a masterpiece; it was purchased by Charles Freer and is installed today at the Smithsonian Museum.

This view of The Peacock Room shows Whistler's Rose and Silver: The Princess from the Land of Porcelain (1863-64), in a gold frame and framed by golden shelves. Nestled amongst the intricate geometry of this display, the painting is also japoniste in iconography and composition. In its subject, it directly reflects the influence of Kitagawa Utamaro, most known for his prints of beautiful women. Holding a Japanese fan in her right hand and dressed in a floral kimono, the beauty stands pensively on a blue and white patterned rug, in front of a byobu (Japanese screen).

In designing the room, Whistler took his painting as the central motif, for instance, adding a blue and white rug similar to the one in his portrait. At the same time, the portrait is enriched by its placement, as the rose of the kimono takes on a golden hue from its surroundings. The painting and its environment are built to be considered as one unity.

In the 20th century, Whistler's all-encompassing design would influence Abstract Expressionists such as Robert Motherwell and David Smith. A more contemporary interpretation of the room was Darren Waterston's installation Filthy Lucre (2013-2014), which recreated the opulent room in a state of decaying ruin, shelves overturned, vases broken, its gold oozing down the walls.

Oil paint and gold leaf on canvas, leather, and wood - Freer Gallery of Art, Washington, D.C.
More Japonism Artwork and Analysis:
If you see an error or typo, please:
tell us
Cite this page

Content compiled and written by Rebecca Seiferle
Edited and revised, with Synopsis and Key Ideas added by Sarah Archino
" Movement Overview and Analysis". [Internet]. . TheArtStory.org
Content compiled and written by Rebecca Seiferle
Edited and revised, with Synopsis and Key Ideas added by Sarah Archino
Available from:
First published on 14 Dec 2017. Updated and modified regularly.


[Accessed ]