Artists
Vincent van Gogh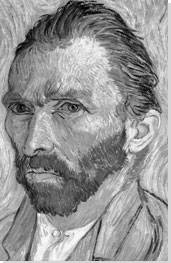 Born: March 30, 1853 - Groot-Zundert, The Netherlands
Died: July 29, 1890 - Auvers-sur-Oise, France

"It is not the language of painters but the language of nature which one should listen to, the feeling for the things themselves, for reality, is more important than the feeling for pictures."

Summary of Vincent van Gogh
The iconic tortured artist, Vincent Van Gogh strove to convey his emotional and spiritual state in each of his artworks. Although he sold only one painting during his lifetime, Van Gogh is now one of the most popular artists of all time. His canvases with densely laden, visible brushstrokes rendered in a bright, opulent palette emphasize Van Gogh's personal expression brought to life in paint. Each painting provides a direct sense of how the artist viewed each scene, interpreted through his eyes, mind, and heart. This radically idiosyncratic, emotionally evocative style has continued to affect artists and movements throughout the 20th century and up to the present day, guaranteeing Van Gogh's importance far into the future.
Key Ideas
Van Gogh's dedication to articulating the inner spirituality of man and nature led to a fusion of style and content that resulted in dramatic, imaginative, rhythmic, and emotional canvases that convey far more than the mere appearance of the subject.
Although the source of much upset during his life, Van Gogh's mental instability provided the frenzied source for the emotional renderings of his surroundings and imbued each image with a deeper psychological reflection and resonance.
Van Gogh's unstable personal temperament became synonymous with the romantic image of the tortured artist. His self-destructive talent was echoed in the lives of many artists in the 20th century.
Van Gogh used an impulsive, gestural application of paint and symbolic colors to express subjective emotions. These methods and practice came to define many subsequent modern movements from
Fauvism
to
Abstract Expressionism
.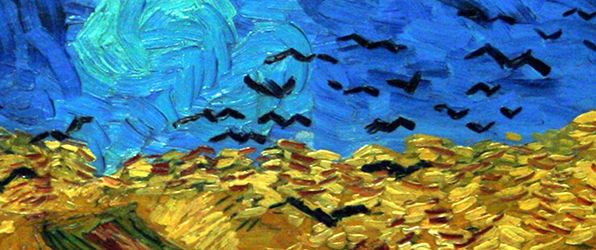 Detail of Wheatfield with Crows (1890) by Vincent van Gogh
Vincent expressed his life via his works. As he famously said, "real painters do not paint things as they are... they paint them as they themselves feel them to be."
Important Art by Vincent van Gogh

The below artworks are the most important by Vincent van Gogh - that both overview the major creative periods, and highlight the greatest achievements by the artist.

The Potato Eaters (1885)

Artwork description & Analysis: This early canvas is considered Van Gogh's first masterpiece. Painted while living among the peasants and laborers in Nuenen in the Netherlands, Van Gogh strove to depict the people and their lives truthfully. Rendering the scene in a dull palette, he echoed the drab living conditions of the peasants and used ugly models to further iterate the effects manual labor had upon these workers. This effect is heightened by his use of loose brushstrokes to describe the faces and hands of the peasants as they huddle around the singular, small lantern, eating their meager meal of potatoes. Despite the evocative nature of the scene, the painting was not considered successful until after Van Gogh's death. At the time this work was painted, the Impressionists had dominated the Parisian avant-garde for over a decade with their light palettes. It is not surprising that Van Gogh's brother, Theo, found it impossible to sell paintings from this period in his brother's career. However, this work not only demonstrates Van Gogh's commitment to rendering emotionally and spiritually laden scenes in his art, but also established ideas that Van Gogh followed throughout his career.

Oil on canvas - The Van Gogh Museum, Amsterdam

The Courtesan (after Eisen) (1887)

Artwork description & Analysis: While in Paris, Van Gogh was exposed to a myriad of artistic styles, including the Japanese Ukiyo-e woodblock prints. These prints were only made available in the West in the mid-19th century. Van Gogh collected works by Japanese ukiyo-e masters like Hiroshige and Hokusai and claimed these works were as important as works by European artists, like Rubens and Rembrandt. Van Gogh was inspired to create this particular painting by a reproduction of a print by Keisai Eisen that appeared on the May 1886 cover of the magazine Paris Illustré. Van Gogh enlarges Eisen's image of the courtesan, placing her in a contrasting, golden background bordered by a lush water garden based on the landscapes of other prints he owned. This particular garden is populated by frogs and cranes, both of which were illusions to prostitutes in French slang. While the stylistic features exhibited in this painting, in particular the strong, dark outlines and bright swaths of color, came to define Van Gogh's mature style, he also made the work his own. By working in paint rather than a woodblock print, Van Gogh was able to soften the work, relying on visible brushstrokes to lend dimension to the figure and her surroundings as well as creating a dynamic tension across the surface not present in the original prints.

Oil on canvas - Van Gogh Museum, Amsterdam

Café Terrace At Night (1888)

Artwork description & Analysis: This was one of the first scenes Van Gogh painted during his stay in Arles and the first painting where he used a nocturnal background. Using contrasting colors and tones, Van Gogh achieved a luminous surface that pulses with an interior light, almost in defiance of the darkening sky. The lines of composition all point to the center of the work drawing the eye along the pavement as if the viewer is strolling the cobblestone streets. The café still exists today and is a "mecca" for van Gogh fans visiting the south of France. Describing this painting in a letter to his sister he wrote, "Here you have a night painting without black, with nothing but beautiful blue and violet and green and in this surrounding the illuminated area colors itself sulfur pale yellow and citron green. It amuses me enormously to paint the night right on the spot..." Painted on the street at night, Van Gogh recreated the setting directly from his observations, a practice inherited from the Impressionists. However, unlike the Impressionists, he did not record the scene merely as his eye observed it, but imbued the image with a spiritual and psychological tone that echoed his individual and personal reaction. The brushstrokes vibrate with the sense of excitement and pleasure Van Gogh experienced while painting this work.

Oil on canvas - Kröller-Muller Museum, Otterlo
More Vincent van Gogh Artwork and Analysis:
Influences and Connections
Influences on Artist
Artists, Friends, Movements
Influenced by Artist
Artists, Friends, Movements

Interactive chart with Vincent van Gogh's main influences, and the people and ideas that the artist influenced in turn.
View Influences Chart

Artists

| | |
| --- | --- |
| | Jean-François Millet |
| | Anton Mauve |
| | Claude Monet |
| | Honoré Daumier |
| | Eugène Delacroix |

Personal Contacts

| | |
| --- | --- |
| | Henri de Toulouse-Lautrec |
| | Paul Signac |
| | Theo van Gogh |

Movements

Influences on Artist

Vincent van Gogh
Years Worked: 1880 - 1890
Influenced by Artist

If you see an error or typo, please:
tell us
Cite this page

Content compiled and written by The Art Story Contributors
Edited and published by The Art Story Contributors
" Artist Overview and Analysis". [Internet]. . TheArtStory.org
Content compiled and written by The Art Story Contributors
Edited and published by The Art Story Contributors
Available from:
First published on 21 Jan 2012. Updated and modified regularly.


[Accessed ]