Artists
Paul Gauguin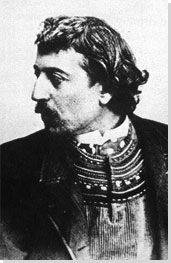 Born: June 7, 1848 - Paris, France
Died: May 8, 1903 - Atuona, Marquesas Islands, French Polynesia

"I am trying to put into these desolate figures the savagery that I see in them and which is in me too... Dammit, I want to consult nature as well but I don't want to leave out what I see there and what comes into my mind."

Summary of Paul Gauguin
Paul Gauguin is one of the most significant French artists to be initially schooled in Impressionism, but who broke away from its fascination with the everyday world to pioneer a new style of painting broadly referred to as Symbolism. As the Impressionist movement was culminating in the late 1880s, Gauguin experimented with new color theories and semi-decorative approaches to painting. He famously worked one summer in an intensely colorful style alongside Vincent Van Gogh in the south of France, before turning his back entirely on Western society. He had already abandoned a former life as a stockbroker by the time he began traveling regularly to the south Pacific in the early 1890s, where he developed a new style that married everyday observation with mystical symbolism, a style strongly influenced by the popular, so-called "primitive" arts of Africa, Asia, and French Polynesia. Gauguin's rejection of his European family, society, and the Paris art world for a life apart, in the land of the "Other," has come to serve as a romantic example of the artist-as-wandering-mystic.
Key Ideas
After mastering Impressionist methods for depicting the optical experience of nature, Gauguin studied religious communities in rural Brittany and various landscapes in the Caribbean, while also educating himself in the latest French ideas on the subject of painting and color theory (the latter much influenced by recent scientific study into the various, unstable processes of visual perception). This background contributed to Gauguin's gradual development of a new kind of "synthetic" painting, one that functions as a symbolic, rather than a merely documentary, or mirror-like, reflection of reality.
Seeking the kind of direct relationship to the natural world that he witnessed in various communities of French Polynesia and other non-western cultures, Gauguin treated his painting as a philosophical meditation on the ultimate meaning of human existence, as well as the possibility of religious fulfillment and answers on how to live closer to nature.
Gauguin was one of the key participants during the last decades of the 19
th
century in a European cultural movement that has since come to be referred to as
Primitivism
. The term denotes the Western fascination for less industrially-developed cultures, and the romantic notion that non-Western people might be more genuinely spiritual, or closer in touch with elemental forces of the cosmos, than their comparatively "artificial" European and American counterparts.
Once he had virtually abandoned his wife, his four children, and the entire art world of Europe, Gauguin's name and work became synonymous, as they remain to this day, with the idea of ultimate artistic freedom, or the complete liberation of the creative individual from one's original cultural moorings.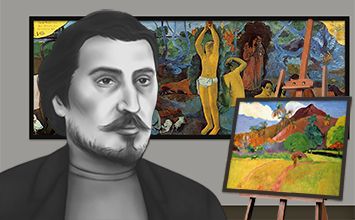 "Civilization is what makes you sick." he said. An ordinary life was not for Gauguin - he gave it all up to be an artist, an innovator, and the searcher of the pure and the primal.
Important Art by Paul Gauguin

The below artworks are the most important by Paul Gauguin - that both overview the major creative periods, and highlight the greatest achievements by the artist.

Still-Life with Fruit and Lemons (c. 1880)

Artwork description & Analysis: Composed while Gauguin was still working full time as a stockbroker and painting was little more than a hobby to him, this still-life reveals the artist's natural technical skill with brush and canvas. The subject matter is also standard Impressionist fare, and is a clear indicator of Gauguin's early influencers, which included Monet, Pissarro and Renoir. Gauguin's rendering of the tablecloth in particular also shows the strong influence of Cézanne, whose own still-lifes used similar effects of outline and shading.

Oil on canvas - Museum Langmatt, Baden, Switzerland

Four Breton Girls (1886)

Artwork description & Analysis: Unlike others who painted rural French subjects in the 1880s, Gauguin chose to depict four Breton girls in a field in no simple documentary, or realist manner. Much of the landscape visible in this work suggests Gauguin's roots in Impressionism and its attendant ideal to capture the visual dalliance of a landscape on the artist's eye, or retina. But Gauguin pushes that recent heritage to new purposes, placing the girls in dance-like formation; emphasizing the massive flow of their dresses; creating profiles and silhouettes of portraits and figures suggesting paper dolls...these and other artistic manipulations of the subject begin to serve a symbolic purpose, suggesting that deeper meanings are hidden behind the superficial appearances of reality. In this "synthetic" work, Gauguin thus fuses elements of visual accuracy with distortions of design and composition that speak of the girls' mystical union with nature; indeed, they collectively assume the formation of a grove of botanical specimens, a lively school of fishes, or a flock of birds in an unseen, overhead canopy. Faces, figures, clothing, and landscape each assume equal importance in this democratic arena, in which girls interlock their limbs as effortlessly as if they had originally grown that way.

Oil on canvas - Neue Pinakothek, Munich, Germany

Self-Portrait 'Les Miserables' (1888)

Artwork description & Analysis: Just prior to Gauguin's departure for Arles in late 1888, Gauguin and the Dutch painter Vincent van Gogh sent each other examples of their respective work, including a number of self-portraits. This composition by Gauguin was included among the exchanges. In this work, Gauguin includes a likeness, in full profile, of the fictional character Jean Valjean, the morally upright but perpetually socially persecuted hero of Victor Hugo's Les Miserables (1862). Sporting a solemn look, tousled hair, and tired eyes, Gauguin clearly intends to draw a parallel between himself and Valjean, whose petty crime of the past (he once stole a loaf of bread) forever brands him a criminal, no matter of his subsequent virtues. Van Gogh later recalled being deeply impressed by Gauguin's uncommonly bold applications of color.

Oil on canvas - Van Gogh Museum, Amsterdam
More Paul Gauguin Artwork and Analysis:
Influences and Connections
Influences on Artist
Artists, Friends, Movements
Influenced by Artist
Artists, Friends, Movements

Interactive chart with Paul Gauguin's main influences, and the people and ideas that the artist influenced in turn.
View Influences Chart


Influences on Artist

Paul Gauguin
Years Worked: 1880-1903
Influenced by Artist

If you see an error or typo, please:
tell us
Cite this page

Content compiled and written by Justin Wolf
Edited and published by The Art Story Contributors
" Artist Overview and Analysis". [Internet]. . TheArtStory.org
Content compiled and written by Justin Wolf
Edited and published by The Art Story Contributors
Available from:
First published on 01 Dec 2010. Updated and modified regularly.


[Accessed ]