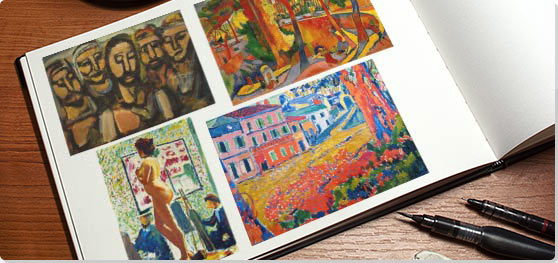 Fauvism
Started: 1899
Ended: 1908

Summary of Fauvism
Fauvism, the first 20th-century movement in modern art, was initially inspired by the examples of Vincent van Gogh, Paul Gauguin, Georges Seurat, and Paul Cézanne. The Fauves ("wild beasts") were a loosely allied group of French painters with shared interests. Several of them, including Henri Matisse, Albert Marquet, and Georges Rouault, had been pupils of the Symbolist artist Gustave Moreau and admired the older artist's emphasis on personal expression. Matisse emerged as the leader of the group, whose members shared the use of intense color as a vehicle for describing light and space, and who redefined pure color and form as means of communicating the artist's emotional state. In these regards, Fauvism proved to be an important precursor to Cubism and Expressionism as well as a touchstone for future modes of abstraction.
Key Ideas
One of Fauvism's major contributions to modern art was its radical goal of separating color from its descriptive, representational purpose and allowing it to exist on the canvas as an independent element. Color could project a mood and establish a structure within the work of art without having to be true to the natural world.
Another of Fauvism's central artistic concerns was the overall balance of the composition. The Fauves' simplified forms and saturated colors drew attention to the inherent flatness of the canvas or paper; within that pictorial space, each element played a specific role. The immediate visual impression of the work is to be strong and unified.
Above all, Fauvism valued individual expression. The artist's direct experience of his subjects, his emotional response to nature, and his intuition were all more important than academic theory or elevated subject matter. All elements of painting were employed in service of this goal.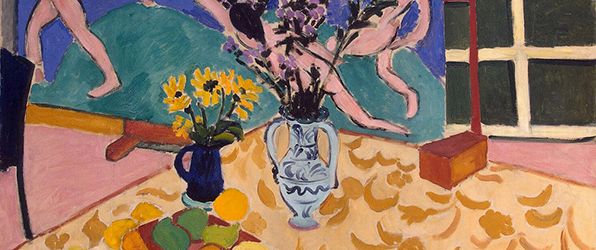 Detail of Still Life with Dance (1909) by Henri Mattise
Born to a family of weavers, and growing up in Bohain-en-Vermandois, as a child Henri Mattise was influenced by the bright colors and patterns of local textiles. His primal feeling for color (the very basis of Fauvism) was reawakened when, as a young man he returned home to convalesce from appendicitis, and his mother gave him a paint box. He later said, "From the moment I held the box of colors in my hands, I knew this was my life. I threw myself into it like a beast that plunges toward the thing it loves."
Important Art and Artists of Fauvism

The below artworks are the most important in Fauvism - that both overview the major ideas of the movement, and highlight the greatest achievements by each artist in Fauvism. Don't forget to visit the artist overview pages of the artists that interest you.

Luxe, Calme et Volupte (1904)

Artist: Henri Matisse

Artwork description & Analysis: This early work by Matisse clearly indicates the artist's stylistic influences, most notably Georges Seurat's Pointillism and Paul Signac's Divisionism, in the use of tiny dabs of color to create a visual frisson. What sets this work apart from these more rigid methods, however, is Matisse's intense concentrations of pure color. The oranges, yellows, greens, and other colors all maintain their own discrete places on the picture plane, never quite merging to form the harmonious tonality that both Seurat and Signac were known for, and instead heighten the almost vertiginous effect created by the striking dots of paint. Matisse took this work's title, which translates as "luxury, peace, and pleasure," from Charles Baudelaire's poem L'Invitation au Voyage (Invitation to a Voyage).

Oil on canvas - Musée National d'Art Moderne, Paris

The River Seine at Chatou (1906)

Artist: Maurice de Vlaminck

Artwork description & Analysis: This scene depicts the portion of the Seine that runs through Chatou, the Paris suburb where de Vlaminck and Derain shared a studio beginning in 1901. For The River Seine, de Vlaminck used impasto (a technique practiced by many Fauves): thick daubs of paint applied directly from the tube, then brushed together in short strokes to create the effect of movement. For the water and sky, de Vlaminck used a range of blues and greens, as well as dazzling white highlights applied in choppy dabs; the two red-and-orange trees at the left provide a lively contrast. The finished effect is one of brightness and vibrating motion; detail and traditional perspective matter far less than a sense of buoyant pleasure. As de Vlaminck said, "I try to paint with my heart and my guts without worrying about style."

Oil on canvas - The Metropolitan Museum of Art, New York

Pinède à Cassis (Landscape) (1907)

Artist: André Derain

Artwork description & Analysis: Derain famously claimed to use "color as a means of expressing my emotion and not as a transcription of nature." In this painting (just as in his famous Mountains at Collioure (1905)) Derain used long, isolated brushstrokes, influenced by Divisionist painting, to structure the trees and ground of his landscape. The colors are indeed non-representational, even unnatural: the trees' trunks are almost green, and the landscape is abstracted in patches of bright yellow and orange. The pulsing brushwork and jarring contrasts of these colors suggest the shimmering heat of a Mediterranean summer. By rejecting chiaroscuro and spatial depth, Derain keeps the viewer's attention fixed on this effect of light and on the life force that seems to ripple through every element of the landscape.

Oil on canvas - Musée Cantini, Marseille
More Fauvism Artwork and Analysis:
If you see an error or typo, please:
tell us
Cite this page

Content compiled and written by Justin Wolf
Edited and published by The Art Story Contributors
" Movement Overview and Analysis". [Internet]. . TheArtStory.org
Content compiled and written by Justin Wolf
Edited and published by The Art Story Contributors
Available from:
First published on 25 Jan 2015. Updated and modified regularly.


[Accessed ]