"Blue is the only color which maintains its own character in all its tones... it will always stay blue; whereas yellow is blackened in its shades, and fades away when lightened; red when darkened becomes brown, and diluted with white is no longer red, but another color - pink. "
"My eyes were made to erase all that is ugly."
"What I wish to show when I paint is the way I see things with my eyes and in my heart."
Summary of Raoul Dufy
It's been said that Dufy never painted a sad picture, for Dufy's particular brand of modernism was unhampered by doubt or strain. Rather, it expressed the most optimistic aspects of the 20th century with wit and style. Dufy's discovery of Fauvism in 1905 was a revelation, and helped him to free color and line from their mimetic functions; his subsequent encounter with Cubism would inform his dynamic Art Deco fabric designs, employed by such famous couturiers as Paul Poiret. By the 1920s, the artist had settled upon what would become his hallmark stenographic style, combining deft and spontaneous outlines with broad and boundless areas of vivid color. He would further adapt this style in several large-scale public works from the 1930s, as well as in a series of paintings devoted to famous classical musicians at the end of his career. Even the great modernist writer Gertrude Stein was lyrical about this quality of his art, saying succinctly: "One must meditate about pleasure. Raoul Dufy is pleasure."
Accomplishments
Dufy's unique interpretation of Fauvism, which he adopted after 1905, was to marry the movement's avant-garde formal principles with a decorative aesthetic. His use of spontaneous, expressive lines and intense, non-naturalistic color can be seen in his many pleasure-filled images of regattas, horse racing, and outdoor leisure activities in France.
In addition to his work as a painter, watercolorist, and printmaker, a major component of Dufy's artistic output was his work as a textile designer. Beginning in 1909, Dufy created colorful block-printed silk and cotton fabrics featuring the dynamic geometries and exotic motifs of Art Deco. Dufy's designs were used by the most famous haute couture designers of the time, and have been hailed as some of the artist's most enduring and popular artistic achievements.
Dufy worked on a number of large-scale public art commissions during his career. With their combination of modern and allegorical subjects rendered in exuberant outlines and hyper-intense colors, these monumental works represent the artist's successful modernist take on the classic mural tradition.
Important Art by Raoul Dufy
Progression of Art
c. 1908-10
The Regatta
Dufy was born in Le Havre on France's channel coast, and throughout his career he depicted scenes of boating, beach-going, and other maritime leisure activities in his art. In The Regatta, we see a group of nattily dressed spectators (including men and women in straw hats and brown and white linen suits; a figure at right wears a purple bathing costume) lining the beach. The figures gaze towards a sea full of sailboats and sculls packed with rowers, as French flags flutter in the breeze. Dufy employed the broad brushstrokes, bold outlines, and vibrant and expressive colors of Fauvism, which he adopted after seeing Matisse's groundbreaking canvas, Luxe, Calme, et Volupté, exhibited at the 1905 Salon des Indépendantes. The Regatta thus demonstrates what Dufy came to see as the "new mechanism for art": not the faithful rendering of external, objective reality but rather the "miracle of imagination at play in line and color."
Oil on canvas, 54 x 65.2 cm - Brooklyn Museum, gift of Mr. and Mrs. William K. Jacobs, Jr., inv. 64.91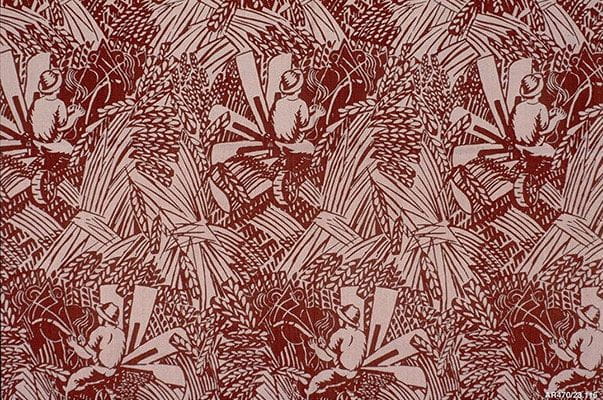 c. 1912
The Harvester
In addition to his paintings, watercolors, and prints, Dufy was famous for his original textile designs featuring whimsical repeating patterns and vivid colors. Many of these block-printed silks and cotton fabrics were used by such famous creators of haute couture, including the French Paul Poiret. Though certain of Dufy's designs made use of purely abstract patterns, in many instances the artist drew upon nature for his inspiration, with birds, animals, flowers and plant motifs forming the basis for his elegant designs.

In The Harvester, Dufy created a dynamic pattern based on the figure of a male harvester reaping wheat. His muscular body is nestled within the angular, abstracted forms of sheaves and shafts of wheat, while the overall dynamism and angularity of the forms marries Art Deco style with Cubist formal innovation. Dufy's textile designs had an enormous influence on popular art in the 20th century, and his style was widely imitated by commercial designers.
Printed linen - Manufactured by Atuyer, Bianchini and Férier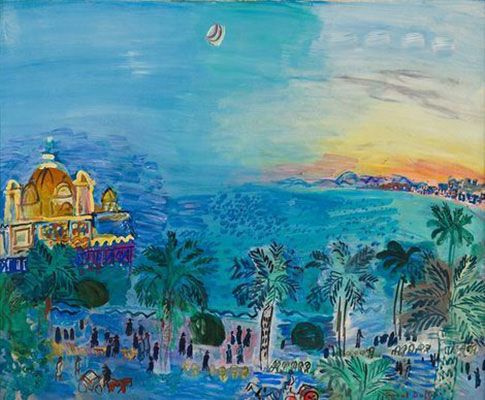 1927-28
Nice, the Old Casino
Painted in his characteristic late "stenographic" style, Nice, the Old Casino displays Dufy's use of loose outlines to demarcate forms, which he filled in with thin washes of color. These works convey a breezy nonchalance that - when compared to the laborious, intellectual approach of Cézanne - has led critics to malign him as frivolous. But the beauty and cheerfulness of Dufy's art do not disqualify him as a modernist. In this canvas, Dufy manages to convey with masterful economy of means the essential feel of a specific place and time: a Jazz Age summer night on the Riviera. The glowing beacon of the casino, the crepuscular aquamarine sky tinged with peach, the crescent moon hovering above the Baie des Anges and the silhouetted figures of elegant promenaders combine in an image of unapologetic, sensuous pleasure. Dufy's calligraphic, free-flowing line and liberated use of vibrant color are the artist's hallmarks, and reinforce the paradisiacal sensibility so unique to his art.
Oil on canvas, 60 x 73 cm - Switzerland, private collection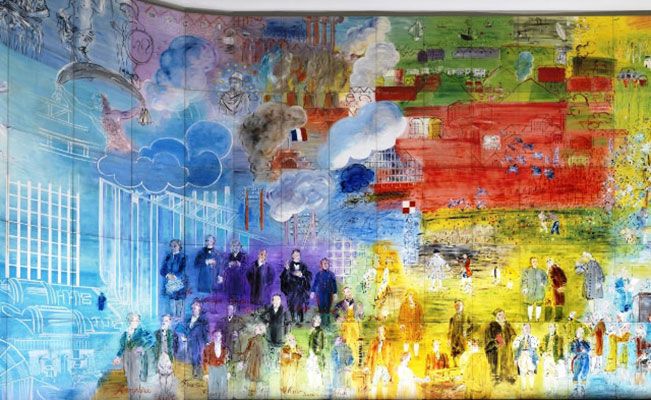 c. 1937-38
The Electricity Fairy
This enormous mural measuring 10 x 60 meters was commissioned by the Compagnie parisienne de distribution d'électricité to decorate the curving walls of the Pavilion de L'Electricite et de la Lumiere at the 1937 World's Fair in Paris. Dufy's painting, one of the largest ever made by any artist, was inspired by the story of the Electric Fairy from the ancient Roman poet Lucretius's On the Nature of Things. The composition is divided into two main themes: the history of electricity, and its various modern applications. Dufy included portraits of 110 famous scientists and thinkers who contributed to the invention and development of electricity, as well as elements of mythology and allegory. The entire mural is rendered in the artist's characteristic style, with bright, clear colors (organized in opposing harmonies of cool and warm tones throughout) and rapidly drawn outlines. Dufy worked tirelessly in preparation for the final painting, producing countless studies, sketches, and watercolors, which were projected onto the wall of the pavilion by his assistants for him to reproduce in monumental scale. One of the most significant aspects of the work, aside from its enormous scale, is Dufy's use of a newly invented quick-drying paint that mimicked the translucent and vibrant effects of watercolor and allowed him to work extremely rapidly: the entire mural was completed in 10 months.
Oil on plywood - Musée de l'art moderne de la ville de Paris
Similar Art