"To create something that lasts, the first thing is to want to create something that lasts forever."
"Fashions don't start among the common people. Along with satisfying a desire for change, fashion's real purpose is to display wealth."
"If only the very richest can afford to pay the price of innovation, they are also the only ones with the power to sponsor it"
"A clientele of artists, intellectuals and connoisseurs of modest means is very congenial, but they are not in a position to pay for all the research, the experimentation, the testing that is needed to develop a new design"
"The rich client wants to possess only furniture that is impossible for the less rich to acquire. This furniture must therefore be costly, being difficult to execute and using precious materials that no knock-off can simulate"
Summary of Émile-Jacques Ruhlmann
A century before today's big box stores like IKEA offered affordable, mass-market furnishings to the masses, and knock-offs of famous, classical designs became popular for the everyman, French designer Emile-Jacques Ruhlmann revolutionized our consideration of exquisitely crafted fine furniture as an art form in and of itself. His work, merging luxury with functionality, drew upon historical French designs updated with modernist flourishes that were being seen in popular aesthetical trends of the time such as in the Arts and Crafts and Art Nouveau arenas. Never one to compromise, his pieces were known for their expensive price tags, exotic materials, long lasting value, and refusal to conform to criticism by those who considered his work elitist. This insistence on quality and integrity, as well as his participation in the blooming field of interior design, which emphasized living amongst beautiful objects, would position him as a leading contributor to the Art Deco movement.
Accomplishments
Unlike other designers, Ruhlmann defied being pigeonholed or directly connected to any particular movement. His lifelong immersion into fine furniture garnered him a wide swath of inspiration from the bygone eras of classic French monarchies to the progressive fads of his time. This was evident through consistent flourishes that would come to cement his reputation as a brilliantly individual artist such as his signature combinations of slender Louis XVI Neoclassical legs combined with Art Nouveau's floral motifs.
Ruhlmann was a key contributor to the world of interior design. As one of the first artists to showcase his work in exhibitions alongside other craftsman and designers, specifically curated to complement one another, his constructed pavilions allowed potential buyers to visualize an overall environment rather than just view a singular, staid object.
While the modern decorative arts scene in France exploded with Art Nouveau's recreation of nature designs, and the Arts and Crafts' use of shapes, symbols, and geometric designs, Ruhlmann used these techniques modestly. He much preferred to introduce exotic materials in which the natural patterns, grain, and inherent properties would inform the final visual appeal.
Important Art by Émile-Jacques Ruhlmann
Progression of Art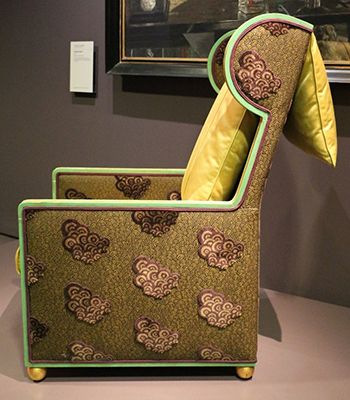 1913
Bergère dite à "Oreille cassée"
This early example of Ruhlmann's work already forebodes signature hallmarks, which would inform his Art Deco pieces of the 1920s that made him famous. The chair features four golden ball feet and a high back with oreille cassée, or, "broken ears," made to envelop the sitter in privacy. A matching gold-colored cushion folds over the top. A pattern of floral-shaped swirls covers the exterior of the chair, outlined in bright, light green trim. It was debuted at the 1913 Salon d'Automne at the Grand Palais in Paris.

This piece is indicative of Ruhlmann's style before World War I, when he was more inspired by the Art Nouveau and Arts and Crafts movements. For example, the print on the material is much busier than this later, sleeker fabric works. However, his use of expensive materials is already apparent. This piece contains the characteristics of the style philosophy that Ruhlmann maintained throughout his life: to provide luxury combined with comfort.
Wood, gold, lacquer, fabric - Musée d'Orsay, Paris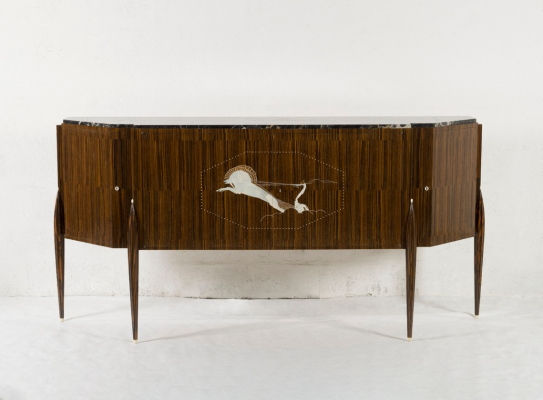 1921
Meuble au char
This monolithic console table looks heavy and sturdy yet seems to balance perfectly on four stiletto legs. Designed to be positioned against a wall, the console is beautiful yet understated and able to provide a backdrop to other stand out pieces of furniture in a room. The piece is intelligently functional: access to the console's cupboards is almost undetectable due to Ruhlmann's use of minimal keyholes.

The sleek design is enhanced by the expensive use of materials, namely Macassar ebony, an inlaid ivory chariot motif, and marble top. Macassar ebony was one of Ruhlmann's favorite materials due to its inherently striking and unique visual appeal. However, in this instance the designer used the nature of the wood subtly enough not to detract from the form of the cabinet.

This unique piece signifies the beginnings of Ruhlmann's experimentation with unusual materials and his move away from the styles other designers were producing in Paris at this time. He was starting to set himself apart from his Art Nouveau contemporaries with more simplified forms, which didn't imitate nature, but rather accentuated the intrinsic beauty of the materials themselves.
Macassar ebony, ivory, mahogany, marble - Musée d'Art Moderne, Paris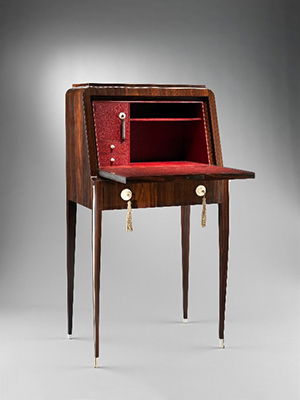 c.1923
"Tibattant" desk
This compact bureau combines Ruhlmann's signature ethos of marrying beauty and functionality in design. A fold-down front reveals the practical and organized interior, with shelves and compartments for the owner's paperwork and documents. This pragmatism is merged with opulence: the interior is lined in cherry-red leather and features delicate ivory handles hung elegantly with tactile silk tassels. The fold-down front also doubles up as a writing surface, before neatly closing to hide its function. A larger drawer underneath the fold-down front provides more storage space. Completing the piece are four slender tapered legs - another hallmark of Ruhlmann's work.

The desk's title alone demonstrates the influence of other cultures on Ruhlmann's increasingly luxurious designs. Translated as the "Tibetan" desk, it reflects the trend of foreign inspiration that was celebrated by the burgeoning Art Deco movement, in both its decorative trimmings and in its use of materials. For example, the tropical Macassar ebony wood, sourced from Cuba, was selected for its aesthetic effect as well as its practicality. This exploration of the exotic could be seen as a turning away from traditional French modes of design, and the popular Art Nouveau style, which sought inspiration from nature. As well as looking further afield in terms of materials, this bureau was a rethinking of classical design motifs seen in eighteenth-century furniture design, such as the delicate cabinets of the era of Louis XV. This combination of influences, which had never before been seen together, carved out Ruhlmann's distinctive reputation in the furniture market of France during the early 1920s.
Macassar ebony, ivory, leather, aluminum leaf, silver, silk, oak, lumber-core plywood, poplar, mahogany - The Metropolitan Museum of Art, New York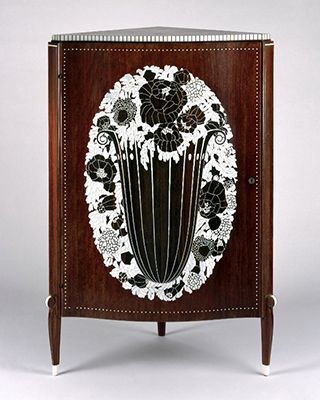 c. 1923
Corner cabinet
This example from Ruhlmann's collection of cabinet designs combines two straight sides with a slightly curved front, ideal for placing in the corner of the room. Given this positioning, it is quiet and unassuming, not intended to be a showstopper, or focal piece. The curved front opens to reveal a storage space with three removable shelves, providing both luxury and usability for the owner. The whole cabinet is completed with three slender legs; a signature Ruhlmann style derived from French cabinets produced during the reigns of Louis XV and Louis XVI.

This corner cabinet is a prime example of Ruhlmann's intentional choice of exotic materials. For instance, the kingwood veneer was chosen for its natural pattern, and strengthened by the mahogany underlayer. Ivory inlay was used to create the complex floral motif on the front. Ruhlmann further echoes this motif through subtle ivory touches throughout: the dots around the front of the cabinet, the squares along the top of the cabinet, and at the ends of the front two legs.

This cabinet also demonstrates a Ruhlmann specialty -his capability to adapt his pieces in accordance with a client's specific needs or tastes. The motif of the flowers in the vase proved so popular that it was also featured on the front of his "État" cabinet commissioned by the Metropolitan Museum of Art in 1925.
Kingwood veneer on mahogany, ivory - Brooklyn Museum, New York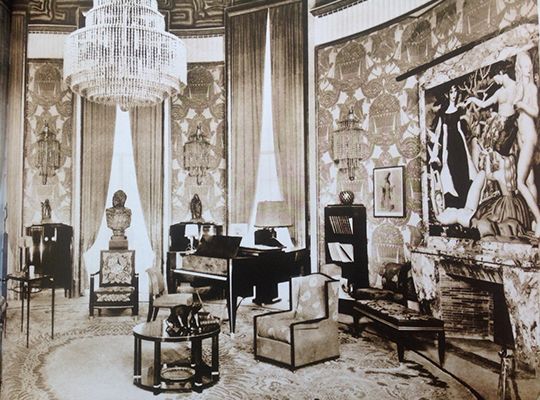 1925
The Salon of the Hôtel du Collectionneur
Ruhlmann's Salon of the Hôtel du Collectionneur was exhibited at the Exposition Internationale des Arts Décoratifs et Industriels Modernes in Paris in 1925. Ruhlmann's friend, the architect Pierre Patout, designed the pavilion itself, which included an entryroom, dining room, office, bedroom, bathroom, and this central salon. The salon featured an array of decorative art, including a prominent, large-scale painting by Jean Dupas, which hung above the fireplace. Interspersed into this staged environment were Ruhlmann's own designs, such as the grand piano crafted from Macassar ebony. Other collaborators represented throughout these interiors included the metalworkers Edgar Brandt and Claudius Linossier, the sculptors Joseph Besnard and Antoine Bourdelle, the silversmith Jean Puiforcat, and the ceramicist Jean Mayodon.

The Salon marked Ruhlmann's place as the leader of the Art Deco movement in France. It showcased his ability to both design and to curate, envisioning as a whole how his work would integrate with that of others in the home of a wealthy collector. It also gave potential buyers a glimpse into his longstanding principles of how form and function could be combined with elegance in one's home; a virtual advertisement for his talents that were seen by hundreds of thousands of visitors, some of which would become his most elite and illustrious clients. His collaborative working methods also created a space in which a client would be a connoisseur, collecting pieces from a variety of sources rather than just commissioning one producer.

The design historian Alastair Duncan described the critics' response to Ruhlmann's pavilion as, "unanimous in their choice of Ruhlmann's Hôtel du Collectionneur as the Exposition's most spectacular event."
Mixed media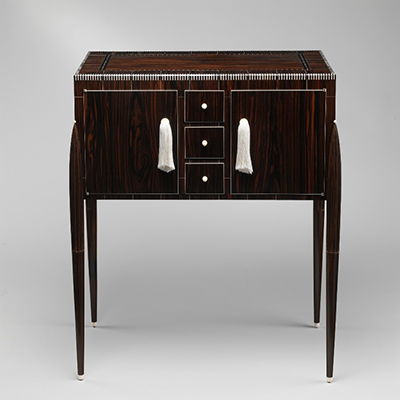 c.1925
Fuseaux Cabinet
Like other cabinets made by Ruhlmann in the first half of the 1920s, this Fuseaux cabinet combines beauty and utility, offering a functional piece of furniture for a discerning clientele. Formally, the cabinet is very simple, allowing for the natural grain of the Macassar ebony to act as decoration. Simple geometric inlays of ivory and silvered bronze complement the wood. The cabinet includes three small drawers in the center, flanked by larger compartments with silk tassels for handles. Finally, the cabinet rests on four slender legs. It has been suggested that the design was for a man's dressing table, but Ruhlmann's records also describe it as a liquor and cigar cabinet.

This specific cabinet was sold by the Établissement Ruhlmann et Laurent to the Metropolitan Museum in 1925, as a direct result of the company's participation in the Exposition Internationale des Arts Décoratifs et Industriels Modernes in Paris that year. The enthusiasm of globally renowned museums to immediately purchase and commission designs directly from Ruhlmann demonstrates his unique value: such museums rarely recognized talent during the creator's lifetime, preferring to collect posthumously.

Only seven productions of Ruhlmann's Fuseaux cabinets are known to exist, including this one,and one in the Musée des Beaux-Artes in Lyon, France, all created and sold between 1920-1949. Ruhlmann's meticulous records show that about 50 working hours were required just to produce one of the cabinet's legs. This level of attention to detail and craftsmanship was a hallmark of Ruhlmann's obsessive designs throughout his career.
Macassar ebony, ivory, silk, silvered bronze - The Metropolitan Museum of Art, New York
Biography of Émile-Jacques Ruhlmann
Childhood
Émile-Jacques was born in 1879 in Paris to François and Valentine Ruhlmann, who had recently moved to the city from Alsace. He was the couples' second child, his sister Nathalie having been born the year before. The children grew up in a comfortable household as François ran a successful construction, painting, and wallpapering business called Société Ruhlmann, which is where his son's initial interest in design originated. Ruhlmann's interest in furniture in particular was further stoked by his visits to the shops of prestigious Parisian cabinetmakers such as Gevens, Stauffacher, and Laberthe.
Ruhlmann studied painting informally before completing three years of military service between 1897 and 1900. Upon his return at age 21, he joined his father's business as an apprentice and was soon taking on higher responsibilities, such as managing the firm's timber inventory and organizing business deals.
Early Training and Work
1907 was a pivotal year for Ruhlmann, shaped by two major life events: his marriage to Marguerite Seabrook and the death of his father. Having inherited the family business, he moved its headquarters to new premises, dividing it into two workshop locations: one focused on paint and wallpaper and the other on mirrors. He also designed all the furniture for he and his wife's newlywed apartment.
During these early years, the popular Art Nouveau and Arts and Crafts movements would heavily influence Ruhlmann's work. He was duly inspired by the Wiener Werkstätte (Viennese Workshop), which was established at the turn of the century by the graphic designer and painter Koloman Moser and the architect Josef Hoffmann. The Werkstätte brought together a cooperative of multidisciplinary creative talent including architects, graphic artists, and ceramicists. The group experimented with Modernist forms and contemporary movements in the visual arts such as Cubism.
Ruhlmann began to establish his reputation through his participation in exhibitions both in Paris and further afield. In 1910, he displayed a selection of wallpaper designs at the Salon d'Automne and the Salon des Artistes Décorateurs, and in 1913 exhibited his first furniture models, again at the Salon d'Automne. In many ways, Ruhlmann was the ideal exhibitor for these Salons, organized by the Société des Artistes Décorateurs. The Société aimed to encourage high standards of production, showcase innovative and luxurious pieces, and establish France as the global leader in manufacturing and design.
With the outbreak of World War I, all social and economic fortunes enjoyed by France were halted. The nationwide pause from normal life provided Ruhlmann, who did not serve in the military, a chance to refine and rethink his designs. 1914-1918 proved an intensely productive time, as the designer began to find new sources of inspiration in pre-war Viennese design, but also the classics of eighteenth-century French furniture. He understood that these new prototypes would not necessarily be available, or even appreciated, by the general public, but instead were to be found only in the homes of the very wealthy. Ruhlmann said, "Only the very rich can pay for what is new and they alone can make it fashionable." This gamble paid off as the newly wealthy class of post-war Paris would come to idolize his new pieces, boosting his reputation and popularity.
Ruhlmann's ambitions to expand his enterprise were fast coming. In 1919, he partnered with the designer Pierre Laurent to create the Établissement Ruhlmann et Laurent. This new company specialized in designing fine furniture and luxury interior goods, such as lighting and wallpaper. Laurent was designated the head of the operation at the interior design location and Ruhlmann was in charge of a separate furniture workshop. Success continued, and later that year the partners purchased an additional industrial building solely for cabinet design. With the assistance of André Fréchet, the director of the École Boulle, Ruhlmann et Laurent expanded their specialist workforce, all the while maintaining their high level of craftsmanship and exclusivity. To retain authenticity over their pieces, they instigated a new system: each sale was given a branded number and alphabetized as a registered edition. Once the sale was complete, the new owner was given a certificate of authenticity, signed by Ruhlmann himself.
Mature Period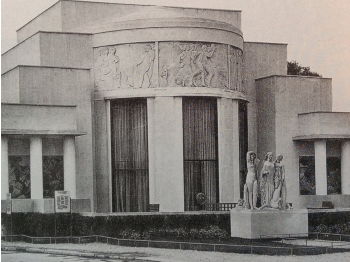 By 1920, Ruhlmann had made clear his dislike for the movements that had once inspired him as a young designer, in particular the Arts and Crafts movement. Along with other luxury designers in Paris at the time, he felt the need for a rebirth after the Art Nouveau era, drawing inspiration from the rich French tradition of furniture making, while retaining a strong element of functionalism.
Ruhlmann sought new inspiration from this heritage, turning to the cabinetmakers of the late eighteenth-century. This included Jean Henri Riesener, a German cabinetmaker who worked prolifically in Paris and was a key exponent of the early Neoclassical Louis XVI style, and Adam Weisweiler, a French cabinetmaker of the same period. He also used the ideas of the early twentieth-century design theorists, including the functionalist Adolf Loos, who sought an architectural element to interior design.
Ruhlmann drew some criticism for eschewing the trends of his time as if he were out of sync with the evolution of design in his era, creating items that reeked of luxury rather than progression. He argued that the ancient regime had created its best masterpieces through high expense: his notable forebear Boulle had received 95,000 livres for a cabinet for the Grand Dauphin, and Riesener, 73,000 for Louis XV's desk. Jared Goss, the Associate Curator of the Department of Modern and Contemporary Art at the Metropolitan Museum of Art, notes that through such comparisons, Ruhlmann was not only aligning himself with the greatest furniture designers of the past but also "linked his patrons with royalty, a connection they were not likely to refute".
Ruhlmann's adapted thoughts on design were demonstrated in his participation in the 1925 Exposition Internationale des Arts Décoratifs et Industriels Modernes in Paris. Held from April until October, the Exposition operated a strict by-invitation-only policy for exhibitors and attracted more than six million international visitors. Other exhibitors included Ruhlmann's contemporaries Rene Lalique and André Groult, as well as pavilions showcasing the wares of large department stores, such as the Galeries Lafayette, Printemps, and Bon Marché.
Ruhlmann presented his own pavilion, titled the Hôtel du Collectionneur (House of the Collector). Unlike other pavilions at the Exposition, Ruhlmann curated a staged setting of interior vignettes featuring the work of other complementary artists and designers to accentuate his furniture. Hundreds of thousands of visitors came to see the Hôtel, and Ruhlmann shot to the heights of modern French decorative arts. It was here that the phrase "Art Deco" came into being, as a contraction of the Exposition's full title, replacing the existing movement's more generic title of "Style Moderne." Historian Alastair Duncan described after the seminal event, "Had France of the 1920s been a monarchy Ruhlmann would certainly have held the position of ébéniste du roi" (cabinetmaker of the king).
The 1925 Exposition brought Ruhlmann an increasing number of high-profile clients, including the Rothschild and Worms families, Eugène Schueller (the owner of the L'Oreal company), the fashion designer Jeanne Paquin, the playwright Paul Géraldy, and even royalty in the form of the Maharajah of Indore. He designed the Salon de Thé and the Games Room on the Île de France cruise liner; the first major liner built following the World War I. Commissioned for the Compagnie Générale Transatlantique, it showcased contemporary trends in French decorative arts in its full-length Art Deco styling, transporting wealthy Americans to Europe. International museums, including the Metropolitan Museum of Art in New York and the Egyptian Museum in Cairo, purchased his pieces. Finally, in 1926, Ruhlmann received the highest commission of his career: the French state requested his redesign of several rooms for the Paris Chamber of Commerce. The same year, Ruhlmann was awarded the Legion of Honor, the highest French order of civil merit.
This success inevitably saw expansion to the Établissement Ruhlmann et Laurent enterprise. By 1927, the pair had multiple shops and employed over 60 craftsmen. Ruhlmann hired his nephew, Alfred Porteneuve, to coordinate the company's participation in international exhibitions, much as he had done as an apprentice in his father's firm at the start of the century.
However, as Ruhlmann's notoriety and accomplishments grew, he was never immune to criticism. From the early 1920s, opposition to his work had built in the form of functional modernists such as Le Corbusier, who spoke out strongly against his elitist attitude and unaffordable products. In the journal L'Esprit Nouveau and later in his books Towards a New Architecture and The Decorative Art of Today, Le Corbusier defined the "Louis Philippe and Louis XVI moderne" style seen at the 1925 Exposition as false and a "religion of beautiful materials in its final death agony." He believed the future of furniture was not exclusively for the rich, but that everyone deserved quality functional design, achieved through mass-production.
This antithesis to Ruhlmann's approach did not sway the designer, who repeatedly stood by his principles of elegance and its corresponding high investment. In the catalogue for the 1928 Lord and Taylor exhibition, Ruhlmann negated Le Corbusier, stating, "The movement to develop a contemporary style in interior decoration will only come fully into its own when people of moderate incomes become interested, but owing to the fact that costly experiments must first be made in furniture de luxe, before this Renaissance in decoration can be effected, it is necessary that this art be developed under the patronage of the wealthy, just as the art of the older epochs was developed under the patronage of the courts." Ruhlmann also made known his ability to embrace new trends. For example, metal mounts began to feature more in his designs post 1925 as a way of combatting the problems new centrally heated houses caused for wood veneers.
Late Period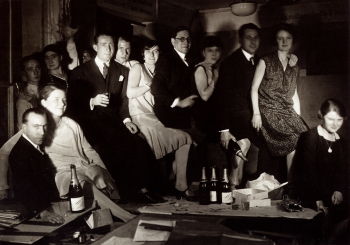 Following the stock market crash of 1929 and the subsequent global Great Depression, the decorative arts embraced more Modernist and functional styles, harnessing Le Corbusier's call for mass-produced items accessible to all. Ruhlmann stood fast to his style, despite the diminishing ability for his once-loyal customers to afford luxurious pieces. At the time, he confessed he was taking a financial loss with his work, stating, "Each piece of furniture that I deliver costs me on average 20 or 25% more than what I charge for it...the reason for me to resist, to persist in creating furniture that costs me money instead of being profitable, is that I still have faith in the future." This perseverance can be seen in his decision to continue to exhibit widely, participating in Expositions in Madrid, New York, Milan, Athens, and Barcelona, as well as the 1931 Exposition Coloniale Internationale in Paris.
In 1933, upon learning he was terminally ill, Ruhlmann designed his own funeral monument. He insisted the company would be closed after his death, and appointed his nephew Porteneuve to oversee the completion of any outstanding orders and then the liquidation. A purist and perfectionist until the end, Ruhlmann feared the company would suffer after his death without his leadership, vision, and design skills, so sought to protect the reputation he had built up over his lifetime. He did, however, authorize a few models to be reproduced posthumously by Porteneuve, as long as they were branded and registered as "modèle de Ruhlmann édité par Porteneuve."
The Legacy of Émile-Jacques Ruhlmann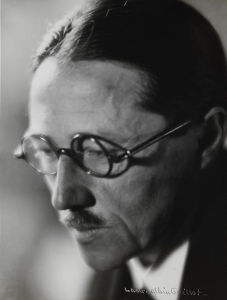 Ruhlmann's strategy to preserve his legacy worked. He, and his furniture, were posthumously celebrated and remembered for having the finest reputation. His steadfastness throughout his life of maintaining upper levels of cost and quality in his work, although criticized, would come to cement this reputation. His refusal to bow down to those who would have him create cheaper versions of his designs in order to increase their accessibility to the public would solidify his remembrance as an elite artist and craftsman of the utmost integrity in his field. Alongside, this elegance, his work was also praised for its usability and comfort, marrying fabulous form with lasting function.
Ruhlmann is equally remembered for his ability to collaborate and engage with other designers of his time, something that was relatively new in presenting work to the public. By curating suites at exhibitions and events, he was able to showcase not only his furniture, but also the work of others, so that a potential buyer, or a viewer could imagine his pieces in their homes surrounded by other complementary items. This would become a common mode of display in the world of interior design that remains in fashion today. Designers and realtors are known to "stage" homes and showrooms in order to bring an environment or atmosphere to the discerning shopper rather than just a staid object in an empty space.
Ruhlmann's work also remains, as Alastair Duncan describes, "today considered to be the epitome of Art Deco style and its finest expression," providing a counterpoint for the more functional modernism seen, for example, with the Bauhaus School.
Ruhlmann's ability to design for a wide range of clients expanded the swath of Art Deco's exposure. For example, his designs for the Île de France cruise liner influenced a new generation of luxury ships, the likes of which hadn't been seen since before the World War I. In the 1930s, voyagers such as the SS Normandie and the Queen Mary were inspired by Ruhlmann's use of upscale materials.
The Art Deco movement itself suffered at the outbreak of World War II and the economic uncertainty of the late 1940s. However, its core values of opulence, craftsmanship, and interesting materials continued to see its popularity spread across the world, particularly through architecture in the United States, such as residential and hotel buildings in Miami and skyscrapers in New York. Although Ruhlmann did not exclusively invent the style, he was, as art historian Brian J. R. Blench describes, "perhaps its finest exponent."
In 1934, the year after his death, a retrospective exhibition was held at the Pavillon de Marsan, part of the Louvre Palace. Ruhlmann's work has since been included in every major Art Deco exhibition across the world, such as the recent Ruhlmann: Genius of Art Deco exhibition at the Metropolitan Museum of Art in New York.
Influences and Connections
Influences on Artist

Influenced by Artist
Artists
Koloman Moser

Josef Hoffmann

Adolf Loos

Jean Henri Riesener

Adam Weisweiler
Friends & Personal Connections
François Ruhlmann

Pierre Laurent

André Fréchet
Artists
Alfred Porteneuve

Pierre Patout

Jean Dupas

Edgar Brandt

Claudius Linossier
Friends & Personal Connections
Rene Lalique

André Groult
Movements & Ideas
Style Moderne
Useful Resources on Émile-Jacques Ruhlmann
Books
The books and articles below constitute a bibliography of the sources used in the writing of this page. These also suggest some accessible resources for further research, especially ones that can be found and purchased via the internet.