Artists
Hector Guimard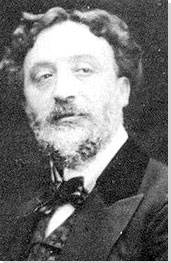 Hector Guimard
French Architect and Designer
Movements and Styles: Art Nouveau, Modern Architecture
Born: 10 March 1867 - Lyons, France
Died: 20 May 1942 - New York, New York, USA

"I love architecture, because in its essence, in its structure, in its function, and in all of its manifestations, it contains within itself every one of the other arts, without exception."
Summary of Hector Guimard
Hector Guimard practiced what he preached. His architectural creations tend to embrace each of the different branches of the arts, from painting and sculpture to graphics and even typography. The seamless harmony and flow that reigns in the aesthetic of Guimard's buildings and other works very much mirrors the kind of harmonious environment and society that Guimard hoped the world could eventually achieve politically, though this never came to pass. Guimard's version of Art Nouveau was nationalistic (he was French), but also focused on community and the friendly acknowledgement of differences between the varied nationalities and ethnicities of the world. Today Guimard is regarded as one of the most individualistic artists of his era, one of the innovating founders of Art Nouveau who developed a personal aesthetic that is often instantly recognizable and distinguishable even from his fellow practitioners of the style.
Key Ideas
Guimard is by far the best-known French Art Nouveau architect, to the extent that in some French circles Art Nouveau was referred to as "Style Guimard," a moniker promoted by Guimard himself. His work is easy to distinguish amongst other practitioners of the style, with plastic, abstracted and sometimes bizarre vegetal and floral imagery in iron, glass, and carved stone that is usually twisted and bent into irregular and asymmetrical forms.
Though well-educated at the École nationale des arts décoratifs, and familiar with many of the leading French architectural theorists, Guimard attended but did not receive a diploma from the École des Beaux-Arts as was the norm for most French academic architects at the end of the 19th century, and was often thought of during his lifetime as outside the mainstream of architectural practice.
Guimard's work has recently been discovered to be rather political - particularly pacifist and socialist. The strange forms in his architecture are intended to function as great kinds of social levelers, favoring no social or economic class above any other in terms of their familiarity or ability to be interpreted. As a result, they also constitute a step towards artistic abstraction, one of the great developments of 20th-century modernism.
Guimard's Paris Métro entrances are his signature work and classic emblems of Art Nouveau, which combine the movement's embrace of nature as well as the advances of technology, standardization, and modernization. Their sinuous, unusual forms stand out against the typical street environments, making them ideal for their functions, and they have become worldwide icons for mass transit design.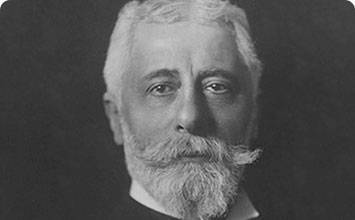 Hector-Germain Guimard was born in Lyons in March 1867. He was the first of several major architects to be born that year, two months before Frank Lloyd Wright, four months before Henry Hornbostel, and nine before Josef Maria Olbrich. His father was an orthopedist originally from Toucy, while his mother was a seamstress from Larajasse. Guimard developed a difficult relationship with his parents: at age thirteen the family moved from Lyons to Levallois-Perret, just outside the northwestern city limits of Paris, and soon afterward Guimard apparently ran away from home, finding refuge in the home of Apollonie Grivellé, a rich landowner in the suburban 16th arrondissement of Paris.
Important Art by Hector Guimard

The below artworks are the most important by Hector Guimard - that both overview the major creative periods, and highlight the greatest achievements by the artist.

École du Sacré Coeur (Sacred Heart School), Paris (1895)

Artwork description & Analysis: Guimard's first significant work, the École du Sacré Coeur, an elementary education facility in the 16th arrondissement, shows the way that he uses technological innovations to improve on a classic building type in French architecture. The building exhibits the usual features of most French primary schools: the bands of yellow brick or stone punctuated by large panels of windows, often topped by shallow arched lintels of red brick, like on the upper level.

The key feature of the structure, however, is at ground level, where Guimard has used pairs of inclined iron columns arranged in a V shape (seen here) to raise all the classroom space one floor above. The scheme is directly taken from a design by Eugene-Emmanuel Viollet-le-duc for just such a school, to demonstrate the possibilities of iron structural technology. Here, Guimard has rotated the columns 90 degrees from Viollet's plan to align with the plane of the façades and thus clear the space at ground level under the rest of the structure as a playground, thus solving the problem of the limited space on the site. Much of this area at ground level, however, was enclosed in the 1950s, which eliminated this recreational function.

The columns themselves use an unusual shape that leaves them open to precise interpretations, thus attracting continual rumination and attention. They taper towards the bottom, with flared joints where they join the I-beams that support the rest of the school structure above, resembling torches that may represent the archetypal lamp of learning. The twisted grooves on the upper parts of the columns add a kind of dynamism to the shape, as if to represent the compression of force transferred through them to the ground below, much like the sinews of muscles or the plastic three-dimensional forms of stems of plants. It thus represents some of Guimard's first recognizable experiments with Art Nouveau.

Castel Beranger, Paris (1895-98)

Artwork description & Analysis: The Castel Beranger is the building that made Guimard famous, and he regarded it as one of his most important, going so far as to include it along with the Humbert de Romans concert hall and the Paris Métro entrances as some of his most notable in an article in Architectural Record explaining Art Nouveau to an American audience in 1902. It is a multistory apartment building of 36 units in the 16th arrondissement of Paris, for which Guimard was given carte blanche by his patron, Mme. Marie-Elisabeth Fournier, and was the first apartment structure in the city to use the new style. As a result, it displays the complete range of Guimard's creative powers with Art Nouveau, the full expression of which he had seen just before he started designing it when he traveled to Brussels and met Victor Horta in 1895. After the completion of the project, Guimard sent Horta a signed copy of the lavish album of prints produced to publicly promote it, along with an inscription of admiration. (The first plate from this folio, a perspective of the building - which is difficult to capture in its entirety in a photograph - is pictured here.)

The Castel Beranger's ornament is full of whiplash and undulating plastic surfaces, such as in the vestibule, whose walls are covered with glazed ceramic tile. These are seamlessly complemented by similar sinuous forms resembling the stems or branches of plants inside the individual apartments, two of which were occupied by Guimard and his friend, the painter Paul Signac. The building makes extensive use of copper sheeting and ornament in the balconies, downspouts, and gates, much of which has been oxidized to a natural green, using strange motifs such as facial masks and seahorses. Its name "Castel" suggests its comparison (especially its picturesque quality and use of rusticated stone) to a medieval castle and, by extension, the Gothic style, which Guimard admired. In 1898 it won the inaugural façade competition launched by the city of Paris to encourage new variety in design amongst the city's monotonous stretches of bourgeois apartment buildings. This distinction, now carved into the façade, catapulted Guimard to instant fame. Nonetheless, the building spawned numerous detractors who decried the curious forms of Art Nouveau, nicknaming the building the "Castel Dérangé" (Deranged Castle). It remains one of Guimard's largest surviving works.

Humbert de Romans Concert Hall and School, Paris (1897-1901; destroyed 1905)

Artwork description & Analysis: One of the commissions that Guimard received in the wake of the success of the Castel Beranger was a combination concert hall and parochial school complex in the 16th arrondissement conceived by the Dominican monk known as Père Lavy, intended to be ready in time for the Exposition Universelle in 1900. Here again Guimard did not disappoint. The lavish building was a tour-de-force of Guimard's creative powers, with sinuous arabesques covering the surfaces and structures, creating a continuous sense of movement and animation for the visitor. The heart of the structure was the octagonal concert hall, with a vaulted roof structure of iron and abundant mahogany paneling, accented by colored glass of yellow and orange whose effect in modulating the interior natural light must have been spectacular. The auditorium, focused around a hexagonal stage with room for 100 musicians and 120 choristers, contained a massive organ. It could seat an audience of 1150 people - one of only two venues in Paris to accommodate that many spectators - on chairs designed by Guimard with a twisted, mass-produced iron frame, all painted green with luxurious embroidered cushions monogrammed "HR." Guimard even consulted noted composer Camille Saint-Saens on the hall's design, producing magnificent acoustic effects.

Sadly, the structure was doomed probably from its conception, as Père Lavy was admonished by his superiors for commissioning a building so lavish, whose purpose was viewed as suspect as it appeared to be devoted to secular rather than church functions (the building contained no noticeable religious iconography, nor except for its name did it hint at having a religious purpose). Its construction required a huge amount of expensive materials, including marble, along with the stained glass and ample quantities of mahogany, and was a financial disaster. One month after the dedication on 9 November 1901, Père Lavy left Paris, reassigned by his superiors to Constantinople. The building struggled to turn a profit as a concert venue and was sold at auction in 1904; its new owners demolished it soon after and replaced it with a tennis court.
More Hector Guimard Artwork and Analysis:
Influences and Connections
Influences on Artist
Artists, Friends, Movements
Influenced by Artist
Artists, Friends, Movements

Interactive chart with Hector Guimard's main influences, and the people and ideas that the artist influenced in turn.
View Influences Chart

Artists

| | |
| --- | --- |
| | Eugène-Emmanuel Viollet-le-Duc |
| | Victor-Marie-Charles Ruprich-Robert |
| | Charles Genuys |
| | Gustave Raulin |
| | Emile Vaudremer |

Personal Contacts

Movements

| | |
| --- | --- |
| | Art Nouveau |
| | Gothic Revival |
| | The Baroque |
| | The Rococo |

Influences on Artist

Hector Guimard
Years Worked: 1888 - 1930
Influenced by Artist

Artists

| | |
| --- | --- |
| | Eugène Vallin |
| | Emile André |
| | Louis Majorelle |
| | Louis Trézel |
| | Alexandre Charpentier |

Personal Contacts

Movements
If you see an error or typo, please:
tell us
Cite this page

Content compiled and written by Peter Clericuzio
Edited and published by The Art Story Contributors
" Artist Overview and Analysis". [Internet]. . TheArtStory.org
Content compiled and written by Peter Clericuzio
Edited and published by The Art Story Contributors
Available from:
First published on 25 Jul 2017. Updated and modified regularly.


[Accessed ]