Artists
Antoni Gaudí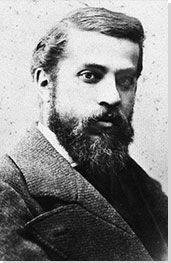 Antoni Gaudí
Catalan Architect and Designer
Movements and Styles: Art Nouveau, Modern Architecture
Born: June 25, 1852 - Reus, Catalonia, Spain
Died: June 10, 1926 - Barcelona, Catalonia, Spain

"We own the image. Fantasy comes from the ghosts. Fantasy is what people in the North own. We are concrete. The image comes from the Mediterranean. Orestes knows his way, where Hamlet is torn apart by his doubts."

Summary of Antoni Gaudí
It is difficult for us today to believe that the most famous modern Spanish architect met his demise when, at age 73, he was run over by a tram and assumed to be an ordinary beggar for a full day before he was finally identified, too late to be nursed back to health. Yet Antoni Gaudí's pious Catholicism and devotion to a spartan regimen had come to define his character almost completely by the last decade of his life, which he devoted almost exclusively to the construction of his arguably most famous work, the Sagrada Família church in Barcelona. Over Gaudí's nearly fifty years of independent practice, he concocted and realized some of the most imaginative architectural forms in history, all of them in his native Catalonia, which have since become synonymous with the region's identity. The best-known - and most individualistic - representative of Catalan Modernisme (Art Nouveau), Gaudí has fascinated and inspired generations of architects, designers, and even engineers. Today his work attracts a global following with some of the most distinctive, idiosyncratic, and recognizable designs of all time.
Key Ideas
Gaudí's was highly innovative in terms of his explorations of structure, searching through a variety of regional styles before seizing on the parabolic, hyperbolic, and catenary masonry forms and inclined columns that he developed through weighted models in his workshop. These are often integrated with natural and highly symbolic religious imagery that encrust the structure with vibrant, colorful surfaces.
Gaudí's work is the most inventive, daring, and flamboyant of Catalan Modernisme (the Catalan strand of Art Nouveau) designers, but it is not uncharacteristic of the movement as a whole.
Gaudí's work is highly personal, in part due to his devout Catholicism, a faith that became increasingly fervent as his career progressed. In part because of this, his work contains many references to religious themes, and he increasingly led an ascetic existence towards the end of his life, even giving up all other commissions to focus on his designs for the church known as the Sagrada Família.
Gaudí often collaborated with several other Catalan designers, industrialists, artists, and craftsmen on his projects, most prominently Josep María Jujol, who was often responsible for the broken tilework (trencadís) that is common to much of Gaudí's buildings. This helps to explain why Gaudí's structures often feature such a wide variety of materials, used in inventive and clever ways.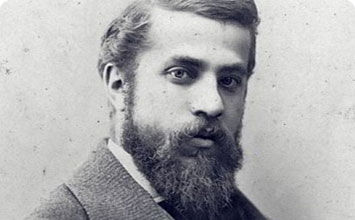 Antoni Plàcid Guillem Gaudí i Cornet was born in Reus, Catalonia, south of Barcelona on the Mediterranean coast, in June 1852. His birthplace is the question of a small controversy, as precise documentation is nonexistent and sometimes it is claimed that he was born in the neighboring municipality of Riudoms, his paternal family's native village (though he was baptized the day after his birth in the church of Sant Pere Apòstol in Reus). He was the youngest of five children born to Francesc Gaudí i Serra, a coppersmith, and his wife, Antònia Cornet i Bertran. Gaudí's family had roots in the Auvergne region of southern France.
Important Art by Antoni Gaudí

The below artworks are the most important by Antoni Gaudí - that both overview the major creative periods, and highlight the greatest achievements by the artist.

Casa Vicens (1877-83)

Artwork description & Analysis: The Casa Vicens, opened to the public for the first time in 2017, is often considered Gaudí's first significant work. Conveniently for Gaudí, the project was a residence for the tile and brick manufacturer Manuel Vicens i Montaner, who had just inherited the land from his mother-in-law when he hired Gaudí in 1877, though construction would not start until 1882. As a result, Gaudí had a ready supply for much of the building materials, and the structure itself shows off the capabilities of Vicens' factories, functioning as an advertisement for its owner's business ventures, the Barcelona construction industry, and the skill of the region's prodigious craftsmen.

Gaudí's design, in the neo-Mudejar (neo-Moorish) style that references the Islamic architecture of medieval Spain, is poised specifically to take advantage of these readily-available construction materials. The red brick structure, with stone infill, uses sawtooth patterning, stepped arches, elaborate bracketing under protruding balconies, pointed arches, and rooftop turrets to demonstrate the various constructive properties of the material. Similar strategies are used with the skin of green-and-white checkerboard-patterned and floral ceramic tile that create a kaleidoscope of color - features common to Muslim architecture.

The connection with nature, characteristic of Art Nouveau, which this building helped develop in Barcelona, can be seen both inside and out. Not only is it featured in the tile, but the ironwork of the fence (which used to encircle a more extensive set of gardens than that which exists today) features a prominent motif of the Margallo palm, a plant native to Catalonia, and the iron grilles over the windows bear a striking resemblance to twisted vines. These natural motifs extend to the interior, where the dining room's domed ceiling has been painted to resemble looking upwards to the sky, embellished with plants and floral imagery.

Brick, stone, iron, ceramic tile - Barcelona

Palau Güell (1886 - 88)

Artwork description & Analysis: The textile magnate Eusebi Güell's relationship with Gaudí began some eight years before he commissioned the architect to design his principal residence in the El Raval neighborhood in central Barcelona. Gaudí did not disappoint his patron. The house is approached by a double arched entryway covered with dramatic looped vine-like ironwork which allows for the entrance of horse-drawn carriages through one archway and their exit through the other. Between the twin arches sits a massive piece of wrought iron resembling tangled seaweed or a horsewhip; at the center is a banner with the characteristic stripes of the Catalan flag, disclosing Gaudí and Güell's staunch regionalism.

The interior design is focused on an ingenious square-plan central space that extends upwards four stories through the heart of the edifice and functions as a large reception hall for guests, who meet with somewhat of a surprise as they must turn around to enter from the top of the stairs leading up from the garage below. The more private spaces, as is traditional in an urban European palazzo, are located on the upper floors, with hidden windows overlooking the reception space that give the residents the chance to glimpse their guests in advance of meeting them below. Also ingeniously, the reception hall is covered with a high paraboloid domed ceiling painted dark blue to resemble the night sky; Gaudí perforated it with small holes so that lanterns could be hung above (inside a tall spire that caps the ceiling) so that the glow filtered into the space below resembled twinkling stars. The overall effect seemingly transformed the interior reception hall into an exterior courtyard illuminated by starlight.

Stone - Barcelona

Colònia Güell (1890 - 1918)

Artwork description & Analysis: Gaudí's second large project for Eusebi Güell, the Colònia Güell at Santa Coloma de Cervelló, just west of the city of Barcelona, is noteworthy for two reasons. In the first place, it demonstrates the way Gaudí and his patron understood the potential of modern architecture to shape and transform the lives of people from all different classes in both material and spiritual ways; and second, it was a means by which Gaudí continued to refine the parabolic system of structure that became virtually a hallmark of his later work.

The Colònia Güell was a means by which Güell sought to quell the tendencies towards anarchism and socialism shown by workers in many large cities, including Barcelona, at the turn of the century. He selected thus a rural location for his factory town, and provided his workers with the facilities needed for their education, health, governance, and spiritual well-being. The latter was intended to be provided by a large stone church with several parabolic spires, ornamented with ceramic tiles and designed by Gaudí in 1898, though the foundations for it were only laid in 1908.

Gaudí's designs for the workers' houses used a humble, neo-Mudejar architectural style reminiscent of his earliest works, and many of the service buildings were constructed by his assistants, such as Francesc Berenguer. Architecturally, the most important part of the complex is the church (whose design is pictured here), conceived by Gaudí using a weighted model of interlaced strings hung upside down from the ceiling in his studio in order to work out the properties of the parabolic structure of the main sanctuary space. This model is on display now in the Sagrada Família Museum in Barcelona, and undoubtedly influenced Gaudí's design for the massive urban church and its eighteen spires. Güell's continued difficulty in funding the massive Colonia project meant that only the church's crypt - supported by inclined, flattened arches and an undulating, vaulted ceiling delineated inside by massive stone ribs - was completed before his sons abandoned the project after his death in 1918.

- Santa Coloma de Cervelló Spain
More Antoni Gaudí Artwork and Analysis:
Influences and Connections
Influences on Artist
Artists, Friends, Movements
Influenced by Artist
Artists, Friends, Movements

Interactive chart with Antoni Gaudí's main influences, and the people and ideas that the artist influenced in turn.
View Influences Chart

Artists

Personal Contacts

| | |
| --- | --- |
| | Eusebi Güell |
| | Josep María Jujol |
| | Leandre Serrallach |
| | Francisco de Paula del Villar i Lozano |
| | Emili Sala Cortés |

Movements

Influences on Artist

Antoni Gaudí
Years Worked: 1875 - 1926
Influenced by Artist

Artists

| | |
| --- | --- |
| | Llorenç Matamala |
| | Josep Francesc Ràfols |
| | Joan Bergós |
| | Cèsar Martinell |
| | Joan Rubió |

Personal Contacts

| | |
| --- | --- |
| | Pere Santaló |
| | Joan Maragall |
| | Jacint Verdaguer |
| | Joan Llimona |
| | Francesc Berenguer |

Movements

| | |
| --- | --- |
| | Art Nouveau |
| | Art Deco |
| | Modern Architecture |
If you see an error or typo, please:
tell us
Cite this page

Content compiled and written by Peter Clericuzio
Edited and published by The Art Story Contributors
" Artist Overview and Analysis". [Internet]. . TheArtStory.org
Content compiled and written by Peter Clericuzio
Edited and published by The Art Story Contributors
Available from:
First published on 01 May 2017. Updated and modified regularly.


[Accessed ]