"Beauty is what nature has lavished upon us as a supreme gift."
"God has given us our talents, not to copy the talents of others, but rather to use our brains and imagination in order to obtain the revelation of true beauty."
"I have always striven to fix beauty in wood, stone, glass or pottery, in oil or watercolor, by using whatever seemed fittest for the expression of beauty. That has been my creed."
"We are going after the money there is in art, but there is art all the same."
Summary of Louis Comfort Tiffany
One of America's most celebrated artists, Louis Comfort Tiffany revolutionized the production of stained glass and incorporated it into innovative designs and unusual decorative items. This served to reinvigorate an industry that had barely changed since the Medieval Period. He combined exquisite craftsmanship with a love of color and he became known for his ability to 'paint' with glass. Although he is best known for his glasswork, he designed across a range of mediums from jewelry to pottery and was particularly associated with the Art Nouveau movement, featuring as one of its most imaginative and prolific creators. Tiffany was also one of the first American designers to gain acclaim abroad and his work was distributed across Europe by Siegfried Bing, founder of the famous and influential L'Art Nouveau gallery.
Accomplishments
Tiffany believed that nature should be the main source of design inspiration and the vast majority of his pieces feature images of landscapes, plants, or animals. Tiffany's love of nature and his drive to incorporate new technologies into his work closely aligned him with Art Nouveau and he was very significant in introducing the movement to America, helping to popularize it through his designs and encouraging others to work in a similar style.
Instead of painting onto the glass to achieve detail in the traditional manner of stained-glass production, Tiffany dispensed with the paint and used glass alone to create his objects, allowing the pieces of glass to dictate the form of the finished product. He also worked to develop new processes and techniques including "favrile" and the formation of opalescent glass which produced richer colors and more interesting effects, giving him a greater choice of raw materials. These innovations allowed him to create incredibly intricate pieces that were entirely novel within the field of glass making.
Tiffany's work drew on a very diverse range of influences - from the Arts and Crafts movement in England, which informed his craftsmanship, to historical and classical sources. He was particularly interested in works from China, Japan, India, and the Islamic World and his Orientalist perspective can be seen in his early paintings as well as in motifs and decorative elements in his later designs.
The Life of Louis Comfort Tiffany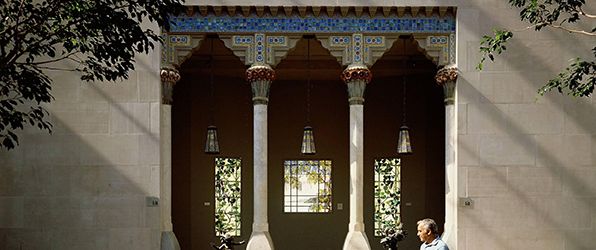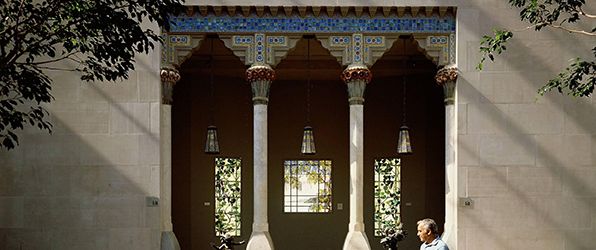 Despite his privileged background, Louis Comfort Tiffany understood how hard it could be to make a living in art. So, he turned his private home Laurelton Hall into a retreat where struggling artists were offered no instruction or critique, were called "fellows", rather than students, and were invited to take advantage of a slower pace of life to develop their craft.
Important Art by Louis Comfort Tiffany
Progression of Art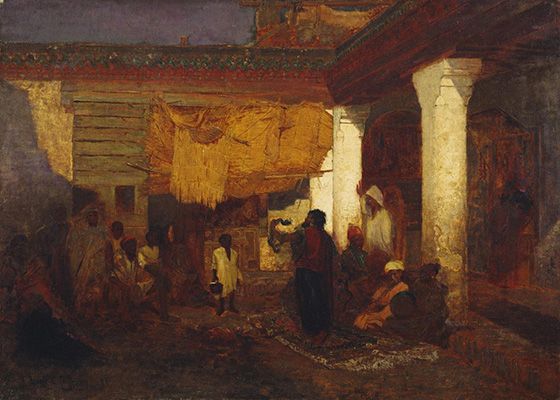 1872
Snake Charmer at Tangier, Africa
Inspired by his travels in North Africa with fellow artist R. Swain Gifford, Snake Charmer at Tangier, Africa exemplifies Tiffany's style and the influences that shaped him as a painter, an artistic practice he would engage with privately for the rest of his life. Set in Morocco, the scene takes place in an open plaza in the late afternoon. The time of day is conveyed by the golds and reds of the composition and the long shadows which fill the bottom half of the canvas, casting the faces of many of the figures into semi-darkness. Onlookers gather around and watch as a snake charmer performs, displaying a snake at eye level.

The dark, rich colors that dominate the canvas can be seen as a reflection of the works of George Inness, who used similar colors in his landscapes and the subject-matter was probably influenced by Léon-Auguste-Adolphe Belly, who was a well-established Orientalist painter by this point. In fact, the painting displays many of the tropes of Orientalism from the portrayal of an 'exotic' subject to the palette used and the incorporation of extensive decorative elements. This latter detail, particularly the depiction of the columns and roofline, also demonstrates Tiffany's burgeoning interest in the decorative arts. As noted by Monica Obniski, curator of American art at the Metropolitan Museum of Art, architectural details of the style shown in the work reappeared throughout Tiffany's career in the buildings he helped to design, including in his own home, Laurelton Hall. The painting was exhibited at the 1876 Centennial Exposition in Philadelphia.
Oil on canvas - The Metropolitan Museum of Art, New York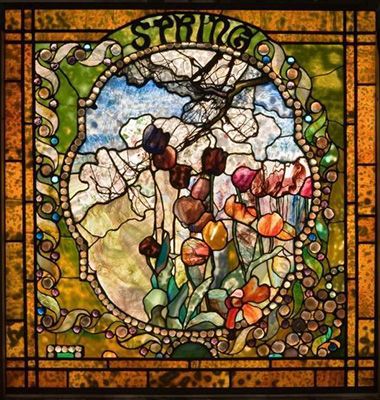 1900
The Four Seasons
Exhibited as a single stained-glass window at the 1900 Exposition Universelle in Paris, The Four Seasons serves as a lasting example of Tiffany's favrile technique. Beginning with spring on the upper left (shown here) and ending with winter on the lower right, each pane represented a different season and together, they symbolized the process and structure of life and death. This subject matter places Tiffany firmly with the Art Nouveau canon and reflects a more general interest in nature within the movement.

In terms of style, the impact of Alphonse Mucha is clear in the work, particularly his four part series, The Seasons (1896-7). The rendering of the piece, however, is much more complex, creating an intricate composition using a non-print medium. The piece was lauded for its unique and masterful treatment of materials, winning a gold medal at the exposition. Most notable was that Tiffany did not use any paint to add embellishments, but rather used the mixture of colors and textures of favrile to create the subtle shifts of colors throughout the compositions. The work was disassembled into four separate pieces for installation at Tiffany's Laurelton Hall home when he returned from Paris.
Leaded glass - The Charles Hosmer Morse Museum of American Art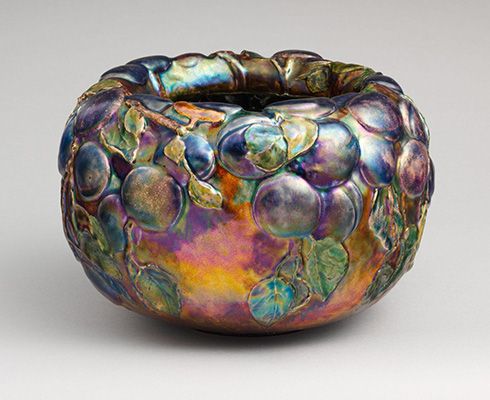 1898-1902
Bowl
Between 1898 and 1907, Tiffany designed a number of enamelware objects. Each work is completely unique due to the chemical reactions that occurred during the firing process, the copper base of the piece reacting unpredictably with the enamel covering to create a wide range of rich colors as well as a reflective surface. The enamel was composed of glass and glass silicates with the addition of metal oxides to provide color, linking the production of enamelware to Tiffany's interests in glassmaking.

Tiffany's enamel department operated for nine years, but only produced a limited number of pieces, predominantly small decorative items such as vases and bowls. In this design, the roundness of the body of the bowl mimics the shape of the many plums that cover its surface, making it both functional and unusual. The bowl not only demonstrates Tiffany's experimentation with enamelware techniques, but also his conviction that nature should inform the shape of an object.
Enamel on copper - The Metropolitan Museum of Art, New York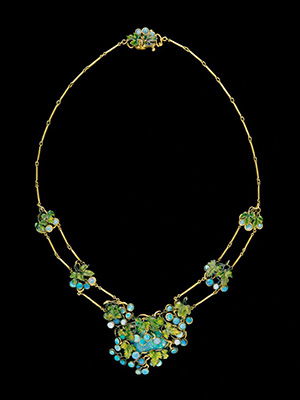 c. 1904
Necklace
This necklace is one of Tiffany's earliest known jewelry designs after taking over Tiffany and Co., his father's business in 1902. It was designed, along with 26 other pieces, most in the Arts and Crafts style, for the Louisiana Purchase Exposition. The central pendant is a large cluster of opals which represent grapes surrounded by leaves made of enamel and gold. It is flanked by three smaller groups of grapes on both sides, although these, along with the double chain were added later, probably under Tiffany's supervision. The subject matter is, however, slightly ambiguous and it has been compared to other natural forms including a jellyfish, showing Tiffany's simplification of shape and design.

Whilst other jewelry at the time valued symmetry and paler colors were fashionable, here, Tiffany utilizes bright stones and the central design is left intentionally asymmetrical, a nod to his preference for the natural. It is believed that he gifted this to his nurse, Sarah Hanley, in the 1910s. The work, therefore, stands not only as a fascinating example of Tiffany's jewelry design, but as archival evidence of the last major relationship of his life.
Opals, gold, enamel - The Metropolitan Museum of Art, New York
c. 1905
Pond Lily Library Lamp
The Pond Lily Lamp takes its name from the fact that the base is modelled in the shape of intertwined lily leaves and stems. There is a strong link between base and shade as the lily stems reach upwards to meet the downwards-facing flowers on the shade which stand out strongly against rich watery blues. It is thought that the artist took inspiration for the piece from the lily pond at his country house on Long Island, The Briars. The piece is often considered a progression from his Lily Lamp of 1902, which was successfully exhibited at the Turin Exposition of the same year. This version is, however, made with favrile glass as opposed to the blown glass of the previous incarnation.

As with most of Tiffany's lamp designs, this piece draws its inspiration from nature, a key feature of Art Nouveau and the influence of the movement can also be seen in the sinuous lines of the flowers and lily pads and the Oriental styling of the geometric stems on the shade. Tiffany was one of the first designers to see the potential of electric lighting and he utilized electricity in his lamp designs from 1898. This allowed him to dispense with the large fuel containers needed for more traditional lamps and instead to create narrow bases and lamp stems, as in this design. In combining new technology and decorative art, Tiffany was not only innovating but subscribing to another tenet of Art Nouveau which advocated for the incorporation of new materials and technologies into the decorative arts, a trend that, later, had a significant impact on Art Deco.

Tiffany Studios created hundreds of different lamp designs and a 1906 price list includes 200 electric lamps, 300 fuel lamps, and 200 designs of hanging lamp shade. This design was only produced between 1902 and 1906, making it one of the rarer styles in Tiffany's oeuvre. It is one of only five examples available in public collections, with nine others in private hands. Additionally, despite recent scholarship suggesting that Clara Driscoll had a hand in designing many of the lamps credited to Tiffany, the Pond Lily Lamp has withstood scrutiny and is still firmly credited to Tiffany himself. This, together with the rarity of this design, has made the Pond Lily lamp particularly desirable among collectors.
Leaded glass and bronze - Los Angeles County Museum of Art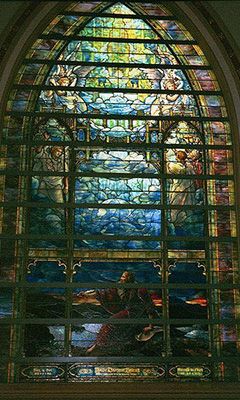 1905
The Holy City
The Holy City is one of a series of 11 stained-glass windows Tiffany designed for the Brown Memorial Presbyterian Church in 1905. It is thought to be the largest window he ever produced and is composed of 58 panels. Tiffany Studios were responsible for producing hundreds of stained-glass windows for churches, as well as some synagogues, throughout America, particularly after the creation of his ecclesiastical division in 1899. The windows they produced drew on a wide range of historical styles and biblical stories. This example depicts St. John in exile on the island of Patmos. The ground around him is dark, but the sun can just be seen rising over the water and hills behind him - a new dawn of hope. The glass gets progressively lighter towards the top of the window where a city is depicted in the clouds, a representation of John's vision of new Jerusalem and this is flanked by four angels, showing the divine nature of the prophecy.

In order to create the desired interplay between light and color to depict the narrative, Tiffany used various techniques to manipulate the glass. In the reds, oranges, and yellows, he etched the glass to give the impression of the scattering rays of the sunrise. Meanwhile, he used textured glass in the blues to depict moving water. The work not only exemplifies Tiffany's dramatic compositional skill, but also his astute ability to manipulate glass to further the narrative of a piece.
Leaded glass - Brown Memorial Presbyterian Church, Baltimore, Maryland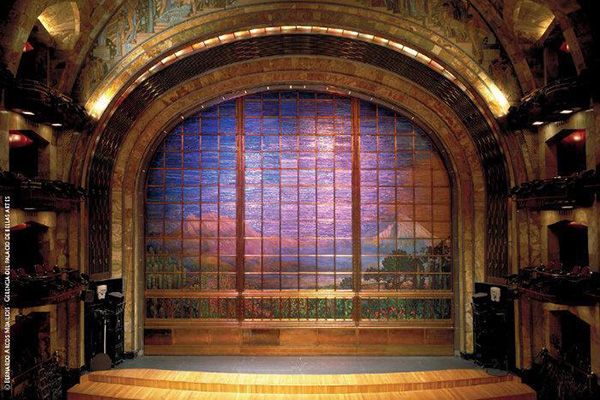 1911
Mosaic Curtain
The Palacio de Bellas Artes (Palace of Fine Arts) is a cultural space in Mexico City. It is built in a number of styles, predominantly Art Nouveau and Art Deco. The fittings and interiors of the building were designed by artists from all over the world, including Hungarian Géza Maróti and Catalan artist Agustí Querol Subirats. Tiffany was commissioned to produce this curtain due to his reputation as an outstanding glassmaker and it is the only glass theater curtain in the world. It depicts a landscape dominated by the snow-capped volcanoes Ixtaccihuatl and Popocatepetl, both visible from many parts of Mexico City. Rendered in an Art Nouveau style, the design of the curtain also reflects the movement's interest in nature, technology and the use of new materials. It is still used today and after third call, the theater lights dim and stage lights are used to create the illusion of the sun rising and setting through the translucent surface.

The scale and construction process of the work make it one of Tiffany's most impressive installations. Weighing 27 tons, the curtain is made out of 200 panels of glass (each around 3 square feet), and it incorporates almost one million separate pieces of favrile glass. These pieces have each been inlaid into a concrete structure that protects the work from heat and moisture. Despite its weight and the fragility of the glass, the curtain takes just seven seconds to raise, a feat accomplished by a hydraulic-powered system. From start to finish, the construction took 20 workers under direct supervision by Tiffany himself a year and a half to complete.

Although transported to Mexico from Tiffany's studio in 1911, the work's installation was stalled due to civil unrest in Mexico which left the Palacio in a half-constructed state. The building itself was only completed in 1934, when this work was finally placed in the theater. It remains a highlight of the many works in the Palacio, and is in the company of major murals by Diego Rivera, David Alfaro Siqueiros, and other Mexican artists.
Leaded glass, concrete - Palacio de Bellas Artes, Mexico City, Mexico
Biography of Louis Comfort Tiffany
Childhood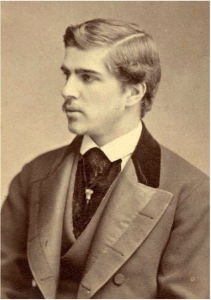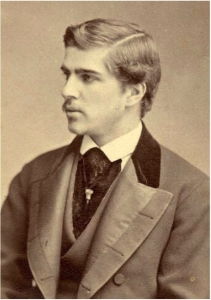 Louis Comfort Tiffany was the first son of Harriet Young and Charles Lewis Tiffany, founder of the jewelry company Tiffany & Co. Despite attending both the Pennsylvania and Eagleswood Military Academies as a child and adolescent, Tiffany was drawn to the arts, possibly because of his exposure to the fine and decorative arts through his father's company.
Tiffany's first artistic training occurred in Eagleswood, where he was taught painting by George Inness. He subsequently attended the National Academy of Design in New York from 1866-67, studying under American greats including Samuel Colman. Between 1868 and 1869, Tiffany worked at the studio of Leon-Adolphe-Auguste Belly. Through the financial freedom afforded by his family, Tiffany was able to travel extensively throughout North America, Europe, and North Africa as a young man. Together with his artistic training, these experiences had a considerable influence on his developing aesthetic.
Early Period
After traveling on and off for the majority of 1870 and 1871, the artist returned to New York more permanently in 1872, marrying his first wife, Mary Woodbridge Goddard the same year. Together, they had three children, born in the following 6 years.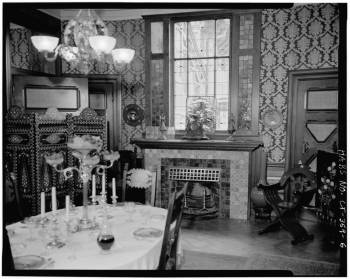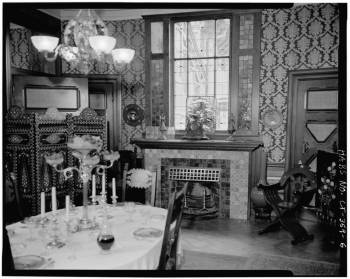 Concurrent with his busy home life, Tiffany began to explore the decorative arts in earnest during this time, taking a particular interest in glassmaking. In 1879 he formed the artist's group, "Louis Comfort Tiffany and Associated American Artists" in collaboration with Candace Wheeler, Samuel Coleman, and Lockwood de Forest, all artists associated with the American Aesthetic movement and noted for their interest in exotic designs and interiors. Together, they undertook joint projects including redesigning the interior of the Mark Twain House in Connecticut, and a commission to redecorate the White House for President Chester Alan Arthur in 1882 (the decorations and alterations were subsequently removed by President Roosevelt in 1902). Although they only worked together for four years, the group had a lasting impact on American designs in wallpaper, furniture, and textiles.
The group disbanded in 1885, in part because Tiffany wished to commit himself completely to glassmaking. By December of the same year, the Tiffany Glass Company (later renamed Tiffany Studios) was incorporated. Here, Tiffany began to experiment, developing a technique where he edged pieces of glass with copper foil, allowing him to create a level of detail previously unseen in glasswork. He also developed an opalescent glass, which had a colored, milky appearance. In 1889 he visited the Paris Exposition and was heavily influenced by the work of Émile Gallé and Alphonse Mucha. His new techniques, together with the influence of Art Nouveau styles established him as a leader in American decorative glassmaking.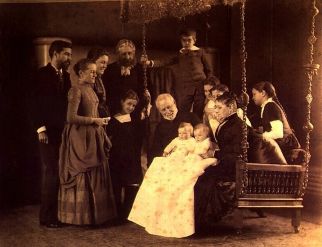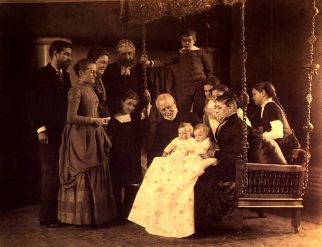 In 1884, Tiffany's wife, Mary Goddard passed away. He married Louise Wakeman Knox two years later and they went on to have four children within four years, with the oldest (twin girls) born in 1887 and the youngest in 1891. With the help of his wife, sisters, and parents, Tiffany was able to remain dedicated to his career, despite having seven children.
Mature and Later Period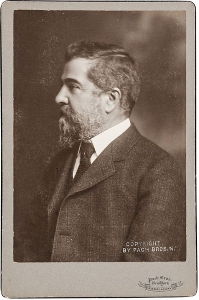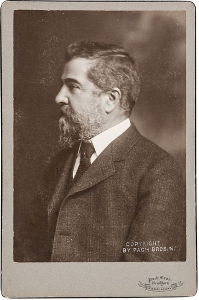 In 1893, with English glassmaker Arthur Nash, he built the Stourbridge Glass Company (later renamed the Tiffany Glass Furnaces), where he invented his trademark technique known as favrile. Named after an old English word for handmade (fabrile), favrile described the technique of mixing different colored glass together in a molten state to give graduations of color and texture. Tiffany further developed this process by adding metal oxides into the glass to create an iridescent sheen on the finished pieces. He applied these new techniques in the production of many items including blown glass objects and stained-glass windows. The term favrile was later expanded to encompass all of Tiffany's work. Tiffany began to produce prototype lamps the same year, exhibiting them at the 1893 World Fair in Chicago, but not releasing his first commercial lamp designs until 1898. In 1899, Tiffany expanded his company to include enamelwork and, in 1900, pottery.
At their most prolific, Tiffany's furnaces employed over 300 artisans. He was known as a perfectionist, walking down the assembly line and destroying any work that he deemed wasn't of high enough quality and he discontinued any designs that were not commercially successful in their first year. As his own company grew, Tiffany also became the first Art Director at Tiffany & Co. after his father died in 1902, broadening the company's offerings into the decorative arts. Shortly after, his second wife also died in 1904. Recognizing that he would need help as he got older, he hired Sarah Hanley as his nurse in 1910. She would be his closest companion for the last 20 years of his life.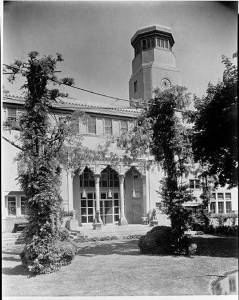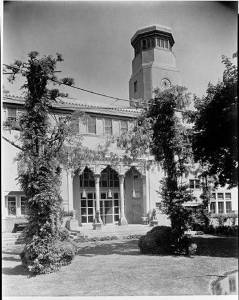 Despite his success, Tiffany continued to experiment, including making mosaics and enamelwares in the firm's unique style. He also decorated his own spaces, including completing his home, Laurelton Hall, in 1905. Located on 600 acres of land in Long Island, Laurelton Hall had 84 rooms that combined natural and Islamic forms in an Art Nouveau style. It was donated to his foundation after his death and turned into a school for artists. Although destroyed in a fire in 1957, Laurelton Hall was considered an exemplar of Tiffany's aesthetic. Fortunately, many of the windows survived the fire, and were salvaged by Hugh Jeannette McKean of the Charles Hosmer Morse Museum of American Art, which still has one of the largest holdings of Tiffany's work today.
Although Tiffany continued to be innovative in his later works, the 1930s saw a shift away from Art Nouveau styles towards a more minimal aesthetic exemplified by Art Deco and Bauhaus designs. This led to a significant decline in Tiffany's business, and by 1932, Tiffany Studios declared bankruptcy. The stress of this had a considerable impact on the artist, who died from pneumonia in 1933. Nevertheless, throughout his life Tiffany won over 50 awards for his work, and was one of the most important and influential designers of the period.
The Legacy of Louis Comfort Tiffany
Tiffany pushed the boundaries of glasswork, creating innovative new techniques which allowed him to achieve colors and a level of detail previously impossible in glass objects. In doing so, he reinvigorated the glassmaking industry, becoming a leader of the decorative arts and one of the first designers to combine practical functionality with fine art. His aesthetic was shaped by European Art Nouveau and he introduced the style to America and was the driving force behind its spread and popularization, influencing other artists such as John La Farge to work in the style. Tiffany's significant role within the glass arts remains felt in the continued imitations of his trademark favrile glass and other items, and the desirability of authentic works at auction.
Tiffany's legacy was not just confined to glass, his jewelry designs for Tiffany & Co. helped to consolidate the reputation of the company, modernizing their design output and bringing them into the 20th century. The company expanded under his control and continues to have a reputation for luxury and excellent craftsmanship today. Tiffany is also remembered through his foundation, which he established in 1918 to manage Laurelton Hall and other properties. Initially, the Louis Comfort Tiffany Foundation used Laurelton Hall as a summer retreat for artists, though after the complex was sold in 1946, the Foundation shifted its focus to awarding grants to artists. Recipients have included significant contemporary artists including Marilyn Minter, Juliana Huxtable, and Martine Syms, amongst others.
Influences and Connections
Influences on Artist

Influenced by Artist
Artists
Emile Galle

John La Farge
Friends & Personal Connections
Charles Lewis Tiffany

Siegfried Bing
Artists
John La Farge

Clara Driscoll

Rodman Gilder Miller
Friends & Personal Connections
H. O. Havemeyer

Jeanette and Hugh McKean
Useful Resources on Louis Comfort Tiffany
Books
The books and articles below constitute a bibliography of the sources used in the writing of this page. These also suggest some accessible resources for further research, especially ones that can be found and purchased via the internet.
biography
Similar Art