Artists
Louis Comfort Tiffany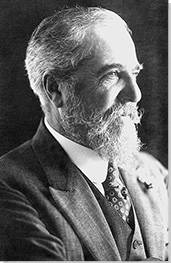 Born: February 18, 1848 - New York
Died: January 17, 1933 - New York

"Beauty is what nature has lavished upon us as a supreme gift."
Summary of Louis Comfort Tiffany
One of America's most celebrated artists, Louis Comfort Tiffany revolutionized the production of stained glass and incorporated it into innovative designs and unusual decorative items. This served to reinvigorate an industry that had barely changed since the Medieval Period. He combined exquisite craftsmanship with a love of color and he became known for his ability to 'paint' with glass. Although he is best known for his glasswork, he designed across a range of mediums from jewelry to pottery and was particularly associated with the Art Nouveau movement, featuring as one of its most imaginative and prolific creators. Tiffany was also one of the first American designers to gain acclaim abroad and his work was distributed across Europe by Siegfried Bing, founder of the famous and influential L'Art Nouveau gallery.
Key Ideas
Tiffany believed that nature should be the main source of design inspiration and the vast majority of his pieces feature images of landscapes, plants, or animals. Tiffany's love of nature and his drive to incorporate new technologies into his work closely aligned him with Art Nouveau and he was very significant in introducing the movement to America, helping to popularize it through his designs and encouraging others to work in a similar style.
Instead of painting onto the glass to achieve detail in the traditional manner of stained-glass production, Tiffany dispensed with the paint and used glass alone to create his objects, allowing the pieces of glass to dictate the form of the finished product. He also worked to develop new processes and techniques including "favrile" and the formation of opalescent glass which produced richer colors and more interesting effects, giving him a greater choice of raw materials. These innovations allowed him to create incredibly intricate pieces that were entirely novel within the field of glass making.
Tiffany's work drew on a very diverse range of influences - from the
Arts and Crafts movement
in England, which informed his craftsmanship, to historical and classical sources. He was particularly interested in works from China, Japan, India, and the Islamic World and his
Orientalist
perspective can be seen in his early paintings as well as in motifs and decorative elements in his later designs.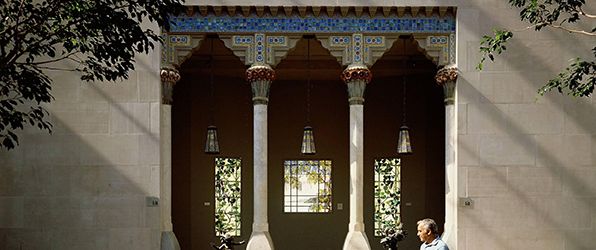 Architectural Elements from Laurelton Hall, which are now displayed in the Metropolitan Museum in New York City
Despite his privileged background, Louis Comfort Tiffany understood how hard it could be to make a living in art. So, he turned his private home Laurelton Hall into a retreat where struggling artists were offered no instruction or critique, were called "fellows", rather than students, and were invited to take advantage of a slower pace of life to develop their craft.
| | | |
| --- | --- | --- |
| Louis Comfort Tiffany's childhood, life, career, and various anecdotes | | Read Louis Comfort Tiffany's Biography |
Important Art by Louis Comfort Tiffany

The below artworks are the most important by Louis Comfort Tiffany - that both overview the major creative periods, and highlight the greatest achievements by the artist.

Snake Charmer at Tangier, Africa (1872)

Artwork description & Analysis: Inspired by his travels in North Africa with fellow artist R. Swain Gifford, Snake Charmer at Tangier, Africa exemplifies Tiffany's style and the influences that shaped him as a painter, an artistic practice he would engage with privately for the rest of his life. Set in Morocco, the scene takes place in an open plaza in the late afternoon. The time of day is conveyed by the golds and reds of the composition and the long shadows which fill the bottom half of the canvas, casting the faces of many of the figures into semi-darkness. Onlookers gather around and watch as a snake charmer performs, displaying a snake at eye level.

The dark, rich colors that dominate the canvas can be seen as a reflection of the works of George Inness, who used similar colors in his landscapes and the subject-matter was probably influenced by Léon-Auguste-Adolphe Belly, who was a well-established Orientalist painter by this point. In fact, the painting displays many of the tropes of Orientalism from the portrayal of an 'exotic' subject to the palette used and the incorporation of extensive decorative elements. This latter detail, particularly the depiction of the columns and roofline, also demonstrates Tiffany's burgeoning interest in the decorative arts. As noted by Monica Obniski, curator of American art at the Metropolitan Museum of Art, architectural details of the style shown in the work reappeared throughout Tiffany's career in the buildings he helped to design, including in his own home, Laurelton Hall. The painting was exhibited at the 1876 Centennial Exposition in Philadelphia.

Oil on canvas - Metropolitan Museum of Art

The Four Seasons (1900)

Artwork description & Analysis: Exhibited as a single stained-glass window at the 1900 Exposition Universelle in Paris, The Four Seasons serves as a lasting example of Tiffany's favrile technique. Beginning with spring on the upper left (shown here) and ending with winter on the lower right, each pane represented a different season and together, they symbolized the process and structure of life and death. This subject matter places Tiffany firmly with the Art Nouveau canon and reflects a more general interest in nature within the movement.

In terms of style, the impact of Alphonse Mucha is clear in the work, particularly his four part series, The Seasons (1896-7). The rendering of the piece, however, is much more complex, creating an intricate composition using a non-print medium. The piece was lauded for its unique and masterful treatment of materials, winning a gold medal at the exposition. Most notable was that Tiffany did not use any paint to add embellishments, but rather used the mixture of colors and textures of favrile to create the subtle shifts of colors throughout the compositions. The work was disassembled into four separate pieces for installation at Tiffany's Laurelton Hall home when he returned from Paris.

Leaded glass - The Charles Hosmer Morse Museum of American Art

Bowl (1898-1902)

Artwork description & Analysis: Between 1898 and 1907, Tiffany designed a number of enamelware objects. Each work is completely unique due to the chemical reactions that occurred during the firing process, the copper base of the piece reacting unpredictably with the enamel covering to create a wide range of rich colors as well as a reflective surface. The enamel was composed of glass and glass silicates with the addition of metal oxides to provide color, linking the production of enamelware to Tiffany's interests in glassmaking.

Tiffany's enamel department operated for nine years, but only produced a limited number of pieces, predominantly small decorative items such as vases and bowls. In this design, the roundness of the body of the bowl mimics the shape of the many plums that cover its surface, making it both functional and unusual. The bowl not only demonstrates Tiffany's experimentation with enamelware techniques, but also his conviction that nature should inform the shape of an object.

Enamel on copper - Metropolitan Museum of Art
More Louis Comfort Tiffany Artwork and Analysis:
Influences and Connections
Influences on Artist
Artists, Friends, Movements
Influenced by Artist
Artists, Friends, Movements

Interactive chart with Louis Comfort Tiffany's main influences, and the people and ideas that the artist influenced in turn.
View Influences Chart

| | | | | |
| --- | --- | --- | --- | --- |
| Artists | | Personal Contacts | | Movements |

Influences on Artist

Louis Comfort Tiffany
Years Worked: 1870 - ~1925
Influenced by Artist

Artists

| | |
| --- | --- |
| | John La Farge |
| | Clara Driscoll |
| | Rodman Gilder Miller |

Personal Contacts

| | |
| --- | --- |
| | H. O. Havemeyer |
| | Jeanette and Hugh McKean |

Movements
If you see an error or typo, please:
tell us
Cite this page

Content compiled and written by Ximena Kilroe
Edited and revised, with Synopsis and Key Ideas added by Kate Stephenson
" Artist Overview and Analysis". [Internet]. . TheArtStory.org
Content compiled and written by Ximena Kilroe
Edited and revised, with Synopsis and Key Ideas added by Kate Stephenson
Available from:
First published on 21 May 2019. Updated and modified regularly.


[Accessed ]