Movements, Styles, and Tendencies
The Aesthetic Movement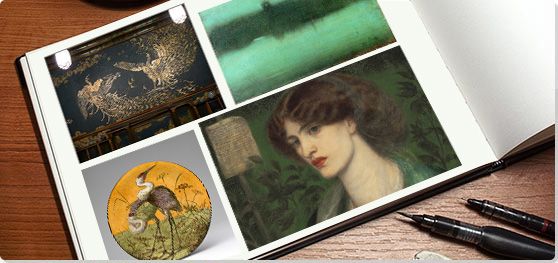 The Aesthetic Movement
Started: 1860
Ended: 1900

"My picture of 'Harmony in Grey and Gold' is an illustration of my meaning - as snow scene with a single black figure and lighted tavern. I care nothing for the past, present, or future of the black figure, placed there because the black was wanted at that spot. All that I know is that my combination of grey and gold is the basis of the picture. Now this is precisely what my friends cannot grasp."

Summary of The Aesthetic Movement
During the mid-19th century, the provocative and sensuous Aesthetic movement threatened to dismantle Britain's fussy, overbearing, and conservative Victorian traditions. More than a fine art movement, Aestheticism penetrated all areas of life - from music and literature to interior design and fashion. At its heart was the desire to create "art for art's sake" and to exalt taste, the pursuit of beauty, and self-expression over moral expectations and restrictive conformity. The freedom of creative expression and sensuality that Aestheticism promoted exhilarated its adherents, but it also made them the object of ridicule among conservative Victorians. Nonetheless, by rejecting art's traditionally didactic obligations and focusing on self-expression, the Aesthetic movement helped set the stage for global, 20th-century modern art.
Key Ideas
Rebelling against Victorian materiality and modern industrialism (particularly what they criticized as the impoverished and repetitive designs of consumer products created cheaply by "soulless" machines), Aesthetic artists placed a premium on quality craftsmanship in the creation of all art. Some even revived pre-industrial techniques in the process.
Aesthetic artists touted the adage "art for art's sake," divorcing art from its traditional obligation to convey a moral or socio-political message. Instead, they focused on exploring color, form, and composition in the pursuit of beauty.
Distinct from the Victorian preference for fussy decor, curvaceous forms, and abundant detail, Aesthetic art is characterized by subdued colors, geometric designs, and simplified linear forms. The movement took as its primary sources of inspiration Pre-Raphaelite painting's of flaming red haired beauties, medieval geometric designs, and Japanese motifs and aesthetics.
The Aesthetic Movement maintained that art should not be confined to painting, sculpture, and architecture, but should be a part of everyday life. To this end, Aestheticism embraced not only the "high" arts, but also ceramics, metalwork, fashion, furniture-making, and interior design. Many Aesthetes, most notably Oscar Wilde, even adopted public personas through which they lived according to Aesthetic principles.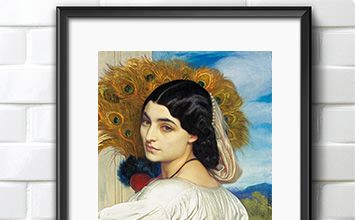 "Art should be independent of all claptrap – should stand alone," Whistler famously said, as he wished his paintings to appeal only "to the artistic sense of eye or ear," and thereby spearheading the Aesthetic Movement.
Important Art and Artists of The Aesthetic Movement

The below artworks are the most important in The Aesthetic Movement - that both overview the major ideas of the movement, and highlight the greatest achievements by each artist in The Aesthetic Movement. Don't forget to visit the artist overview pages of the artists that interest you.

Nocturne: Blue and Gold - Old Battersea Bridge (1872-75)

Artist: James Whistler

Artwork description & Analysis: This work depicts a night view of Battersea Bridge on the Thames River in London. The bridge was made of wood, and has since been replaced with a modern one. The view is painted at twilight, with mist on the river, vague lights of buildings in the distance and fireworks in the sky beyond. The effect is serene and romantic, concealing the river's pollution and the noisy reality of urban life. Unconcerned with creating a true-to-life depiction, Whistler focused instead on provoking an emotive response in the viewer through a soothing color palette, soft brushwork, and harmony of forms.

A longtime admirer of Ukiyo-e painter Katsushika Hokusai, Whistler composed the bridge in a manner that shared compositional similarities with Hokusai's Under the Mannen Bridge at Fukagawa (c. 1830-34). It was through images such as this that Whistler introduced characteristics of the Japanese aesthetic, including silhouetted forms, breathy brushwork, and flattened compositions, to British adherents to the Aesthetic movement.

The title "nocturne" refers to a musical composition inspired by the night. Whistler conceived of a deep connection between painting in the Aesthetic style and music, titling his paintings after musical forms in order to highlight their "tonal" similarities (comparing musical notes to paint colors) and to place the emphasis on their visual nature rather than on their narrative content. Indeed, Whistler produced this painting during his libel suit against Ruskin and asked the jury to consider his work not as a traditional painting, but rather as an artistic arrangement. He argued that "Art should be independent of all claptrap - should stand alone and appeal to the artistic sense of eye or ear without confounding this with emotions entirely foreign to it ..." Whistler's argument for sensorial similarities between painting and music proved to be particularly influential to German Expressionist painter Wassily Kandinsky, who expanded on Whistler's ideas by creating images as abstract as music itself, drawing upon a correlation between colors and musical notes.

Oil on canvas - Tate Britain, London

La Ghirlandata (1873)

Artist: Dante Gabriel Rossetti

Artwork description & Analysis: La Ghirlandata (meaning "the garlanded lady") is generally understood to be the "embodiment of love and beauty." Different from Rossetti's earlier Pre-Raphaelite paintings, this image features a softening of line indicative of what has been described as the artist's sensual phase, a style that has more in common with painters of the Aesthetic movement. The painting displays a balanced and nearly symmetrical composition. At centre, a woman delicately strums a harp, her figure obscured beneath flowing drapery and layers of floral vegetation. The woman's delicate features are echoed in the faces of two angelic faces overhead. The color palette is vibrant and harmonious, with the green of her dress melding into the foliage, so that the complementary warm flesh tones and flaming locks of hair pop.

The model for the central figure is Alexa Wilding, whom Rossetti painted multiple times. Wilding was one of three models (the others being Jane Morris and Lizzie Siddal) who inspired the artist's vision for of new standard of beauty. Wilding's large, well-defined eyes and lips, and lush red hair point to an inherent sensuality in the work. Her appearance marks a distinct contrast to the petite facial features traditionally considered to be a marker of beauty by the Victorians. Rossetti also exalted his model's luxurious auburn hair, a trait associated with sexual licentiousness in Victorian England, as beautiful and alluring. Rossetti's red-haired beauties became an important motif of Aestheticism, with variations appearing in Aesthetic paintings as well as in the streets of London, as dying one's hair with henna became increasingly fashionable.

Oil on canvas - Guildhall Art Gallery, London

Harmony in Blue and Gold: The Peacock Room (1876-77)

Artist: James Whistler

Artwork description & Analysis: Shipping magnate Frederick Leyland invited interior architect Thomas Jekyll to design a dining room for his London home that would both compliment a painting in situ by Whistler entitled The Princess from the Land of Porcelain (1863-65) and display the patron's collection of blue and white porcelain. Unable to finish the commission due to illness, Jekyll was soon replaced with Whistler, who was asked to put finishing touches on the room. Whistler, however, interpreted this as carte blanche and completely redesigned the space as he saw fit. He covered the walls with turquoise blue and golden murals, painted the ceiling gold, and adorned it with a design of blue peacock feathers (a typical Aesthetic motif). Whistler later explained, "I just painted on. I went on - without design or sketch - it grew as I painted. And toward the end I reached [...] a point of perfection." Whistler's finished room, as he described it, embodied "harmony in blue and gold."

Leyland, however, was not impressed when he discovered the liberty Whistler had taken. The two argued extensively over the artist's compensation. Infuriated, Whistler apparently returned to the room and painted a mural of two male peacocks fighting - an allusion to the artist's and patron's falling out. Whistler dubbed the panel "Art and Money; or, the Story of the Room."

The Peacock Room is recognized as the most important example of Aestheticism applied to interior design in order to create an inspirational environment. Such Aesthetic rooms elevated interior design to the realm of fine art. Its simplified, silhouetted forms, rich glazes, and reference to distinctly Japanese motifs, such as the peacock and bamboo, also make it an important example of the Anglo-Japanese style.

Oil paint and gold leaf on canvas, leather and wood - Freer Gallery, Washington DC
More The Aesthetic Movement Artwork and Analysis:
If you see an error or typo, please:
tell us
Cite this page

Content compiled and written by Anna Souter
Edited and revised, with Synopsis and Key Ideas added by Sandy McCain
" Overview and Analysis". [Internet]. . TheArtStory.org
Content compiled and written by Anna Souter
Edited and revised, with Synopsis and Key Ideas added by Sandy McCain
Available from:
First published on 22 Nov 2016. Updated and modified regularly.


[Accessed ]