Artists
Dante Gabriel Rossetti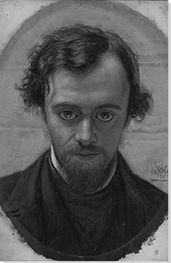 Born: 12 May 1828 - London, England
Died: 9 April 1882 - Kent, England

"Beauty without the beloved is like a sword through the heart"
Summary of Dante Gabriel Rossetti
Recognized by history as an inspired but provocative nonconformist, Dante Gabriel Rossetti made his name initially as a founding member of the Pre-Raphaelite Brotherhood. The Brotherhood challenged the "decadent" indulgences of the day by looking for inspiration and religious guidance in medieval art. Rather than produce dramatic historical narratives (as was the fashion of the day), The Brotherhood adhered to an inflexible set of puritanical and aesthetic standards of which Rossetti soon tired. He continued to paint his mythical parables with the same luminosity and attention to the finest picture detail, but Rossetti, who harboured longings to be recognised also the poet, became all-consumed with the idea of female beauty. His licentious lifestyle, though condemned by many of his colleagues, breathed erotic life, and it must be said, genuine personality, into his art. But with time, his destructive lifestyle led to his mental decline, but as often happens with after some time, this merely enhanced his legend as a prodigious maverick of the Victorian age.
Key Ideas
As a leading light in the Pre-Raphaelite Brotherhood movement, Rossetti looked back to a period before the
High Renaissance
. He took inspiration in the purity and symbolism of medieval and religious fables found in 15th-century Florentine and Sienese painting
Rossetti is recognized predominantly as a portraitist. His preference was for religious subject-matter but as he matured as an artist his work proved most divisive because of his habit of using family members and lovers to represent holy icons.
Rossetti was a founding member of the furnishing and decoration business, Morris, Marshall, Faulkner & Co. The company, established in 1861, was admired for their complex and vivacious designs. Though he soon lost interest in decorative arts, and though his relationship with
William Morris
suffered as a result, Rossetti's designs stand as a tangible link between the Pre-Raphaelites Brotherhood and Morris's
Arts and Crafts movement
.
In his later life, Rossetti had wanted to abandon art and pursue his life-long ambition of becoming a poet in the mould of his idols Dante (his namesake), Byron and Keats. However, his published collection was considered by critics to be too verbose and this setback was thought to have contributed to a slowing in his artistic output, and was cited indeed, as a catalyst for his drug addiction and mental deterioration.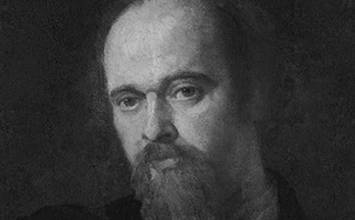 Gabriel Charles Dante Rossetti was born in May 1828 to Italian emigres living in London. The boy's father, Gabriel Pasquale Giuseppe Rossetti, was a scholar - he was Professor of Italian at Kings College from 1831 - and poet who had been exiled from Italy for his support for revolutionary nationalism. His English-Italian mother, Frances Mary Poldari, was the daughter of an exiled noble Italian scholar who, in addition to her maternal duties, enjoyed a career as a private teacher. The rich literary and cultural background of the couple saw that their passion for learning was passed down to all four their children: Gabriel, Christina, William and Maria. The children were practicing Anglicans but carried with them something of their father's Catholic worldview.
Important Art by Dante Gabriel Rossetti

The below artworks are the most important by Dante Gabriel Rossetti - that both overview the major creative periods, and highlight the greatest achievements by the artist.

The Girlhood of Mary Virgin (1849)

Artwork description & Analysis: The Girlhood of Mary Virgin was arguably Rossetti's first mature painting. Completed the year after he had cofounded the Pre-Raphaelite Brotherhood (in 1848) Rossetti intended to show the painting that spring at the Free Exhibition at the Hyde Park Corner Gallery. The canvas shows the young Virgin Mary seated at a table with her mother, Anne, as the two embroider a lily. In the background, Mary's Father, Joachim, reaches to prune a vine in a luscious green garden which has been visited by a haloed dove. At the women's feet are a crossed palm branch and thorn. On the left hand side of the picture frame is a child angel who waters a vase with the prop of the lily. The flower rests on a stack of educational books labelled: Charity, Faithfulness, Hope, Prudence, Temperance, and Fortitude.

The childhood of the Virgin Mary was a common subject from medieval religious painting. However, Rossetti chose not to depict a straightforward bible scene but preferring to steep his narrative with luminous colors and symbolic meanings. The dove represents the Holy Spirit, the Vine leaves Christ himself, the Palm and Thorn, Palm Sunday and the Crucifixion, and the Lily represents Mary's purity. The significance of the young Mary embroidering a lily from nature has been commented upon, as it references the Pre-Raphaelites own reverence for the natural world. It also lays a significance on embroidery, and the decorative arts in general, not being a lesser craft (or a mere guild) but rather an important, and even semi-spiritual or meditative, practice.

Another un-orthodox factor of the painting was the way Rossetti used family members as models for the religious figures. The Virgin Mary was based on his sister, Christina, Saint Anne on his mother Frances, and Joachim was modelled on an old family servant known as "old Williams." To use such commonplace models as one's own family and especially servants for holy figures was atypical and daring, and only a few years later fellow Pre-Raphaelite John Everett Millais came under harsh criticism for using friends and family and a real carpenter as models for his 1850 work Christ in the house of his parents. Furthermore, The Girlhood of Mary Virgin was the first painting to be inscribed with the initials PRB, on its frame. In fact, Rossetti paid unusual attention to the frame of the painting, showing an early interest in decorating and artistically influencing every aspect of a finished piece. For him, this also involved embelishing the painting with poetry, and he wrote two sonnets to be read alongside the painting; one inscribed on the frame, another in the exhibition catalogue. His goal was to create a double work of art that blurred literary and visual categories.

Oil on Canvas - Tate Britain, London

Ecce Ancilla Domini (1850)

Artwork description & Analysis: The year after his "reimagining" of the childhood of the Virgin Mary, Rossetti chose to continue his vein of religious scenes by painting the Annunciation; the moment where the Angel Gabriel appeared to the Virgin bringing news of her divine pregnancy. The Latin title quotes the Gospel of St Luke, translated as "Behold the handmaiden of the Lord." Rossetti creates a symbolic consistency by continuing the depiction of the Virgin Mary alongside lilies which were often used as a symbol of purity in Italian Renaissance and Medieval art. Here, indeed, Gabriel presents Mary with the lily as a symbol of her eternal virginity and purity. Both Mary and Gabriel are swathed in virginal white robes with golden haloes, and backed with the rich royal, heavenly blue typically associated with Mary. A rich red panel stands in her bedroom, also with a decorative lily motif.

When the painting was exhibited at the National Institution in 1850, it came in for harsh criticism for Rossetti's brazen re-imagining of the Annunciation. Mary, rather than kneeling for prayer, is depicted in her crumpled bed, in a long, creased white nightgown that was typical of a newly-wedded bride. For his part, Gabriel is shown without wings, and swathed in a loose white gown exposing his bare thigh and hip. Both figures seem ethereal, yet also real flesh and blood (again modelled on Rossetti's own family). A critic from the Athenaeum was caught off-guard by Rossetti's disregard for traditional Annunciation scenes, calling it "a work evidently thrust by the artist into the eye of the spectator more with the presumption of a teacher than in the modesty of a hopeful and true aspiration after excellence." Rossetti never exhibited the painting in public again, and in the 1850s he distinctly turned away from elaborate biblical scenes and towards female portraiture.

Oil on canvas - Tate Britain, London

Bocca Baciata (1859)

Artwork description & Analysis: By the time he completed Bocca Baciata (in 1859), Rossetti had been in a nine year relationship with Elizabeth Siddal. In that time he produced dozens of adoring sketches of his future wife (they were married in 1860). However, the model for this, the first of his painted female portraits, was not Elizabeth, but his mistress, Fanny Cornforth. Whereas he sketched Elizabeth as a beautiful, ethereal being, Rossetti painted Fanny as his ideal of sensual desire and allure.

Rossetti based his painting of Fanny on a sonnet, Decameron, by the fourteenth century Italian writer Giovanni Boccaccio. On the reverse of the canvas Rossetti had inscribed a line from said sonnet, "Bocca baciate non perda ventura, anzi rinnova come fa la luna," which translates as "The mouth that has been kissed loses not its freshness; still it renews itself even as does the moon." Contained by the tight framing, against a flat decorative background, and seen only from face and shoulders up, Fanny has been effectively removed from her environment. Her pink, slightly parted lips are the central point of the frame, and her loose red hair (historically, a sign of loose morality) flows in long ribbons around her shoulders while her unbuttoned blouse reveals bare flesh. And once again calling on religious symbolism (the fable of The Garden of Eden), Rossetti places an apple on the table in front of Fanny thus confirming Fanny's allure and her powers of temptation.

Unsurprisingly perhaps, the painting received a mixed reception, not least from Rossetti's pious Brotherhood colleague Holman Hunt, who described the painting as "gross sensuality of a revolting kind." However, other critics and friends of Rossetti were enthralled by the painting. The poet Algernon Swinburne said that the picture was "more stunning than can be decently expressed" while artist Arthur Hughes commented that it was "such a superb thing, so awfully lovely" that he wouldn't be surprised if the paintings owner (George Price Boyce) tried to "kiss the dear thing's lips away."

Oil on panel - Museum of Fine Arts, Boston
More Dante Gabriel Rossetti Artwork and Analysis:
Influences and Connections
Influences on Artist
Artists, Friends, Movements
Influenced by Artist
Artists, Friends, Movements

Interactive chart with Dante Gabriel Rossetti's main influences, and the people and ideas that the artist influenced in turn.
View Influences Chart

| | | | | |
| --- | --- | --- | --- | --- |
| Artists | | Personal Contacts | | Movements |

Influences on Artist

Dante Gabriel Rossetti
Years Worked: 1847 - 1882
Influenced by Artist

| | | | | |
| --- | --- | --- | --- | --- |
| Artists | | Personal Contacts | | Movements |
If you see an error or typo, please:
tell us
Cite this page

Content compiled and written by The Art Story Contributors
Edited and published by The Art Story Contributors
" Artist Overview and Analysis". [Internet]. . TheArtStory.org
Content compiled and written by The Art Story Contributors
Edited and published by The Art Story Contributors
Available from:
First published on 05 Feb 2019. Updated and modified regularly.


[Accessed ]