Movements, Styles, and Tendencies
Art Deco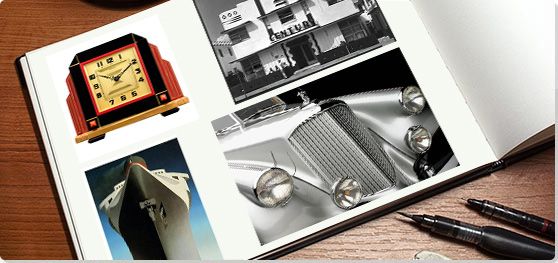 Art Deco
Started: 1900
Ended: 1945

Summary of Art Deco
The Art Deco style manifested across the spectrum of the visual arts: from architecture, painting, and sculpture to the graphic and decorative arts. While Art Deco practitioners were often paying homage to modernist influences such as Cubism, De Stijl, and Futurism, the references were indirect; it was as though they were taking the end results of a few decades of distilling compositions to the most basic forms and inventing a new style that could be visually pleasing but not intellectually threatening.

The Art Deco style originated in Paris, but has influenced architecture and culture as a whole. Art Deco works are symmetrical, geometric, streamlined, often simple, and pleasing to the eye. This style is in contrast to avant-garde art of the period, which challenged everyday viewers to find meaning and beauty in what were often unapologetically anti-traditional images and forms.
Key Ideas
Art Deco, similar to
Art Nouveau
, is a modern art style that attempts to infuse functional objects with artistic touches. This movement is different from the fine arts (painting and sculpture) where the art object has no practical purpose or use beyond providing interesting viewing.
With the advent of large-scale manufacturing, artists and designers wished to enhance the appearance of mass-produced functional objects - everything from clocks and ashtrays to cars and buildings. Art Deco's pursuit of beauty in all aspects of life was directly reflective of the relative newness and mass usage of machine-age technology rather than traditional crafting methods to produce many objects. The
Bauhaus
school was also interested in industrial production, but in a sense The Bauhaus is the polar opposite as it refrained from artistic embellishments - preferring clean and simple geometric forms.
The Art Deco ethos diverged from the Art Nouveau and Arts and Crafts styles, which emphasized the uniqueness and originality of handmade objects and featured stylized, organic forms. That crafted quality was emblematic of a kind of elitism in opposition to Art Deco's more egalitarian aim: to make aesthetically appealing, machine-made objects that were available to everyone.
Streamline Moderne, the American version of the Art Deco style was a stripped-down and sleek version of the more elaborate and often bespoke European Art Deco style. In many ways, the American style grew and evolved to have a much bigger following and use in the U.S. than in Europe.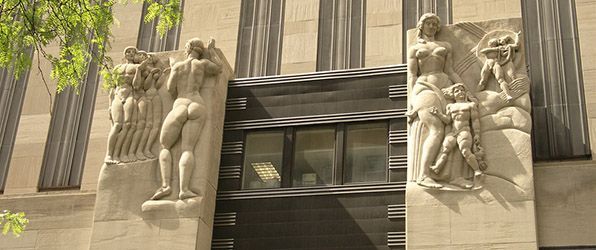 Relief above 30 Rockefeller Plaza in New York City (entrance to the NBC Studios and The Rainbow Room)
"To return decorative art…to the important place it occupied in the past," Francis Jourdain said, defined the intent of Art Deco. In every design richly employed decorative elements conveyed luxurious modernity.
Important Art and Artists of Art Deco

The below artworks are the most important in Art Deco - that both overview the major ideas of the movement, and highlight the greatest achievements by each artist in Art Deco. Don't forget to visit the artist overview pages of the artists that interest you.

Victoire (1928)

Artist: René Lalique

Artwork description & Analysis: Lalique's sculpture nearly shouts "Art Deco," so exemplary is it of the style that had by 1930, become the American aesthetic par excellence. Spanning many media and even functions, the style was stamped on everything from luxury ocean liners and racing cars, to toasters and toilets. This piece stands on its own as a sculpture but it doubles as the added, elegant touch to the automobile for which it was designed to grace the hood. With Victoire, the craft of glassblowing produces both a fine art sculptural object and a functional although inarguably luxurious product. Lalique was a French designer known for his glass art, perfume bottles, vases, jewelry, chandeliers, and clocks which he produced first in the Art Nouveau and then in the Art Deco style. The use of glass, a fragile and brittle material, increases the object's status as a rare and decadent purchase.

Victoire represents a female figure, who seems to be facing into the wind, her face eagerly jutting forward, hair trailing behind her like a single, sharply ordered wing. Although only her head is visible, one can imagine her body arching into the force of the wind (maybe even like the pose of the ancient Greek sculpture of Winged Victory in the Louvre Museum, a work that likely influenced Lalique in many ways). Lalique's sculpture and car hood ornament embodies the sensation of speed. In fact, the Art Deco style was, among other things, a celebration of the machine age, which found expression in the sleek new machines for transport, such as trains, cars, motorcycles, and ships. Proponents of the movement paid homage to the social and physical liberation that technological innovations brought in the 1920s.

Glass hood decoration for an automobile - Glass hood mascot, Victoria and Albert Museum, London

État Cabinet (1922)

Artist: Emile-Jacques Ruhlmann

Artwork description & Analysis: Émile-Jacques Ruhlmann was born in Paris to a family that owned a decorating business, so it seemed only natural that his creativity would find expression in the luxurious home wares for which he became renowned. From furniture and light fixtures to a variety of other decorative elements such as wallpaper, Ruhlmann produced one-of-a-kind, elegant home furnishings using rare, exotic woods with ivory embellishments from Africa and the Far East, thereby incorporating the era's preoccupation with the art of previously considered "primitive" countries. Bridging the divide between the uniqueness of Art Nouveau pieces and the Art Deco impulse to incorporate unusual materials, his pieces demonstrates a blending of Art Deco and the more lavish and ornamental Art Nouveau style that preceded it.

This cabinet, which diverges from Art Nouveau in its symmetry and limited palette resulting from the use of the wood contrasting with the ivory, still features a somewhat elaborate floral design that borrows from Art Nouveau. It is less a departure from the older style than an updating and simplification of it.

Macassar ebony, amaranth, ivory, oak, lumber-core plywood, poplar, chestnut, mahogany, silvered brass - Metropolitan Museum of Art


Artwork Images

Pivolo Aperitif Aux Vins De France (1924)

Artist: A.M. Cassandre

Artwork description & Analysis: A.M. Cassandre, one of the most influential poster artists and graphic designers in the Art Deco style, created this poster for the French liqueur Pivolo Aperitif in 1924. It won an award at the Exposition Internationale des Arts Decoratifs et Industriels Modernes in Paris that same year, which was an exhibition that was widely regarded as having launched the Art Deco style on an international scale.

Cassandre is best known for his distinctive, sleek and minimal advertising posters promoting furniture, travel, and alcohol. He is also considered to be one of the pioneers of modern graphic design, including innovations in the design of new, distinctly Art Deco typefaces, some of which were inspired by notable artists such as Pablo Picasso and Max Ernst.

In this poster, a stylized, monochrome bird is perched behind a small glass of honey-colored liqueur. Though representational, both images are simplified in a manner similar to Cubist deconstruction and reconstruction: objects are broken down into basic, overlapping geometric shapes. The artist relies on a limited palette of black, gray, and a narrow range of cool colors contrasted with warm ones - the royal blue of the text juxtaposed with the inviting amber hue of the aperitif - to create a harmonious coexistence between elements in this piece.

Cassandre's minimalist typography plays an integral part in the image. Basic geometric forms are combined to create the letters. Those making up the words "Pivolo" at the top of the page look as though they could have been machine-produced and assembled, themselves resembling the simple, functional machines cropping up everywhere in the era of Art Deco. The advertising or functional aspect of this piece fuses seamlessly with the aesthetic side: even the individual characters of the text become artful components of the overall work.
More Art Deco Artwork and Analysis:
If you see an error or typo, please:
tell us
Cite this page

Content compiled and written by Jen Glennon
Edited and published by The Art Story Contributors
" Movement Overview and Analysis". [Internet]. . TheArtStory.org
Content compiled and written by Jen Glennon
Edited and published by The Art Story Contributors
Available from:
First published on 03 Nov 2016. Updated and modified regularly.


[Accessed ]