Artists
Tamara de Lempicka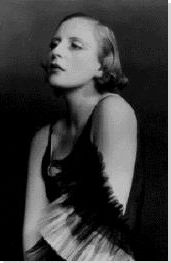 Born: May 16, 1898 - Warsaw, Poland (then Russia)
Died: March 18, 1980 - Cuernavaca, Mexico

"My goal was never to copy, but to create a new style, bright, luminous colors and to scent out elegance in my models."

Summary of Tamara de Lempicka
Tamara de Lempicka was the lone traditional easel painter in the entirety of the Art Deco style. Her sources of inspiration ranged dramatically: she adored Italian Renaissance painting; she was characterized by critics as a sort of modern-day Ingres, although the comparisons were more often not intended to flatter; she absorbed the avant garde art of the era - particularly post-cubist abstraction but of a "softened" style. Perhaps most influential was Lempicka's desire to capitalize on her social connections to create a niche for her portraiture, which most often featured well-to-do, cosmopolitan types. The Art Deco style, lavish in a less visually complex way than its predecessor, Art Nouveau, was probably the ideal vehicle for her trendy style. Most notably, despite its decorative quality, her work provided her with an outlet for unconventional self-expression: truly a product of her era, the libertine golden age between the two world wars, Lempicka, a bisexual, made bold, liberated female sexuality the linchpin of her art.
Key Ideas
Trained by two successful avant garde artists at the height of post-Cubist experimentation, Lempicka's work is nevertheless most often categorized as Art Deco. While her style incorporates the geometric, faceted forms of
Cubism
, her emphasis on soft modeling achieved a more sensuous effect. The bodies of her sitters are slightly distorted so that they appear as elegant
objets d'art
as much as human figures. She incorporated the rich, limited palette of Art Deco - particularly, graphic design - to create polished portraits that seemed more decorative than serious high art.
Lempicka's lifestyle, one in which she flouted her sexual freedom, has made her something of a conundrum for feminist art historians. As she frequently depicted her female lovers and other women - often in pairs or groups - as reveling in their sexuality under the gaze of a female painter, it is possible to regard Lempicka as a kind of
proto-feminism
. Indeed, as a female painter representing the female nude, she subverted the conventional arrangement in which a naked woman is displayed exclusively for the viewing pleasure of the male onlooker. The result is a kind of egalitarian voyeurism. The caveat may be, however, that as a member of the upper class, Lempicka's freedom was more easily attained and forgiven.
The gleaming surfaces of her sensual portraits are tributes to jazz- and flapper-age decadence following the privations of WWI. She was a favorite artist of the rich and socialites of her time, her popularity continues with celebrities such as Madonna, Jack Nicholson, and Barbra Streisand that enjoy her sharp lines and bold statements of a by-gone age.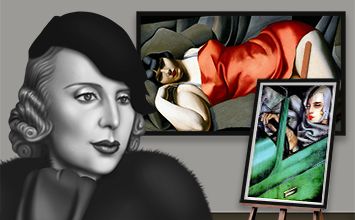 Tamara de Lempicka was born Maria Gorska in Warsaw (then part of Russia). Her father was a Russian-Jewish lawyer and her mother was a Polish socialite. As a child of a well-off family, she went to boarding school in Lausanne, Switzerland. In 1911, she spent the summer with her grandmother in Italy, where she was introduced to the work of the great Italian painters, sparking a love of art that would inform the rest of her life.
| | | |
| --- | --- | --- |
| Tamara de Lempicka's childhood, life, career, and various anecdotes | | Read Tamara de Lempicka's Biography |
Important Art by Tamara de Lempicka

The below artworks are the most important by Tamara de Lempicka - that both overview the major creative periods, and highlight the greatest achievements by the artist.


Artwork Images

Group of Four Nudes (1925)

Artwork description & Analysis: Lempicka's Four Nudes from 1925 exudes eroticism and powerful femininity. In the picture, four contorted, nude women recline in a complex tangle of rounded, heavily modeled, and sharply outlined body parts. The robust, sensual figures with their sultry expressions are reminiscent of the nude bathers of Lempicka's artistic predecessors - from Ingres and Delacroix to Matisse and Picasso.

Lempicka's figures have been likened to Ingres's fleshy and distorted but elegant bathers, such as those pictured in the work, Turkish Baths (1862). However, the piece must also be analyzed in comparison to Cubist works, including but not exclusively, nudes by Picasso such as Two Nudes (1905) or for that matter, the groundbreaking Les demoiselles d'Avignon (1907). Lempicka absorbed tradition but was also deeply influenced by Cubism.

The shallow background of the picture, which is typical of post-Cubist compositions, has the effect of making the women feel even more compressed within the space, thereby also heightening the eroticism. Art historian Joan Cox argues that "[Lempicka] has chosen to crop her view of the female bathers tightly and give the viewer - a presumably female viewer - the experience of joining in the frolicking. She invites the female viewer in as a lover rather than creating an experience for a male viewer as a distant voyeur into this all female public space." Indeed, works like the nude groupings by Ingres and Picasso presume a male viewer as, at the least, the artists themselves were males. Lempicka subverts that dynamic and, in a way, excludes male viewers altogether.

Oil on canvas - Private collection


Artwork Images

Kizette in Pink (c.1926)

Artwork description & Analysis: One of the many portraits of her daughter Kizette, this painting features her dressed in whitish pink from head to foot. She seems childishly to have lost a shoe and she tries to hide her sock with her other foot. It has been suggested that Kizette's slightly awkward position may be a reference to a well-known Russian Orthodox Christian icon of the Madonna and Child, the Theotokos of Tikhvin (c. 1300). In a highly venerated painting, the infant Jesus is holding an object, probably a scroll, and crosses one leg over the other much like Kizette does in her portrait.

Lempicka was quite young when she gave birth to her daughter. A major consequence of Tamara's persistent ambivalence concerning motherhood was that in general, she had very little contact with Kizette, who lived instead with close family members and attended boarding school. The girl typically saw her mother during the holidays and, according to Lempicka's biography, the artist would sometimes pretend her daughter was her sister so she could lie about her age. When mother and daughter did meet, Lempicka would often paint Kizette's portrait. Images of Kizette are among her most successful and possibly psychologically revealing works. Indeed, in indirectly connecting Kizette to the Christ Child from the famous icon, Lempicka positions herself as the Madonna - the ideal mother- perhaps in part to assuage her guilt at essentially abandoning her child, perhaps also as a means of communicating the involuntary nature of her own motherhood.

Although this depiction of Kizette is somewhat naturalistic, the style is undoubtedly the so-called "soft Cubism" of Lempicka and L'Hote. The girl, whose expression reflects none of the coquettishness of Lempicka's typical female subjects, seems to be sitting within an arrangement of shapes recalling industrial materials with waves, ships, and a city in the background - forms that evoke not only the sharp, fragmented shapes of Cubism but also the standard geometrical forms of Art Deco.

Oil on canvas - Musée des Beaux-Arts de Nantes - France


Artwork Images

La Belle Rafaela (1927)

Artwork description & Analysis: Lempicka is said to have found a new model for her paintings in the Bois de Boulogne, a very large public park in Paris that was also the place where prostitutes often proffered their services. Known only to us, the viewers, as "Rafaela", she became the main muse and subject for Lempicka's paintings for over a year.

The style of the painting is reminiscent of a work by Caravaggio in its emphasis of light and shadow. But in this dramatic picture, the focus is on the powerful, sensuous, and sculptural form of the nude female figure. The shapely curves of Rafaela have both a beauty and a strength that Lempicka is most famous for. This achievement was noticed by the German women's magazine, Die Dame, and Lempicka was commissioned to produce a series of covers for it.

Oil on canvas - Private Collection
More Tamara de Lempicka Artwork and Analysis:
Influences and Connections
Influences on Artist
Artists, Friends, Movements
Influenced by Artist
Artists, Friends, Movements

Interactive chart with Tamara de Lempicka's main influences, and the people and ideas that the artist influenced in turn.
View Influences Chart

| | | | | |
| --- | --- | --- | --- | --- |
| Artists | | Personal Contacts | | Movements |

Influences on Artist

Tamara de Lempicka
Years Worked: 1923 - 1965
Influenced by Artist

| | | | | |
| --- | --- | --- | --- | --- |
| Artists | | Personal Contacts | | Movements |
If you see an error or typo, please:
tell us
Cite this page

Content compiled and written by Anna Souter
Edited and published by The Art Story Contributors
" Artist Overview and Analysis". [Internet]. . TheArtStory.org
Content compiled and written by Anna Souter
Edited and published by The Art Story Contributors
Available from:
First published on 22 Dec 2016. Updated and modified regularly.


[Accessed ]