Movements, Styles, and Tendencies
Queer Art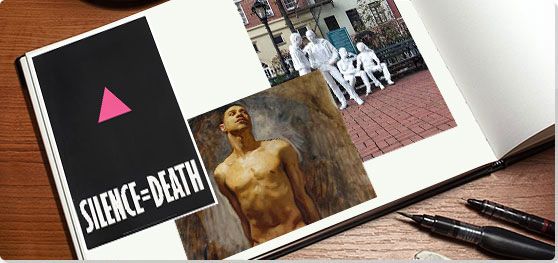 Queer Art
Started: 1870

Summary of Queer Art
Any art that can be considered "queer" refers to the re-appropriation of the term in the 1980s, when it was snatched back from the homophobes and oppressors to become a powerful political and celebratory term to describe the experience of gay, lesbian, bisexual, transgender, and intersex people. Adhering to no particular style, for over more than a century, Queer Art has used photography, portraiture, abstract painting, sculpture, and collage to explore the varieties and depths of queer identity.

While homosexuality has a long history, the modern sense of the term is relatively new. Since the late 19th century, cultural and legal responses to homosexuality have evolved, but it was only in the second half of the 20th century that many of the laws criminalizing homosexual acts were overturned. It wasn't until the late 20th century that homosexuality was no longer considered a pathology by psychiatrists, and it wasn't until the 21st century that marriage rights were granted to same-sex couples. Throughout all of these circumstances, Queer Art has addressed these issues covertly and overtly, insisting on a voice in the art world that routinely suppressed it.
Key Ideas
Because of the early criminalization of homosexual acts and the social stigma connected to homosexuality, much Queer Art employs coded visual language that would not arouse suspicion among the general public but would allow those familiar with the tropes of the subculture to glean the hidden meaning.
With the rise of activism in the wake of the Civil Rights protests and the AIDS epidemic, Queer Art became more frank and political in its subject matter, forcing the viewers to recognize queer culture and to underscore the institutional inequities and hypocrisy that fueled homophobia.
The
Identity Politics
surrounding Queer Art has sparked much debate, with some artists embracing Identity Politics and other eschewing it as not important for their work. The shifting nature of identities in particular and changing contexts has induced much questioning in queer communities and produced a myriad of answers.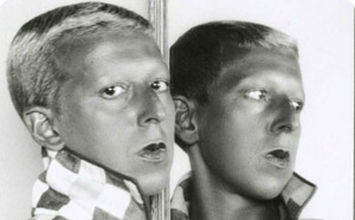 Gay photographer Robert Mapplethorpe died of AIDS related complications in 1989. But when the Corcoran Gallery of Art in Washington, D.C. cancelled the artist's retrospective a few months later, hell broke loose. Protesters gathered outside the gallery, holding placards and shouting. And they projected the artist's images onto the museum's walls. In this and many other ways, Queer Art took representations of the gay experience and made it into art. And when it was prevented from doing that, artists and supporters defiantly fought back.
Important Art and Artists of Queer Art

The below artworks are the most important in Queer Art - that both overview the major ideas of the movement, and highlight the greatest achievements by each artist in Queer Art. Don't forget to visit the artist overview pages of the artists that interest you.


Artwork Images

Self Portrait (1927)

Artist: Claude Cahun

Artwork description & Analysis: In this carefully posed Self Portrait the artist sits on a chair with her legs crossed, facing the viewer. Dressed as a weightlifter, she holds a dumbbell on her lap. Nipples drawn on the long-sleeve top give the impression that Cahun is bare chested. Written across her shirt are the words: "I am in training. Don't kiss me." This deliberately and playfully contradicts the lips drawn beneath the assertion, the hearts she painted onto her leggings and cheeks, and her painted, puckered lips. Her expression is camp, playful, and her posture jaunty.

Born Lucy Renee Mathilde Schwob, the French photographer, writer and political activist chose the name Claude Cahun after a number of different iterations before concluding "neuter is the only gender that always suits me". With gender playing such a huge role in how we understand ourselves in society, transgender variance is an important subject for Queer Art. Before the late twentieth century, non-binary identities are hard to spot or understand, but Claude Cahun changed all that, creating, along with her partner Marcel Moore, a subversive body of work that explored new possibilities for gender, sexuality and personal identity.

French writer and Surrealist André Breton recognized Cahun as "one of the most curious spirits of our time" in the way she rejected categorization as either a woman, lesbian, or artist. She consciously played with masculine and feminine stereotypes to destabilize accepted gender norms. In her portrait series she transmutes from one version of herself to another, bringing both personal and political agency that has traditionally been denied to marginalized groups.

Cahun died at the age of 60 and fell into obscurity but was rediscovered in the 1990s. Alex Pilcher explains, "A generation schooled in queer and postmodern thought rushed to embrace the forgotten artist as a prophet. Though Cahun's literary works and surrealist constructions are impressive, the artist's cult following is a response to the extraordinary self-portraits in which genders are swapped and mixed. This 'weightlifter' photograph has become one of the most revered (and regularly impersonated) queer icons of the twentieth century."

Photographic print


Artwork Images

Medallion (YouWe) (1936)

Artist: Gluck

Artwork description & Analysis: This double portrait shows two women's faces in profile. The gray background gives the piece a powerful, somber tone. All that is visible beyond the head and shoulders of the figures is a low, green horizon. The artist is in the foreground, her focused and intense expression clearly one of a painter at work. Her hair is dark, cropped, and masculine. She wears no makeup or jewelry. Behind her and looking up as if to the stars in the darkening night is her lover, Nesta Oberma. Her profile, highlighted and tempered with a brighter palette mirrors the artist. The composition evokes a sense of strength, power, and permanence.

Gluck was born Hannah Gluckstein, but she built an androgynous identity by insisting upon "no prefix, suffix or quotes" around her gender-neutral name. The painter, who became known for her still lifes, portraits, and landscapes, defiantly rejected societal pressure by wearing fastidiously tailored men's clothes and closely cut hair.

Medallion was a radical portrait to release in 1936. The artist referred to it as the couple's "marriage" picture, decades before gay marriage would become an accepted norm. She called the public declaration of love her "YouWe" picture, adding, "Now it is out and to the rest of the Universe I call Beware! Beware! We are not to be trifled with." But the significance of the work was not discussed at the time. Male homosexuality was a criminal offense and there was no acceptable vocabulary for being lesbian or transgender. As Richard Meyer and Catherine Lord suggest, "Importantly, the painting's focus on their heads not only romanticizes the merging of two like spirits but also restricts the field of signifiers of lesbian visuality."

Oil on canvas - Private Collection


Artwork Images

Two figures (1953)

Artist: Francis Bacon

Artwork description & Analysis: In this work, whitish-blue bodies wrestle on top of rumpled sheets. The powerfully rendered male figures are bulky and rawly expressed. The power of movement is emphasized by the minimal black background, and the dynamic brushwork around the faces distorts the men's expressions, leaving it hard to tell whether their faces are twisted in expressions of pain, anguish, or rapture.

This piece was among the darkest and most powerful of Bacon's work. It was inspired by late 19th-century photographs by Eadweard Muybridge of two men wrestling, but here the tangled sheets atop the bed make the homosexual meaning clear. This work was problematic for curators, and it had to be shown out of public view at London's Hanover Gallery, most likely due to the figurative hint of an erect penis. Later, police were called to investigate Bacon's work on grounds of obscenity. Howe says, "Bacon was probably aware that he was building upon aesthetic tropes of classical wrestling used since the nineteenth century as cover emblems of homosexuality.. The uniqueness of Bacon's approach to the subject is that he captured a moment of violent tenderness and intimacy through figurative rupture, the sensations and atmosphere of the clandestine sexual experience symptomatic of his own desire and time."

Much of Bacon's work was based on people he met in bars and clubs of London's Soho, an important locus for the queer community, and an area the artist called "the sexual gymnasium of the city." Bacon was an openly gay man, and as a teenager he was thrown out of the family home when he was caught trying on his mother's underwear. His autobiographical paintings provided a space where he could exorcise his demons; his life was shrouded in sadness, and in 1971, his lover of eight years, George Dyer, committed suicide in their shared hotel room.

The male nude was an important motif in Queer Art, as artists sought to present alternative versions of love and sexuality. In Bacon's work however, queer theorist Catherine Howe says, "The male body is both venerated and reduced to the status of animal; restricted yet liberated from societal conventions of desire." He would explore the wrestlers theme in different incarnations throughout the decades. The subject provided a perfect disguise for the sexual act, allowing the queer experience a respectable critical interpretation at the time.

Oil on canvas - Private Collection
More Queer Art Artwork and Analysis:
If you see an error or typo, please:
tell us
Cite this page

Content compiled and written by Sarah Ingram
Edited and published by The Art Story Contributors
" Movement Overview and Analysis". [Internet]. . TheArtStory.org
Content compiled and written by Sarah Ingram
Edited and published by The Art Story Contributors
Available from:
First published on 23 Dec 2018. Updated and modified regularly.


[Accessed ]