Artists
Berenice Abbott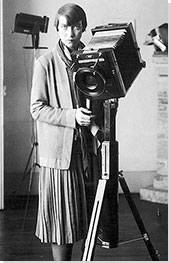 Born: July 17, 1898 - Springfield, Ohio
Died: December 9, 1991 - Monson, Maine

"To me photography is a means, perhaps the best means of our age - of widening knowledge of our world. Photography is a method of education, for acquainting people of all ages and conditions with the truth about life today."
Summary of Berenice Abbott
Berenice Abbott was an American photographer known for her portraits and documentary photographs which stressed the communicative, even educational value of the photographic print. She pursued a realist vision in recording history and her own historical experience in order to potentially affect change in her audience. Her photographs purposely facilitated the interaction and dialogue between the photographer, the photographic print, and the viewer. Abbott's realist approach to photography stems from her career as a portrait photographer in Paris as well as the influence of Eugène Atget's photographic realism. After eight years in Paris, Abbott moved to New York in 1929 to document the modern transformation of the city. The resulting book Changing New York (1935-1938) received critical acclaim and has continued to resonate to this day.
Key Ideas
For Abbott, the photographic image had to be honest, contingent, and objective to be communicative. In her own words, straight photography is: "precision in the rendering and definition of detail and materials, surfaces and textures; instantaneity of observation; acute and faithful presentation of what has actually existed in the external world at a particular time and place."
Abbott identified how photography, in particular science photography, could act as a friendly interpreter of the world to laymen and women. She accomplished this task through her photo book on Changing New York that summarized the city's modern transformation, and her science photography. Her ability to capture scientific subjects and endow them with popular appeal and scientific correctness enabled her to make physics visually comprehensible.
As collector and guardian of Eugène Atget photographic archive, Abbott performed her most significant task in preserving the legacy of this early modern photographer. She tirelessly promoted his work for more than forty years. And it is because of Abbott's efforts that Atget is still known today.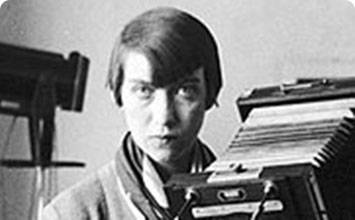 Bernice Abbott was born in Springfield, Ohio into a troubled lower middle-class family. She was the youngest of four children. When her parents broke up in 1900, Abbott was separated from her three older siblings. She was raised like an only child from age two until age twelve, when both sides of her family resettled in Cleveland, Ohio. Even then she hardly saw her father, who was a cement salesman in Cleveland. He provided neither guidance nor understanding.
Important Art by Berenice Abbott

The below artworks are the most important by Berenice Abbott - that both overview the major creative periods, and highlight the greatest achievements by the artist.


Artwork Images

Eugène Atget (1927)

Artwork description & Analysis: In this portrait, Eugène Atget, with a bemused expression on his face, stares out at the camera. The elderly French photographer presents himself formally dressed in a suit and tie under a thick dark overcoat and in his right hand, which rests on his thigh, he holds a pair of glasses. Yet, the personal interaction between Abbott and Atget is the actual subject of this portrait, partially revealed in Atget's facial expression.

The photo-historian Gaëlle Morel contends that, "through her compositions, Abbott succeeded in formulating a genuine aesthetic, with its rejection of commercial conventions. The absence of décor and the fact that the background is more often than not reduced to a neutral section of wall tend to isolate the subject, emphasizing his or her bearing, physical position, and facial expression."

This portrait is significant since Abbott was the only artist to have taken a formal portrait of Atget. Abbott considered Atget, "...the most important forerunner of the whole modern photographic art." She dedicated part of her career to promoting and including Atget's work into the most important modern photography exhibitions in late twenties and thirties.

Photo-Gelatin silver print - Collection of International Center of Photography, New York, New York


Artwork Images

Jean Cocteau, Paris (1927)

Artwork description & Analysis: Berenice Abbott portrays Jean Cocteau, French surrealist artist, poet, writer, and filmmaker, sitting in bed with a somewhat vacant expression, which mirrors the expression on the paper mâché doll head he cradles in his left arm. Cocteau and the paper mâché doll are covered by a white sheet and the white, neutral color of the bed linens plays off the striped wallpaper on the background wall. As a whole this image echoes the contradictory pairings of objects and humans often found in the paintings of Giorgio de Chirico and René Magritte.

This photograph is one in a series of portraits Abbott took of Jean Cocteau, sitting or lying in bed. The series, rather than a single photograph, Abbott contended, could best capture the complexity of a person's character. On another level, it points to Abbott's interest in the interplay between the visible and invisible aspects of character. Cocteau addresses this very issue from a surrealist viewpoint by drawing out the complicated relationship between his body as object and himself as subject. While Cocteau chose to frame himself in this way, Abbott reacted to both his appearance and unconscious self in the taking of the photograph.

Portraiture served as Berenice Abbott's primary livelihood while living in Paris in the mid-1920s. It marks the formative phase of Abbott's realist photography, which she practiced throughout her career. Abbott's approach to the practice of portraiture owes much to Man Ray in terms of flattering soft-focus, artificial lighting to create a sense of mystery and depth, among other details. Yet unlike Man Ray, Abbott used the portrait as a vehicle to reveal the sitter's character, as gleaned through their communicative expression, physical presence, and intellectual depth. Abbott's approach to portraits and her desire to highlight the unique qualities of her subjects can be seen as laying the foundation for artists working today such as Gillian Wearing who uses portraits to make statements about the relationship between public and private identities.

Gelatin silver print - Collection of The New York Public Library, New York, New York


Artwork Images

Nightview, New York (1932)

Artwork description & Analysis: Abbott's photograph depicts the city of New York at night, which is identified in the title. The white of the lights in the buildings and headlights of cars on the streets below contrast starkly with the solid structures of the numerous buildings that dominate the city. Taken between 4:30 and 5:00 pm, when the office lights remained on and the city was slightly darkened, Abbott scouted the exact view from an upper floor of the Empire State building. She calculated the exposure for 15 minutes, using only the light that emanated from the city below. On December 20, 1934, Abbott captured New York at night to represent the emergence of this modern city, characterized here by its illumination, as seen from the dizzying heights of a skyscraper.

Upon returning to America from Paris in 1929, Abbott was immediately struck with New York City. She once stated, "New York is the face of the modern city, bred of industrial centralization. Our age is ruthless, hard, competitive, tense, greedy. It shows as much in the faces of buildings as in the faces of people. That character I have sought to recreate in my photographs." This image, perhaps her most well-known, remains a visually exciting example of the many hundreds of photographs Abbott produced to document New York City, which were published in her book Changing New York (1939).

Gelatin silver print - Collection of Metropolitan Museum of Art, New York, New York
More Berenice Abbott Artwork and Analysis:
Influences and Connections
Influences on Artist
Artists, Friends, Movements
Influenced by Artist
Artists, Friends, Movements

Interactive chart with Berenice Abbott's main influences, and the people and ideas that the artist influenced in turn.
View Influences Chart


Influences on Artist

Berenice Abbott
Years Worked: 1918 - 1991
Influenced by Artist

| | | | | |
| --- | --- | --- | --- | --- |
| Artists | | Personal Contacts | | Movements |
If you see an error or typo, please:
tell us
Cite this page

Content compiled and written by Jessica DiPalma
Edited and published by The Art Story Contributors
" Artist Overview and Analysis". [Internet]. . TheArtStory.org
Content compiled and written by Jessica DiPalma
Edited and published by The Art Story Contributors
Available from:
First published on 24 Jul 2018. Updated and modified regularly.


[Accessed ]