Movements, Styles, and Tendencies
Documentary Photography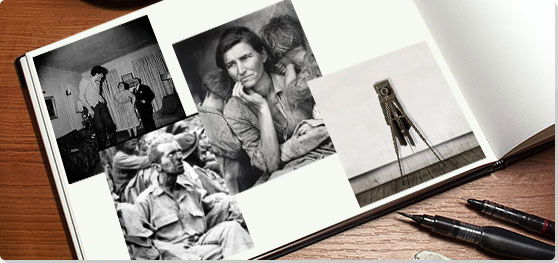 Documentary Photography
Started: 1843

"There are two things I wanted to do. I wanted to show the things that had to be corrected. I wanted to show the things that had to be appreciated."
Summary of Documentary Photography
The term Documentary Photography describes photography that attempts to capture real-life situations and settings. Since Nicéphore Niépce made the first photograph in 1816, photography's capacity to capture reality led to enthusiastic interest in documenting all aspects of contemporary life. As a result, Documentary Photography became a genre as early as the mid-1800s. As the medium developed, however, Documentary Photography became so diffuse it came to be discussed through a whole series of photographic sub-genres.

Lacking, then, a truly precise definition, Documentary Photography is best thought of as an umbrella term that encompasses many styles and themes including: Social Documentary; Conservation Photography; Ethnographic Photography; War Photography; the photo essay; New Documents; and Social Landscape photography. What unites these styles at basis is the principle that the camera is in essence a machine for recording reality. Though one cannot say it is objective, the intention of the documentary photographer is to bring to light some otherwise hidden reality or injustice. Stylistically, documentarians typically favor sharply focused and/or pure images, that eschew darkroom manipulation or forgery. Other genres of photography, including Street Photography and Photojournalism, sometimes include particular works that are considered documentary images, though both genres primarily focus on capturing a moment, or split second whether that be an encounter on a street or a moment of breaking news.
Key Ideas
More than any other medium, the camera "machine" lends itself best to documentary because the spectator is predisposed to believe the visual evidence put before them. Documentary Photography can be thus presented on its own or as part of a bigger written or spoken project (as evidenced, say, in the photo essay).
Given its commitment to revealing a particular truth, Documentary Photography resists the idea of image or subject manipulation. This is in fact a rule-of-thumb rather than a hard-and-fast tenet. It remains true, however, that, in principle, Documentary Photography offers a clear divergence from art photography because the latter tends to alter or embellish reality.
Documentary Photography will often aim at exposing social and/or humanitarian injustices. In this respect it shares close links with War and Street Photography but these rely more on a "snapshot" aesthetic whereas Documentary Photography tends to be more planned in its narrative structure and pictorial composition.
In addition to its focus on the human figure, Documentary Photography includes a trend within the genre that simply "documents". Though the likes of Conservation Photography and Ethnographic Photography can be taken up for artistic and/or political purposes, the primary intention of the photographer is to do no more than "document" a disappearing or unknown world.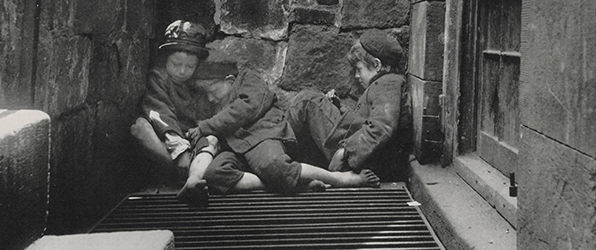 Riis' documentary of the city slums titled: How the Other Half Lives: Studies Among the Tenements of New York
One of the earliest Documentary Photographers, Danish immigrant Jacob Riis, was so successful at his art that he befriended President Theodore Roosevelt and managed to change the law and create societal improvement for some the poorest in America.
Important Art and Artists of Documentary Photography

The below artworks are the most important in Documentary Photography - that both overview the major ideas of the movement, and highlight the greatest achievements by each artist in Documentary Photography. Don't forget to visit the artist overview pages of the artists that interest you.

Bandits' Roost, 59 1/2 Mulberry Street (1888)

Artist: Jacob Riis

Artwork description & Analysis: This photograph depicts an alley in a slum located in what was called "The Bend," a notorious neighborhood between Mulberry, Baxter, Bayard, and Park Streets in New York. Riis said of the The Bend that "Abuse is the normal condition...murder its everyday crop."

Here, two men on the right seem to guard the entrance to "the Bend" while the man leaning on the club only heightens the sense of menace. Behind them, another man casually perches on a staircase railing (possibly the gang leader) while three other figures cluster on the opposite staircase. All the men are turned to face down the camera. Adding to the general mood of urban despondency, a woman and a child lean out of windows in the building on the right, while in background, clothing hangs on lines strung along the alley. Overall, a sense of crowded poverty and desperate circumstances becomes the backdrop for Riis's foreboding portrait of the Mulberry Street "bandits".

Raised in Denmark, Riis arrived in New York in 1870. By 1877 he had begun working as a police reporter for The New York Tribune. A year later, after reading about the invention of magnesium flash powder, which made night photography possible, Riis took up photography. He began visiting the slums at night, where, accompanied by his two assistants and a policeman, he sometimes startled the residents with the abrupt flash of his camera. As Bonnie Yochelson wrote, his images "captured what had never been seen before in a photograph [while they] retain their power today because the harsh light and haphazard compositions convey the chaos of living in poverty."

Influenced by the progressive social reform movements that had initially emerged in the mid-1800s with Felix Adler's founding of the Society for Ethical Culture, Riis published his photographs, along with accompanying text, in How the Other Half Lives (1890). The groundbreaking work, documenting the poverty of urban immigrants, spurred legislative reform and became thus a seminal work of Social Documentary photography. Yet, while his images captured the reality of slum life, Riis also perpetuated many of the stereotypical views of the era. As contemporary curator Daniel Czitrom wrote, "I've always been struck by the tension between the empathy and sympathy that's powerfully depicted in many of those images, and the kind of stereotypes, racial language, that he uses in the text. There's a tension between the text and the photographs. Today, no one really reads Riis anymore, and yet the photographs remain incredibly moving."

Gelatin silver print - Museum of Modern Art, New York

Addie Card, 12 years. Spinner in North Pormal Cotton Mill (1910)

Artist: Lewis Hine

Artwork description & Analysis: Dressed in her uniform of a dirty work smock, and her bare feet blackened with grease, Addie Card leans with one arm casually resting on the spinning machinery that fills up the background with spindles and skeins. Her blank face stares at the viewer, evoking the grueling toll of child labor. Writer Elizabeth Winthrop observed of Addie that her "left arm rests easily on the huge machinery but crooked at a strange angle, as if perhaps a bone had been broken and never set properly," perhaps incurred while working, as terrible industrial accidents were frequent. Winthrop added that "To keep her hair from the frame's hungry grasp, it is pulled tight and pinned in a style befitting a grown woman." Yet her delicate features, her sad eyes, and her right arm hanging in exhaustion at her side, give her the wistfulness of a child. Hine was to describe her in his notes, as an "Anaemic little spinner" who first claimed to be ten years old, then admitted that she was twelve and had started working during the summer but intended to stay on. Her deception about her age reflected the reality that manufacturers believed that younger girls, due to their small hands and gender, were ideal textile workers.

Hine had studied sociology before moving to New York in 1901 where he taught at the Ethical Culture School, introducing photography as a lessons aid. Resigning his teaching position in 1908, Hine began photographing child laborers, often under cover, in textile mills, coalmines, and factories for the National Child Labor Committee. As art historian Lisa Hostetler wrote, "not only have [his images] been credited as important in the passing of child labor laws, but [they] also have been praised for their sympathetic depiction of individuals in abject working conditions." Hostetler added that Hine had "labeled his pictures 'photo-interpretations,' emphasizing his subjective involvement with his subjects [developing an approach that] became the model for many later documentary photographers, such as Sid Grossman and Ben Shahn."

Gelatin silver print - Library of Congress, Prints & Photographs Division, National Child Labor Committee Collection


Artwork Images

Three Farmers (1914)

Artist: August Sander

Artwork description & Analysis: Sander's photograph depicts three young farmers, dressed up as city dandies in suits with hats and canes, on their way to a Saturday night dance in the Westerwald region of Germany (where Sander was born). An incongruous effect is created by the contrast between their fashionable appearance and the setting with its muddy path and vast fields in the background. Looking for new clients, Sander returned to the region in 1910 after establishing his studio in Cologne. One evening, by chance, he encountered the three men moving along the road and asked them to pose for the lengthy exposure required by his large format camera. The two men on the right echo each other's still pose, while, the man on the left, caught in midstride, his cane at an angle, and a cigarette in his mouth, seems to have just paused for a moment to turn to look at the viewer. As a result Sander's most famous image takes on qualities of both a formal photo and a snapshot, while at the same time as cultural historian Michael Jennings wrote it documents the "momentum of the transition away from the land and into the cities."

Like much of Sander's work, the image, juxtaposing the young men's posing as urban dandies with the marshy and vacant fields, conveys a sense of the dissonant in ordinary life, a quality that later influenced the photographer Diane Arbus. The frontal shot, suggesting the three have been stopped by the camera's gaze, is also informed by a modernist awareness of the role that the observer/photographer plays in creating the image. As the historian Wieland Schmied wrote, Sander "sought to combine constructivism and objectivity, geometry and object, the general and the particular, avant-garde conviction and political engagement, and which perhaps approximated most to the forward looking of New Objectivity."

Considered the greatest German portrait photographer of the early 20th century, Sander spent most of his life working on his People of the Twentieth Century, a documentary project to produce the representational types of Weimar Germany. Striving to create "a physiognomic image of an age," cataloguing "all the characteristics of the universally human," and depicting the seven categories, which he based upon class and occupation, Sander meant to document a nation. Though the project was not completed, due to Nazi suppression of his work, he published Face of Our Time (1929), a collection of sixty portraits including Three Farmers. His portraits influenced photographers including Walker Evans and Irving Penn, and this picture directly inspired Richard Powers's debut novel, Three Farmers on Their Way to a Dance (1985), and the art critic John Berger's "The Suit and the Photograph" (1980), a highly influential essay upon art theory and criticism.

Gelatin silver print - Tate Museum of Modern Art, London
More Documentary Photography Artwork and Analysis:
If you see an error or typo, please:
tell us
Cite this page

Content compiled and written by Rebecca Seiferle
Edited and published by The Art Story Contributors
" Movement Overview and Analysis". [Internet]. . TheArtStory.org
Content compiled and written by Rebecca Seiferle
Edited and published by The Art Story Contributors
Available from:
First published on 21 May 2019. Updated and modified regularly.


[Accessed ]