Movements, Styles, and Tendencies
Performance Art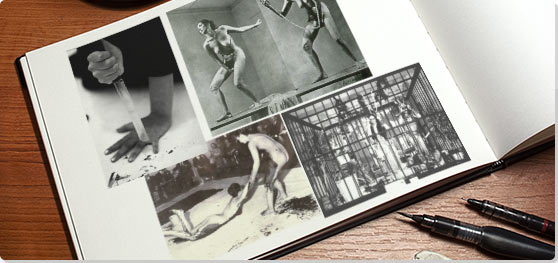 Performance Art
Started: Origins in 1910s, Movement in 1960s

Summary of Performance Art
Performance is a genre in which art is presented "live," usually by the artist but sometimes with collaborators or performers. It has had a role in avant-garde art throughout the 20th century, playing an important part in anarchic movements such as Futurism and Dada. Indeed, whenever artists have become discontented with conventional forms of art, such as painting and traditional modes of sculpture, they have often turned to performance as a means to rejuvenate their work. The most significant flourishing of performance art took place following the decline of modernism and Abstract Expressionism in the 1960s, and it found exponents across the world. Performance art of this period was particularly focused on the body, and is often referred to as Body art. This reflects the period's so-called "dematerialization of the art object," and the flight from traditional media. It also reflects the political ferment of the time: the rise of feminism, which encouraged thought about the division between the personal and political and anti-war activism, which supplied models for politicized art "actions." Although the concerns of performance artists have changed since the 1960s, the genre has remained a constant presence, and has largely been welcomed into the conventional museums and galleries from which it was once excluded.
Key Ideas
The foremost purpose of performance art has almost always been to challenge the conventions of traditional forms of visual art such as painting and sculpture. When these modes no longer seem to answer artists' needs - when they seem too conservative, or too enmeshed in the traditional art world and too distant from ordinary people - artists have often turned to performance in order to find new audiences and test new ideas.
Performance art borrows styles and ideas from other forms of art, or sometimes from other forms of activity not associated with art, like ritual, or work-like tasks. If cabaret and vaudeville inspired aspects of Dada performance, this reflects Dada's desire to embrace popular art forms and mass cultural modes of address. More recently, performance artists have borrowed from dance, and even sport.
Some varieties of performance from the post-war period are commonly described as "actions." German artists like
Joseph Beuys
preferred this term because it distinguished art performance from the more conventional kinds of entertainment found in theatre. But the term also reflects a strain of American performance art that could be said to have emerged out of a reinterpretation of "
action painting
," in which the object of art is no longer paint on canvas, but something else - often the artist's own body.
The focus on the body in so much Performance art of the 1960s has sometimes been seen as a consequence of the abandonment of conventional mediums. Some saw this as a liberation, part of the period's expansion of materials and media. Others wondered if it reflected a more fundamental crisis in the institution of art itself, a sign that art was exhausting its resources.
The performance art of the 1960s can be seen as just one of the many disparate trends that developed in the wake of
Minimalism
. Seen in this way, it is an aspect of
Post-Minimalism
, and it could be seen to share qualities of
Process art
, another tendency central to that umbrella style. If Process art focused attention on the techniques and materials of art production. Process art was also often intrigued by the possibilities of mundane and repetitive actions; similarly, many performance artists were attracted to task-based activities that were very foreign to the highly choreographed and ritualized performances in traditional theatre or dance.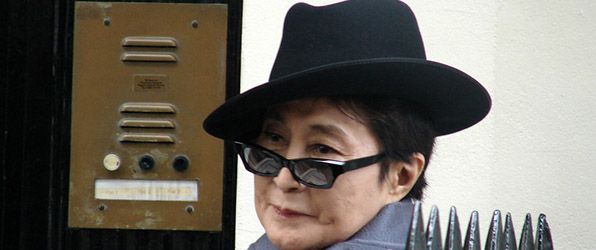 Yoko Ono at an unveiling of a plaque in memory of John Lennon (2010)
Yoko Ono said, "I thought art was a verb, rather than a noun," and embodied the concept in her Cut Piece (1964) – pioneering Performance Art – where, holding a pair of scissors and kneeling on stage, she invited the audience to cut away pieces of her clothing.
Important Art and Artists of Performance Art

The below artworks are the most important in Performance Art - that both overview the major ideas of the movement, and highlight the greatest achievements by each artist in Performance Art. Don't forget to visit the artist overview pages of the artists that interest you.


Artwork Images

The Anthropometries of the Blue Period (1958)

Artist: Yves Klein

Artwork description & Analysis: Although painting sat at the center of Yves Klein's practice, his approach to it was highly unconventional, and some critics have seen him as the paradigmatic neo-avant-garde artist of the post-war years. He initially became famous for monochromes - in particular for monochromes made with an intense shade of blue that Klein eventually patented. But he was also interested in Conceptual art and performance. For the Anthropometries, he painted actresses in blue paint and had them slather about on the floor to create body-shaped forms. In some cases, Klein made finished paintings from these actions; at other times he simply performed the stunt in front of finely dressed gallery audiences, and often with the accompaniment of chamber music. By removing all barriers between the human and the painting, Klein said, "[the models] became living brushes...at my direction the flesh itself applied the color to the surface and with perfect exactness." It has been suggested that the pictures were inspired by marks left on the ground in Hiroshima and Nagasaki following the atomic explosions in 1945.

- Performed at Robert Godet's, Paris 1958 and at Galerie Internationale d'Art Contemporain, Paris 1960


Artwork Images

Cut Piece (1964)

Artist: Yoko Ono

Artwork description & Analysis: Yoko Ono's Cut Piece, first performed in 1964, was a direct invitation to an audience to participate in an unveiling of the female body much as artists had been doing throughout history. By creating this piece as a live experience, Ono hoped to erase the neutrality and anonymity typically associated with society's objectification of women in art. For the work, Ono sat silent upon a stage as viewers walked up to her and cut away her clothing with a pair of scissors. This forced people to take responsibility for their voyeurism and to reflect upon how even passive witnessing could potentially harm the subject of perception. It was not only a strong feminist statement about the dangers of objectification, but became an opportunity for both artist and audience members to fill roles as both creator and artwork.

- Performed at Yamaichi Concert Hall, Kyoto, Japan 1964


Artwork Images

Shoot (1971)

Artist: Chris Burden

Artwork description & Analysis: In many of his early 1970s performance pieces, Burden put himself in danger, thus placing the viewer in a difficult position, caught between a humanitarian instinct to intervene and the taboo against touching and interacting with art pieces. To perform Shoot, Burden stood in front of a wall while one friend shot him in the arm with a .22 long rifle, and another friend documented the event with a camera. It was performed in front of a small, private audience. One of Burden's most notorious and violent performances, it touches on the idea of martyrdom, and the notion that the artist may play a role in society as a kind of scapegoat. It might also speak to issues of gun control and, in the context of the period, the Vietnam War.

- Performed at F Space, Santa Ana, California
More Performance Art Artwork and Analysis:
If you see an error or typo, please:
tell us
Cite this page

Content compiled and written by Anne Marie Butler
Edited and published by The Art Story Contributors
" Movement Overview and Analysis". [Internet]. . TheArtStory.org
Content compiled and written by Anne Marie Butler
Edited and published by The Art Story Contributors
Available from:
First published on 22 Jan 2012. Updated and modified regularly.


[Accessed ]