"I am for an art that is political-erotical-mystical, that does something more than sit on its ass in a museum."
"If I didn't think what I was doing had something to do with enlarging the boundaries of art, I wouldn't go on doing it."
"I'd like to get away from the notion of a work of art as something outside of experience, something that is located in museums, something that is terribly precious."
"It isn't that I have any opinions about ice cream cones or hamburgers or that kind of stuff. It just seems that that is what I see."
"I am for an art that grows up not knowing it is art at all. I am for an artist who vanishes."
"Art is a technique of communication. The image is the most complete technique of all communication."
"My single-minded aim is to give existence to fantasy."
"I am for the art of underwear and the art of taxicabs. I am for the art of ice cream cones dropped on concrete."
Summary of Claes Oldenburg
With his saggy hamburgers, colossal clothespins and giant three-way plugs, Claes Oldenburg has been the reigning king of Pop sculpture since the early 1960s, back when New York was still truly gritty. In 1961 he rented a storefront, called it The Store, and stocked it with stuffed, crudely-painted forms resembling diner food, cheap clothing, and other mass-manufactured items that stupefied an audience accustomed to the austere, non-representational forms in Abstract Expressionist sculpture. These so-called "soft-sculptures" are now hailed as the first sculptural expressions in Pop art. While his work has continued to grow in scale and ambition, his focus has remained steadfast: everyday items are presented on a magnified scale that reverses the traditional relationship between viewer and object. Oldenburg shrinks the spectator into a bite-sized morsel that might be devoured along with a giant piece of cake, or crushed by an enormous ice pack. His work shows us just how small we are, and serves as a vehicle for his smart, witty, critical, and often wickedly funny insights on American culture over the past half-century.
Accomplishments
Whereas Pop artists had imitated the flat language of billboards, magazines, television, etc., working in two-dimensional mediums, Oldenburg's three-dimensional papier maches, plaster models, and soft fabric forms brought Pop art into the realm of sculpture, a key innovation at the time.
Oldenburg's objects, no matter how apparently insignificant in themselves, become expressive entities, almost like characters in a stage play. This is partly due to their dramatically outsized scale and partly due to the soft forms he chooses, like fabric or latex. This distances Oldenburg from the cool detachment of Warhol or Lichtenstein, and makes his sculptures, almost like portraits, highlight the absurdity of American culture with a gentler cynicism than his Pop art peers.
The notion of enlarging a diminutive, everyday object and placing it in a landscape - an idea integral to Oldenburg's monumental public art - comes to us from the Surrealists such as Magritte, Dalí, and Ernst). In this respect, Oldenburg is the most Surreal of the Pop artists and his sculptures are like Surrealist dreams made real.
Oldenburg's unconventionally squishy, rearrangable sculpture challenged the hard, vertical orientation that persisted through Abstract Expressionism. His was a true breakthrough in the history of sculpture.
No matter how ordinary his subjects may seem to be, for Oldenburg, a clothespin is never just a clothespin. The process of fine tuning and adjustment, typical of his approach to large-scale commissions, reflects an unwavering interest in the impact of form that aligns him with earlier masters in the tradition of sculpture, from Michelangelo to Brancusi.
The Life of Claes Oldenburg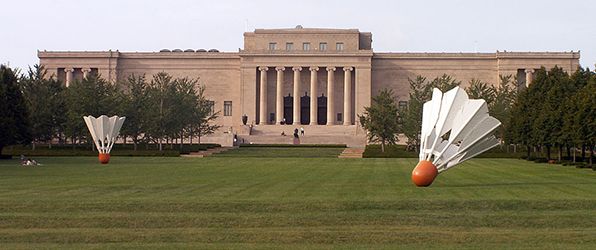 Saying "Everything I do is completely original - I made it up when I was a kid," Oldenburg's pioneering work made monumental sculptures of badminton shuttlecocks and ice cream cones. By using "small subjects," as he said, "on a grand scale," the "real landscape" took on "imaginary dimensions."
Important Art by Claes Oldenburg
Progression of Art
1961-62
Pastry Case, I
A plate of frosted cookies, two sundaes, a cake, an oversized rack of ribs, and a half-eaten caramel apple vie for our attention inside a display case. Roughly to scale, these unappetizing models of classic American diner fare reach out to us, rather like embarrassing relatives. Like portraits, but without the human figure, the magic of Oldenburg's sculpture is the expressive element he imparts to it. The most emotional (and hilarious) of the Pop artists, his brilliance is in the balance he strikes between irony and earnestness in his references to American culture.
Painted plaster, ceramic and metal - The Museum of Modern Art, New York
1962
Floor Cake
Oldenburg introduced sculpture to Pop art, beginning with a series inspired by Duchamp's "readymades" and the bluntly prosaic subjects chosen by Pop artists like Warhol and Lichtenstein. Floor Cone, Floor Burger, and Floor Cake (shown here) were among the monumental structures based on comfort food fashioned by the artist in the early 1960s. A Surrealist element arises from the dramatic shift in scale. Floor Cake, a giant squishy triangle five feet high and nine-feet long, reverses the familiar relationship between this object and the spectator (it looks like it might eat us). More so than other Pop artists, Oldenburg drew inspiration from the process that comprised the items on which his art was based. Floor Cake, for instance, was assembled in layers, as one might make a cake, its soft medium and opaque, slightly splotchy paint mimics frosting, and finally, even though this element is invisible, empty ice cream cartons and foam rubber were used for the interior filling, giving metaphorical guts to the piece.
Fabric - The Museum of Modern Art, New York
1966
Soft Toilet
By the mid-1960s, Oldenburg was leading a full-fledged rebellion against the non-figurative sculptural tradition of Abstract Expressionism. Soft Toilet belongs to a series of straightforwardly representational forms generated by the artist during this period - sandwiches, egg beaters, toasters, and other mundane household items - roughly to scale and comprised of parts that fit together, much like the actual household objects themselves, with one glaring inconsistency. Soft materials, like fabric, or in this case latex, prevent these forms from holding their shape. Soft Toilet slumps forward, as if it may spill its contents into the room. By placing a toilet on a pedestal, Soft Toilet is an obvious homage to Marcel Duchamp's Fountain (an upturned urinal presented as art in 1917). Like its infamous predecessor, it is a mundane feature of the modern home intended for private use as opposed to aesthetic contemplation. Surrealism - a persistent element in Oldenburg's compositions - persists in the faux-melting effect. While unapologetically representational, this form is powerful in presence, not merely an imitation of the thing it represents, but an independent, expressive form capable of expression, like the human body.
Latex - Whitney Museum of American Art
1969
Lipstick Ascending on Caterpillar Tracks
Unlike most of his Pop art peers, Oldenburg's work conveyed an unambiguously anti-war message at the height of U.S. military intervention in Vietnam. An alumnus of Yale, Oldenburg mobilized a group of students to assist him in creating a mixed-media anti-war monument in 1969 and initially installing it in the Beinecke Plaza on campus. In the original version, the lipstick was capped with a flimsy fabric peak that required the activation of a mechanical pump to inflate, and rose over twenty feet in the air from the plywood base, fashioned in the shape of an army tank which functioned as a speaker platform. The double reference to female excitement and male impotence was designed to call attention to the absurdity of U.S. military aggression, and served as a rallying point for the fierce, impassioned anti-war demonstrations of that year. It was removed, ostensibly for the purposes of structural maintenance, and later replaced with the painted metal version shown here, reinstalled on campus outside the Morse College building. The first public artwork installed by the artist, it worked to solidify his alignment with the peace movement, and shaped his goals for larger future commissions.
Corten steel, aluminum, cast resin, polyurethane enamel - Yale University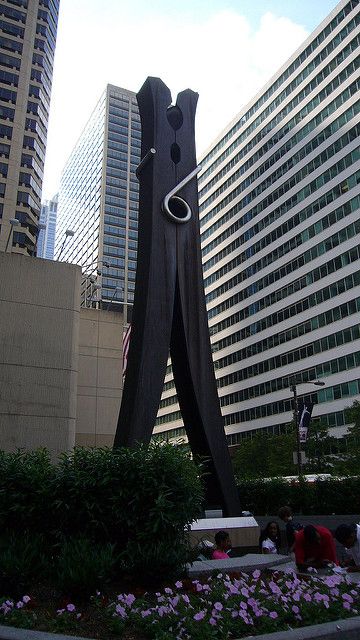 1976
Clothespin
A series of sketches of imaginary monuments and skyscrapers, completed in the 1960s, served as a blueprint for Oldenburg's signature strategy: reproducing mass-manufactured objects on a scale and in a context where one wouldn't normally find them. This 54-foot high Clothespin, erected outside the entrance to the SEPTA metro station in Philadelphia in 1976, makes people look up before they descending into the subway. Without presupposing a specific level of education or familiarity with the history of art or sculpture, Clothespin asks us to consider the manner in which small innovations in design transform the way we live. This work was based on a sketch for an imaginary skyscraper and was the artist's first public commission, built in collaboration with the Philadelphia Redevelopment Authority's "one percent for art" program (a progressive development in favor of public funding for the arts).

The sculpture itself is far from simple (Oldenburg's sculptures are never merely enlarged replicas of the things they represent). Among Oldenburg's own clever alterations to the instantly-recognizable object is the augmented angle of the bottom legs (further apart, to facilitate broader views of the sculpture from directly beneath it), and its hinge twisted to resemble a 7 and 6 (in accordance with the date of the commission, '76). Profoundly democratic in its overarching message, like the best of Oldenburg's work, Clothespin is no mere Pop witticism, but a celebration of the role of design in everyday life.
Weathering Steel - Philadelphia
1984
Stake Hitch
Having ceased locking horns with Abstract Expressionism, Oldenburg's work after 1980 grew more abstract, conceptual and site-specific. Stake Hitch, a sculpture commissioned for a large exhibition vault within The Dallas Museum of Art, highlights the manner in which Oldenburg continued to challenge the perspective of the viewer and even some of the institutions that have commissioned his work. Stake Hitch, an arrestingly powerful form that consisted of a bright red aluminum stake and illusionistic rope, transformed the viewer's experience of the soaring vault in an optical illusion - the rope appeared to anchor the ceiling to the floor. The piece also served as a counterweight to the Sol LeWitt Mural commissioned for the same space. Despite widespread acclaim for the sculpture, it was removed in 1994. The current museum director argued that it interfered directly with the display of temporary exhibitions, and no plans to reinstall it have been announced.
Stake: aluminum, steel, resin, painted with polyurethane enamel. Rope: polyurethane foam, plastic materials, fiberglass-reinforced plastic, painted with latex - Dallas Museum of Art, Dallas, TX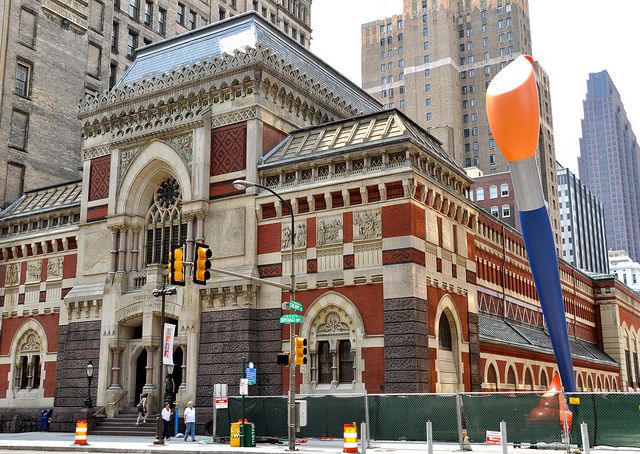 2011
Paint Torch
Paint Torch, an inverted paint brush erected outside the Pennsylvania Academy of Fine Arts in 2011, epitomizes Oldenburg's life-long approach to democratic, site-specific, accessible subject matter multi-layered in its symbolism. The orange blob on the plaza pavement below the 50-foot-high sculpture lights up, as does its orange tip, celebrating the Pennsylvania Academy of Fine Arts' steadfast commitment to defending painting as the backbone of Western tradition (despite significant challenges to painting's supremacy in the late-20th century). The paintbrush-as-torch motif evokes the most patriotic of figures, the Statue of Liberty. The diagonal tilt of the piece adds forward thrust, linking its two sections and heightening the implicit eroticism of the phallic form, injecting a note of wry, irreverent humor typical of Oldenburg's refusal to take seriously any form of authority, even (or perhaps especially) the authority of art.
Steel, fiberglass, urethane, LED lighting - Pennsylvania Academy of Fine Arts
Biography of Claes Oldenburg
Childhood and Education
The son of a diplomat, Oldenburg was born in Stockholm, Sweden in 1929 and settled with his family in Chicago in 1936. He and his younger brother, Richard, were educated at Yale and Harvard, respectively. Richard would later become the Director of the Museum of Modern Art in New York City for over two decades (1972-1995). After graduating from Yale in 1950, where he studied literature and art history as well as studio art, Oldenburg took a job with the City News Bureau of Chicago and also intermittently attended the Art Institute of Chicago.
Early Training
In 1953, Oldenburg became a naturalized citizen and moved to New York, committed to pursuing a career in art. According to the artist, the "most creative and stimulating" influence was the environment of the Lower East Side, where The Beats, Fluxus, and Pop art groups converged on performance and gallery spaces at Judson Memorial Church off Washington Square. Here, he got to know regulars such as Allan Kaprow, Yoko Ono, Robert Rauschenberg, Jasper Johns, Andy Warhol, and Jim Dine. Most everyone in this circle agreed that Abstract Expressionism was dead, but no one knew what came next, and daring experiments in multi-media and performance art abounded, overlapping in generations, sensibilities and approaches. Another vivid resource for Oldenburg's imagination was the library at Cooper Union, where he worked for several years and held his first one person exhibition in 1959, consisting of figurative drawings. It was there that he discovered the imaginary architecture envisioned by the 18th-century Romantics, and the construction and installation of the Statue of Liberty, sources that inspired his own whimsical drawings for monuments, and later public sculpture.
Mature Period
1960 was a breakthrough year for Oldenburg. The Yale graduate appeared (sans pants), covered in garbage, with Patty Mucha (whom he later married) in his piece Snapshots from the City, inspired by the neighborhood and staged at Judson Memorial Church. Inspired by the smorgasbord of sights and sounds in life and art in Lower Manhattan, he collaborated with Mucha on other performances, and produced his first soft sculptures. Traces of the rough-hewn, graffiti-like collages of Rauschenberg and anti-artisanal Art Brut of Jean Dubuffet can be seen in Oldenburg's ripped, scribbled cardboard figures, objects, and signs from that year. They were an explicit, down and dirty take based on his own observations of the neighborhood, and were displayed in his Lower East Side storefront studio The Street. Several works from this show sold. His follow-up studio exhibition, The Store, inspired by the bodegas and immigrant businesses in the generally run-down and marginalized immediate area, was even more commercially successful. Also in 1960 (preceding Warhol's "Factory" by two years) Oldenburg began calling his studio the Ray Gun Manufacturing Company and produced bulbous, crudely-fashioned "ray guns," imitations of generic sci-fi weapons for display in his rented storefront. He also collected toys and kitsch objects that he displayed alongside these sculptures in installations.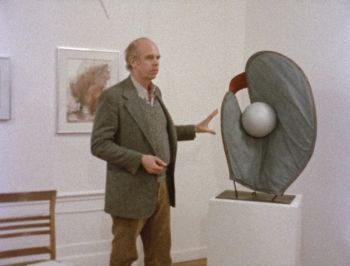 The Store caught the attention of the high-profile Green Gallery on 57th Street, where Oldenburg displayed his three colossal sculptures Floor Cake, Floor Cone, and Floor Burger, sculptures in stuffed, painted and sewn canvas, in 1962. From then on his work received significant acclaim, and for the next few years his production of "soft" convenience foods and domestic objects was prolific and varied: sandwiches, fries spilling out of the to-go packet, a hot water bottle, telephones and toilets, and other kitchen utensils and mass-manufactured household items. Characterized by a fluid hand, his works on paper remained an important, ongoing aspect of his career. Over the second half of the 1960s, he began to produce an extensive series of drawings of fantasy architecture, which led to prints and later, public monuments. Also during the late 60s, he established a long-term affiliation with pre-eminent art dealer Leo Castelli, who supported his ambition to produce work on a monumental scale.
In an effort to realize some of his larger projects, in 1967 Oldenburg participated in an "art and technology" program run by the Los Angeles County Museum of Art that led to a residency at a branch of Walt Disney Enterprises. This facilitated his development of a cartoon mouse, a symbol first explored in his early drawings, into which he incorporated the shape of a movie camera. This became Oldenburg's personal symbol and inspired the painted steel mouse sculptures of varied sizes and colors included in his "Mouse Museum" exhibition for Documenta (the international contemporary art exhibition in Kassel, Germany) in 1972. A few years later, he created a similar museum-style installation of his stylized "ray guns."
In 1976, another breakthrough year, he executed his first monumental outdoor sculpture, Lipstick (Ascending) on Caterpillar Tracks, and his first corporate commission, Clothespin (1976, Center Square Plaza, Philadelphia) shortly followed. From then on, he has focused nearly exclusively on large-scale public sculpture.
Late Period
Oldenburg married Dutch art historian, Coosje van Bruggen (1942-2009) in 1977, and collaborated with her on his colossal, polychrome outdoor sculptures from late 1976 until her death in 2009. Van Bruggen dealt with site logistics and solutions to logistical problems related to Oldenburg's sketches, freeing him to focus primarily on the designs for these public monuments, although these divisions were never clear-cut and Van Bruggen also contributed to creative ideas for the works. In this respect, their working relationship has been compared to that of the personal and professional duo Christo and Jean-Claude. Among their most popular projects are Spoonbridge and Cherry, (1988) a functional walking bridge over a stream in the form of a teaspoon holding a cherry (Minneapolis Sculpture Garden, Walker Art Center), Shuttlecocks, (1994) which seem to have landed from a titan-sized badminton game (Nelson-Atkins Museum, Kansas City), and Dropped Cone, (2001) a giant vanilla ice cream cone that collides with the corner of the roof of a shopping mall (Neumarkt Square, Cologne). Oldenburg's most recent completed public work is Paint Torch, (2011, Philadelphia). Still New York City-based, he now also works in California and France.
The Legacy of Claes Oldenburg
Oldenburg's influences splinter off in numerous directions, touching an array of artists and movements that seem unrelated, in accordance with the subtlety and multi-valent meaning of his work. Oldenburg is as cynical as he is celebratory (who else would draw up a plan to replace the Washington Monument with a pair of castrating scissors?). Comfort food, his life-long obsession, is perhaps the ultimate symbol for inconsolable loneliness. First-generation feminists noticed this, and Niki de Saint-Phalle and Lynda Benglis were among the first sculptors drawn to his pliant, expressive forms which they emulated to some extent in their early work. In addition, as Donald Judd acknowledged in his seminal article "Specific Objects" (1965), in mimicking the process of food preparation (Floor Cake, for example, is stuffed with ice cream cartons, troweled with icing-like paint, and assembled in layers), Oldenburg anticipated the credo of Minimalism: "it is what it is."
One needn't understand the multi-layered references to art or art history to enjoy Oldenburg's work. Its bright color, oversized scale, and unabashed appeal to the viewer influenced a generation of subsequent contemporary sculptors focused on manipulating the scale, placement, and texture of everyday objects, among them Jeff Koons and Damien Hirst. The missing link between Andy Warhol and Jeff Koons, Oldenburg broke new ground in his embrace of consumer appetites, giving audiences what they wanted, to literally: "let them eat cake."
Influences and Connections
Influences on Artist

Influenced by Artist
Friends & Personal Connections
Friends & Personal Connections
Movements & Ideas
Neo Pop Art
Useful Resources on Claes Oldenburg
Books
The books and articles below constitute a bibliography of the sources used in the writing of this page. These also suggest some accessible resources for further research, especially ones that can be found and purchased via the internet.
biography
written by artist
Similar Art