Artists
Claes Oldenburg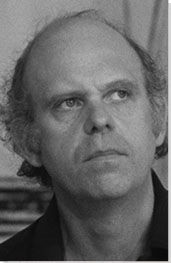 Born: January 28, 1929 - Stockholm, Sweden

"I am for an art that is political-erotical-mystical, that does something more than sit on its ass in a museum."

Summary of Claes Oldenburg
With his saggy hamburgers, colossal clothespins and giant three-way plugs, Claes Oldenburg has been the reigning king of Pop sculpture since the early 1960s, back when New York was still truly gritty. In 1961 he rented a storefront, called it The Store, and stocked it with stuffed, crudely-painted forms resembling diner food, cheap clothing, and other mass-manufactured items that stupefied an audience accustomed to the austere, non-representational forms in Abstract Expressionist sculpture. These so-called "soft-sculptures" are now hailed as the first sculptural expressions in Pop art. While his work has continued to grow in scale and ambition, his focus has remained steadfast: everyday items are presented on a magnified scale that reverses the traditional relationship between viewer and object. Oldenburg shrinks the spectator into a bite-sized morsel that might be devoured along with a giant piece of cake, or crushed by an enormous ice pack. His work shows us just how small we are, and serves as a vehicle for his smart, witty, critical, and often wickedly funny insights on American culture over the past half-century.
Key Ideas
Whereas Pop artists had imitated the flat language of billboards, magazines, television, etc., working in two-dimensional mediums, Oldenburg's three-dimensional papier maches, plaster models, and soft fabric forms brought Pop art into the realm of sculpture, a key innovation at the time.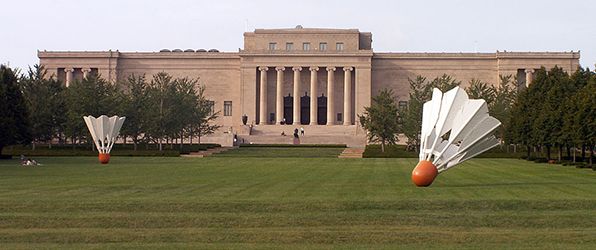 Shuttlecocks (1994) outside the Nelson-Atkins Museum of Art, Kansas City
Saying "Everything I do is completely original - I made it up when I was a kid," Oldenburg's pioneering work made monumental sculptures of badminton shuttlecocks and ice cream cones. By using "small subjects," as he said, "on a grand scale," the "real landscape" took on "imaginary dimensions."
Important Art by Claes Oldenburg

The below artworks are the most important by Claes Oldenburg - that both overview the major creative periods, and highlight the greatest achievements by the artist.


Artwork Images

Pastry Case, I (1961-62)

Artwork description & Analysis: A plate of frosted cookies, two sundaes, a cake, an oversized rack of ribs, and a half-eaten caramel apple vie for our attention inside a display case. Roughly to scale, these unappetizing models of classic American diner fare reach out to us, rather like embarrassing relatives. Like portraits, but without the human figure, the magic of Oldenburg's sculpture is the expressive element he imparts to it. The most emotional (and hilarious) of the Pop artists, his brilliance is in the balance he strikes between irony and earnestness in his references to American culture.

Painted plaster, ceramic and metal - The Museum of Modern Art, New York


Artwork Images

Floor Cake (1962)

Artwork description & Analysis: Oldenburg introduced sculpture to Pop art, beginning with a series inspired by Duchamp's "readymades" and the bluntly prosaic subjects chosen by Pop artists like Warhol and Lichtenstein. Floor Cone, Floor Burger, and Floor Cake (shown here) were among the monumental structures based on comfort food fashioned by the artist in the early 1960s. A Surrealist element arises from the dramatic shift in scale. Floor Cake, a giant squishy triangle five feet high and nine-feet long, reverses the familiar relationship between this object and the spectator (it looks like it might eat us). More so than other Pop artists, Oldenburg drew inspiration from the process that comprised the items on which his art was based. Floor Cake, for instance, was assembled in layers, as one might make a cake, its soft medium and opaque, slightly splotchy paint mimics frosting, and finally, even though this element is invisible, empty ice cream cartons and foam rubber were used for the interior filling, giving metaphorical guts to the piece.

Fabric - Museum of Modern Art


Artwork Images

Soft Toilet (1966)

Artwork description & Analysis: By the mid-1960s, Oldenburg was leading a full-fledged rebellion against the non-figurative sculptural tradition of Abstract Expressionism. Soft Toilet belongs to a series of straightforwardly representational forms generated by the artist during this period - sandwiches, egg beaters, toasters, and other mundane household items - roughly to scale and comprised of parts that fit together, much like the actual household objects themselves, with one glaring inconsistency. Soft materials, like fabric, or in this case latex, prevent these forms from holding their shape. Soft Toilet slumps forward, as if it may spill its contents into the room. By placing a toilet on a pedestal, Soft Toilet is an obvious homage to Marcel Duchamp's Fountain (an upturned urinal presented as art in 1917). Like its infamous predecessor, it is a mundane feature of the modern home intended for private use as opposed to aesthetic contemplation. Surrealism - a persistent element in Oldenburg's compositions - persists in the faux-melting effect. While unapologetically representational, this form is powerful in presence, not merely an imitation of the thing it represents, but an independent, expressive form capable of expression, like the human body.

Latex - Whitney Museum of American Art
More Claes Oldenburg Artwork and Analysis:
Influences and Connections
Influences on Artist
Artists, Friends, Movements
Influenced by Artist
Artists, Friends, Movements

Interactive chart with Claes Oldenburg's main influences, and the people and ideas that the artist influenced in turn.
View Influences Chart

| | | | | |
| --- | --- | --- | --- | --- |
| Artists | | Personal Contacts | | Movements |

Influences on Artist

Claes Oldenburg
Years Worked: 1960s - present
Influenced by Artist

| | | | | |
| --- | --- | --- | --- | --- |
| Artists | | Personal Contacts | | Movements |
If you see an error or typo, please:
tell us
Cite this page

Content compiled and written by The Art Story Contributors
Edited and revised, with Synopsis and Key Ideas added by Ruth Epstein
" Artist Overview and Analysis". [Internet]. . TheArtStory.org
Content compiled and written by The Art Story Contributors
Edited and revised, with Synopsis and Key Ideas added by Ruth Epstein
Available from:
First published on 21 Jan 2016. Updated and modified regularly.


[Accessed ]