Artists
Roy Lichtenstein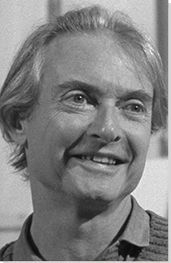 Roy Lichtenstein
American Painter, Sculptor, and Lithographer
Movements and Styles: Pop Art, Postmodernism
Born: October 27, 1923 - New York, NY
Died: September 29, 1997 - New York, NY

"I'm never drawing the object itself; I'm only drawing a depiction of the object - a kind of crystallized symbol of it."

Summary of Roy Lichtenstein
Roy Lichtenstein was one of the first American Pop artists to achieve widespread renown, and he became a lightning rod for criticism of the movement. His early work ranged widely in style and subject matter, and displayed considerable understanding of modernist painting: Lichtenstein would often maintain that he was as interested in the abstract qualities of his images as he was in their subject matter. However, the mature Pop style he arrived at in 1961, which was inspired by comic strips, was greeted by accusations of banality, lack of originality, and, later, even copying. His high-impact, iconic images have since become synonymous with Pop art, and his method of creating images, which blended aspects of mechanical reproduction and drawing by hand, has become central to critics' understanding of the significance of the movement.
Key Ideas
Art had carried references to popular culture throughout the 20
th
century, but in Lichtenstein's works the styles, subject matter, and techniques of reproduction common in popular culture appeared to dominate the art entirely. This marked a major shift away from
Abstract Expressionism
, whose often tragic themes were thought to well up from the souls of the artists; Lichtenstein's inspirations came from the culture at large and suggested little of the artist's individual feelings.
Although, in the early 1960s, Lichtenstein was often casually accused of merely copying his pictures from cartoons, his method involved some considerable alteration of the source images. The extent of those changes, and the artist's rationale for introducing them, has long been central to discussions of his work, as it would seem to indicate whether he was interested above all in producing pleasing, artistic compositions, or in shocking his viewers with the garish impact of popular culture.
Lichtenstein's emphasis on methods of mechanical reproduction - particularly through his signature use of Ben-Day dots - highlighted one of the central lessons of Pop art, that all forms of communication, all messages, are filtered through codes or languages. Arguably, he learned his appreciation of the value of codes from his early work, which drew on an eclectic range of modern painting. This appreciation may also have later encouraged him to make work inspired by masterpieces of modern art; in these works he argued that high art and popular art were no different: both rely on code.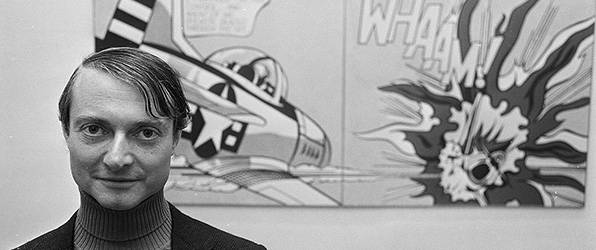 Detail of Oh, Jeff...I Love You, Too...But... (1964) by Roy Lichtenstein
Lichteinstein was led to to put a microscope to his surroundings, to pursue a lifelong inquiry that he summarized thus: "I'm interested in portraying a sort of antisensibility that pervades society."
Important Art by Roy Lichtenstein

The below artworks are the most important by Roy Lichtenstein - that both overview the major creative periods, and highlight the greatest achievements by the artist.

Popeye (1961)

Artwork description & Analysis: Popeye was one of the very first Pop paintings that Lichtenstein created in the summer of 1961. At a later stage he would begin to focus on the generic human figures that appeared in cartoons of the period, but, early on, he chose immediately recognizable characters such as Mickey Mouse and Popeye (here, Popeye appears with his rival Bluto). The work is also distinct in being one of the last in which Lichtenstein actually signed his name on the surface of the picture; critic Michael Lobel has pointed out that he seems to have done so with increasing uncertainty in this piece, combining it with a copyright logo that is echoed in the form of the open tin can above it. Some have suggested that Popeye's punch was intended as a sly response to one of the reigning ideas in contemporary art criticism that a picture's design should make an immediate visual impact. Whereas most believed this should be achieved with abstract art, Lichtenstein here demonstrated that one could achieve it just as well by borrowing from low culture.

Oil on canvas, © Estate of Roy Lichtenstein

Drowning Girl (1963)

Artwork description & Analysis: In the early 1960s, Lichtenstein gained renown as a leading Pop artist for paintings sourced from comic books, specifically DC Comics. Although artists such as Robert Rauschenberg and Jasper Johns had previously integrated popular imagery into their works, no one hitherto had focused on cartoon imagery as exclusively as Lichtenstein. His work, along with that of Andy Warhol, heralded the beginning of the Pop art movement, and, essentially, the end of Abstract Expressionism as the dominant style. Lichtenstein did not simply copy comic pages directly, he employed a complex technique that involved cropping images to create entirely new, dramatic compositions, as in Drowning Girl, whose source image included the woman's boyfriend standing on a boat above her. Lichtenstein also condensed the text of the comic book panels, locating language as another, crucial visual element; re-appropriating this emblematic aspect of commercial art for his paintings further challenged existing views about definitions of "high" art.

Oil and synthetic polymer paint on canvas, © Estate of Roy Lichtenstein - The Museum of Modern Art, New York

Yellow Landscape (1965)

Artwork description & Analysis: Lichtenstein expanded his use of bold colors and Ben-Day dots beyond the figurative imagery of comic book pages, experimenting with a wide variety of materials; his landscape pictures are a particularly strong example of this interest. Lichtenstein made a number of collages and multi-media works that included motors, metal, and often a plastic paper called Rowlux that had a shimmery surface and suggested movement. By re-appropriating the traditional artistic motif of landscape and rendering it in his Pop idiom, Lichtenstein demonstrated his extensive knowledge of the history of art and suggested the proximity of high and low art forms. His interest in modern art also led Lichtenstein to create many works that directly referenced artists such as Cézanne, Picasso, and Matisse.

Rowlux and oil on paper, © Estate of Roy Lichtenstein - Kunstmuseum, St. Gallen, Switzerland
More Roy Lichtenstein Artwork and Analysis:
Influences and Connections
Influences on Artist
Artists, Friends, Movements
Influenced by Artist
Artists, Friends, Movements

Interactive chart with Roy Lichtenstein's main influences, and the people and ideas that the artist influenced in turn.
View Influences Chart

| | | | | |
| --- | --- | --- | --- | --- |
| Artists | | Personal Contacts | | Movements |

Influences on Artist

Roy Lichtenstein
Years Worked: 1940 - 1997
Influenced by Artist

| | | | | |
| --- | --- | --- | --- | --- |
| Artists | | Personal Contacts | | Movements |
If you see an error or typo, please:
tell us
Cite this page

Content compiled and written by Rachel Gershman
Edited and published by The Art Story Contributors
" Artist Overview and Analysis". [Internet]. . TheArtStory.org
Content compiled and written by Rachel Gershman
Edited and published by The Art Story Contributors
Available from:
First published on 21 Jun 2010. Updated and modified regularly.


[Accessed ]