Artists
Damien Hirst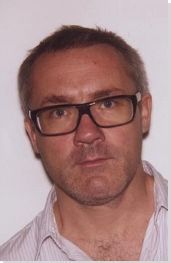 Born: June 7, 1965 - Bristol, England

"The difference between art about death and actual death is that one's a celebration and the other's a dull fact."

Summary of Damien Hirst
One of the late-20th century's greatest provocateurs and a polarizing figure in recent art history, Damien Hirst was the art superstar of the 1990s. As a young and virtually unknown artist, Hirst climbed far and fast, thanks to Charles Saatchi, an advertising tycoon who saw promise in Hirst's rotting animal corpses, and gave him a virtually unlimited budget to continue. His shark suspended in a tank of formaldehyde, entitled The Physical Impossibility of Death in the Mind of Someone Living, wowed and repulsed audiences in 1991. In 1995 (the same year that he won the coveted Turner Prize) Hirst's installation of a rotting bull and cow was banned from New York by public health officials who feared "vomiting among the visitors." Hirst, the Sid Vicious of the art world (the Sex Pistols were his favorite band), is the logical outcome of a process of ultra-commodification and celebrity that began with Andy Warhol.
Key Ideas
From the outset of his career, Hirst devised a fool-proof strategy for grabbing the attention of the public and critics. Rotting corpses appalled and attracted museum visitors, who saw it as a kind of dare. Critics were equally appalled, not so much by the art as by the sky-high prices (often prearranged) paid for it. This kept Hirst at the center of the art world and augmented the value of his work, which continues to command some of the highest prices on the market.
Bloody bodies (martyrs and the death of Christ) and mothers and children (the Madonna and Child) are iconic themes in Western religious painting. Hirst, who was raised Catholic, cites this as an important dimension of his aesthetic sensibility.
Controversial as it is, Hirst's approach is firmly rooted in historical and contemporary sources. In its focus on death, it hearkens back to the memento mori (reminders of mortality) images in European still life. In using biological materials, he joins other contemporary artists of the late-20
th
century, among them
Robert Rauschenberg
, with his taxidermied animals,
Carolee Schneemann
, who covered herself in raw meat, and
Joseph Beuys
, who constructed
Fat Chair
and other sculptures made of fat. Where Hirst differs from his historical and contemporary predecessors is in his display of entire corpses as visual spectacles.
Hirst is a great showman. One needn't be an art specialist to appreciate the thrill of seeing a dead shark up close. Not just for art world insiders, these strike a chord with many first-time visitors to museums, introducing them to the challenges of contemporary art in an engaging and immediate way.
Love him or hate him, Hirst was a visionary in anticipating the needs of the contemporary art market. One could argue, as some have, that this in itself is a form of art.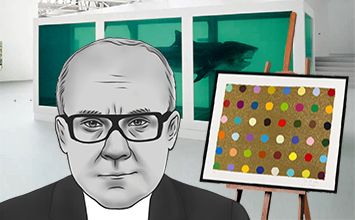 Hirst specializes in taking on life and death, in what is underneath the surface. As one of the world's most famous artists, his visions are on public display.
Important Art by Damien Hirst

The below artworks are the most important by Damien Hirst - that both overview the major creative periods, and highlight the greatest achievements by the artist.


Artwork Images

With Dead Head (1991)

Artwork description & Analysis: The artist, with a huge grin on his face, poses next to a severed head in a morgue. Hirst selected the photograph and enlarged it in 1991 for one of his early solo shows, though it had been taken several years earlier. He said of the photograph, "I wanted to show my friends, but I couldn't take all my friends there, to the morgue in Leeds. I'm absolutely terrified. I'm grinning, but I'm expecting the eyes to open and for it to go: 'Grrrrraaaaagh!'"

This early piece, indicative of his preoccupation with the relationship between life and death, is gruesome, satirical, and disturbing, evoking the conflicting feelings of repulsion and fascination many feel when confronted with the physical realities of death. In this way, Hirst's work returns us to the tradition of 17th-century Cabinets of Curiosities (specimens from the natural world, including parts of cadavers, arranged for public display), and acknowledges the eternal appeal of disturbing, even repulsive biological subjects.

Black and white photograph on paper - Tate / National Galleries of Scotland


Artwork Images

In and Out of Love (White Paintings and Live Butterflies) (1991)

Artwork description & Analysis: Hirst's first solo exhibition, held in London in 1991, built upon his established reputation for using live animals in his work. The artist glued pupa onto white canvases, where they hatched into butterflies, fed on bowls of fruit, mated, and subsequently died. When asked what the work was about, he responded, "love and realism, dreams, ideals, symbols, life and death", and also "the way ... the symbol exists apart from the real thing. Or the butterflies still being beautiful even when dead." He admitted it was, "a crazy thing to do when in the end it's all art." The previous year, Hirst had displayed a significantly gorier work entitled A Thousand Years (1990), a glass case with maggots feeding off a bloody cow's head, which attracted the attention of Charles Saatchi, who would become his most important financial backer. While A Thousand Years had solidified his reputation, Hirst and his investor perhaps intuited that the public was not yet ready for such a work.

Hirst revisited the theme of butterflies in an installation at the Tate Modern in 2012. Two windowless rooms were filled with live butterflies, brought in daily by the butterfly expert from London's Natural History Museum and swept up by the museum staff when they perished. While some viewers were distressed that the butterflies were not in their natural habitat (animal rights activists were not amused), others appreciated the opportunity to contemplate the fragility of life. As one viewer commented, "There's a terrific poignancy about them because their lifecycle is so short and they are vulnerable and delicate."

Installation - Tate Modern, London

The Physical Impossibility of Death in the Mind of Someone Living (1991)

Artwork description & Analysis: This is the work that established Hirst as a major presence in the art world. A little like the art world version of Jaws, this installation featuring a 14-foot tiger shark preserved in formaldehyde that capitalizes on the viewer's visceral response, a spine-tingling thrill one experiences in the presence of a good horror movie, knowing one is safely removed from the danger. The Physical Impossibility of Death in the Mind of Someone Living was among the works showcased in the Sensation exhibition of the early 1990s, the great succes de scandale" of the late-20th century and a game-changer in the art world. Charles Saatchi funded both the work and the exhibition, which were roundly condemned by art world conservatives from London to New York, and embraced by audiences eager for something new. On the meaning of the work, Hirst commented that the vitrines "first came from a fear of everything in life being so fragile" and explained that he wanted "to make a sculpture where the fragility was encased... [and] exists in its own space." Jeff Koons's Total Equilibrium Tanks (1985), a basketball suspended in a glass case, is an obvious precedent for Hirst's work. Dismissed by some critics as a "pickled shark," this has nevertheless come to be considered an icon of British art in the 1990s. Due to deterioration of the original specimen, the shark was replaced in 2006.

Tiger shark, formaldehyde solution, glass, steel - Metropolitan Museum of Art
More Damien Hirst Artwork and Analysis:
Influences and Connections
Influences on Artist
Artists, Friends, Movements
Influenced by Artist
Artists, Friends, Movements

Interactive chart with Damien Hirst's main influences, and the people and ideas that the artist influenced in turn.
View Influences Chart


Influences on Artist

Damien Hirst
Years Worked: 1988 - present
Influenced by Artist

If you see an error or typo, please:
tell us
Cite this page

Content compiled and written by Jen Glennon
Edited and revised, with Synopsis and Key Ideas added by Ruth Epstein
" Artist Overview and Analysis". [Internet]. . TheArtStory.org
Content compiled and written by Jen Glennon
Edited and revised, with Synopsis and Key Ideas added by Ruth Epstein
Available from:
First published on 29 Feb 2016. Updated and modified regularly.


[Accessed ]