"I always said punk was an attitude. It was never about having a Mohican haircut or wearing a ripped T-shirt. It was all about destruction, and the creative potential within that."
"A lot of the bands were very, very different, but we had the same approach to art. Art should be a part of the music, and you know, challenge you really."
"I was so lucky getting a place at Croydon Art School...If I hadn't gone to Croydon I would never have met Malcolm McLaren. We were both into situationism and Guy DeBord's The Society of the Spectacle, and would feed each other information. For me, Malcolm was the greatest conceptual artist of the 20th century. Not just for what he did with the Pistols but for everything else he did."
"I'm separated by other performers with whom I might be lumped, since what I say is so intensely personal. I'm anti-art and anti-poetry. As much as possible, I want to inflict my personal pain on the rest of society."
Summary of Punk and Post-Punk Art
More than a musical genre or fashion trend, punk was a cultural movement that represented a near-complete reset for the way art, music, film, journalism, and style was made and understood. It allowed new types of people to be creative and responded to the harsh economic conditions of the late 1970s that left young people pessimistic about their future. Building their own spaces and ways of expressing themselves in the rubble of political and social malaise, the first wave of punk established the principles of DIY, accessibility and freedom that continued to reverberate through the next fifty years of popular culture.

Many artists, scholars and writers now draw a line between this first wave of "punk" and "post-punk", suggesting that the original punk moment was relatively short-lived (1976-79) and devoted to the destruction of established conventions. Post-punk represents what came after, when artists and musicians attempted to create new and original kinds of culture after the punk moment of reset. This shift is often seen as being marked by the original wave of punk bands and artists achieving a measure of success and moving beyond their original and marginal social context, and the changing social dynamics brought about by the election of Margaret Thatcher in Britain (1979) and Ronald Reagan in the United States (1981).

The punk impulse, favoring aesthetic qualities of aggression, introspection, and formal extremity can be identified throughout the performance, literature, visual art and film made by artists of the era. The influence of both punk and post-punk is foundational to modern graphic design, fashion, music and the question of what it means to be an artist today.
Key Ideas & Accomplishments
Punk brought a new wave of youth and aggressive selfexpression to a cultural moment that had become staid, comfortable, and restricted in its imagination. Punk artists formed new artistic languages by taking parts of older ones, speeding them up or twisting them to their own ends, and using them to talk defiantly about their lives.
Punk was a movement that refused to be hemmed in by disciplines. Artists worked in whatever genre or form that they wanted to, and frequently many at once. This resulted in original, cross-disciplinary artworks that straddled markets and techniques.
Punk allowed people previously shut out of the art world to participate, particularly as it became an unarguable social and artistic phenomenon. It's DIY ethos encouraged people to get involved, figuring techniques out as they go and disrupting the established artistic pipelines and career pathways that caused certain demographics to dominate the Western cultural world (notably wealthy, educated white men and those they patronized).
Although often characterized as a working-class phenomenon, it also true however that many punk bands and collectives had members who had been to art school, and the influence of concepts like

Situationism

, the readymade and institutional critique can be seen across their artistic practices, often in subversive dialogue with the concept of art history and the institutions that govern it.
Punk is now an archetypal example of the way that a subculture can be commodified, neutralized, and incorporated into the mainstream. Scholars and art historians often use it as an example of the flexibility of capitalism to accommodate its critique and repurpose them to sell more clothes, records, and books. Nevertheless, punk still inspires rebellious and inherently political art, raising questions about the centrality of aesthetics when it comes to defining a cultural movement that transcends them.
Artworks and Artists of Punk and Post-Punk Art
Progression of Art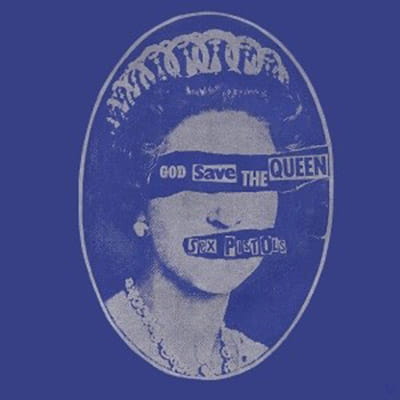 1977
God Save the Queen
Jamie Reid created several different versions of his God Save the Queen design for the Sex Pistols' song of the same name. The most notable is his appropriation of a black and white portrait of Queen Elizabeth II taken by photographer Cecil Beaton during her jubilee celebration. Reid altered and changed the context of Beaton's photograph with the addition of his signature cut-and-paste lettering spelling "God Save the Queen" and "Sex Pistols" which blocks out her eyes and mouth. This stylistic technique is indicative of Reid's application of décollage, where a composition is created through cutting, tearing away or partially removing elements of appropriated images. It is the opposite of collage, which is also heavily used by punk artists.

Author Dan Brady explains that Reid's style, "subtly draws your attention away from the Queen's portrait, making her inclusion to the piece less important, which is the whole point of the anarchic ideology. The tearing away of the Queen's features also is symbolic of this idea that the monarchy should be abolished. The removal of her eyes also seems to suggest that the Queen is covering her own eyes so that she doesn't have to look at the mess that society was in at the time, as if she was purposefully trying to be unaware of what was going on."

Reid's artwork, and the Sex Pistols song that he created the work of art for, was controversial. They were released during the Queen's Silver Jubilee celebrations to mark the twenty-fifth anniversary of Elizabeth II's ascension to the throne. The Queen and the Royal Family had few mainstream critics at the time, but the popularity of the Sex Pistols' song and Reid's striking imagery, represented a sharp rebuttal to the British monarchical system and the overarching political and social atmosphere of the UK. The release of the single "God Save the Queen" and Reid's artwork were accompanied by several publicity stunts and mainstream media appearances, making it an instantly recognizable and politically charged image.

In an alternative and even more confrontational version of God Save the Queen Reid places swastikas over the monarch's eyes and pierces her lips together with a safety pin. Both the swastika and safety pin are representational imagery that have been appropriated by punk musicians and artists in attempts to make abject, shocking, and rebellious statements in opposition to social, political, and cultural norms.
Screen print
1978
Roz of Negative Trend: Suspended Animation
Bruce Conner's Mabuhay Gardens series of photographs astutely represent the Bay Area's punk rock scene during its heyday. Through the lens of the camera, Conner captured the energy and intimacy that transpired between punk rock performers and their fans within the San Francisco nightclub, Mabuhay Gardens. Also known as "The Fab Mab" or simply, "The Mab," Mabuhay Gardens was the West Coast's version of CBGB and was renowned as an environment that fostered local punk bands and the subculture at large.

Negative Trend was an early San Francisco punk band, active between 1977 and 1979. Despite their short tenure, members of the Negative Trend made continual contributions to punk rock music as they went on to found the popular post-punk bands Flipper and Toiling Midgets. Rozz Rezabek was Negative Trend's frontman and is featured as the central figure in Conner's photograph. It provides an up close and personal experience of what a Negative Trend concert entailed. Sweat can be seen glistening on Rezabek's skin and his shirt has been ripped, likely as a result of the intensity of his performance. A fan reaches out towards the vocalist making contact with his body.

The photograph was taken in a moment when Rezabek's bottle of Budweiser slipped out of his hands, sending foam and fizz splattering in all directions. Overall, Conner's composition is a signifier of the often-raucous nature of punk shows and the physical relationship between performers and their fans.

Artist Emma Hart reflects upon the significance of Conner's Mabuhay Gardens photographs writing, "Never holding back while photographing punk rock shows at the Mabuhay Gardens, Conner documents his immersion in the scene, breaking the boundary between spectator and performer and providing a lens into the punk world of late 1970s when Mabuhay Gardens, or Fab Mab, emerged as the center of the San Francisco punk club milieu."
Gelatin silver print
1979
Beauty Becomes the Beast
Beauty Becomes the Beast is a forty-minute color film starring no wave and punk poet and musician Lydia Lunch. The film poetically expresses a feminist narrative that is represented through Lunch's regression from adulthood into childhood with allusions to sexual abuse and the subjugation of women's bodies throughout their lives. These were also themes Lunch herself often drew on in her own art, music and writing.

Lynch's age-ambiguous character wanders around the East Village with a disheveled rubber baby doll as her travel companion. The narrative is mediated through mass media signifiers, with scenes intercut with clips from popular television shows like I Love Lucy and media excerpts of subcultural icons like Patty Hearst. The soundtrack is largely composed of Lunch's music with her post-punk no wave band Teenage Jesus and the Jerks.

Film critic James Hoberman describes the film's narrative structure and impact as, "Switching scenes and modes like a bored TV watcher idly spinning the dial, the film depicts a world of women where mother and daughter are reciprocal roles in an ongoing chain of victimization.... Extremely effective, [this super 8 film] derives its considerable power mainly from the graphic regression of Lunch's persona and from an undercurrent of sexual rage that courses throughout."
Super 8mm film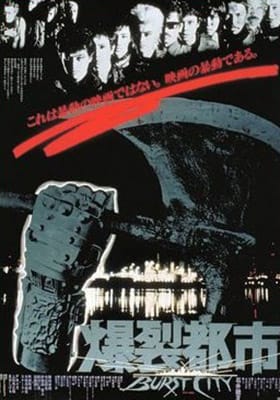 1982
Burst City
Punk rock music and punk associated subcultures reached Japan in the late 1970s via both the United Kingdom and the United States. However, the Japanese punk scene quickly took on its own unique identity, which included the incorporation of various noise frequencies and other sonic and tonal explorations more readily associated with experimental compositional music.

One of the most prominent and foundational artistic responses to the burgeoning Japanese punk scene of the late 1970s and early 1980s is Gakuryu Ishii's 1982 film, Burst City. The film highlighted the music, style, and social and cultural attitudes of early Japanese punk bands including The Roosters, The Rockers, and The Stalin, as well as an encapsulation of Japan's local and national punk rock scenes. Ishii even cast members of the Japanese punk scene to act in the film. In addition to its showcase of Japanese punk, Burst City is also a creative commentary on nuclear disarmament and coincides with major international anti-nuclear protests, such as the one on June 12, 1982, which brought more than one million people to New York City's Central Park.

Burst City is set in a futuristic urban setting and has a dystopian fictional plotline intercut with musical interludes featuring performances by the bands. In the first part of the film, members of the community react to the construction of a nuclear power plant and Yakuza corruption in their rundown and neglected neighborhood. The responses from the residents are framed as acts of protest and an anti-establishment philosophy, again referencing the political dimension of punk activity. These responses include nightly concerts by local punk bands in underground clubs, as well as drag racing, wild partying, and street fighting.

Film critic Margaret Barton-Fumo provides accolades for the film as an epitome of punk art, stating that: "Burst City is a fantastic, raggedy display of punk ethos. It's what the squares would call a "wild ride," taking the urgency of a DIY 7-inch record and dilating it to the length of a double LP. Truly devoted punks combine anarchy with nihilism, as Ishii does here with a continuously spiraling, caustic energy...Burst City is what happens when you give an ornery punk some serious money to make a movie with his friends; a blatantly confrontational, cinematic middle finger."
Film
1982
No Title (Life Isn't Always...)
Raymond Pettibon's imagery is unique when compared to other artists in the punk and post-punk scenes in that it rarely makes references to the culture around it at the time of its creation. Art critic Rapheal Rubinstein notes: "What is conspicuously absent in this work is any visual reference to the actual punk scene of the time. Pettibon has said that he consciously avoided contemporary content. No doubt this has helped his early work to transcend its original moment, but an avoidance of the present also suits the nostalgic character of Pettibon's imagination, which is obsessively attracted to past styles, both visual and literary."

Pettibon's artworks juxtapose image with text in a manner that draws comparisons to West Coast underground comics, film noir, and political cartoons. Rather than illustrate contemporaneous happenings from the punk scene, Pettibon sardonically reflects upon prior countercultural movements as a means to critique their commodification and expose their negative elements. New York Times art critic Holland Cotter wrote, "Mr. Pettibon is, with gratifying regularity, a sharp political critic. It is the most interesting thing about him. His targets can be quite specific: the drug-wrecked hippie movement of the 1960s, the American war in Iraq. Yet his entire output, despite interludes of lyricism and nostalgia, and a running strain of stand-up humor, is a steady indictment of American culture as he has lived it over the past 60 years."

Pettibon frequently takes aim at hippie culture. Writer and punk aficionado, Nicholas H. Simpson elaborates on punk's animosity towards hippie culture: "When push came to shove, hippies were middle-class kids who offered the working class absolutely no solutions. They were more concerned with their feelings and were seen by the punks as lacking action. Nowhere is this better symbolized than by the famous image of the flower in the barrel of the rifle, demonstrating the lack of willingness on the part of hippies to act aggressively and fight fire with fire."

Pettibon's anti-hippie imagery assesses the ramifications of herd mentality that can exist within grassroots countercultural movements. In a series of early 1980s drawings including No Title (Life Isn't Always....), Pettibon illustrates the phrase: "if your friends jumped off a bridge, then would you too?" His drawing suggests that devoting too much of yourself to a scene and its ideology is no better than jumping off a building. As arts and cultural writer Nathan Taylor Pemberton interprets, we can only assume the man's fate. He could be jumping to his death, but as Taylor Pemberton also notes, "Assuming Pettibon's hippie landed, on his feet, into a job, and into some respectable clothes, President Reagan had just rolled out a new kind of war that could be fought comfortably and without the hassle of foreign governments and their armies, from any home or neighborhood in the United States." - a war on non-conformity, independent thought, and critical thinking.

In later works, Pettibon turns his pen towards punk subculture as well, skeptical of its progression and commodification. He states that the punk era he was a part of during the 1980s has gone "Totally overboard, but inevitable. I go along with it with some unease."
Ink on paper
2004
Ramones
In 2004, Richard Hambleton and Arturo Vega collaborated on a large painting that reimagined the cover art of the Ramones' 1976 self-titled album. Vega's hand lettered typography of the band's name is juxtaposed with Hambleton's expressive silhouettes, which transformed the four original Ramones into his Shadowman figures.

The original photograph for the Ramone's inaugural album was taken by punk rock photographer Roberta Bayley, who was a mainstay at CBGB where the band often headlined shows. The photograph depicts the four members of the Ramones leaning up against a graffitied wall in their trademark attire of t-shirts, leather jackets, ripped jeans, and Keds sneakers (they later wore Chuck Taylor/Converse shoes). In Hambleton and Vega's rendition, the band's sneakers are the most decipherable intimate detail.

The combination of these iconic punk rock images subtly references the pervasiveness of punk influences in the visual languages that surround us today. It is an original image, but one that draws on the visual histories of punk, represents some of its most straightforward and idiosyncratic music, made as a collaboration between two artists whose practices have moved from the street and self-published material into galleries, record stores, and major museums. In its playfulness, unmistakable style and journey through institutions this could easily sum up the significance, depth and importance of punk to all cultural activity since it exploded into being in the mid-1970s.
Acrylic on canvas
Beginnings of Punk and Post-Punk Art
Whilst the word 'punk' has been in use in English for centuries (even appearing in William Shakespeare's 1603-4 play Measure for Measure) it began to be used by music critics like Lester Bangs in the 1970s to describe the raw sounds and audacious attitudes of a number of emerging bands that played stripped down rock music, such as Iggy & The Stooges. This aggressively 'back to basics' approach was intended and read as a rejection of rock and roll's commodification, which had reached its apex in the excess and arena tours of the major rock acts of the 1970s, and the commercialization of previously rebellious genres of music like disco. By the mid-1970s disco had become a formula applied to all emerging pop acts and significantly diluted from its original emancipatory relationship to gay, Black and Latinx subcultures, for example.
Around 1976, punk emerged as a cultural zeitgeist in both the United States and the United Kingdom primarily through music and fashion. In addition to their simplistic and sped-up version of rock and roll, early punk bands were notable for their distinctive attire, which usually consisted of homemade, dirty and tattered clothing. From the very beginning, punk existed as both a musical genre, and an intertwined fashion, literary and graphic design movement. Posters, flyers and (later) album artwork maintained a DIY (Do It Yourself), homemade aesthetic, and drew heavily on collage and repurposing of readymade images.
The sparse and homemade nature of this visual and musical identity often reflected the living situation of these early punks, who were clustered around poor and run-down neighborhoods in major cities like New York and London. New York's Lower East Side, for example, was the center for early punk in the United States. As New York's population reduced following World War II, previously densely packed neighborhoods were hollowed out, leaving them both cheap to live in and largely ungoverned, proving to be a mecca for rebellious young artists, poets, and musicians. Many artists, bands, writers and filmmakers lived in cheap and dilapidated apartments for little or no rent, living amongst the urban squalor of previously working-class and immigrant neighborhoods that were also often centers of crime and drug use. As writer Luc Sante remembers, for those moving to the city, "material deprivation was not much of a sacrifice, considering that the payoff was independence from the social and cultural mainstream". Eventually many of these enclaves would later provoke their own individual identities and movements, such as the East Village Art scene of the mid-1980s.
Their independence allowed punk and post-punk artists to create work without regard to the market or commercial considerations, operating as a small and self-contained ecosystems of DIY spaces, clubs, audiences, and independent publications. They dressed how they wanted, made what they wanted, and lived in a way that challenged the established tenets of society.
Aesthetic and Fashion
As punk became established in the cultural mindset, and through the careful brand management of figures like Malcolm McLaren, the manager of foundational UK punk band the Sex Pistols, a recognizable (and importantly, commodifiable) aesthetic solidified around the subculture in the media and wider population.
The Sex Pistols became the archetypal British punk band, but were actually a group manufactured by McLaren, who was also a fashion designer, artist, and musician. In 1974, McLaren had opened a boutique called SEX at 430 King's Road in London with his partner Vivian Westwood. SEX sold fetish and bondage wear by fashion labels such as Atomage, She-And-Me, and London Leatherman. SEX also featured the designs created by McLaren and Westwood, which became definitive clothing items associated with the emerging punk movement in the UK. Regulars at the shop included the original members of the Sex Pistols, Adam Ant and Siouxsie Sioux. American expat Chrissie Hyne (who would later form The Pretenders) worked in SEX as a shop assistant.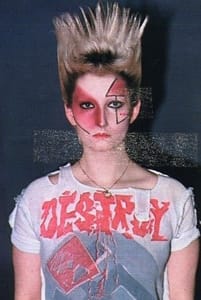 McLaren and Westwood's designs were deliberately shocking, featuring swastikas, nudity and defaced versions of the Queen. English actress and model Pamela Rooke (also known as Jordan Mooney) started working with McLaren and Westwood at SEX when she was a teenager. Rooke recalled that her fashion style resulted in her being harassed and gawked at by members of the public: "I commuted for about two years. I had some real bad dos on the train. I had tourists trying to pay me for my photo ... worse than that, mothers saying that I'm upsetting their children and debauching them and how dare I get on a train looking like that. Somebody tried to throw me off the train one day, literally out the door, so British Rail told me to go sit in first class, get out of trouble."
In New York, fashion designers like Ray Goodman were some of the key aesthetic influences. Goodman's boutique, Trash and Vaudeville was established in 1975, with the original location at 4 Saint Marks Place. The shop has continued to be an iconic shopping destination for punk culture. Like McLaren's SEX, Trash and Vaudeville was influential for its inventory of clothing and accessories that defined the punk rock fashion aesthetic. Goodman, along with Trash and Vaudeville's in-house stylist and salesperson Jimmy Webb dressed influential punk, post-punk, and new wave musicians such as members of the Ramones, The Clash, and Blondie's Debbie Harry. Due to rent hikes Trash and Vaudeville's iconic St Marks Place location closed in February 2016. The store reopened at 96 East 7th Street the following month.
While SEX and Trash and Vaudeville provided a convenient outlet and experience to shop for punk fashions, they were also expensive, particularly to the working-class audiences that defined punk in the UK and the artists that lived in bohemian poverty in major US cities. But the overall form and function of the punk aesthetic was easily replicated at home, its DIY spirit making it accessible and practicable to both trained and untrained artists and designers alike.
Whilst originally very diverse in its aesthetic, punk fashion came to be defined in the media by leather jackets, bondage inspired clothing, and accessories like studded jewelry and safety pins, an image which endures to the 21st century. Whilst punk rock fashion was highly invested in appearing DIY, and many artists and fans created and modified their own clothes to adhere to the required aesthetic, trends like safety pins were always influenced by the marketing of the subculture and a media fixation on hairstyles like the mohawk.
Punk Art & Graphics
British artist Jamie Reid has created some of the most iconic imagery associated with punk rock music and visual art. In the early 1970s, Reid met Malcolm McLaren at Croydon Art School, and the pair became involved in political activism. Reid established the Suburban Press, a Situationist International inspired printing press that espoused radical political theories like anarchism, and supported civil rights and feminist movements. During the five years he co-ran the press, Reid developed his signature style of arranging and juxtaposing imagery with text. His artwork graced the cover of the Sex Pistols' Never Mind the Bollocks, as well as their most popular singles, "Anarchy in the U.K." and "God Save the Queen." His 1977 design for the "God Save the Queen" single has been called "the single most iconic image of the punk era," by photography critic Sean O'Hagan. The image and song, released in the year of the Queen's silver jubilee made them crucial objects of cultural discourse, marking a shift in the relationship of the British public to ideas of monarchy.
In the United States, Mexican-American graphic artist Arturo Vega made iconic artwork and designs for the Ramones, which like Reid's work for the Sex Pistols, are archetypal examples of punk's visual art aesthetic. Vega was responsible for the creation of the Ramone's logo, which appropriated the Great Seal, the principal national symbol of the United States. Vega's version consists of several alterations that represent the essence of the Ramones' identity. Instead of the eagle holding a quiver of arrows, he placed a baseball bat in its right talon as a play on the lyrics from the song "Beat on the Brat." Instead of the initial "E pluribus unum" motto that spans across a banner held in the eagle's beak, is the phrase "Hey Ho Let's Go," from the song "Blitzkrieg Bop." "Hey! Ho! Let's Go!" became a rallying chant among fans of the Ramones.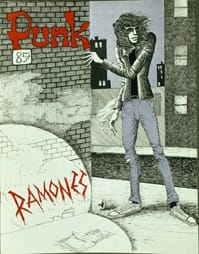 Cartoonist and writer John Holmstrom also created graphic art for the Ramones. His underground comic style of artwork is featured on the back cover of Rocket to Russia (1977) and the front cover of Road to Ruin (1978).
Holmstrom's most influential contribution to the punk scene was the publication of Punk magazine along with co-founders Ged Dunn and Legs McNeil. Punk magazine was a fanzine that provided context, commentary, and documentary footage of punk music and culture, especially the scene at the acclaimed New York City punk venue, CBGB. Punk magazine is emblematic of the intersections between different artistic disciplines that punk thrived on, with articles, artwork and graphics by visual artists who were also in bands and band members who moonlighted as writers and artists. The first issue of Punk came out in 1976 with an illustration of Joey Ramone by Holmstrom. There were a total of fifteen issues between then and 1981.The magazine resurfaced in 2007 to release a special issue commemorating the venue CBGB, which had closed on October 15, 2006.
In the 1980s, a subgenre of post-punk rock music that eventually came to be known as hardcore took form. Hardcore was typified by faster and more aggressive sounding compositions than the first wave of punk rock, and was more suburban in its origin than the original scene, emerging first in the suburbs of Washington DC and Southern California. Just like the original punk scene in New York and London, hardcore also had a unique and notable connection to the visual art scene of its era. This was most apparent in the art and illustrations of Raymond Pettibon, which he created for bands in the southern California scene. Pettibon's art was an unmistakable element of the visual identity of hardcore punk groups on the SST Records label. His older brother, Greg Ginn owned the label, and was also the founding member of Black Flag, one of the first bands that were labelled "hardcore". Pettibon created Black Flag's logo and the band's album covers, gig posters, and merchandise. His artwork also frequented posters and cover art for the Dead Kennedys, Minutemen, Sonic Youth, and Throbbing Gristle.
Documenting the Punk Scene
From its first emergence, documentation of the punk scene has been one of the key methods by which it circulated and grew. Many artists part of the original scenes in New York and other US cities maintained practices that bridged or combined different artistic disciplines, with photographers playing in bands, filmmakers working alongside musicians and writers also producing artworks and music.
Don Letts was a major figure on the punk scene of the 1970s in London, occupying both the crucial position of the house DJ at the Roxy (a major punk venue) and a filmmaker whose footage of the early punk scene was eventually cut together as The Punk Rock Movie in 1978. Letts went on to make his own music with Big Audio Dynamite, formed with Mick Jones of The Clash, and is a clear example of how one form of artistic practice (filmmaking) morphed and transformed into another (music) within the punk scene. Lett's Jamaican heritage and Rastafarian faith also demonstrates the racial and cultural intermingling that went on within punk in what were usually highly racially polarized and stratified societies.
A notable US figure is photographer Marcia Resnick. Resnick's intimate portraits of punk rockers show a more sensual side to the often angst-ridden punk rock atmosphere during the 1970s and 1980s. According to journalist Alex Pisalo, "There isn't a single Resnick's art photograph that doesn't have a deep cultural and social message. Combining confrontation and communication between different words, her photographs explore fame, sexuality, and lifestyles."
Other photographers captured the raucous essence of punk and post-punk by attending shows and documenting the action of both musicians and fans. These photographers include Roberta Bayley and David Godlis. Bayley was working the door at the legendary New York City punk venue, CBGB when she met Godlis (best known by his alias GODLIS). Bayley developed an affinity for photography as a teenager and taught herself the basics of photographic composition and development. She further pursued her training as a college student at San Francisco State. GODLIS also started photographing during his teenage years and was later a classmate of influential contemporary photographer, Nan Goldin. Bayley's access to CBGB provided a wealth of subject matter and connections to formative punk, hardcore, new wave, and no wave bands.
Regarding the impetus and inspiration for his photographs and what drew him towards the punk scene, GOLDIS reflected that: "New York had professional places, where bands with record contracts were playing, but CBGB's seemed like something off the cuff, different. And that interested me. I had a day job as an assistant, but I always took my camera everywhere. I didn't expect to take pictures. It wasn't considered cool and artistic to take pictures of rock and roll stars and these weren't rock and roll stars anyway, but it was something different. It was a scene."
Bruce Conner's documentary photographic footage of the iconic San Francisco venue Mabuhay Gardens encapsulates the music, attitude, and overall aesthetic of the Bay Area punk bands and their fans. Conner, who had already made a name for himself as a 1950s Beat-era artist and filmmaker, found kindred spirits among the younger punk generation. Already an established gallery and museum artist by the 1980s, his contributions to the assemblage art form, monumental sculptures, drawings, and experimental films anticipated the anti-authoritarian spirit of the punk movement, which rebelled against the commodification of countercultural phenomenon like the mid-1960s hippie movement and the transformation from the hippie generation to the yuppie generation. Art historian Kristine Stiles was Conner's studio assistant at the time he was capturing the Bay Area punk movement on camera. She reflects that the older artist found intriguing connections between his own Beat-era ideologies and the hardcore punk mentality: "From 1960 to 1980, the Bay Area was the site of rapidly altering beliefs, a situation that resulted from the compression of different generational countercultures between which the 1970s were pressed. The pessimism, anger, and rejection of mainstream American culture smoldering in the Beats skipped a generation to become punk abnegation, while hippie entrepreneurial impulses morphed into the upwardly mobile professionalization of yuppies. Most artists coexisted in this congested hyper-pluralism, such that their interaction produced effects 'multiplicatively (one might even say chemically).' In addition, everyone knew everyone. Ideas cross-fertilized generations, groups, and communities, and artists intermingled fully with poets, musicians, filmmakers, photographers, critics, and scholars."
Punk and Post-Punk in Galleries and Institutions
Punk came at a time when many urban environments were going through a significant cultural transformation. Recognizing the downtown scene flourishing in the Lower East Side during the late 1970s throughout the 1980s, Canadian-born artist Richard Hambleton was one of those who united the gritty and edgy aesthetics and attitude with the polished New York gallery scene. Hambleton is lesser known than his street art and graffiti contemporaries, who included Jean-Michel Basquiat and Keith Haring, but his involvement and crossover connection to the punk scene is a notable one.
Hambleton is best known for his Shadowman paintings, which are expressive and angsty silhouettes of human figures. He initially painted these images on walls and other public objects within the city, and later exhibited them in galleries. The Shadowman works were an extension of his Image Mass Murder artworks, which he painted from 1976 to 1978. These works were intended to resemble the chalk outlines police paint around homicide victims. Hambleton elicited volunteer "homicide victims" as models to create a contour of their body, after which he splashed red paint on the outline, which resulted in a somewhat realistic looking crime scene. They embodied anxiety, abject shock, and societal discord, which were also motifs in many punk rock anthems. Author Glenn Dixon assesses that, "With a splattery, macho, punk-rock edge, the Shadowmen were jarring, bold, and exciting. They were of a piece with a city untamed, back before Manhattan became what it is today, a glittering high-rise parking lot for overseas cash and a Mall of America where you can get rained on." In 1983, Hambleton contributed his iconic Shadowman imagery to a clothing line collaboration with punk fashion trailblazers McLaren and Westwood. In 2004, Hambleton and Arturo Vega collaborated on a large painting of the Ramones.
Both Bruce Conner and Raymond Pettibon's work is also associated with the integration of the West Coast punk scene and the fine art world. Pettibon's work similarly alternated between DIY punk culture and the commercial gallery scene. Pettibon's witty and subversive artwork utilized to promote punk bands which were once posted in basement venues and independent music and book stores are now in the collections of many major museums.
New Wave and No Wave
From late 1977 "New Wave" and "No Wave" emerged in New York from the vacuum left behind when most of the original punk artists like Patti Smith and the Ramones became increasingly absent as their success grew and regularly took them away from the city. The name No Wave reflects the nihilism and altogether bleaker outlook of the bands, and their sound, which was abstract, abrasive and unconcerned with musical convention. This distinguishes them from the bands referred to as the New Wave, such as Talking Heads and Blondie, who instead moved towards more musical citation, incorporating influences from pop, world, soul and funk into their music. Journalists and cultural commentators often use the two labels to distinguish the bands and associated figures within a wider umbrella of post-punk.
Alan Vega epitomized a No Wave aesthetic as both an artist and musician through his use of abrasive samples and beats in his music, as well as found industrial and objects in his visual artwork. Vega studied art at Brooklyn College with Surrealist painter Kurt Seligmann and Abstract Expressionist Ad Reinhardt. He was the co-founder of the electronic protopunk duo, Suicide, as well as a sculptor who made large assemblages out of electronic debris. Other notable no wave art contributions include the collaborations between post-punk polymath Lydia Lunch and a series of filmmakers which included Vivienne Dick, Beth and Scott B, James Nares and Richard Kern.
In the summer of 1980, a collective of No Wave artists, known as Colab organized The Times Square Show. The exhibition consisted of over 100 artists displaying work in an empty massage parlor nearby Times Square in New York City. A wide variety of media and styles was represented in the exhibition including graffiti, feminist art, appropriation art, assemblage, and performance. No Wave art was a key element of the Lower East Side art scene and its de facto headquarters inside ABC No Rio, a collective artspace that embraces No Wave and punk aesthetics and political views in line with the Situationist International, feminism, and the Black arts movement.
Concepts and Styles
A Rebellious Aesthetic
Punk inspired visual art can be viewed as an amalgamation of modernist and contemporary art movements that rebelled against prevailing mainstream art modes. Dada and the Situationist International movement are clear precursors to the maverick processes and anti-establishment concepts of punk art, and were cited by many punk and post-punk artists as influences on their thinking. Like Dada, punk and post-punk art incorporates a myriad of visual, literary, and sound media, such as collage, sound poetry, cut-up writing, and found-object sculpture. Also like the Dadaists, punk artists rejected concepts and aestheticism of capitalist culture by embracing absurdity, irrationalism, and anti-bourgeois messages in their artwork.
The Situationists are often cited as an inspiration to punk and post-punk artists, who could easily be read as reacting against the "Spectacle," a philosophical concept by Situatioinist writer Guy Debord to describe how capitalist society and commodification of mass imagery and art was creating an overarching sense of complacency and submissiveness amongst the population. This subdued effect enables political forces and cultural tastemakers to assert and maintain control over the masses. As Debord explains in his 1967 publication The Society of the Spectacle, the Situationists sought to create art and creative interventions in order "to wake up the spectator who has been drugged by spectacular images, through radical action in the form of the construction of situations, situations that bring a revolutionary reordering of life, politics, and art".
This concept echoes many of the statements of punk and post-punk artists that wanted to "wake up" young people to the lack of opportunities for expression that they enjoyed in the late 1970s. Punk music journalist Jon Savage described the impact of punk imagery as a means to divert from the mainstream embrace of the "Spectacle," stating that, "In the act of dismembering and reassembling the very images that were supposed to keep you down and ignorant, it was possible to counteract the violence of The Spectacle and to refashion the world around you."
Alongside the reactionary work of Dada and Situationist International artists, Savage notes the influences of John Heartfield, Martin Sharp, and Penny Slinger, who each made art that communicated socially engaged and countercultural themes. In addition to the aforementioned art movements and artists, the following techniques are also defining elements of the punk visual art aesthetic: collage, cut-up, décollage, photomontage, and zine making. In an essay titled "The Art of Punk and the Punk Aesthetic," visual culture critic Rick Poynor addresses the popular media associated with punk art: "This was an art of expediency, making use of collage, cartoon drawings, hand-lettering, rub-down lettering, ransom-note lettering, stencils, rubber-stamping and black and white Xerox copying, as well as silkscreen and offset litho."
Political Performances and Identity
Punk music, fashion, and art often engaged with political activism as part of its general drive towards increasing awareness of social injustice and cultural barrenness. The British band Crass was one of the first prominent punk groups to explicitly embrace a political identity in anarchism. Their lyrics contain references to anarchism as a political ideology, subculture, activist and resistance movement. Other political and socially engaged themes that Crass addressed include animal rights, feminism, anti-fascism, and environmentalism. In addition to their music, Crass' visuals are iconic and were highly influential for introducing the stencil technique to the punk rock aesthetic. Members Penny Rimbaud and Gee Vaucher had backgrounds in graphic design, and put their skills to use, providing artwork and graphics that increased the visibility of their political platform.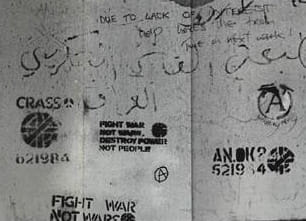 Some of the most notable visual techniques utilized by Crass include spray-painted stenciled graffiti applied over advertising billboards and within the London Underground subway system. Graffiti stencil phrases popularized by Crass include "Fight War Not Wars." The band also created their own symbol to mock authoritarianism by combining prior political iconography such as the Christian cross, swastika, Union Jack, and the ouroboros. To further their image, Crass members performed while dressed in either military surplus or all black attire and hung banners on stage with affirmative messages such as "there is no authority but yourself." Members of Crass (notably Rimbaud and Vaucher) were also instrumental in the ongoing success of Dial House, a rural commune in Essex, England, that still operates today on anarchist principles of communal living and support.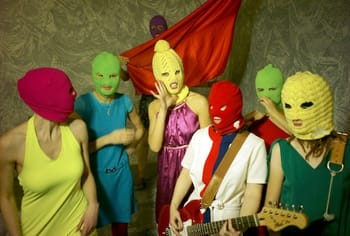 In the contemporary era punk is still associated with political activism. One of the most notable recent examples is the work of the Russian-based band and art collective, Pussy Riot, who are well known for their politically-focused punk rock music and aesthetic activism. Like Crass, Pussy Riot appropriates signs, symbols, and attire from both authoritarian regimes, as well as revolutionary movements. Their worldwide status as punk provocateurs and social activists was confirmed in 2012 when they performed Punk Prayer at Moscow's Cathedral of Christ the Savior. Lyrics to the song were highly critical of the social and cultural oppression propagated through Vladimir Putin's political regime and the Russian Orthodox Church. On February 21, 2012 five of the group's members trespassed into a restricted area of the church, typically reserved for male worshipers. Inside, they plugged in electronic instruments, covered their faces with their signature bright balaclavas, and performed their loud and fast punk music before they were whisked away by security and arrested by police. The subsequent trial of Pussy Riot members Nadezhda Tolokonnikova, Maria Alyokhina, and Yekaterina Samutsevich resulted in international support for the collective. On 17 August, each member was convicted of hooliganism motivated by religious hatred and were sentenced to two years imprisonment.
Appropriation
Appropriation within punk art is generally used as a strategy for satirizing and critiquing popular culture, politics, or iconography. The most unmistakable example of an appropriated image in the punk style is Jamie Reid's 1977 design for the cover of the Sex Pistols' single, God Save the Queen. The cover art features a manipulated photograph of Queen Elizabeth II, which photographer Cecil Beaton had taken during her Silver Jubilee. Reid is also notable for other appropriation work that he did for the Sex Pistols, including the poster for the band's third single, Pretty Vacant. The poster borrows imagery from a 1973 pamphlet design by Situationist International artist David Jacobs. Jacobs' Space Travel: An Official Guide for San Francisco Commuters features cover art of a city bus with the word "nowhere" written on the route sign. In Reid's rendition, he has added an additional bus with the word "boredom" in the route sign.
Cut-and-Paste and Décollage
One of the most widely recognizable and applied tropes in punk imagery is the anarchic and contrasting application and juxtaposition of imagery and text. Punk artists largely achieve this aesthetic via cut-and-paste and décollage methods. Décollage is a counter technique to collage. Rather than creating an image by adding segments from prior images, works created in the décollage manner are torn away or altered in a way that subtracts elements from an image.
The use of these techniques are most evident in Jamie Reid's formative work for the Sex Pistols, which in turn influenced other artists to incorporate similar compositional strategies. Reid is especially renowned for utilizing a DIY typographic motif that resembles the cut-and-paste lettering associated with ransom notes. This can also be seen in work of Peter Saville, the massively influential British graphic designer for Factory Records, a Manchester post-punk record label, and Arturo Vega, who was the in-house designer for the original New York Punk magazine.
Zine-making
Zines - homemade magazines or pamphlets usually devoted to a single topic - are a strategic, crafty, and economical way to disseminate information. The ease of making a zine by combining text and images and reproducing it via Xerox or photocopy, made it a go-to method for punk and post-punk artists and fans. Zines emerged early on in the punk scene as a means for fans to communicate information about different bands and happenings throughout local and national punk scenes, before evolving into a unique and largely self-sustaining artistic ecosystem. Issues often included content such as reviews of shows and albums, interviews with bands, letters, and ads for records and labels but rapidly expanded to focus on niche sub-genres, particular concerns or political topics, specific geographical or national contexts or historical periods and styles.
In the United Kingdom, Sniffin' Glue was one of the earliest punk fanzines. Mark Perry started the zine in 1976, using simple materials like a children's typewriter and felt tip pens. Perry was working as a bank clerk at the time, but after listening to the London release of the debut album by the Ramones his aspirations were to be a part of the music scene. He recalls, "I wanted to be involved even though I wasn't a musician. There were fanzines, but they were for more marginalized music, like blues and country. Inspired by the Ramones track 'Now I Wanna Sniff Some Glue,' I thought it would be great to do a punk fanzine." Sniffin' Glue became a touchstone for the British punk scene, and features prominently in the archival records of the era.
In the United States, Richard Peterson and V. Vale's Search and Destroy and Maximum Rocknroll created by Tim Yohannan, were the epitome of the punk subculture zines. Both publications came out of San Francisco and developed an international readership. Search and Destroy was established in 1976, while the first issue of Maximum Rocknroll came out in 1982. Aside from promoting punk rock bands and countercultural figures associated with punk and other subcultures, both zines were formative environments for emerging artists and writers to get exposure for their work. Peterson, who was Search and Destroy's initial photographer, noted the diverse array of participants and content that was featured in the zine: "There was probably an equal balance of straight and gay people, various races, every orientation, everyone living out their fantasy of who they wanted to be, without anyone telling them different. Between 1976 and '81, I met the most extraordinary people and connections, incredible artists, dark, dreamy, a lot of surrealism. People came from all over the world to participate in it. Surrealism was a big part of the paper, a lot of surrealist and dada influence."
Later Developments - After Punk and Post-Punk Art
Punk itself was very short lived, with the initial impetus to destroy all existing culture and get "back-to-basics" rapidly exhausted. Whilst there is no hard date when it might be said that punk ended and "post-punk" began, certainly by the election of Margaret Thatcher in Britain (1979) and the rise of Ronald Reagan in the United States (1980-81) the cultural zeitgeist had shifted in favor of a decidedly post-punk attitude, where artist were more interested in originality than destruction.
Ironically, while punk appropriated mainstream tropes as a means of rebellion against status quo ideologies and consumer culture, the mainstream has since come to embrace punk culture. Punk-influenced design, fashion, and music has been incorporated into contemporary popular music and mass media since the late 1970s, reflecting its titanic impact and the power of its artistic promise. This is particularly the case for signifiers of the first wave of punk, such as safety pin jewellery, leather jackets, mohawk hairstyles and other tropes. In 2016, Joseph Corré (the son of Malcom McLaren and Vivian Westwood) engaged in a high profile protest against mainstream culture's appropriation of punk music, art, and subculture, by burning $6.8 million dollars worth of punk memorabilia and archival material.
Post-punk too has continued to influence and shape the aesthetic sensibilities and working practices of many artists and musicians. This is evident in the increased gallery attention towards figures like Raymond Pettibon and Peter Saville, and the many retrospectives and publications which document the reverberations of 1976 and '77. As Simon Reynolds observed in 2005, "post-punk has become one of the few untapped resources for the retro industry, inspiring a gold-rush frenzy' that is evident in the increasing interest and attention it provokes."
Separate from its appropriation by the mainstream and the "retroficiation" of many of its original artists, the punk zeitgeist is maintained by an international group of diverse artists. Contemporary art that makes reference to and appropriates the punk zeitgeist includes works by Japanese painter Yoshitomo Nara, Chinese conceptual artist Ai Weiwei, and American street artist Shepard Fairey, to name but a few of those whose artistic practices would only be possible after the upheavals of punk and post-punk. Artists across hugely diverse geographies, cultural backgrounds and disciplines reference or cite punk ideology and iconography in their work, it's methodologies of critiquing mainstream political, social, economic, and popular culture an essential historical moment in the development of 20th century art and cultural history.
Useful Resources on Punk and Post-Punk Art
Books
The books and articles below constitute a bibliography of the sources used in the writing of this page. These also suggest some accessible resources for further research, especially ones that can be found and purchased via the internet.
biographies
artworks