"There are so many images in the world...But I am slowing it down, so you really look."
"Art is an attempt to try and understand our own contemporary situation through making images that are completely personal, while also addressing our social context."
"The material that I am working with now is the same stuff I was thinking about as a kid: power and aggression."
"My work exists somewhere between movies and monuments."
"I wanted to do drawings on steroids: amplify them so they weighed in as heavy as a sculpture."
"An artist should know history. Shock value only lasts so long."
"I'm making artworks out of dust."
"What I'm trying to do is find this balance between something that's highly personal and also socially relevant."
"Drawing from photos is a way of reclaiming the images that haunt us. By drawing them, I make them become not just something I am looking at but something that becomes part of me."
"When they [exhibitions] open, I feel this weird combination. I have to figure out what I have learned, and I have to calm down about all the mistakes. I always think of the artist as a mortician. You have this idea, this idea comes to life, and then you have to kill it by making it. And then, as a mortician, you have to prepare it for the funeral, which is the exhibition when it's on view. And then it gets buried."
"Barnett Newman said this great thing, that he thought abstraction expressionists are representational artists working abstractly, and I think I'm an abstract artist working representationally."
"The thing is I'm sober, I'm 64, and I think I'm making the best work of my life and I really know what I'm doing. And every day I can't wait to fuckin' wake up in the morning. At the same time, I can count on the world to deliver me material because the world is so fucked."
"I think making art is a political gesture. Period."
"The history of art is basically a ladder that we as artists are meant to step on to get a little higher and establish another rung in the ladder so someone else can step on us...My religion is art and these are my saints."
"Art differs from a movie or time-based work in that art is not linear. Art enables you to create your own narrative. The audience can read it backwards, forwards, however they want... and the experience is always twofold: the way you look at something and the way you remember it."
Summary of Robert Longo
With his iconic drawings of torqued figures in suits and dresses caught as if mid-fall, Robert Longo shot to fame in the 1980s New York art world - his images resonating at the intersection of underground Punk culture and the adrenaline-fueled rush of Wall Street. Longo was a prominent member of the Pictures Generation, a group of artists who turned attention to media images and their imprints on the collective cultural psyche. He worked with multiple mediums, including popular forms such as music videos and, later in his career, produced large-scale, detailed charcoal drawings of news images, such as those documenting racial strifes in the US as well as the migration crisis in Europe. Throughout, he has maintained a keen interest in the media's representation of reality, and the artist's role in unpacking popular imagery for contemporary audiences.
Accomplishments
With his penetrating eye, Longo's work has stood out for his use of imagery from the center of culture's visual pulse, confronting viewers with the archetypes of their times. In this, photography has remained a central source: as he said, "Drawing from photos is a way of reclaiming the images that haunt us".
Branching out to popular mediums, Longo inserted in his works a sharp political sensibility, addressing power, violence, oppression, and the generational gap. These themes continued in his prescient 1995 feature-length film, Johnny Mnemonic, a cyberpunk action thriller about a future internet.
His more recent works on paper blow up images from the news media and give them a history painting scale, making him an unusual voice in contemporary art. Unlike traditional history paintings, Longo's images are stripped of grand, allegorical narratives usually tied with classical mythology. Instead, they stare the viewer in the face with the failures and inadequacies of our time, while giving heroic visual space to marginalized subjects in the news.
The Life of Robert Longo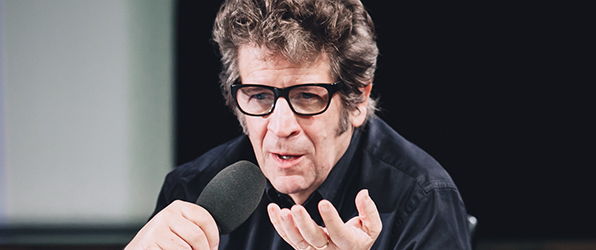 As an art student in Buffalo, Longo had a wide range of interests that would inform his later works. These included the work of the Soviet avant-garde director Sergei Eisenstein, contemporary experimental filmmaking, and works coming out of the art scenes in New York and California. With his art school friends, he co-founded Hallwalls, a visionary exhibition and talks space that saw the works of some of the most cutting-edge contemporary artists of the 1970s. The space continues to operate to this day and remains one of the premier venues for contemporary art in upstate New York.
Important Art by Robert Longo
Progression of Art
Biography of Robert Longo
Childhood
Born on January 7, 1953 in Brooklyn, New York and raised on Long Island, Robert Longo's early interest in mass media such as films and comic books had a profound influence on his later art. Dyslexia made school difficult for Longo, who described himself in his senior year of high school as the "hippy jock who was also organizing political protests." Longo recalls that he "emerged as a conscious being during the Vietnam War," with the 1970 Kent State University Massacre in Ohio solidifying his dedication to political causes. He went to school with Jeffrey Miller, the student protestor who was shot dead as documented in the iconic photograph.
Although he struggled in school, Longo enrolled in North Texas State University through college athletics. Needing to boost his academic performance, Longo, who knew he could draw, became an art major, although eventually he left without a degree. A grant in 1972 allowed him to study Art History and Restoration in Florence. Studying both the Old Masters and modern superstars, Longo began to see himself in relation to the long trajectory of art history. Plotting his own educational tour of Europe's museums, Longo realized that he wanted to create art. Returning to the States in 1973, Longo needed to enroll in college for a draft deferment. He studied art at State University College in Buffalo. The nearby Albright Knox Gallery and the community of artist friends were all formative in getting his art career started.
Early Training and Work

Between 1973 and his graduation in 1975, Longo writes that he "worked under the experimental filmmakers Paul Sharits and Hollis Frampton, who introduced [him] to structural filmmaking and Sergei Eisenstein's films," referring to the pioneering Soviet avant-garde filmmaker (1898-1948). In 1974, along with his artist friends including Cindy Sherman, Longo co-founded the exhibition space Hallwalls. The forward-looking space saw exhibitions and talks by artists (now considered luminaries) including Vito Acconci, John Baldessari, Lynda Benglis, Robert Irwin, Joan Jonas, Bruce Nauman, and Richard Serra. Through Hallwalls, Longo developed an important artistic network. He eventually moved, with Sherman, to New York in 1977 (the two dated from 1977-79 and then remained friends).
Although he was trained in sculpture, Longo began to seriously approach drawing after his move to New York: "My degree is in sculpture. I am a pretty physical person. I've always drawn; it's the basis of everything. When I moved to N.Y.C. I was broke and found some backdrop paper in the trash - big sheets - and I began drawing. It gave me the chance to work in the scale I wanted." After moving to New York, he worked as a studio assistant to Vito Acconci and Dennis Oppenheim. That same year, he was included in the seminal Pictures exhibition curated by Douglas Crimp at Artists Space. Regarded as one of the first exhibitions to pay attention to a new generation of artists shifting away from Minimalism and Conceptual Art, Pictures showcased artists who were all drawn toward image-making inspired by mass media (e.g., advertisements, newspapers, film, television). The artists included in the show--Troy Brauntuch, Jack Goldstein, Sherrie Levine, and Philip Smith - became known, along with a number of others in their circles, as the "Pictures Generation." The show provided a seismic shift in Longo's artistic career. Metro Pictures, the flagship gallery for the Generation from its founding in 1980, represented him, and over the course of the next decade, he became known as a preeminent member of the group, having achieved name recognition with his first solo show, which featured his 1981 Men in the Cities drawings. He began working with a multitude of media ranging from photography, drawing, sculpture, painting, film, and performance - all employed as critiques of capitalism, wars, and their ubiquity in the media, as well as the cult of history in the United States.
In 1984, Longo premiered his wall-based "Combines" at Metro Pictures, the title a nod to Robert Rauschenberg's work. An amalgam of painting, relief, and sculpture, Longo, in a 2014 interview, stated that these works "used Sergei Eisenstein's theory of montage to juxtapose conflicting imagery and forms exploring the workings of reason, intuition, fantasy, and power; concepts that continue to be important [to his artistic practice]".
Concurrently, Longo became a key figure in New York's underground art scene, collaborating with other arts-related groups and venues, rock bands, magazines, and filmmakers. Increasingly interested in film as a medium, he produced his first music videos in 1986 and a film the following year. Among his music videos, Longo was the director for the video for R.E.M's "The One I Love," the band's breakthrough hit. In the video, Longo made use of imagery reminiscent of his Men in the Cities but, enabled by video as a medium, also played with layering moving images on top of each other, creating a shifting, sometimes disorienting visual tableau that goes with the song's dark theme. Longo sees his music video work as part of his artistic trajectory. He describes it as an enjoyable way to develop and practice his film skills for application to longer movies. However, despite his work's popularity and high demand, Longo began to clash with music executives as the industry became increasingly corporatized.
Mature Period
Working across mediums, Longo's art became associated with 1980s New York and its changing topography, from the wild adrenaline rush of Wall Street and subsequent gentrification to the storied nightlife and creative bounty of the city's underground art and music scenes. His works consistently explored the role of images in pop culture, as well as the theme of disconnection and individual alienation in post-industrial society.
Following Reagan's economic policies and the first Gulf War, the 1990 recession marked another transition in his career. With the art market in turmoil, Longo moved to Paris, where he lived and worked before returning to the United States to direct Johnny Mnemonic (1994-95), a thriller starring Keanu Reeves, in Hollywood. The following year, Longo's Magellan (1996), a series of 366 small-scale drawings taken from mass media over the course of a leap year, proved to be another aesthetic benchmark for his subsequent artworks. Comprising of subjects as varied as rock concerts, murder scenes, animals, superheroes, and plants, the series served as a catalogue of his thoughts and observations of the visual world. He drew them alone in his studio as an antidote to his filmmaking experience involving hundreds of people. The series together formed an "image lexicon" that he would draw on in his later works.
Late Period
For an artist whose artistic directions were often spurred by political events and climates, Longo describes the early 2000s, with 9/11 (2001) and the war in Iraq (2003) as having "profoundly affected.. [his] .. outlook on the world." The scale of Longo's charcoal works portraying scenes from current events became monumental. They gained their heft from his desire to impart a sense of weight to familiar news images, to render their presence impactful like a sculpture. In addition to these hyper-realistic charcoal drawings, he also experimented with digital printing, such as in Essentials (2009), which portrays images of what he calls "absolutes" - a mushroom cloud, a shark, a sleeping child, a rose, among others - that, to him, embodied the collective unconscious.
In 2012, Longo suffered a stroke while he was playing basketball with friends. Suddenly, he recalls, "he was flat on his back, listening to his wife and [the actor John] Turturro talk to doctors about what the chances were that his life could be saved." After the stroke, his art career bounced back: "I saw the dark rider, bro...But if anything, since the stroke I've been on fire."
By 2014, world events ranging from the racial injustices in the US to the rise of Daesh/ISIS, became material for Longo's The Destroyer Cycle (2014), in which he captured these events as seen "predominantly through the lens of American media-creating visualizations of power, protest, futility, destruction, and aggression, that together form a searing portrait of our time." Today while Longo's work continues to respond to contemporary political events, he has also worked on a series examining details from celebrated works throughout the history of art.
The Legacy of Robert Longo
While Longo's oeuvre defies categorization by medium or genre, there is an overarching consistency in the thematic elements of his works, as well as a palpable melancholic aesthetic. Writing in 1989, art historian Hal Foster noted that "It is in the war zone between schizoid obscenity and utopian hope that the art of Roberto Longo is now to be found."
In terms of his engagement with political and social issues, Roberta Smith, art critic for the New York Times, has written that there is a noticeable "continual, if often simplistic, involvement with social issues, especially the dilemma of the individual in an increasingly chaotic society." In Smith's view, "The artist's essential indifference to materials and to sensuousness of any sort increasingly asserts itself. And, at times, the obviousness of his symbolism can make your jaw drop." According to writer and curator Presca Ahn, however, Longo's work possesses "a clear and unrelenting artistic gaze in which visual hedonism and political disillusionment are in constant tension."
Influences and Connections
Influences on Artist

Influenced by Artist
Artists
Sergei Eisenstein
Friends & Personal Connections
Charles Clough
Movements & Ideas
punk

Structural Film

Soviet Avant-Garde
Artists
Damian Loeb

Eric White

Max Ferguson
Friends & Personal Connections
Charles Clough
Movements & Ideas
Hyperrealism
Useful Resources on Robert Longo
Books
The books and articles below constitute a bibliography of the sources used in the writing of this page. These also suggest some accessible resources for further research, especially ones that can be found and purchased via the internet.
artworks