Artists
Joan Jonas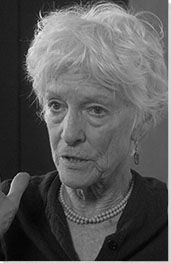 Born: 1936 - New York

"I rehearsed my work only at night, and when I rehearsed, I stepped into another space that was not the same as my everyday space. You could almost call it a séance."
Summary of Joan Jonas
Joan Jonas's practice is one full of the synergy, dynamism, and constant flux that is present in life itself. There is nothing static or easily definable about this art. Jonas works as a Performance artist, but within this realm she incorporates drawing, dance, noise, video, travel, and at the same time introduces various sculptural objects, photographs, and props. She also interweaves a plethora of literary sources, including poems, myths, and fairytales, and as such, presents a highly complex and multi-layered private imaginative world to a public audience. The result is not usually simple, and often viewers feel overwhelmed, as though they cannot grasp any sense of linear narrative in the artist's work. This is the honesty and integrity of a Jonas piece; she exposes without restraint that the self is fragmentary, anxious, and ultimately nonsensical. Since the early 1960s, and still today, albeit now with more institutional support, Jonas continues to examine her own identity, often in relation to other artists, cultural rituals, gender equality, societal gaze, and contemporary politics.
Key Ideas
Jonas is not afraid to let pieces take on a life of their own. Jonas's performances are more like paintings in this way; they start and then evolve intuitively. It is a major achievement to be able to make art without imposing limitations. Most performances by others are more tightly planned and wholly envisioned before they begin.
Jonas is interested in the relationship between humans and animals. She suggests that to live spiritually is to live alongside creatures, and for Jonas, this is usually a dog. In art history, interestingly, a dog is curled up by the feet of the figure of
Melancolia
(1514)in
Albrecht Dürer's
famous engraving, presenting the dog a suitable companion for the curious and reflective mind.
Kiki Smith
visits the same themes, and
Joseph Beuys
, when locked in a room with a coyote, positioned himself a shaman, acknowledging the same sense of "magical intrusion" that Jonas's speaks of when in the company of animals.
Jonas brings movement to static
Surrealist
works, for example, Jonas's
My New Theater
pieces, in which videos are displayed in wooden boxes with props inside recall the creations of
Joseph Cornell
. Her whole career echoes the important Surrealist question,
Who Am I
, and the recurrence of the mirror reasserts this idea. Her use of funnels, trumpets, and spheres are motifs also found in the canvases of
Remedios Varo
, and all such parallels remind the viewer that Jonas too is interested in mixing the conscious and unconscious together. Like the Surrealists, she is an artist working to celebrate the imagination, to unite disparate elements, and to dissolve boundaries.
Today, Jonas re-visits old performances and restages these in new locations, with new props, and with new performers. As such she successfully communicates that everything evolves and changes, and that in fact, to freeze anything in time can only be something of an illusion. She reveals that although traditional art may bring peace and space for reflection, it only serves to provide contrast to the chaos and endless shift in life, whilst her work, by contrast, holds a mirror up to this.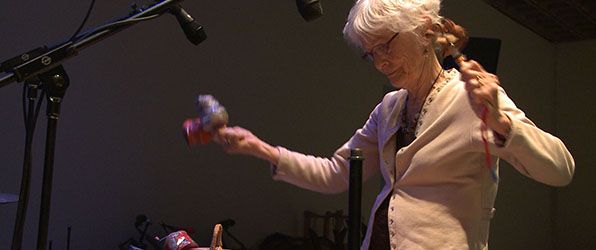 Joan Amerman Edwards was born in New York in 1936. Her parents divorced when she was young, and she spent most of her childhood living between Manhattan and Long Island. Jonas has said that she knew that she wanted to become an artist from around age six and that this ambition was highly encouraged by her surrounding artistic family, especially by her father who was an aspiring writer. Her mother was an avid collector of curiosities and often took the young Jonas to art galleries and to the opera. Jonas's aunt was a painter, and her stepfather a jazz musician and a magician.
Important Art by Joan Jonas

The below artworks are the most important by Joan Jonas - that both overview the major creative periods, and highlight the greatest achievements by the artist.


Artwork Images

Mirror Piece I (1969)

Artwork description & Analysis: In Mirror Piece I, Jonas along with other female performers employs mirrors as props in which they slowly perform a series of choreographed movements in front of a live audience. The work immediately recalls the work of fellow artists Ana Mendieta and Francesca Woodman, but while these two artists performed only for their camera, the audience is crucial for Jonas. Indeed, in the Jonas version of this way of assessing identity, the mirrors reflect not only the bodies of the performers, but also, and just as importantly, the audience members themselves. Indeed, by using very large mirrors that could easily break if not handled correctly, Jonas sought to create an unsettling feeling. When asked about the use of the mirror in her work, Jonas has commented that she "was interested in how an audience might feel uneasy as they were caught looking at themselves in the performance. In a way, narcissism is the nature of the medium."

This interest in narcissism, in the fabric of selfhood, remains an equally crucial focus today as it was in 1969. The work was re-staged in 2018 at the Tate Modern exhibition, and Jonas has said of such re-envisioning that she continues to find new layers and meaning in her work. As part of a larger series of other Mirror Pieces, this family of works is used as a tool to confront viewers on the subject of voyeuristic social standards placed upon women in western society.

Performance - Photo documentation in the Guggenheim collection


Artwork Images

Organic Honey's Video Telepathy (1972)

Artwork description & Analysis: Jonas's performance-based practice was revolutionized and invigorated in 1970 when - while visiting Japan - she bought her first hand-held video camera. Upon returning home she started to play and experiment with the capabilities and limits of this new portable technology. Using the camera, a TV screen, and a live video feed, she created her first video performance: Organic Honey's Video Telepathy. In this performance, Jonas performs as herself, as well as a masked alter ego double, Organic Honey. Much like a character from a Claude Cahun performance or a Cindy Sherman film still, Honey, dressed in a costume and doll mask, stood for the artists' questioning of fixed identity, narcissism, and womanhood. Mirrors and reflected mirrored images were used on a technical level for spatial layering, as well as on the level of meaning to separate Jonas from Honey, and paradoxically to unite the two together. By using props including robes, fans, and headdresses, a curator at the Dia Art Foundation suggests that Jonas "foregrounds emblems of female identity."

This work marks a cornerstone for Jonas in a long lineage of performances that discuss and question women's issues, body image, and societal demands placed on the female. She comments that this questioning, and indeed the work itself, came about at a time when she was an active part of a women's group; "It had a big effect on my life. The whole [women's liberation] movement did. Our group was small. We had a lot of pent-up anger about the whole situation. [We went in for] self-examination, and for revealing intimate aspects of one's sensibilities. Organic Honey's Visual Telepathy was all about asking the question: what is the feminine? I was concerned with the roles women play". Furthermore, it is interesting that the words "organic" and "telepathy" creep into the title of this work. By using the word "organic" Jonas reveals her love of the earth and desire to nurture and protect its gifts. And by introducing "telepathy", she infers that there is some sort of spiritual and magical faculties at work in her examination of self.

Video Performance - MACAB Collection


Artwork Images

Juniper Tree (1976)

Artwork description & Analysis: The Juniper Tree installation was first created in 1976, and has since been recreated in both 1994 and 2018. The work explores Jonas's love of folklore and of fairy tales. The work is her reinterpretation of the tale of the same name taken from the first volume of the Brothers Grimm fairy tales. The story begins with a woman wishing for a child "as red as blood and as white as snow", while standing by the juniper tree where she would eventually be buried. After giving birth to a boy, she dies and her husband re-marries and has a daughter. The step-mother, jealous of the step-son, kills him and serves his remains to his father in a stew. The son is then reincarnated into a bird and gets his revenge on his stop-mother by crushing her with a millstone. Upon the stepmother's death, the son is reborn and reunited with his father and half-sister.

This work became an important transitional work for Jonas, in that she uses paint, the practice of drawing, as well as narrative and text to represent the symbols and motifs in the story. In the process of performing the work, she would make ritualistic and totem-like paintings, working on an installation stage-set filled with props and music. The documentation of this installation would then be added to following recreations, including sound, all serving to further layer and add to the rich narrative, symbolism, and imagery.

Indeed, Jonas is particularly interested in how fairy tales change slightly as they are passed from one generation to the next. She is also interested in the extreme casting of the "good" or "evil" woman. In her performance, Jonas takes on multiple roles, that of the wise woman, the storyteller, and the evil woman, asserting to an audience that life is not easy to define, and human actions not easy to predict. Artist Kiki Smith shares a similar passion for fairytales and often re-envisions the classic: Little Red Riding Hood.

Installation and Performance - Tate Gallery
More Joan Jonas Artwork and Analysis:
Influences and Connections
Influences on Artist
Artists, Friends, Movements
Influenced by Artist
Artists, Friends, Movements

Interactive chart with Joan Jonas's main influences, and the people and ideas that the artist influenced in turn.
View Influences Chart


Influences on Artist

Joan Jonas
Years Worked: 1960 - Present
Influenced by Artist

| | | | | |
| --- | --- | --- | --- | --- |
| Artists | | Personal Contacts | | Movements |
If you see an error or typo, please:
tell us
Cite this page

Content compiled and written by Marley Treloar
Edited and revised, with Synopsis and Key Ideas added by Rebecca Baillie
" Artist Overview and Analysis". [Internet]. . TheArtStory.org
Content compiled and written by Marley Treloar
Edited and revised, with Synopsis and Key Ideas added by Rebecca Baillie
Available from:
First published on 05 Oct 2018. Updated and modified regularly.


[Accessed ]