Movements, Styles, and Tendencies
Feminist Art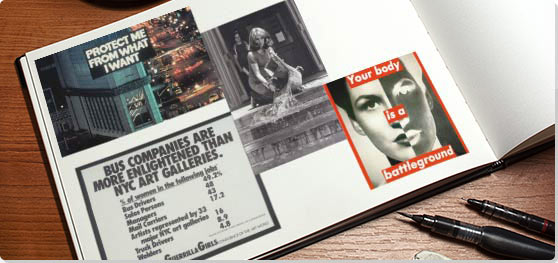 Feminist Art
Started: 1960s

Summary of Feminist Art
The Feminist art movement emerged in the late 1960s amidst the fervor of anti-war demonstrations and civil and queer rights movements. Hearkening back to the utopian ideals of early-20th-century modernist movements, Feminist artists sought to rewrite a falsely male-dominated art history as well as change the contemporary world around them through their art, focusing on intervening in the established art world and the art canon's legacy, as well as in everyday social interactions. As artist Suzanne Lacy declared, the goal of Feminist art was to "influence cultural attitudes and transform stereotypes." Feminist art created opportunities and spaces that previously did not exist for women and minority artists, as well as paved the path for the Identity art and Activist art of the 1980s.
Key Ideas
Feminist artists sought to create a dialogue between the viewer and the artwork through the inclusion of women's perspective. Art was not merely an object for aesthetic admiration, but could also incite the viewer to question the social and political landscape, and through this questioning, possibly affect the world and bring change toward equality.
Before feminism, the majority of women artists were invisible to the public eye. They were oftentimes denied exhibitions and gallery representation based on the sole fact of their gender. The art world was largely known, or promoted as, a boy's club, of which sects like the hard drinking, womanizing members of Abstract Expressionism were glamorized. To combat this, Feminist artists created alternative venues as well as worked to change established institutions' policies to promote women artists' visibility within the market.
Feminist artists often embraced alternative materials that were connected to the female gender to create their work, such as textiles, or other media previously little used by men such as performance and video, which did not have the same historically male-dominated precedent that painting and sculpture carried. By expressing themselves through these non-traditional means, women sought to expand the definition of fine art, and to incorporate a wider variety of artistic perspectives.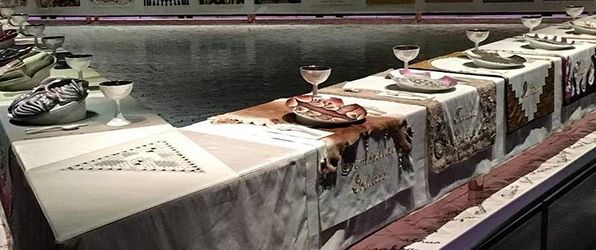 Detail of The Dinner Party (1974–79) by Judy Chicago
In 1971 at the California Institute of the Arts, Judy Chicago and Miriam Schapiro founded the first feminist art program. Chicago said she was "scared to death of what I'd unleashed," but, at the same time, "I had watched a lot of young women come up with me through graduate school only to disappear, and I wanted to do something about it." They did do something: she and Schapiro founded Womanhouse, a space for collaborative feminist art projects, that became a foundational model for the movement.
Important Art and Artists of Feminist Art

The below artworks are the most important in Feminist Art - that both overview the major ideas of the movement, and highlight the greatest achievements by each artist in Feminist Art. Don't forget to visit the artist overview pages of the artists that interest you.


Artwork Images

Some Living Women Artists/Last Supper (1972)

Artist: Mary Beth Edelson

Artwork description & Analysis: Mary Beth Edelson used an image of Leonardo da Vinci's famous mural as the base of this collage to which she affixed the heads of notable female artists in place of the original's men. Christ was covered with a photo of Georgia O'Keeffe. Aside from challenging the painting's male-only club, it also confronted the subordination of women often found in religion. The piece quickly became one of those most iconic images of Feminist Art and reinforced the movement's desire to negate women's absence from much historical documentation.

Lithograph on paper - Smithsonian American Art Museum

Womanhouse (1972)

Artist: Judy Chicago and Miriam Schapiro

Artwork description & Analysis: The installation Womanhouse encompassed an entire house in residential Hollywood organized by Judy Chicago and Miriam Schapiro as the culmination of the Feminist Art Program (FAP) at California Institute for the Arts in 1972. The twenty-one all-female students first renovated the house, which had been previously marked for demolition, then installed site-specific art environments within the interior spaces that ranged from the sculptural figure of a woman trapped within a linen closet to the kitchen where walls and ceiling were covered with fried eggs that morphed into breasts. Many of the artists also created performances that took place within Womanhouse to further address the relationship between women and the home.

The entire collaborative piece was about a woman's reclaiming of domestic space from one in which she was positioned as merely a wife and mother to one in which she was seen as a fully expressive being unconfined by gender assignment. This challenged traditional female roles and gave women a new realm to present their views within a thoroughly integrated context of art and life.

Mixed media site installation


Artwork Images

ArtForum Advertisement (1974)

Artist: Lynda Benglis

Artwork description & Analysis: In 1974, when artist Lynda Benglis was feeling underrepresented in the male-heavy art community, she reacted by creating a series of advertisements placed in magazines that took critical stabs at traditional depictions of women in the media. Her most famous ad was run in ArtForum in which she promoted her upcoming show at Paula Cooper Gallery by posing nude, holding a double-headed dildo, with sunglasses covering her eyes. She paid $3,000 for the ad, a small price for something that would establish her as a major player in Feminist art history. Also, by paying for the ad, Benglis was able to assure her voice would be heard without editing or censorship. She later cast a series of sculptures of the dildo, bent into a smile, a cheeky "f*** you" to the male-dominated art institutions.
More Feminist Art Artwork and Analysis:
If you see an error or typo, please:
tell us
Cite this page

Content compiled and written by The Art Story Contributors
Edited and published by The Art Story Contributors
" Movement Overview and Analysis". [Internet]. . TheArtStory.org
Content compiled and written by The Art Story Contributors
Edited and published by The Art Story Contributors
Available from:
First published on 01 Feb 2017. Updated and modified regularly.


[Accessed ]