Artists
Lee Krasner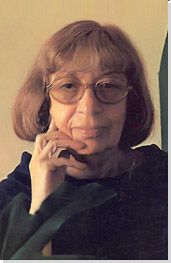 Born: October 27, 1908 - Brooklyn, New York
Died: June 19, 1984 - Queens, New York

"I happened to be Mrs. Jackson Pollock and that's a mouthful.. I was a woman, Jewish, a widow, a damn good painter, thank you, and a little too independent."

Summary of Lee Krasner
An ambitious and important artist in New York City during Abstract Expressionism's heyday, Lee Krasner's own career often was compromised by her role as supportive wife to Jackson Pollock, arguably the most significant postwar American painter, as well as by the male-dominated art world. Krasner was intimately involved in the synthesis of abstract form and psychological content, which announced the advent of Abstract Expressionism. Her desire to revise her aesthetic or what she called "breaks," led to her innovative Little Imageseries of the late 1940s, her bold collages of the 1950s, and, later, her large canvases, brilliant with color, of the 1960s. Krasner was "rediscovered" by feminist art historians during the 1970s and lived to see a greater recognition of her art and career, which continues to grow to this day.
Key Ideas
Krasner was a key transitional figure within abstraction, who connected early-20
th
-century art with the new ideas of postwar America. Inspired by artist
Piet Mondrian
's "grid," Krasner helped devise the "all-over" technique, which in turn influenced Pollock's revolutionary "drip paintings."
Krasner was remarkable for her artistic versatility and advanced skill, which, coupled with her intensive training in art theory, enabled her to revise her style and technique multiple times over the course of her career. Krasner purposefully initiated these "breaks" in order to distance herself from such artists as
Mark Rothko
and
Barnett Newman
, whose work she found too "rigid" and repetitive, and also to express herself more fully.
Krasner's incredibly high standards led her to cut up her older canvases that she found lacking. She recycled and reconfigured these scraps and pieces as collages, a practice that suggests that she was inspired by the work of
Henri Matisse
, whose work also inspired her colorful, decorative, large paintings of the 1960s. Because she reused her earlier canvases in this way, only a small body of Krasner's early work remains.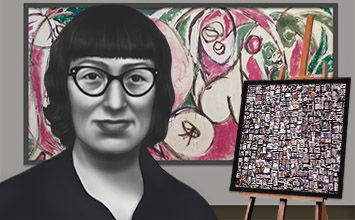 Lee Krasner was the sixth of seven children born to Russian-Jewish immigrants on October 27, 1908, who emigrated from Bessarabia. Growing up in immigrant, Jewish neighborhoods in Brooklyn, New York, Krasner was born Lena Krassner, but changed her name several times in the early portion of her life, eventually settling on Lee Krasner by the late 1940s. Art historians have pondered if Krasner used the abbreviated "Lee" as an attempt to disguise her gender.
Important Art by Lee Krasner

The below artworks are the most important by Lee Krasner - that both overview the major creative periods, and highlight the greatest achievements by the artist.


Artwork Images

Self Portrait (1930)

Artwork description & Analysis: Painted in 1930 when she was just 22 years old, Self-Portrait illustrates Krasner's early traditional training in realism, her strong technical skill, and her self-assuredness in the role of an artist. Such training and control were the foundations from which her abstraction would take off, leading to her signature Little Image series of the late 1940s. Situated outdoors, which creates an air of 19th-century naturalism, Krasner painted Self-Portrait in order to advance as a student within the National Academy of Design. Krasner chose to paint herself in the garb of a working artist who confidently holds her paintbrushes firmly in hand. To capture her own reflection, she nailed a mirror to a tree and worked on the painting throughout the summer. Krasner has frozen the act of painting as she works on the canvas. Although initially her teachers under-appreciated Krasner and doubted the veracity of her painting outdoors, they did promote her into the life drawing class.

Oil on linen - The Jewish Museum, New York


Artwork Images

Seated Nude (1940)

Artwork description & Analysis: Showing her indebtedness to Picasso, Seated Nude displays Cubist elements such as Krasner's non-realist command of geometrical, cube-like forms and her experiments with space. The drawing's structure becomes the armature for Krasner's energetic and expressive application of line, a marker of the more pure abstractions to come. Her use of charcoal on paper gives the work a sense of immediacy and vibrancy rather than artistic finish. Her dark application of charcoal line, vigorously worked over the surface, testifies to her assured hand and growing talent.

Charcoal on paper - The Museum of Modern Art, New York


Artwork Images

Composition (1949)

Artwork description & Analysis: During the mid to late 1940s, Krasner worked hard to undo her Cubist orientation and to more fully express her inner self. This work is part of the Little Image series of 31 paintings (1946-50) that represent her first all-over abstractions. With these paintings, Krasner expanded the visual vocabulary of Abstract Expressionism. Taking her start from Pollock, she worked more directly from instinct, but painted in a state of "controlled chaos." The series' title most likely came from her new small studio, out in the Springs, located in a small bedroom in the upstairs of the home she shared with Pollock; he commanded the large barn on their property. Krasner's painting demonstrates the expressive power of small, intricate lines and gestures as opposed to the mural-sized paintings of Newman and Pollock. This series was unique in her career since this was the only time she worked looking down on her canvas, dripping paint, rather than situated on an upright easel. Brightly colored with thickly textured surfaces, Krasner tightly controlled the drips she applied, which is evident in the white lines and drawings that cover the underlying support. The painting's overlapping skeins of white paint form tightly controlled small units that shimmer on the painting's surface. These small forms echo ancient picture-writing systems, and may relate to Jewish mysticism and the Kabalah. This deep connection to her inner-self and all-over covering of the canvas stand as key turning points in her career.

Oil on canvas - Philadelphia Museum of Art
More Lee Krasner Artwork and Analysis:
Influences and Connections
Influences on Artist
Artists, Friends, Movements
Influenced by Artist
Artists, Friends, Movements
Interactive chart with Lee Krasner's main influences, and the people and ideas that the artist influenced in turn.
View Influences Chart


Influences on Artist
Lee Krasner
Years Worked: 1930 - 1981
Influenced by Artist

If you see an error or typo, please:
tell us
Cite this page

Content compiled and written by Jessica Shaffer
Edited and published by The Art Story Contributors
" Artist Overview and Analysis". [Internet]. . TheArtStory.org
Content compiled and written by Jessica Shaffer
Edited and published by The Art Story Contributors
Available from:
First published on 05 Apr 2014. Updated and modified regularly.


[Accessed ]