Artists
Miriam Schapiro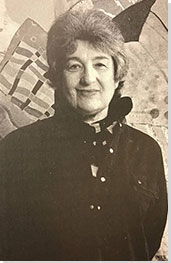 Born: November 15, 1923 - Toronto, Ontario, Canada
Died: June 20, 2015 - Hampton Bays, New York

"I wanted to validate the traditional activities of women, to connect myself with the unknown women artists who made quilts, who had done the invisible 'woman's work' of civilization. I wanted to acknowledge them, to honor them."
Summary of Miriam Schapiro
Coming of age during the "macho" styles of Abstract Expressionism and Minimalism, Schapiro expanded her materials to include marginalized types of domestic craft and incorporate feminist imagery. In addition to creating a path forward for herself and her colleagues, she worked to resurrect the reputations of women artists who had been forgotten or dismissed by art historians. As an activist for equal recognition and respect for herself and her contemporaries, she collaborated with Judy Chicago on the Feminist Art Project and Womanhouse. Her use of autobiographical details, especially her personal/professional conflicts, influenced feminist artists of the late-20th century to be similarly frank, including Hannah Wilke and Mary Kelly.
Key Ideas
In her "femmage" and assemblages, Schapiro incorporated elements of craft and "low" art, such as sewing, that had been excluded from the realm of "fine art" and merely described as "woman's work." By combining these materials and processes with visual elements taken from canonical art and Old Masters, she sought to elevate these female traditions and place them alongside oil painting and classical drawing as equals.
Schapiro's interest in fabric and sewing, which she often used to create abstract compositions or vibrant colors and hard-edged forms, was influential to the formation of the Pattern and Decoration movement (often called P&D). This style emphasized the visual patterns of marginalized media such as quilting, fabric design, or wallpaper in an attempt to redefine abstraction beyond the Euro-American, male-dominated movements of the 20th century by reasserting traditionally feminine elements of abstract art-making.
Schapiro embraced the decorative as a positive quality, fighting against artistic snobbery that had long dismissed decoration as a trivial sign of inferior art or craft, often with associations of femininity. Incorporating brilliant colors, geometric patterns, and tactile materials into her compositions, she created works that were unapologetically ornate, but also grounded them with allusions to traditional fine art to form hybrids whose artistic pedigree could not be marginalized.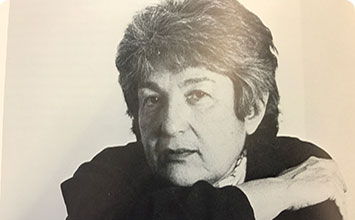 Canadian-born American artist Miriam (Mimi) Schapiro was an only child born to Jewish parents of Russian descent; Theodore Schapiro, an artist and industrial designer, and Fannie Cohen, a homemaker. Her grandfather, who emigrated from Russia, was responsible for inventing the first movable eye for dolls and made his living making teddy bears.
Important Art by Miriam Schapiro

The below artworks are the most important by Miriam Schapiro - that both overview the major creative periods, and highlight the greatest achievements by the artist.


Artwork Images

Beast Land and Plenty (1957)

Artwork description & Analysis: Beast Land and Plenty is a large-scale, non-figurative work. Painted in broad, gestural brushstrokes, the canvas is filled with swirling forms in shades of blue, green, orange, red, and yellow, as well as black and white. The work follows a pattern of movement from dark to light, with the deepest blues and black on the left side of the canvas, while the far right of the canvas is painted in vibrant hues of pink, yellow, and white. In some areas the brushstrokes are controlled, while in other portions of the canvas appear larger swatches of colors including most prominently the thin wash of blue in the bottom center of the canvas.

Part of the second generation of Abstract Expressionist painters in New York, here Schapiro embraces the raw, emotional energy of this style. Yet Schapiro also succeeds in approaching this style on her own terms, developing her own process in which she would thin the paint with turpentine before by manipulating it across the canvas in broad wiping gestures.

In another break from typical Abstract Expressionism, many of Schapiro's paintings from this period were based on black-and-white copies of works by the (male) Old Masters; this particular painting stemmed from a painting by the Italian Renaissance artist Tintoretto. While drawing inspiration from other artists is not a new concept, Schapiro specifically referenced these male artists, recreating their work in her own style, to place herself on an equal playing field. Seizing artistic control in this fashion was an important gesture, prefiguring her future oeuvre and her activism on behalf of women artists.

Oil on canvas - Collection of New York University Art Collection, Grey Art Gallery and Study Center, New York, New York


Artwork Images

Shrine for Two Paint Tubes (1963)

Artwork description & Analysis: Shrine for Two Paint Tubes depicts a vertical black column in the center of a cream-colored rectangular canvas, against which rises a curved tower-like structure with four framed sections. The elements included reference a personal symbolism that appears in multiple works. The bottom section of the tower is a framed silver square. The next contains a carefully drawn pencil-sketch of an egg, one that emphasizes her talent for shading detail. The third section contains another simple pencil still-life drawing featuring fruit, most notably an upright pear in the top left of the work. The curved uppermost section is a mustard-yellow panel framed in a brilliant dark blue.

Schapiro created a series of Shrine works that utilize symbols such as the tower and window shapes and the egg and fruit to create a visual account of the life of a female artist. When describing these works, Schapiro equates the golden color of the top section as a symbol of her career hopes and desires; the bottom section is meant to reference a mirror where a person can see herself and look inward for artistic motivation. The two middle sections are conventional drawings. In the series, the upper image always references great art of the past (here a traditional still life), while the egg in the remaining section represents in Schapiro's words, "the woman, the creative person, I, Myself." The implications of fertility and production are presented in terms that both reaffirm her gender (the egg) and complicate it (the visual language of Old Masters).

The paintings of this series are one of Schapiro's earliest organized series of works and an autobiographical reflection on her position as a woman artist that would deepen throughout her career. Here she captures "artistic struggles" of ambition and personal reflection with a connection to her own experiences.

Oil, metallic paint and pencil on canvas - Collection of Hirshhorn Museum and Sculpture Garden, Washington, D.C.


Artwork Images

Big Ox No. 2 (1968)

Artwork description & Analysis: Big Ox No. 2 is composed of a large orange shape centered on a plain white canvas. At the shape's center is an eight-sided form (of uneven length sides) with four long lines radiating out to the four corners of the canvas. Despite the flatness of the composition, the interior and exterior edges of this shape are shades of pink, which create a limited illusion of three dimensions. The shape also relays the title of the work, legible as the letter "O" placed on top of an "X" to form the word "OX."

While in California, Schapiro was one of the first to see the benefit of computers for artmaking, establishing herself as an artist who in many ways was ahead of her time. Working with a physicist at the University of California, San Diego, she used computer-generated images and transferred them into large-scale canvases, including a group of paintings that featured this "OX" shape.

These works demonstrate Schapiro's skill at appropriating an often male-dominated art style, here that of Minimalist shapes and forms, and injecting it with a sense of feminine energy to encourage a dialogue about gender. For all its hard-edged masculinity, the form also evokes the female body both in the pink colors and the vagina-like center opening. For Schapiro, the "O" shape was an expansion of her earlier "egg" symbol, frequently used to reference the female body. Along with Judy Chicago, Carolee Schneemann and other feminists of the day, Schapiro's use of vaginal imagery was meant to reclaim the female body as powerful; it was a political, not a sexual gesture.

Never one to shy away from a bold statement, Schapiro later described the impact of these works (despite the limited attention they received from the male-dominated art world) stating "This work, the early work of cunt art, and various ways that women show themselves holding a mirror to themselves contributed to the changing ideas of modernism. It was radical, as radical as Cubism, but not touted in the same way. Not written about in the same way, not exposed in the same way." She continued, arguing that her painting "continues to be underground art, even though I have that painting hanging in a major museum in the West" before concluding that "it makes no difference. It is my bottle, with a little note inside. My note, a note that can be read only by women."

Acrylic on canvas - Collection of Museum of Contemporary Art, San Diego
More Miriam Schapiro Artwork and Analysis:
Influences and Connections
Influences on Artist
Artists, Friends, Movements
Influenced by Artist
Artists, Friends, Movements

Interactive chart with Miriam Schapiro's main influences, and the people and ideas that the artist influenced in turn.
View Influences Chart

| | | | | |
| --- | --- | --- | --- | --- |
| Artists | | Personal Contacts | | Movements |

Influences on Artist

Miriam Schapiro
Years Worked: 1943 - 2015
Influenced by Artist

If you see an error or typo, please:
tell us
Cite this page

Content compiled and written by The Art Story Contributors
Edited and revised, with Synopsis and Key Ideas added by Sarah Archino
" Artist Overview and Analysis". [Internet]. . TheArtStory.org
Content compiled and written by The Art Story Contributors
Edited and revised, with Synopsis and Key Ideas added by Sarah Archino
Available from:
First published on 17 Jan 2017. Updated and modified regularly.


[Accessed ]