Artists
Sonia Delaunay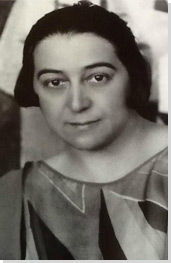 Sonia Delaunay
Ukrainian-born French Painter, Textile Designer, Fashion and Costume Designer
Movements and Styles: Cubism, Salon Cubism, Orphism
Born: November 14, 1885 - Odessa, Ukraine
Died: December 5, 1979 - Paris, France

"the infinite combinations of color have a poetry and a language much more expressive than the old methods"
Summary of Sonia Delaunay
Sonia Delaunay's career spanned the European continent, allowing her to reap the riches of the exciting advances by many avant-garde art groups. Born and raised in Russia, she was educated in Germany and then France, making Paris her home just as modern art was finding a new way to find meaningful subject matter not dependent on realistic depictions of the world. Sonia was one of the primary propagators of Orphism (a movement founded by her husband Robert), a theory wedding color to form in order to achieve visual intensity on the surface of the canvas. Delaunay extended the visual exploration of this theory to a range of fields beyond painting, developing an entire career in textile design.
Key Ideas
By matching primary and secondary colors (red with green, yellow with purple, and blue with orange) to create a kind of visual vibration, Robert Dulaunay developed a new type of expressive, abstract paintings. He called this exploration "Simultaneous Contrast," but the movement became officially known as Orphism and Sonia was one of its chief practitioners.
The Delaunay couple used Orphism to create non-objective imagery, the significance of which was based on the intensity of the expression that they could create with color on the surface of the canvas. They placed lines of primary color beside those of secondary color, understanding that the scientific effect on the eye of such combinations would result in art that could be just as scintillating to the viewer as those depicting a standard view of reality such as a figure reclining on a couch. Their efforts produced a body of work that forced the viewer to experience their pieces visually - yet powerfully.
Sonia Delaunay's exploration of expressive color in the field of textile design differentiates her significantly from other members of the contemporary avant-garde. Besides designing, making, and selling garments in her own fashion boutique, she was responsible for costume design in a range of the performing arts including theatre and dance. She ended up creating a line of textiles so significant that it was picked up by one of the biggest fabric manufacturers in Europe.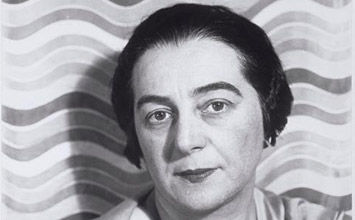 Sonia Delaunay was born Sara Élievna Stern, the youngest of three children, to impoverished Jewish parents in Odessa, Ukraine. At five, she was sent to live with her mother's well-off brother, Henri Terk, and his wife in St. Petersburg, Russia. Although her mother never allowed a legal adoption, Delaunay thought of them as her family and took the name Sofia Terk, using "Sonia" as a nickname. She received a good education, had access to great art collections, and traveled Europe spending summers in Finland. At sixteen, Delaunay's art teacher noticed her talent and encouraged her uncle and aunt to send her to Germany for further art training.
Important Art by Sonia Delaunay

The below artworks are the most important by Sonia Delaunay - that both overview the major creative periods, and highlight the greatest achievements by the artist.


Artwork Images

Nu jaune (Yellow Nude) (1908)

Artwork description & Analysis: Nu jaune or Yellow Nude exemplifies how Delaunay's earliest works were quite influenced by Fauve artists like Matisse and Post-Impressionists such as Gauguin. At this point in her career she had not yet abandoned figurative subjects. The depiction of this nude woman, propped up on one elbow, resting her head in her hand, her hips tilted slightly toward the viewer, is provocative and fits in well with the other images of prostitution by avant-garde artists. Nevertheless Sonia's version denies the viewer access, her gaze averted and her elbow forbiddingly locked. Although the colors are unrealistic, they are rich and jewel-toned, setting a standard for the rest of her career.

Oil paint on canvas, - Collection of Musée des Beaux-Arts de Nantes, Nantes, France


Artwork Images

Le Bal Bullier (Bal Bullier) (1913)

Artwork description & Analysis: This image offers an excellent example of Orphism, the expressive combination of color and form that dominated much of her career. The row of dancers spread out under dome lights positively bursts with patches of vibrant primary and secondary colors, illustrating her interest in the simultaneous color theory espoused by mid-19th century chemist Chevreuil. This theory explored the visual effect of combining a primary color with a secondary; a technical discovery that enabled artists to intensify the colors of their creations solely by manipulating the placement of color on the canvas, without consideration to subject matter. Twelve feet long, this painting was the largest of four versions and the first work exploring contrasting colors (blues and oranges, for example, placed side by side for maximum intensity) on such a large-scale. The Bal Bullier dance hall on the boulevard Saint-Michel in Paris was a gathering place for avant-garde literary and art figures as well as students. Sonia and Robert were frequent attendees and there is no question that her depiction was inspired by her own experience.

Le Bal Bullier exemplified Orphism perfectly by allowing the placement of color on the canvas to create both movement and energy. The bodies of the dancers are broken into abstract areas of bright color, which cause a kind of flickering reaction in the viewer, forcing him to work his way across the canvas and take in the spectacle described. To maximize this effect Delaunay sets the dancers against a background where color is treated in just the same way, a red next to a green, a yellow next to a purple-blue, perfectly capturing the excitement and energy of this famous dance hall. Although there is no attempt to present the world inside the hall with precision or photographic reality, the experience of those dancers under the bright lights, swirling around in couples, or as individuals, is absolutely captured.

Oil on paint on mattress ticking - Collection of Centre Pompidou, Paris, France


Artwork Images

Simultaneous dress (1913)

Artwork description & Analysis: Delaunay's passion for exploring the way complementary colors (one primary with one secondary) reacted to one another, was not contained to fine art. In fact, she boldly applied this expressive technique to areas in which artistic exploration was formerly not noted, such as the world of fashion and home décor. She eventually built a career on designing fashions for dresses, driving caps, swimsuits, shoes, and scarves. This dress is of particular importance because it was one of the earliest examples of her unique "simultaneous" dresses.

The dress is created by sewing together oddly shaped pieces of fabric in non-uniform size and color. The color scheme, similar to one she developed in her paintings, manages to encapsulate a full range, including all the primaries (red, blue, and yellow) and secondaries (green, orange, and purple). Black, noted in the bunched fabric that wraps around the back and the collar, is used to contain the explosion of color. The artist designed this type of dress for her friends, most certainly enhancing the visual effect of the dancers at the Bal Bullier.

Fabric patchwork - Private collection
More Sonia Delaunay Artwork and Analysis:
Influences and Connections
Influences on Artist
Artists, Friends, Movements
Influenced by Artist
Artists, Friends, Movements

Interactive chart with Sonia Delaunay's main influences, and the people and ideas that the artist influenced in turn.
View Influences Chart

| | | | | |
| --- | --- | --- | --- | --- |
| Artists | | Personal Contacts | | Movements |

Influences on Artist

Sonia Delaunay
Years Worked: 1906 - 1979
Influenced by Artist

If you see an error or typo, please:
tell us
Cite this page

Content compiled and written by The Art Story Contributors
Edited and revised, with Synopsis and Key Ideas added by Caroline Igra
" Artist Overview and Analysis". [Internet]. . TheArtStory.org
Content compiled and written by The Art Story Contributors
Edited and revised, with Synopsis and Key Ideas added by Caroline Igra
Available from:
First published on 17 Aug 2016. Updated and modified regularly.


[Accessed ]