Summary of Dada
Dada was an artistic and literary movement that began in Zürich, Switzerland. It arose as a reaction to World War I and the nationalism that many thought had led to the war. Influenced by other avant-garde movements - Cubism, Futurism, Constructivism, and Expressionism - its output was wildly diverse, ranging from performance art to poetry, photography, sculpture, painting, and collage. Dada's aesthetic, marked by its mockery of materialistic and nationalistic attitudes, proved a powerful influence on artists in many cities, including Berlin, Hanover, Paris, New York, and Cologne, all of which generated their own groups. The movement dissipated with the establishment of Surrealism, but the ideas it gave rise to have become the cornerstones of various categories of modern and contemporary art.
Key Ideas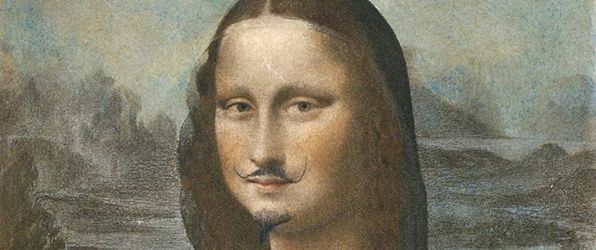 Detail of L.H.O.O.Q. (conceived in 1919) by Marcel Duchamp
Aiming to both to help to stop the war and to vent frustration with the nationalist and bourgeois conventions Dada artists ultimately revolutionized the artmaking of the future.
Important Art and Artists of Dada

The below artworks are the most important in Dada - that both overview the major ideas of the movement, and highlight the greatest achievements by each artist in Dada. Don't forget to visit the artist overview pages of the artists that interest you.

Ici, C'est Stieglitz (Here, This is Stieglitz) (1915)

Artist: Francis Picabia

Artwork description & Analysis: Picabia was a French artist who embraced the many ideas of Dadaism and defined some himself. He very much enjoyed going against convention and re-defining himself to work in new ways a number of times over a career that spanned over 45 years. At first he worked closely with Alfred Stieglitz, who gave him his first one-man show in New York City. But later he criticized Stieglitz, as is evident in this "portrait" of the gallerist as a bellows camera, an automobile gear shift, a brake lever, and the word "IDEAL" above the camera in Gothic lettering. The fact that the camera is broken and the gear shift is in neutral has been thought to symbolize Stieglitz as worn out, while the contrasting decorative Gothic wording refers to the outdated art of the past. The drawing is one of a series of mechanistic portraits and imagery created by Picabia that, ironically, do not celebrate modernity or progress, but, like similar mechanistic works by Duchamp, show that such subject matter could provide an alternative to traditional artistic symbolism.

Ink, graphite, and cut-and-pasted painted and printed papers on paperboard - Alfred Stieglitz Collection

Reciting the Sound Poem "Karawane" (1916)

Artist: Hugo Ball

Artwork description & Analysis: Ball designed this costume for his performance of the sound-poem, "Karawane," in which nonsensical syllables uttered in patterns created rhythm and emotion, but nothing resembling any known language. The resulting lack of sense was meant to reference the inability of European powers to solve their diplomatic problems through the use of rational discussion, thus leading to World War I - equating the political situation to the biblical episode of the Tower of Babel. Ball's strange costume is meant to further distance him from his audience and his everyday surroundings, making his speech even more foreign and exotic. Ball described his costume: "My legs were in a cylinder of shiny blue cardboard, which came up to my hips so that I looked like an obelisk. Over it I wore a huge coat cut out of cardboard, scarlet inside and gold outside. It was fastened at the neck in such a way that I could give the impression of wing-like movement by raising and lowering my elbows. I also wore a high, blue-and-white-striped witch doctor's hat."

Photograph - Kunsthaus Zürich (reproduction of original photograph)


Artwork Images

Untitled (Squares Arranged according to the Laws of Chance) (1917)

Artist: Hans Arp

Artwork description & Analysis: Hans Arp made a series of collages based on chance, where he would stand above a sheet of paper, dropping squares of contrasting colored paper on the larger sheet's surface, and then gluing the squares wherever they fell onto the page. The resulting arrangement could then provoke a more visceral reaction, like the fortune telling from I-Ching coins that interested Arp, and perhaps provide a further creative spur. Apparently, this technique arose when Arp became frustrated by attempts to compose more formal geometric arrangements. Arp's chance collages have come to represent Dada's aim to be "anti-art" and their interest in accident as a way to challenge traditional art production techniques. The lack of artistic control represented in this work would also become a defining element of Surrealism as that group tried to find paths into the unconscious whereby intellectual control on creativity was undermined.

Cut-and-pasted colored paper - Museum of Modern Art, New York
More Dada Artwork and Analysis:
If you see an error or typo, please:
tell us
Cite this page

Content compiled and written by The Art Story Contributors
Edited and published by The Art Story Contributors
" Movement Overview and Analysis". [Internet]. . TheArtStory.org
Content compiled and written by The Art Story Contributors
Edited and published by The Art Story Contributors
Available from:
First published on 21 Jan 2012. Updated and modified regularly.


[Accessed ]