Artists
Banksy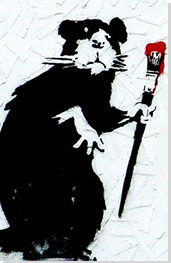 Born: c. 1965 - 1974 - Bristol, England
"A wall is a very big weapon. It's one of the nastiest things you can hit someone with."

Summary of Banksy
With tongue firmly planted in cheek, English graffiti artist and international prankster Banksy has managed to become one of the world's most recognized artists while remaining relatively anonymous. Staying true to the credos of Street Art, he's built a celebrated body of work, both permanent and impermanent, that utilizes satire, subversion, dark humor, and irony to create resonant social, political, and humanist messages for the masses on a populous and public level. His style is universally familiar, founded on a signature stencil aesthetic that has elevated him from mere man with a spray can to a highly creative artist in his own right. He is responsible for catapulting guerilla work into the mainstream as a viable form of art.
Key Ideas
Banksy's artistry lies in his ability to use humor and sardonic wit to trick viewers into contemplating the underlying seriousness of his messages about capitalism, advertising, politics, and humanity. It is this very sense of innocent whimsy coupled with daring, glaring truths about our times that lift him to a role as potent social mediator all under the guise of art.
Because of the volatility and impermanence of Banksy's chosen canvas, i.e. the street and improvisational pop-up public places, he remains true to guerilla art's philosophy, being that the commodification of art is a blasphemous way to validate an artist within only a specific social sector or market.
Anonymity has been Banksy's modus operandi, largely because it removes the status of artist as celebrity and instead forces a focus on the artwork. It also allows for the freedom of telling one's unapologetic truth without regard to consequence.
In an ironic twist of fate, Banksy's subversive mien has only furthered his crossover to mainstream acceptance as the world takes note of his signature style and lack of any noted ego drive toward artistic recognition. The artist himself has become a bridge not unlike the ones his artwork aims to build.
Because graffiti is illegal, Banksy's work continues to raise questions in the social sphere about the lines between public art and vandalism. If his work on the side of a building becomes a collectible, protected piece while another less known street artist is jailed for performing a similar action, what does this signify about the hypocrisy afforded to fame?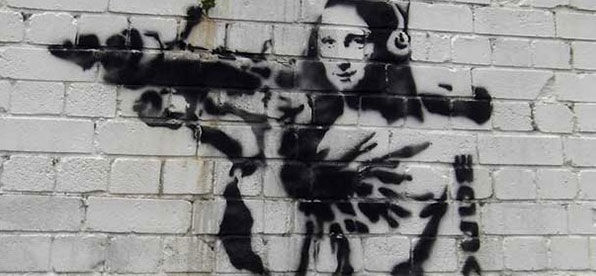 Banksy's Mona Lisa With Rocket Launcher
Whether Banksy is one person, or a group of people we don't know. But it is a fact that he (she, or it) has created some of the most powerful, controversial, witty, and brilliant contemporary art.
Important Art by Banksy

The below artworks are the most important by Banksy - that both overview the major creative periods, and highlight the greatest achievements by the artist.

Kissing Coppers (2004)

Artwork description & Analysis: In this iconic image, two (seemingly male) police officers in full, typical British uniforms are depicted kissing, in what appears to be a loving embrace. This work was originally spray-painted on the side of the Prince Albert pub in Trafalgar Street near the downtown core of the city of Brighton. Before its creation, one of Banksy's associates approached the pub owner on his behalf to seek permission for the work. The pub owner says, "My first thought was, 'oh no'. I thought we'd get in loads of trouble for it." But to his delight, after its creation, a group of uniformed officers appeared in front of the pub to view the piece and proceeded to take pictures. In 2011, the piece was replaced with a copy protected by a Perspex case, while the original was flown to the United States to be sold at auction.

The piece can be read in many ways. In one respect, Banksy is advocating for a sexual-identity accepting society by placing icons of authority in a pro-gay position. His use of policemen, rather than ordinary citizens, is intriguing, because the very subjects of his tender portrayal are often the ones to working to eradicate his vandalism. While some believe that he is poking fun at policemen, showing them in a vulnerable, intimate moment, others read the work more positively, as showing a human side to the police force, and emphasizing the strong bonds that exist on the police force between partners and teammates. The work is an undeniable testament to Banksy's use of irony to challenge us to build a bridge of understanding between expected enemies of ideology.

Spray paint - Originally painted in Brighton, England. Now in private collection

Rage, the Flower Thrower (2005)

Artwork description & Analysis: This work, now covered and protected by a Perspex overlay, features a man dressed up in what we associate with traditional riot gear, with a bandana obscuring his face, and his cap on back-to-front. His stance is one of a person about to lob a Molotov cocktail; he's taking aim and is ready to throw his weapon. However, instead of a weapon, he holds a bunch of flowers (which are the only part of the mural to appear in color.) This piece is located on a wall on the side of a garage in Jerusalem on the main road to Beit Sahour, Bethlehem.

By substituting a weapon with a bunch of flowers, Banksy is advocating peace instead of war, and he opted to install this message of peace in a high-conflict area. The work also carries the message that peace comes with active hard work. The bouquet of flowers in this work, in addition to symbolizing peace, life, and love, may also be understood as commemorating lost lives in an age old religious conflict. It is a fine example of Banksy's use of art to relay messages of social importance.

Stencil and spray paint - Bethlehem


Artwork Images

Napalm Girl (2004-05)

Artwork description & Analysis: Again, Banksy has taken a pre-existing image - in this case an iconic photograph from Vietnam in 1972, of a girl - Kim Phuc - fleeing from a napalm attack on her village. The original photograph was taken by associated press photographer Nick Ut and has developed into a short hand for the atrocities of the Vietnam War. Banksy has isolated the image of the horror-stricken girl (originally surrounded by a few other clothed children and seven soldiers running down a road away from the site of the napalm attack) and flanked her with Mickey Mouse and Ronald McDonald. These two instantly recognizable, smiling characters, when juxtaposed with the image of Napalm Girl, give the image a very twisted and sinister feel.

Both Mickey Mouse and Ronald McDonald are two family-friendly faces of American capitalism, the same country that dropped Napalm on Vietnam. Banksy's work then becomes a critique of not just America but also of capitalism. The girl's horror-stricken face is juxtaposed against the two characters' big, bright smiles. In this simple image, Banksy shows both the fun, carefree facade of American culture, and the reality that America also has a very dark, underbelly which drops bombs on people, and both commercializes and glamorizes war. Banksy once stated that "The greatest crimes in the world are not committed by people breaking the rules but by people following the rules. It's people who follow orders that drop bombs and massacre villages."

Screenprint on paper
More Banksy Artwork and Analysis:
Influences and Connections
Influences on Artist
Artists, Friends, Movements
Influenced by Artist
Artists, Friends, Movements

Interactive chart with Banksy's main influences, and the people and ideas that the artist influenced in turn.
View Influences Chart

Artists

Personal Contacts

| | |
| --- | --- |
| | Kato |
| | Tes |
| | Shepard Fairey |

Movements

Influences on Artist

Banksy
Years Worked: 1990 - present
Influenced by Artist

Artists

Personal Contacts

| | |
| --- | --- |
| | Kato |
| | Tes |
| | Shepard Fairey |

Movements
If you see an error or typo, please:
tell us
Cite this page

Content compiled and written by Alexandra Duncan
Edited and revised, with Synopsis and Key Ideas added by Kimberly Nichols
" Artist Overview and Analysis". [Internet]. . TheArtStory.org
Content compiled and written by Alexandra Duncan
Edited and revised, with Synopsis and Key Ideas added by Kimberly Nichols
Available from:
First published on 16 Feb 2018. Updated and modified regularly.


[Accessed ]